FIRST MOTO GP RESULTS: WHEN JEFFREY'S AWAY THE MICE WILL PLAY (UPDATED)
Jorge Prado won his first-ever 450 GP last weekend on the same track, and repeated again with a first moto win this week. Unfortunately, the first half of Prado's 450 season leaves him 41 points out of first place.

Sunday's Italian Grand Prix was the third round held at the Faenza track in Italy. After the GP circus moves out of Fanza they get one weekend off before starting a Sunday, Wednesday, Sunday triple heading in Mantova (on September 27, 30 and October 4). Then it is on to Spain for the the only individual race left on the schedule. Spain is followed by three races at Lommel, Belgium and three final races at Trentino, Italy.
Tony Cairoli is tied with the missing Jeffrey Herlings for the 450 points lead at 263 points each after 7 rounds. The difference is that Tony is racing the 8th round and Jeffrey isn't.
Jeremy Seewer was third in the first moto at Faenza #3.
2020 FAENZA #3 450 GP FIRST MOTO RESULTS
1. Jorge Prado (KTM)…1-
2. Tony Cairoli (KTM)…2-
3. Jeremy Seewer (Yam)…3-
4. Mitch Evans (Hon)…4-
5. Tim Gajser (Hon)…5-
6. Arminas Jasikonis (Hus)…6-
7. Alessandro Lupino (Yam)…7-
8. Glenn Coldenhoff (Gas)…8-
9. Clement Desalle (Kaw)…9-
10. Romain Febvre (Kaw)…10-
Other notables: 11. Gautier Paulin (Yam); 12. Jeremy Van Horebeek (Hon); 13. Jordi Tixier (KTM); 15. Ivo Monticelli (Gas); 17. Dylan Walsh (Hon); 18. Thomas Covington (Yam); 22. Zachary Pichon (Hon); 26. Tanel Leok (Hus); 28. Evgeny Bobyshev (Hus).
Jago Geerts pulled back three points of Tom Vialle's 250 World Championship lead in the first moto of the third race in Faenza. He now trails by 18 points.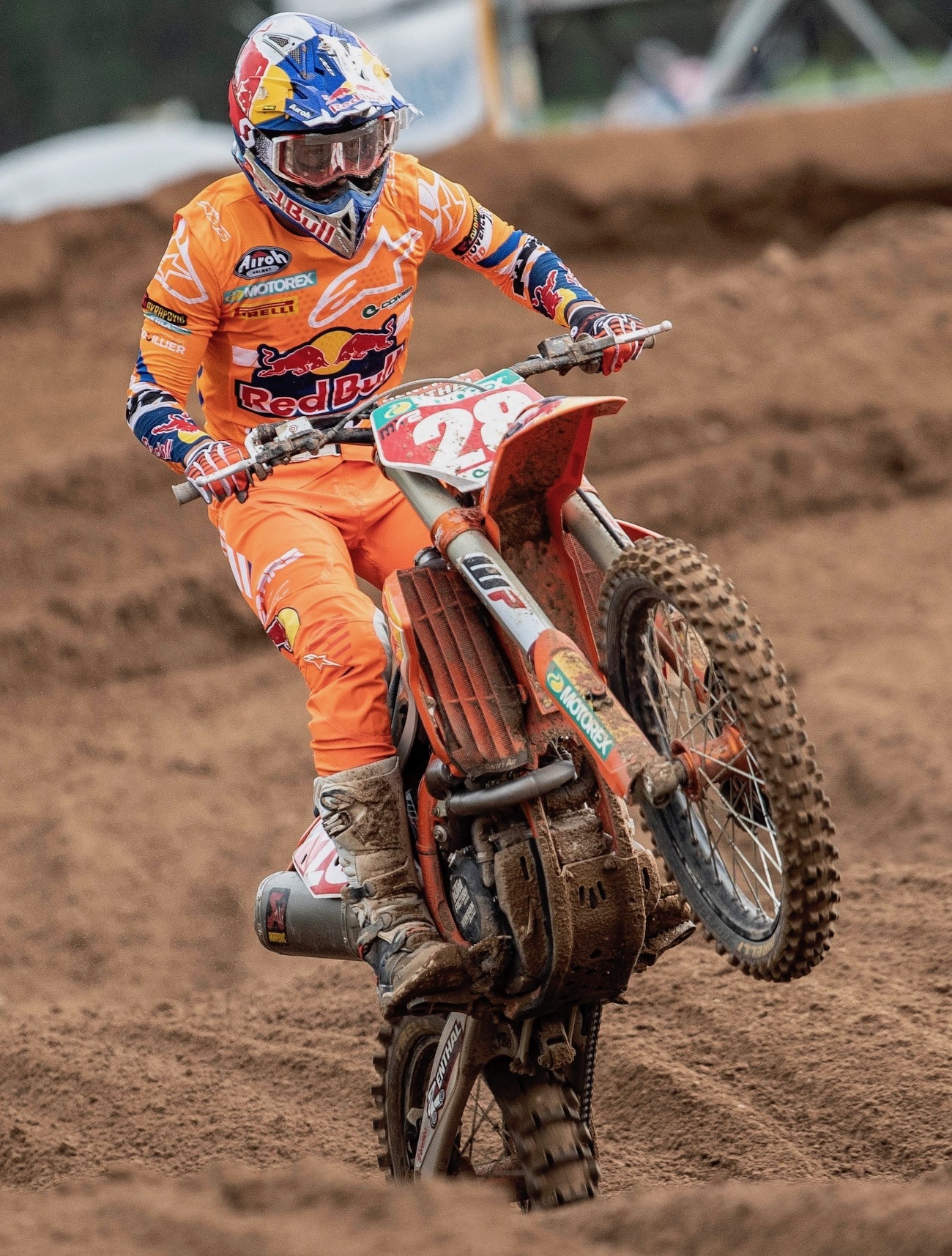 Tom Vialle was second in moto one.
2020 FAENZA #3 250 FIRST MOTO RESULTS
1. Jago Geerts (Yam)…1-
2. Tom Vialle (KTM)…2-
3. Thomas Kjer Olsen (Hus)…3-
4. Jed Beaton (Hus)…4-
5. Conrad Mewse (KTM)…5-
6. Roan Van De Moosdijk (Kaw)…6-
7. Ben Watson (Yam)…7-
8. Stephen Rubini (Hon)…8-
9. Ruben Fernandez (Yam)…9-
10. Maxime Renaux (Yam)…10-
Other Notables: 11. Nathan Crawford (Hon); 12. Bailey Malkiewicz (Hon); 13. Alvin Ostlund (Hon); 14. Richard Sikyna (KTM); 15. Morgan Lesiardo (KTM); 16. Jan Pancar (KTM); 21.Kevin Horgmo (KTM).