FLASHBACK FRIDAY: ANDY JEFFERSON ON BEING THE FIRST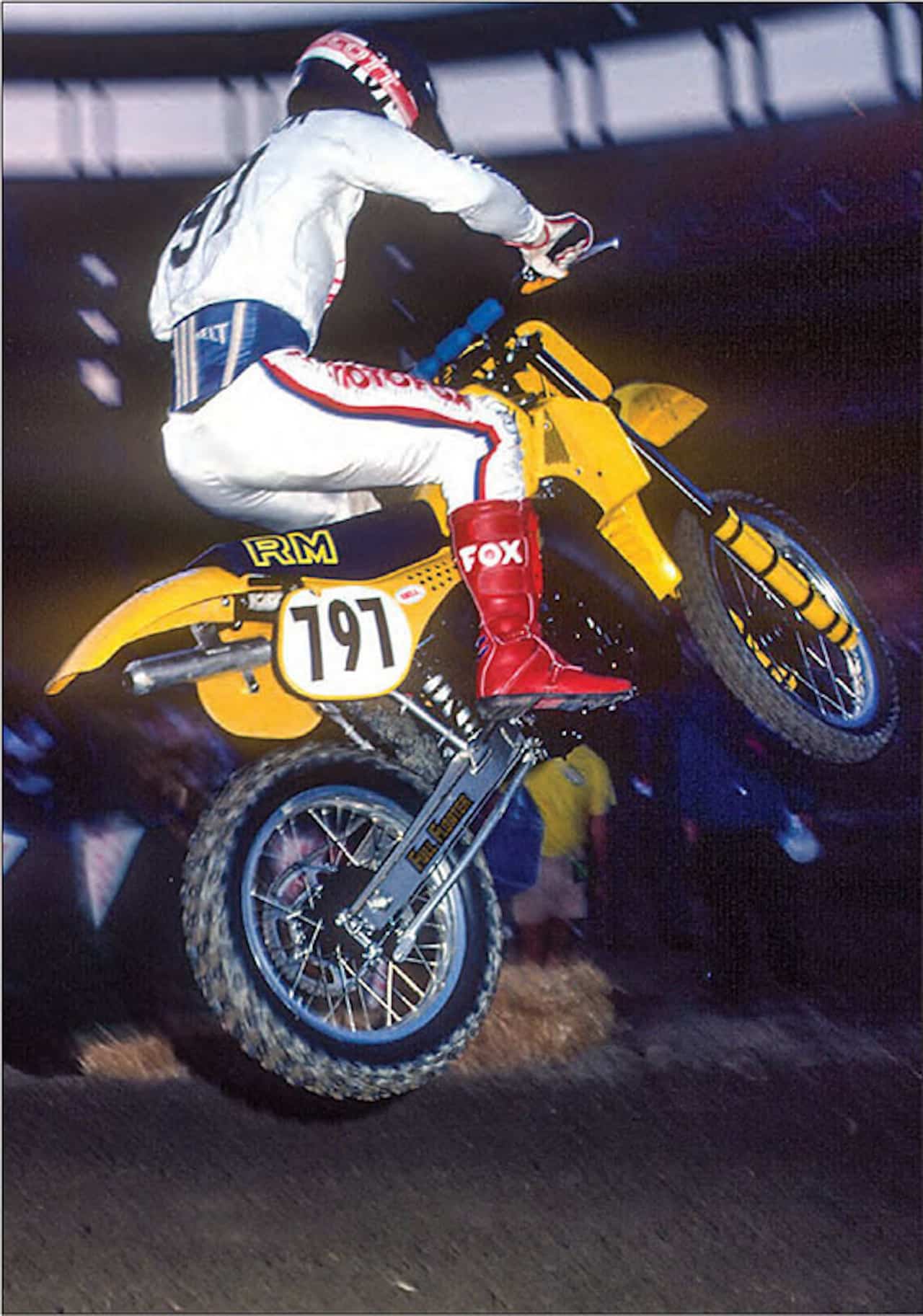 Andy Jefferson, on his stock 1983 Suzuki RM250, was the first black racer to ever make an AMA Supercross main event.
Most motocross fans think that James Stewart broke the color barrier in AMA Supercross when he raced the premier class on a KX450F at Anaheim 1 in 2006. In truth, James wasn't the first, but he only missed it by 34 years. The first black racer to qualify for a Supercross main event was Andy Jefferson in 1982. Jefferson was a very successful CMC racer who made too much money racing the SoCal circuit to waste his time driving around the country chasing AMA points. Although Jefferson raced Supercross in 1980 and 1981, it wasn't until the 1982 San Diego Supercross that he broke through the color barrier by making a main event.
"I would always qualify for the night show but struggled to get into the mains. The San Diego Supercross was held in November, which seems strange today, but the 1982 Supercross season started in January and ended in November. There was no 125 East/West class back then, so if you wanted to race Supercross, you were thrown in with the big boys. Back then, they ran three heat races, two semis and a Last Chance. The top five in the heats advanced to the main. They took two from each semi and one from the Last Chance. With so many riders on the factory teams back in 1982, it was rare for a privateer to make it directly from his heat race.
Andy still rides all the time and is the media relations manager for Husqvarna motorcycles. 
"I rode for the Pro Circuit Husqvarna team, but when the San Diego race came around, Mitch didn't know if he was going to keep his race team and freed me to race whatever bike I could find. Victorville Suzuki lent me a box-stock 1983 RM250 off the showroom floor. I didn't change a thing on it for the San Diego Supercross. It bottomed like crazy, but everything else worked well, so I gritted my teeth and went for it. I got a third-place start in my heat and got passed by a couple factory guys before Kent Howerton and I started battling over the final transfer spot. He would pass me and I would pass him back. On the final lap, the pass went my way, and I went directly to the main and Kent went to the semi.
"In the main, I was overwhelmed. I said to myself, 'You're not supposed to be here with these guys.' Unlike in the qualifier, everyone in the main was so fast, it was intimidating. Broc Glover, Rick Johnson, Johnny O'Mara and David Bailey went 1-2-3-4. I rode lousy and finished 17th, but I made $1700, which was the most I'd ever made in one race. Paradoxically, I could make more than that by racing Irwindale on Thursday night, Ascot on Friday night, and Saddleback on Saturday and Sunday. A few weeks after San Diego, Mitch got the funding to go racing again, and I returned to the Pro Circuit team. But, I got hurt in 1983. I did come back in 1984 to finish ninth at the Saddleback AMA 500 National.
"I never saw my race as an issue, but at that time, regardless of how many races I won, the Japanese factories never offered me a thing while helping the guys I beat. But, Mitch Payton and Husqvarna were amazing to me. Without Mitch, I never would have been able to race all across the country and have a fulfilling career. To this day, I believe I'm working at Husqvarna because Mitch Payton put me on the map."