FLASHBACK FRIDAY | DAVI MILLSAPS INTERVIEW AT 16 YEARS OLD ON AN RM125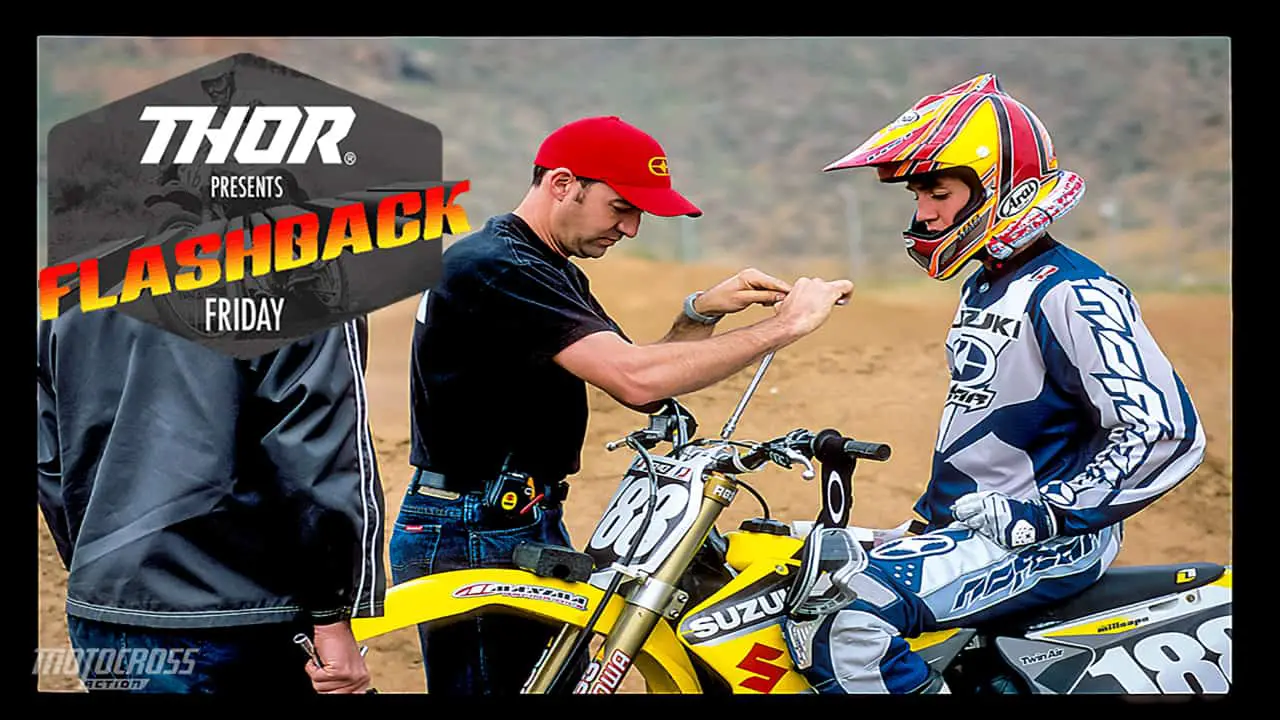 Interview of Davi from 2003 at the Suzuki Supercross test track during his rookie season.
Davi Millsaps is your typical 16-year-old…except for one thing: he's fast…really fast. As with most teenagers, he likes to have fun, and motocross is a fun sport. But, when you are the highest rated newcomer on the AMA circuit, the fun factor diminishes rapidly. There is a price to pay for being the next big thing. Millsaps should have little to fear. His success is insured, but it won't be handed to him on a silver platter. Along with youth comes inexperience. Combine that with fear of the unknown, and Davi has experienced some pretty big butterflies (for the first time in his racing career). Davi will work them out as the season progresses.
Q: How have you been since we interviewed you a year ago? Has it been that long? Man, I'm getting old.
Q: You're only 16. Well, I feel old. I'm sore all the time. My knees hurt, my elbow hurts, my ankles and my back, too. I'm just trying to work that stuff out.
Q: Let's catch up a little. Did you accomplish everything you wanted to accomplish in your last season as an amateur? No. I'm where I wanted to be with my riding, but I didn't win enough at the Amateur Nationals. What can you do about it, though? You can't take back the past.
Q: Tell us about your transition to the pros? It was all going really well until the first race. I got so nervous at Minneapolis, and one thing led to another. At Atlanta, I felt a little better, but I crashed. People were thinking that I was one of those kids who wins everything as an amateur, but falls apart as a pro. Hopefully at Daytona I showed them that I can still ride.
James Stewart is an awesome rider. Right now, getting second place is like winning, but, in truth, it's not. 
Q: You have to be proud to have finished second at Daytona. That's a true test of speed and fitness. I didn't plan on getting beat by 35 seconds, but second place 35 seconds behind was better than getting 14th or 21st. I just took my own pace for the last ten laps, so that I knew I wouldn't make any mistakes.
Q: Do you look at the 125 East as a race for second place? James Stewart is an awesome rider. Right now, getting second place is like winning, but, in truth, it's not. People say that I would have won Daytona if James hadn't been there, but he was there. Hopefully, next year I can be the one that people are saying that about. That's the goal.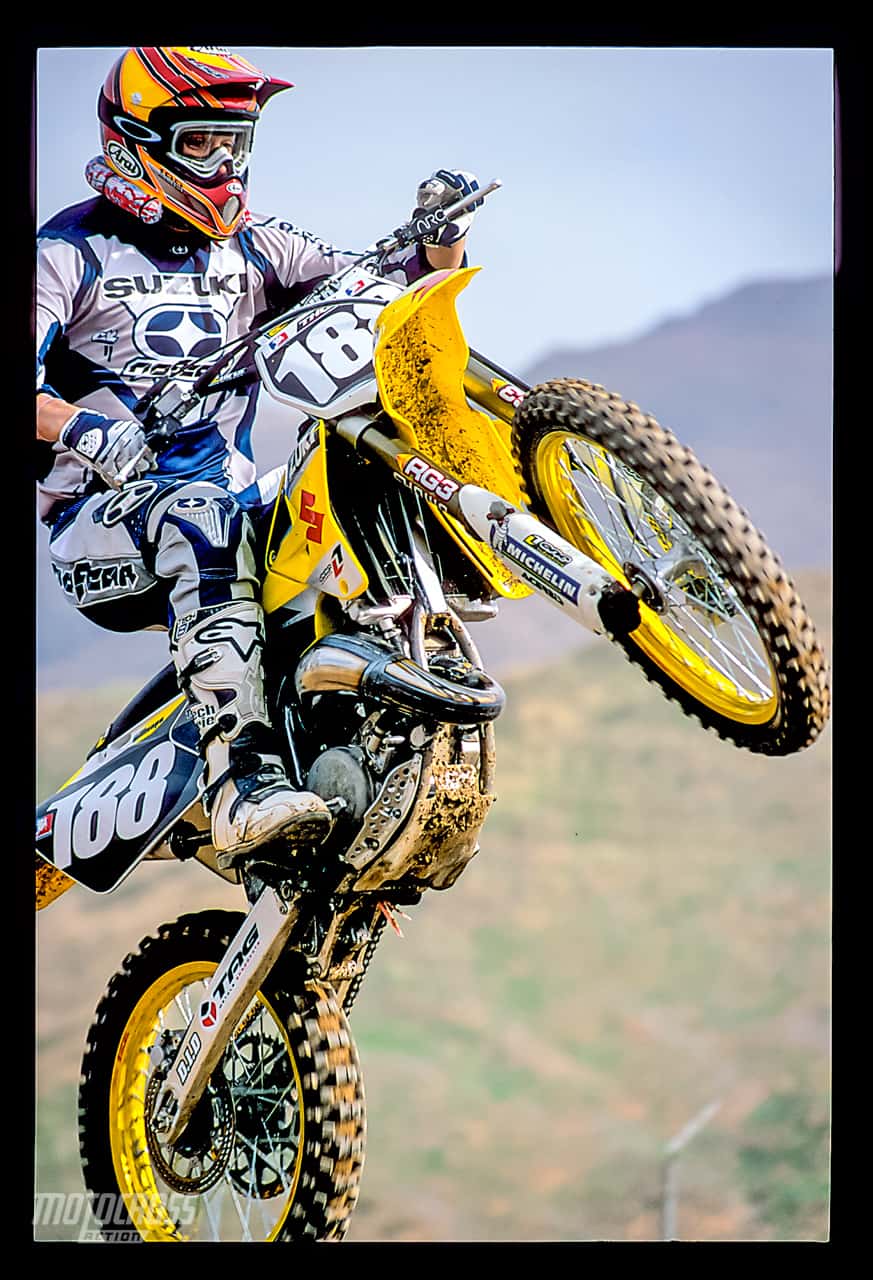 Davi Millsaps riding Supercross on an RM125 at 16 years old.
Q: Tell us about your first Supercross race? Oh, practice was horrible. I totally didn't feel like a pro out there. I was like a novice rider. I couldn't focus. I went out there and I was just thinking, "I have to do this, I have to do that. People are expecting so much from me." Every hot amateur rider who turns pro has a lot of pressure on him. Everybody is watching him. It makes you really nervous, and it's hard to focus on what you're really there to do. Some people don't have that problem. I had a lot of people pressuring me to do well.
Q: To make matters worse, another newcomer, Broc Hepler, finished second, and you had trouble. Was that hard to deal with? I look at it this way: Hepler rode the U.S. Open, so that was technically his first Supercross. He also raced a few 125 Nationals at the end of the 2003 season. So, he had already spent time racing with those guys before the first 125 East round this year. Don't get me wrong, Hepler is a great rider, but he worked his butterflies out at the end of last year. He knew what to expect coming into this season. I didn't.
You can train all you want on the roughest track you think you'll ever ride, and chances are, Daytona is rougher. 
Q: Broc's first Supercross, the U.S. Open, went like your first race. What about your second race? Oh, I crashed out.
Q: So your first pro season started out with a 14th and a 21st? Yeah, it didn't start off too well.
Q: There's a lot of talk about the poor fitness level of amateurs who turn pro. How was your fitness at Daytona? There wasn't one person out on that track who didn't get tired. You can train all you want on the roughest track you think you'll ever ride, and chances are, Daytona is rougher. I didn't get as tired as I thought I was going to get.
Q: What's going to happen when the first National comes around? Are you going to have those first-race jitters again? Hopefully not, but who knows?
Q: How have you been preparing for your pro debut? I have 100 acres at my house with three tracks on it. I have a full supercross track, an outdoor track, and one that I call the torture chamber.
Davi getting some major air on the Supercross triple.  
Q: What's the torture chamber? It's an oval track with whoops down each straight. The fast lap times on it are about 12 seconds. It's laid out as a left into six whoops and a triple into seven whoops. Then you make a 180-degree left into a straightaway full of whoops.
Q: Who do you ride with down there in Georgia? Bryan Johnson has been living with me for the past four years, but he's been hurt. I'm waiting for him to get back. I had Travis (Pastrana) here for the last month, too. It has just been him and me on the supercross track.
Q: How is he to have around and ride with? He's great. He pushes me and helps me out a lot. It helps my confidence a lot riding with him, because before Daytona, I was trying to get my lap times down to his, and I was dicing with him. It was pretty fun.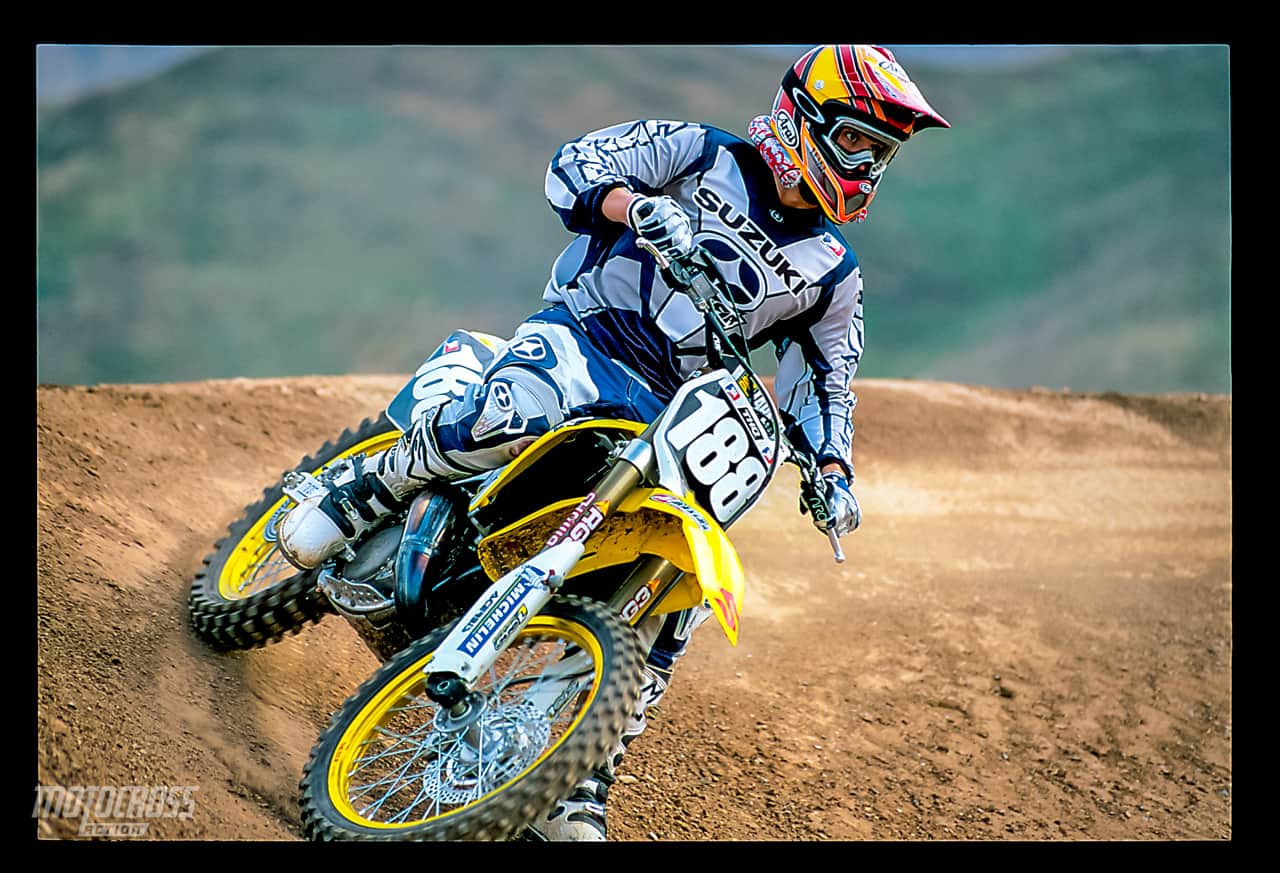 Q: Have you noticed any change in Travis lately? Yes. He's really trying to take care of himself this year so he can do everything he wants to do. But what can you say? He's a kid just like me. He likes to have fun and goof around. He says that if he wins the St. Louis Supercross, he's going to move on with his career and do other things with his life. But, if he doesn't win, he's going to race some of the Nationals. Who knows, though. It's Travis. He changes his mind every day. He just wants to win a 250 main for the first time.
Q: Are you glad that you went down the path of being a pro motocross racer rather than being a basketball player or basket weaver? I did play basketball, actually. But I'm glad I chose to do this. I love racing motocross. I love everything about it. I'm glad that I chose this sport instead of basketball or golf.

Q: Golfers make a lot of money, though. They do, but I don't see why. All they do is hit a ball. It's an old-man's game. I'll do that when I retire. I'll go to a par four and hit a hole in one.
Q: Did you ever race James Stewart as an amateur? I raced him in the 50, 60 and 80 classes.
Q: How were you compared to him on an 80? He smoked me; no doubt about that. He's two years older than me, so he would be winning a class that I was just getting into.
Q: How is it having your mom with you on the road every week? Does she like it? I don't know if she likes it. I've never really asked her. I think she likes it. She can't watch the races unless I'm doing well, though. She can't watch the start either. At Daytona, I guess she had her head covered for the start and the first two or three laps. It's good to have her there, though. We can bond.