FLASHBACK FRIDAY | FROM WHENCE WE CAME | GERRIT WOLSINK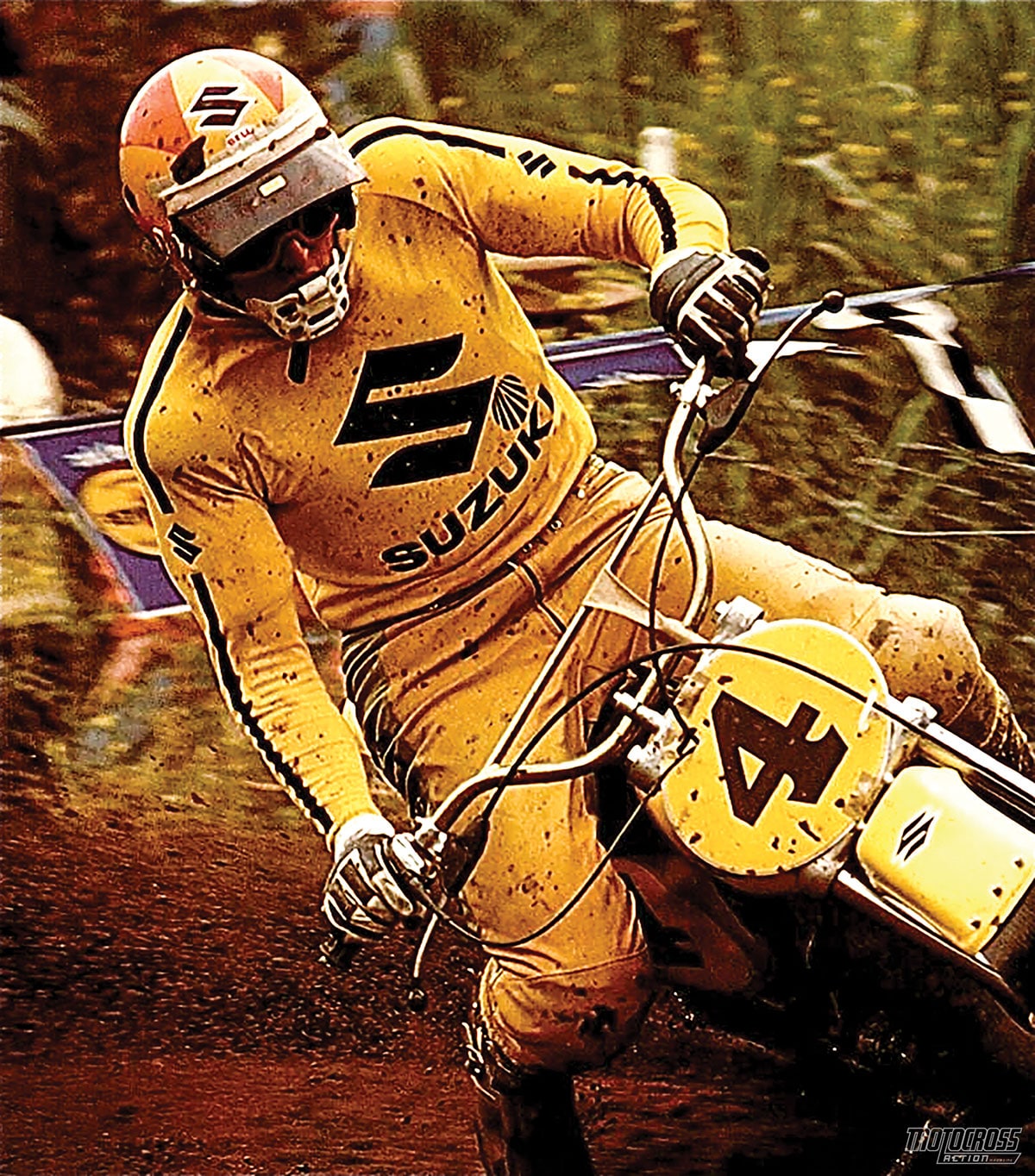 Gerrit Wolsink rode for Factory Suzuki with Roger DeCoster as his teammate.
Gerrit Wolsink was born in 1947 in Hengelo, Holland, and although he is best remembered as the master of Carlsbad Raceway, his life's plan was to be a dentist. But, his plan was derailed for a while by his ability to race a motorcycle. Gerrit started racing the Grand Prix series in 1970 on a Husqvarna. By 1973 he had worked his way up to a fifth-place finish in the 500 World Championships and was offered a spot on the Suzuki Grand prix team as Roger DeCoster's teammate. In his six years on the Suzuki team, Gerrit finished third in the 500cc World Championship twice (1975 and 1977), second twice (1976 and 1979), fourth once (1974) and fifth once (1978).
Most amazing was that the Dutch dentist won the United States 500 Grand Prix in 1974, 1975, 1976, 1977 and 1979. After his fifth win, Wolsink left Team Suzuki and raced three more seasons before returning to dentistry.
The first time I rode a motorcycle. "When I was young, the only motocross machines were 250cc and 500cc bikes. As for smaller bikes, all we had were 50cc mopeds. I rode mopeds when I was 10 years old. My dad had a motorcycle business. He sold motorcycles, bicycles, mopeds and cars, so I grew up on mopeds and motorcycles."
My first race. "It was at an event for cycling, like BMX but with a class for mopeds also. The bike I rode was a 50cc automatic built from a street moped. I entered the 50cc race and won. I raced more moped races before I eventually rode a 500cc BSA Goldstar when I was about 12 years old."
My first motocross race. "My first official motocross race was in Holland on a Husqvarna 250. I was still a student, but I was successful right away. I think if you talk to all the champions, most of them won from the beginning and moved up through the class quickly. I paid for my education to be a dentist by riding motorcycles in the summer."
My first Grand Prix. "In 1968 I was the Dutch National Champion, so I entered my first GPs in Holland and Belgium. The first one I entered was a sand race in Holland. I got second in one moto. A week later I raced at Namur in Belgium, and in the first moto I got lapped by Roger DeCoster. There was a big difference between the sand and the hardpack." 
My first trip to America. "I came to the USGP at Carlsbad in 1973 for Maico. Maico was such a little factory, so getting to come to Carlsbad was a great experience. I also got to do the 1973 Trans-AMA series for Maico. I did really well in the Trans-AMA, and I loved the United States. There is an easiness to the country."
First time riding a Suzuki. "It was during testing for the 1973 Trans-AMA series. I tested Roger's short-stroke RM370. He called it "the dog" because it barked. My first impression was that it was a very nimble and light motorcycle. I was very happy with the switch."
My first USGP win. "It was easy for me to adjust to different tracks, because I liked hard-packed and natural-terrain tracks. I didn't like the Italian tracks, but I liked the English, Swiss and French tracks. Carlsbad had a layout that suited me. I approached Carlsbad by avoiding the blue line. I took advantage of the blue line when it was smooth, but I did my cornering mostly on the sides of the blue line because they graded it so much. I was looking to turn into the loose stuff."
My first dental patient. "I had the feeling that if I did something wrong with my first patient that he would die. After a while, you get used to it. I specialized in periodontics, so I do a lot of surgery. It's like motocross. You're not satisfied being just one of the riders; you want to be the top rider. We have 7500 dentists in Holland, and I wanted to be at the top of the list, or at least in the top 100. I made the list in 88th. It's a good profession, and I still practice dentistry today."