FLASHBACK FRIDAY: GRANT LANGSTON VS. MIKE BROWN IN 2001
The 2001 AMA 125 National Championship was a nail-biter between Mike Brown (above) and Grant Langston, with the title going down to the wire at Steel City.
Motocross giveth, and motocross taketh away. Just ask Grant Langston. On a cool, fall-like day at Steel City, Pennsylvania, on September 2, 2001, Langston's hopes of capturing the 125 National crown were dashed. The year before, the South African won the 125 Grand Prix title with KTM, and in 2001 he ventured across the pond in an effort to give the Austrians their first AMA 125 National title. Only it wasn't to be. What happened leading up to that fateful day is what makes the story a truly epic tale.
The 2001 AMA 125 National Championship was a barn-burner. Travis Pastrana was prepared to defend the number-one plate, but Grant Langston and Mike Brown were hot on the Suzuki rider's heels. As was the case more often than not, Pastrana's toughest competition was himself. Travis knocked himself out while leading the Unadilla National and never regained his form, leaving Langston and Brown, two exceedingly aggressive riders who didn't care for one another, to duke it out for the title.
It set up a U.S.-versus-the-world scenario, with Brown as the underdog and Langston the unknown outsider. Both boisterous in their claims, Grant guaranteed a win at Southwick. Only instead of beating America's best in the sand, he crashed in practice and separated his shoulder. Langston gutted out a ninth place in the first moto. His day wasn't a complete wash, however, as Mike Brown had his own problems in the sand. Grant soldiered on for a fourth-place finish in the second moto, while Mike crashed back to ninth.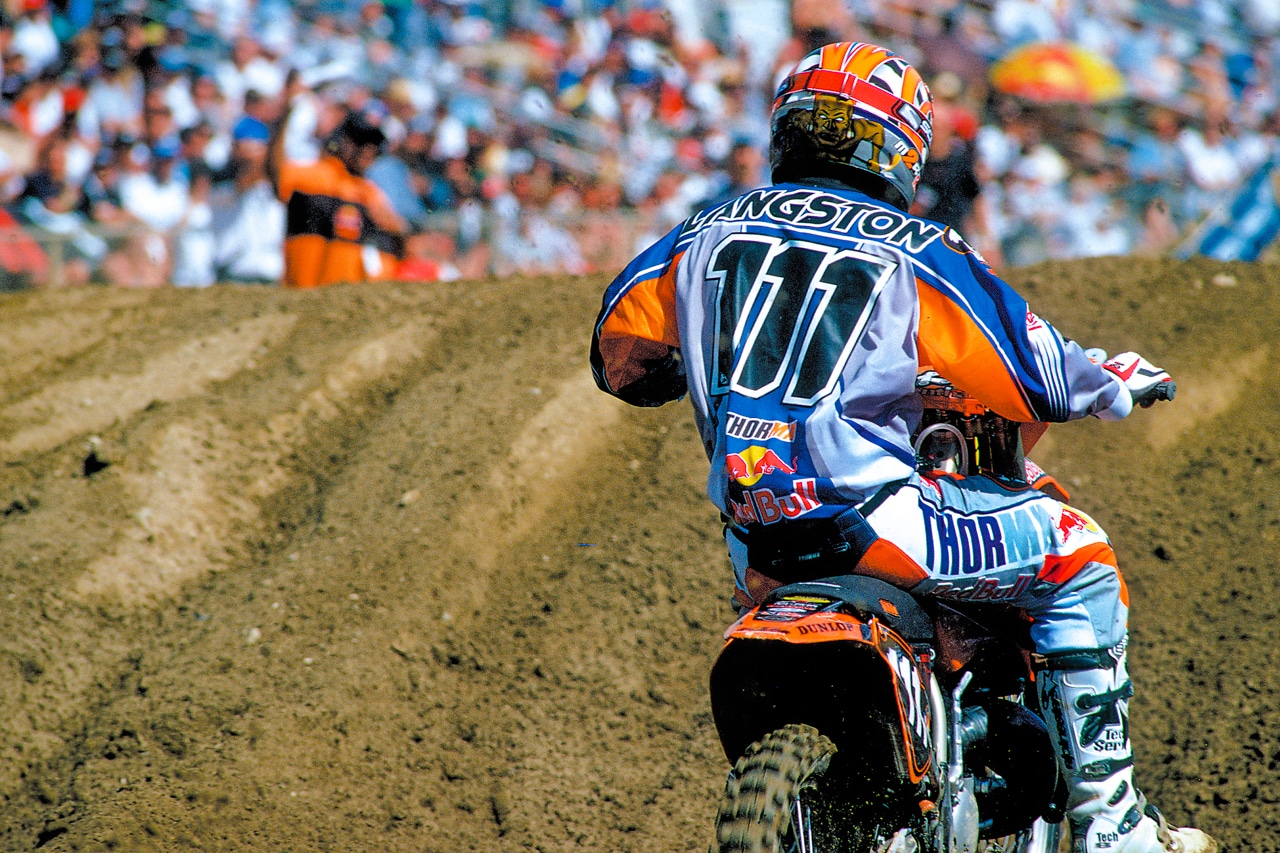 Had it not been for a broken rear wheel, Grant Langston would have likely won the 125 National title in 2001. 
Langston's sore shoulder kept him from racing at Budds Creek, while Mike Brown won both motos. The points gap tightened up, but it appeared that Langston would still walk away with the title. Then Grant bobbled at the Troy National and lost to Brown at Washougal. Still, it would take a stroke of luck for Mike Brown to top the point standings. What happened in Pennsylvania was the motocross version of football's Hail Mary.
"WHILE CARMICHAEL'S DECISION TO DROP DOWN AND RACE THE 125 CLASS AT STEEL CITY WAS PREDICATED ON HIS DESIRE TO BREAK MARK BARNETT'S LONGSTANDING RECORD FOR MOST 125 NATIONAL WINS, IT WAS OBVIOUS THAT RC WOULD HAPPILY HELP HIS BUDDY. OF COURSE, THAT DIDN'T SIT WELL WITH GRANT LANGSTON, WHO BELIEVED THERE WOULD BE FOUL PLAY."
Ricky Carmichael demolished the field in the premier class that summer and wrapped up the outdoor title early. That year Carmichael and Brown were training partners. They were also both riding for Kawasaki. A close bond had formed. While Carmichael's decision to drop down and race the 125 class at Steel City was predicated on his desire to break Mark Barnett's longstanding record for most 125 National wins, it was obvious that RC would happily help his buddy. Of course, that didn't sit well with Grant Langston, who believed there would be foul play. Those grumblings led Carmichael to famously state to Grant, "Don't worry. I won't even touch you when I go past you." The stage was set. Grant Langston needed to stay ahead of Mike Brown, while Brown hoped for disaster to befall his nemesis. Carmichael was the wild card.
Mike Brown and Ricky Carmichael were both riding Kawi's and training partners back in 2001. 
Ricky Carmichael got a bad jump off the gate in the first moto and started near last place, while Mike Brown charged away with the moto win. Langston finished second and had a six-point gap going into the final moto. Then, things went sideways for Langston. Carmichael rode away with the second moto win, light years ahead of everyone else. Brown fell, surely handing the title to the KTM rider. However, destiny intervened. The rear spokes in Langston's KTM 125SX started breaking. The South African slowed down in order to preserve the wheel, but it was not to be; Mike Brown smelled blood and charged to the front. Before the conclusion of the moto, Grant pulled into the mechanic's area, his rear wheel destroyed. He collapsed to the ground in heartbreak. Brown, realizing that he would capture the 125 crown, allowed Branden Jesseman by so that his friend, Ricky Carmichael, could clinch a record-setting 26th 125 National victory. Mike crossed the finish line in celebration. It was one of those rare times when triumph and tragedy were played out on the same stage.