FLASHBACK FRIDAY | GREG ALBERTYN OVERCOMES ADVERSITY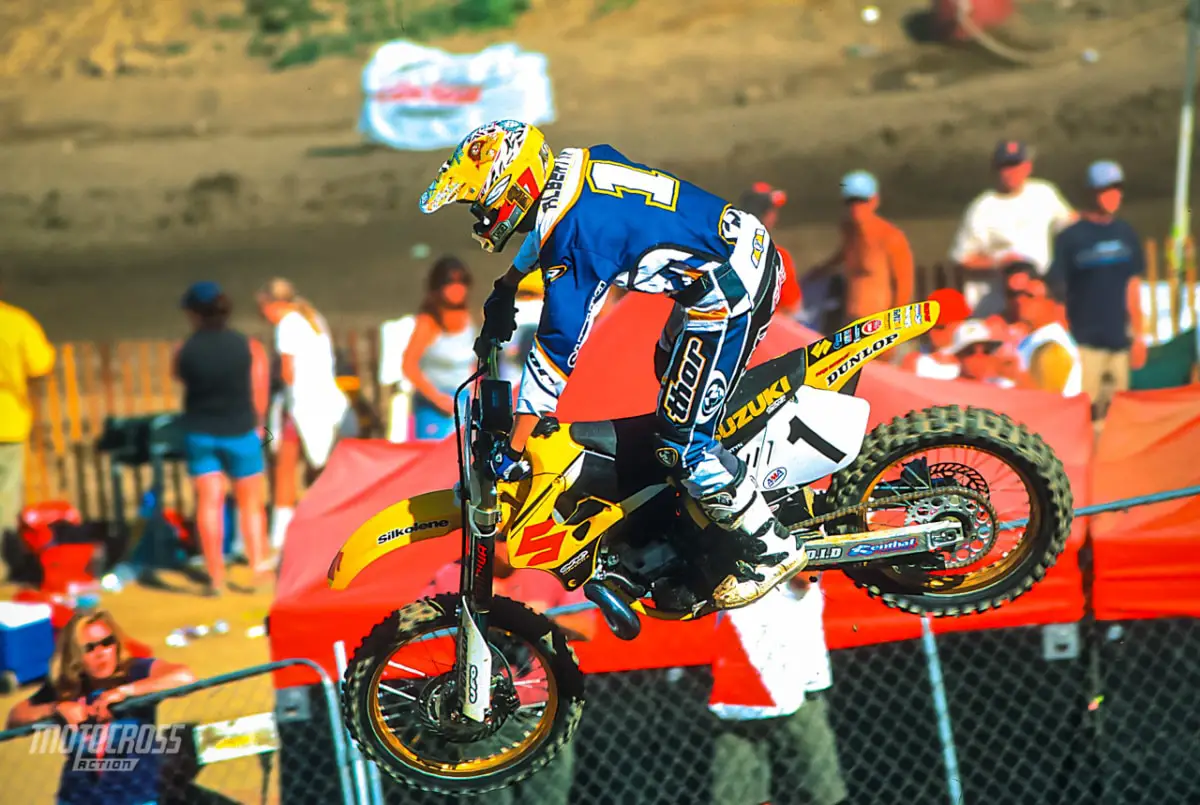 GREG ALBERTYN OVERCOMES ADVERSITY FROM RACING IN EUROPE TO THE U.S.
By Greg Albertyn
"Nobody from Africa, let alone South Africa, had ever won a World Championship. My first year in Europe was brutal due to injuries and coming to terms with how things worked; however, as soon as I won my first Grand Prix, I believed that I should win every GP from that point forward. The next year, on a private Honda team, I won the 1993 250 World Championship.
"Believe it or not, my original plan was to come to the United States and race the 1994 AMA season. I still have a copy of the Honda contract that Dave Arnold gave me to race for Team Honda in 1994. At the 11th hour, the Japanese told Dave Arnold not to sign it, because I was winning championships for Honda in Europe for free on a private Honda team. So, I switched to Suzuki for 1994, but my goal was to take on new challenges, and unless you have won in America, you haven't proven you're the best.
I WAS VERY EXCITED TO WORK WITH ROGER DECOSTER WHEN I MOVED TO THE U.S. IT WAS ONE OF MY STIPULATIONS FOR SIGNING MY 1995 U.S. SUZUKI CONTRACT. THE OTHER WAS THAT MY MECHANIC, IAN HARRISON, WOULD COME WITH ME.
"For 1994 I signed to race the GPs for factory Suzuki. The 1994 production Suzuki RM250 was pretty terrible, and Suzuki wanted to use Stefan Everts' 1993 factory bike for 1994. Everts' riding style was smoother than mine. He was very technical. The suspension was way too soft, and the power was in the wrong areas. I couldn't ride the bike. It took me almost six GPs to turn the bike around. I had to go back to the basics and pull off all of the factory parts. Fortunately, we got things figured out, and I won the 1994 250 World Championship and packed my bags for America.
"I was very excited to work with Roger DeCoster when I moved to the U.S. It was one of my stipulations for signing my 1995 U.S. Suzuki contract. The other was that my mechanic, Ian Harrison, would come with me. I had heard rumors that the U.S. factory Suzuki team was in disarray, but I knew that Roger could get things back on track, and I trusted Ian behind the wrenches.
"My U.S. racing career started off badly. I got hurt in Supercross and rode through injury in 1995. Then, the 1996 Suzuki RM250 was absolutely the worst bike I had ever ridden. That engine was a slug. It was so slow. People laughed at me for all the times I crashed in Supercross. I'm being flat-out honest when I say that if I had the amount of horsepower the Honda and Kawasaki had, I guarantee I would have crashed 50 percent less. On the Suzuki I couldn't get over the obstacles. I wasn't the type of guy to back down, so if guys were jumping a section, then I would go for it, too, only the bike was too slow. I had to ride the wheels off the bike to win Unadilla that year. Up to that point I had back-to-back injuries pretty much nonstop for the 18 months since I came to the U.S. To finally win, even though I went 2-2, was huge. All of the hard work was paying off.
"Winning the Los Angeles Supercross opener in 1997 is such a fun memory. I came in as an unknown, because I hadn't done much in the U.S. up to that point. It was a real shot in the arm to have Jeremy McGrath on the Suzuki team in 1997. I learned a lot from him. At Los Angeles I put myself in the right place at the right time. It was my only Supercross win, but I ended up having a really good year in Supercross. I finished on the podium five times.
"I like to think that I won the AMA 250 National Championship in 1998. It was unfair that I had to ride against Doug Henry and his monster Yamaha YZM400 four-stroke [laughter]. Henry's bike was unbelievable. I lost count of how many holeshots he got that summer. No hard feelings! I finished second in the standings that year.
"I put more work into the 1999 National series than I had ever done in my racing career. I knew that it was my make-it-or-break-it year. I wanted to win the AMA 250 National title. The 1999 series didn't start off well. At Glen Helen I got taken down in the first corner. The same thing happened at Hangtown. I literally broke down in tears talking to chaplain Steve Hudson the night before High Point. I told Steve that I wanted to quit. He said, "Why don't you go tell God that." That night I got on my hands and knees and said, "God, you know this is my time. I've done everything I could possibly do, and I feel like I'm banging my head against the wall. If I don't win on Sunday, I'm quitting." I was serious. Everything clicked at High Point that Sunday. I basically waxed everyone. It was the turning point that I needed. To a degree, I felt fulfilled after winning the 1999 AMA 250 National Championship. It was redemption for me. Unfortunately, Americans never saw me really shine. They didn't see my glory years in Europe."