FLASHBACK FRIDAY: JAMES STEWART 2004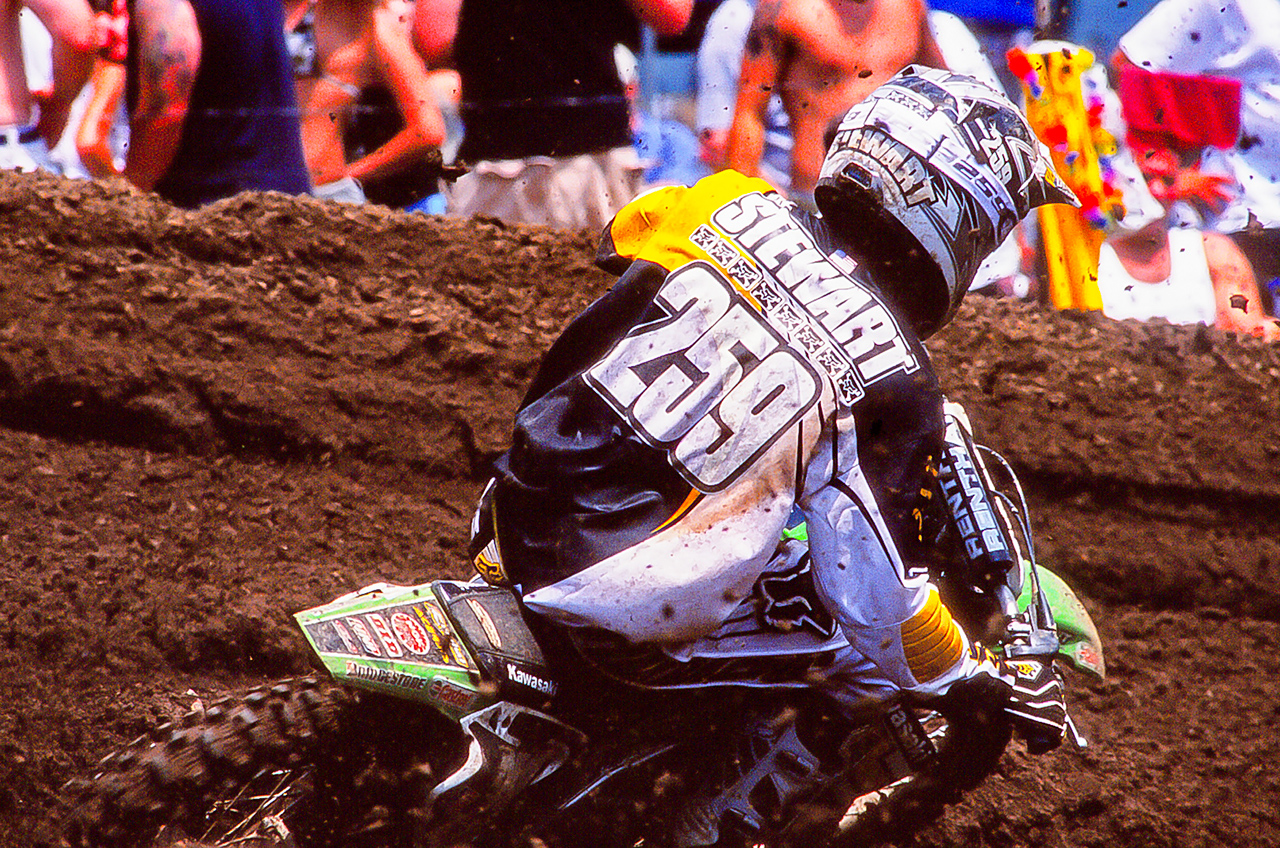 Few riders are as polarizing in the sport of motocross as James Stewart. Bubba to this day has many engaging fans and quite a few skeptics. James Stewart is not without career credentials however, as the Floridian has seven AMA championships to his credit and one of three perfect National seasons ever completed by any rider (the other two by Carmichael). 2004 was Stewart's last year in the 125 class. He had only lost one race that season due to a mechanical failure after a crash. There was another distinction to Stewart's season, as it would be the last year Kawasaki (or anyone) won the 250 class on a 125 two-stroke. Stewart had opted out of switching to the new Kawasaki KX250F…until the final round at Glen Helen. While the bike had been in development for two years as a joint project between Kawasaki and Suzuki, 2004 was the year it was unleashed to the public. Pro Circuit Kawasaki riders Matt Walker, Ivan Tedesco and Stephane Roncada were eager to leave the two-strokes, opting for the new bike.
James Stewart had lots of momentum coming into the National season, having just won his first National championship in 2002 and two Supercross titles in 2003 and 2004. There was an additional amount of hype, as many felt he had what it would take to dethrone Ricky Carmichael in 2005. Stewart was set to move up to the 250 class the following year. The season started with Hangtown, and even a terrible start in the first moto didn't deter Stewart. He was able to win the first moto with ease. Stewart was also able to beat Kawasaki KX250F rider Stephane Roncada in the second moto, edging him out in the last few laps. Stewart would go 1-1 at the season opener. Of the 40 riders at Hangtown that year, only nine were atop a 125 two-stroke. Three races later and Stewart had won every single moto. A loss was bound to happen sometime, and the race was Red Bud. After crashing in the second moto, his KX125's clutch failed, forcing him to exit the race prematurely. Stewart would not lose another moto the entire season, making it the last time a 125 two-stroke would win a National title.