FLASHBACK FRIDAY | JEFF STANTON'S SUPERCROSS SUCCESS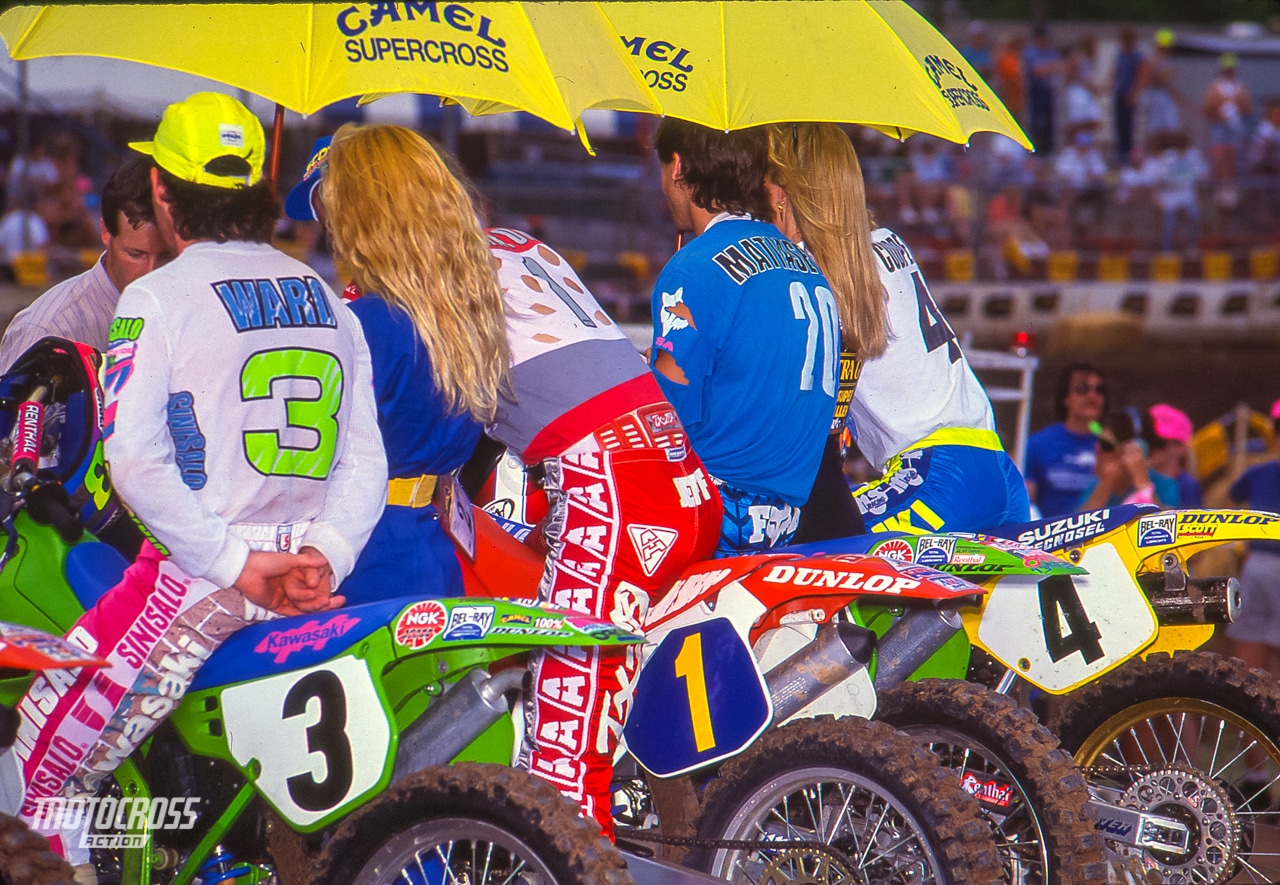 Jeff Ward (3), Jeff Stanton (1), Jeff Matiasevich (20), and Guy Cooper (4) back in 1990.
Prior to 1990, Bob Hannah was the only rider to win the premier Supercross Championship back-to-back. While Rick Johnson and Jeff Ward both had two championships, they leapfrogged each other in years. "Hurricane" Hannah also was the only one to have more than two championships to his name. He won six of the ten races in 1977 to clinch the championship. He would go on to repeat the feat in 1978, winning six of 11 races. His final Supercross championship was clinched in 1979. Jeff Stanton was the next man to win Supercross titles back-to-back in the then-premier 250 class.
Jeff Stanton did not enter the 1989 series without merits. As a teenager, he won the Florida Winter-AMA series in both the 250 and 500 classes. Stanton also won three Loretta Lynn championships, including one in the coveted 250A class. He first raced Supercross in 1987, finishing the series 10th overall. Five races into the 1987 season Stanton would earn his first podium finish, a second place. He wouldn't get another second place until Anaheim 1 in 1989.  That race was full of incidents. Kawasaki's Jeff Ward injured his foot before the main event. Johnny O'Mara (another 250 Champion) had a mechanical failure on his Suzuki. Rick Johnson was able to win the event, but Stanton wasn't far behind.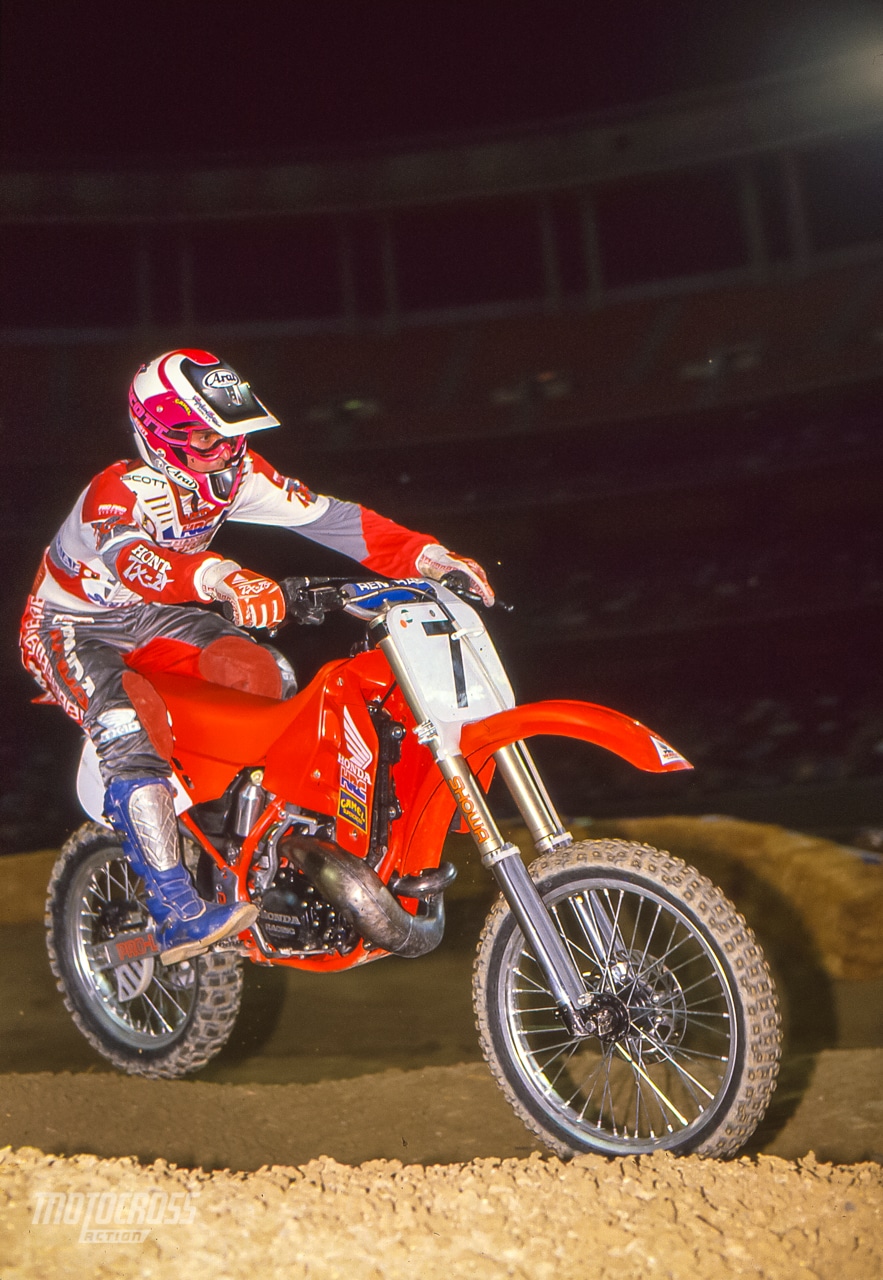 Jeff Stanton 1989. 
For the next four rounds, Rick Johnson won every race. Atlanta is where the action ramped up. Both Jeff Stanton and Guy Cooper started out front in what became an epic battle. While they were swapping positions out front, Rick Johnson had been creeping through the pack. He pounced on the two leaders, but Stanton was able to fend him off, while Cooper ended up making a mistake that sent him flying off the track. That night Jeff Stanton won his first AMA Supercross race. With winning came confidence, and Stanton won four more races that season on his way to the 1989 AMA Supercross title.
The bullseye was on Stanton in 1990. It was a changing of the guard. Riders like Jeff Matiasevich, Mike LaRocco, Larry Ward and Damon Bradshaw were all racingd their first full season in the class. Others, like Jean-Michel Bayle had improved greatly between the seasons. Even a complete rookie like Mike Kiedrowski was a threat. Jeff Ward and Rick Johnson were the old guard of the last generation, yet they didn't want to retire. The changeover was more apparent a lap or two into the season opener. Damon Bradshaw flew to a first place finish. Sophomore Jean-Michel Bayle and rookie Jeff Matiasevich were right behind. Rick Johnson finished sixth, and Jeff Stanton finished right behind in seventh.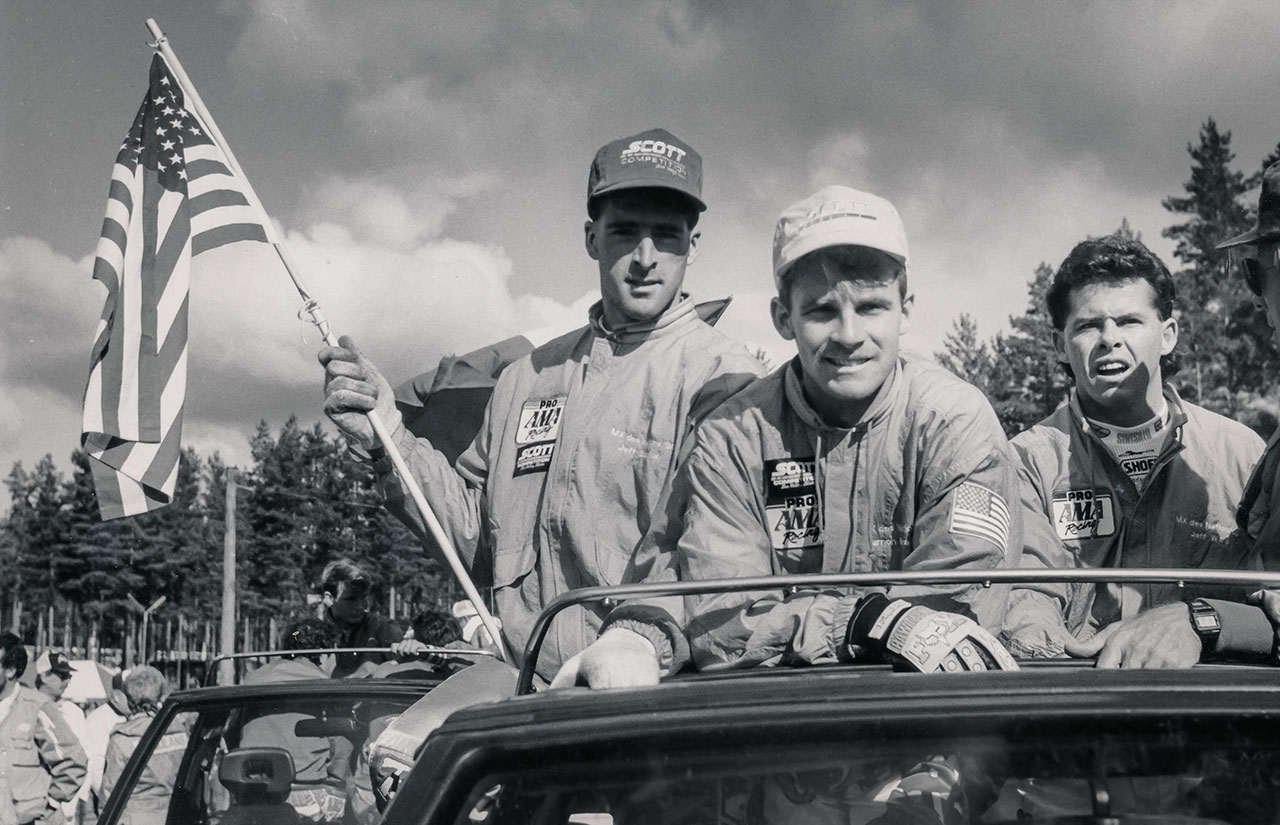 Jeff Stanton (left), Damon Bradshaw (middle) and Jeff Ward (right) in Valkenswaard where they won the 1991 MXDN for USA.
Damon Bradshaw and Jeff Matiasevich were known for their rivalry in the 125 class and it only became more heated in the 250 class. The two were hard at it in the San Diego race and it looked like Bradshaw would win. However, he came up short on a tabletop and crashed. With his rival out, Matiasevich had a new rider to deal with—Jeff Stanton. The 1989 champion, Stanton, couldn't be held back. He topped the podium in San Diego, earning his first win of the season. With the exception of Atlanta–a vividly turbulent race–Stanton maintained good finishes for the rest of the 1990 Supercross season. Stanton was the second rider to ever win two championships in a row.