FLASHBACK FRIDAY: JEREMY MCGRATH VS. RICKY CARMICHAEL

Ricky Carmichael (left), Jeremy McGrath (center) and Kevin Windham (right).
Jeremy McGrath won his first Supercross championship in 1991. Even the most casual observer could see McGrath's dominating performance in the 1990's. Jeremy won 6 of the 10 Supercross championships that decade. It should be noted that his Supercross career was far more dominant than his outdoor National performance. His only outdoor title was in 1995. While McGrath was sweeping Supercross, a young rookie was emerging in the 125 class. Ricky Carmichael had won the overall in the AMA 125 Nationals in 1997 and would repeat in 1998 and 1999. Carmichael had a knack for outdoors, although his short stature slowed his adaption to Supercross.
Jeremy McGrath and Ricky Carmichael going head-to-head in the year 2000. 
In 2000, Carmichael stepped up a class to face McGrath. Jeremy's crown was up for grabs. At Anaheim 1, the season opener, Carmichael was up as far as third, but he slowly faded to eighth by the end of the race. By the fourth round in Phoenix, Carmichael was able to stay on the fender of McGrath. By the ninth round in Daytona, he beat McGrath in a head-to-head battle. It was the start of a new era. While McGrath was able to keep the young Kawasaki rider at bay to win the Supercross Championship in 2000, it was the beginning of the end. It would be Jeremy's last Supercross championship—his 7th.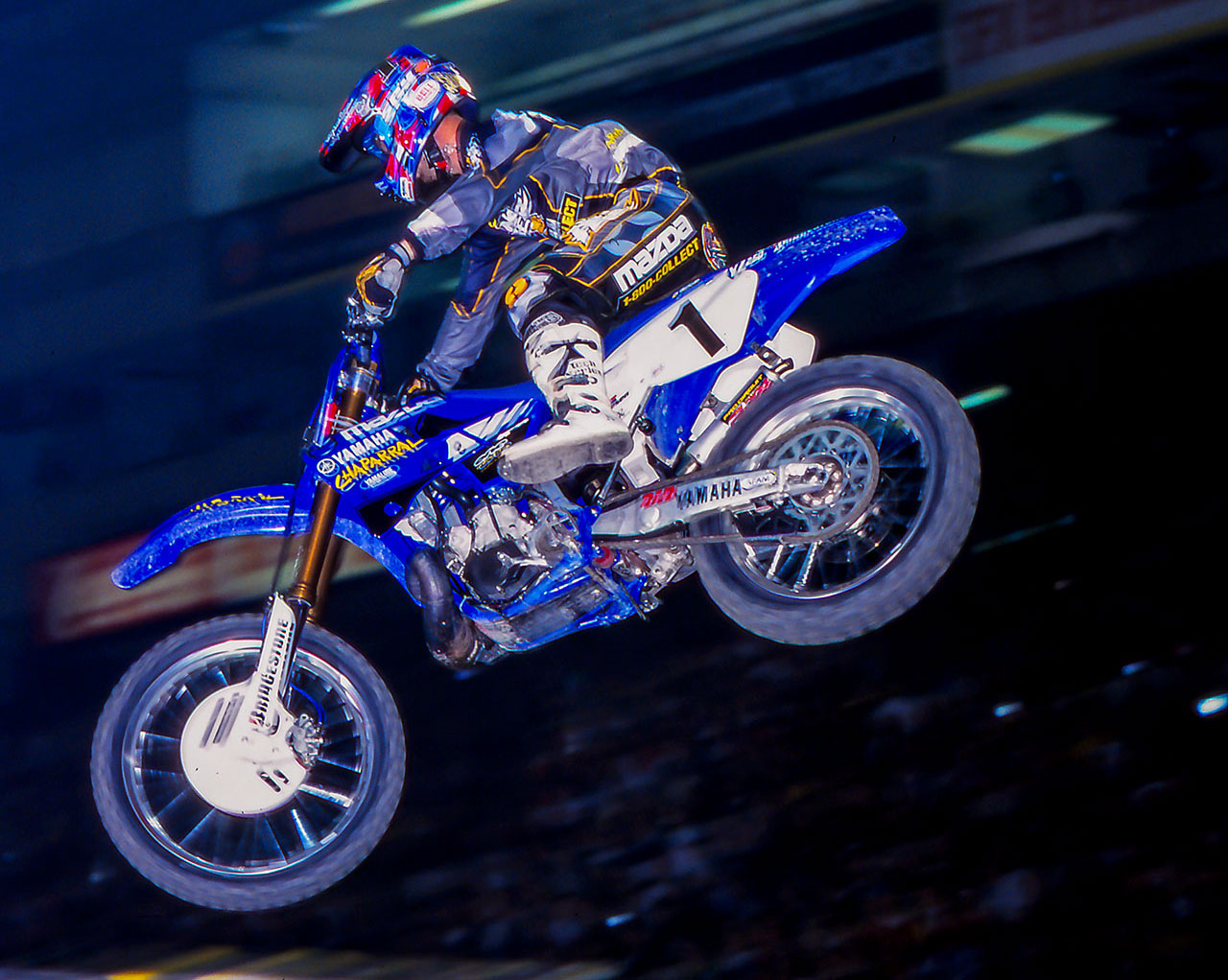 A1-2000: Jeremy McGrath at Anaheim 1 on his Team Chaparral/Mazda, 1-800-Collect YZ250.