FLASHBACK FRIDAY: JOEL ROBERT — FROM WHENCE WE CAME
There was a time in American motocross when every teenage racer knew he had to pronounce Joel Robert's name with the proper Walloon accent. To be in-the-know, you had to say "Joe-el Row-bear" or suffer ridicule from your friends. But fame and Flemish are fleeting things. Of course, a six-time 250 World Champion like Joel Robert will never be truly forgotten, but the glory does fade with each new generation of motocross fans.
MXA wanted to go back in time with Joel—not to his glory days, but back to the roots from whence he came.
The first time I rode a motorcycle. "I was 6 years old when my father took me out with his Vespa scooter. I would let the clutch out too quickly and stall the engine. Finally, I started riding, but I was so little I couldn't put my foot on the ground, When I wanted to stop, I would ride into the garage and put my hand against the wall."
My first race. "I was 16 years old, but you needed to be 18 years old in Belgium to race. My dad told them I was 17-1/2 and my passport was a little bit modified. They saw me take some laps in practice and let me race."
My first win. "I was still 16 years old, and it was at a rain race in Chimay, Belgium. I raced a Zundapp 250 street bike that my father had turned into a motocross bike. I only made it three laps on the muddy track, but I was the only guy able to make it up and down the hill. No one else finished the first lap, so they stopped the race and said, 'You are the winner.'"
My first sponsor. "In 1964 I got a CZ that the Belgian importer gave me. It wasn't a works bike, just a stocker. When I was racing in England, I got free Castrol oil and Dunlop tires. In Italy, I got some chains from Versachi. I didn't have any real sponsors at that time, but I won the 1964 250 World Championship on that bike."
My first time racing against Roger DeCoster. "It was at the Belgian Grand Prix in 1964. He wasn't an international rider at the time, just a local Belgian rider who had the opportunity to race the GP. He was younger than me. I don't know how he finished, maybe 18th or something like that. It wasn't until 1965 and 1966 that he came out on the Grand Prix circuit." 
My first World Championship. "I had no car at the time. A friend of mine agreed to take me to the 1964 Swedish and Finnish GPs, but after Sweden he left me in Sweden alone. Torsten Hallman was the 1963 World Champion, and I was fighting with him for the 1964 Championship. Amazingly, Torsten Hallman took my bike to Finland, and Dave Bickers gave me a ride. Torsten and I were fighting very hard at the races, but were good friends after that. It was a really good time. In 1964 I won the Championship too easily. I didn't know that you had to work hard. In 1965, 1966 and 1967, I finished second in the 250 World Championship. After that I learned how to win, but it was more difficult for me."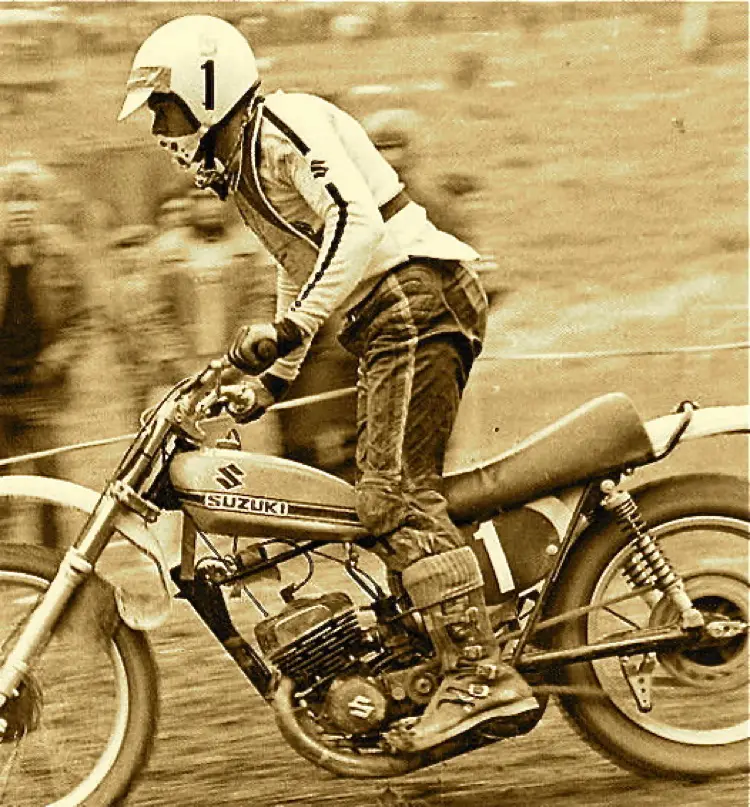 My first Japanese bike. "In 1968 Olle Peterson signed with Suzuki and worked on developing the bike for the next two years. When I signed with Suzuki in 1970, the bike was a really good bike. It was light and handled well, although it was not as powerful as the CZs. The races were 40 minutes plus two laps, and after 30 minutes we were still in good shape because the Suzuki was so easy to ride."
My first visit to America. "Coming to America was a dream for me. Torsten Hallman and Edison Dye brought us over for the Inter-Am, and we drove from New York to Los Angeles. There were six European riders, and it was good fun for us to race against each other, but the Americans were not as good. I was surprised that the Americans were not very good at motocross. We did a lot of motocross schools, and it was sort of like a vacation."