FLASHBACK FRIDAY: KIEDROWSKI & LaROCCO FEUD IN 1994
Motocross is an individual sport where rider and machine race for individual glory. The beauty of professional motocross is that only one racer can win. Participation awards aren't handed out for a job well done. Because of this, things can get tricky for race teams, who often support multiple riders. Several programs, such as Mitch Payton's Pro Circuit Kawasaki team, have been known to field six riders under one awning. Sponsorship obligations and the desire to win are why teams have more than one horse in the race. As a result, team unity often hangs in the balance. Teams must balance competition and civility among their teammates.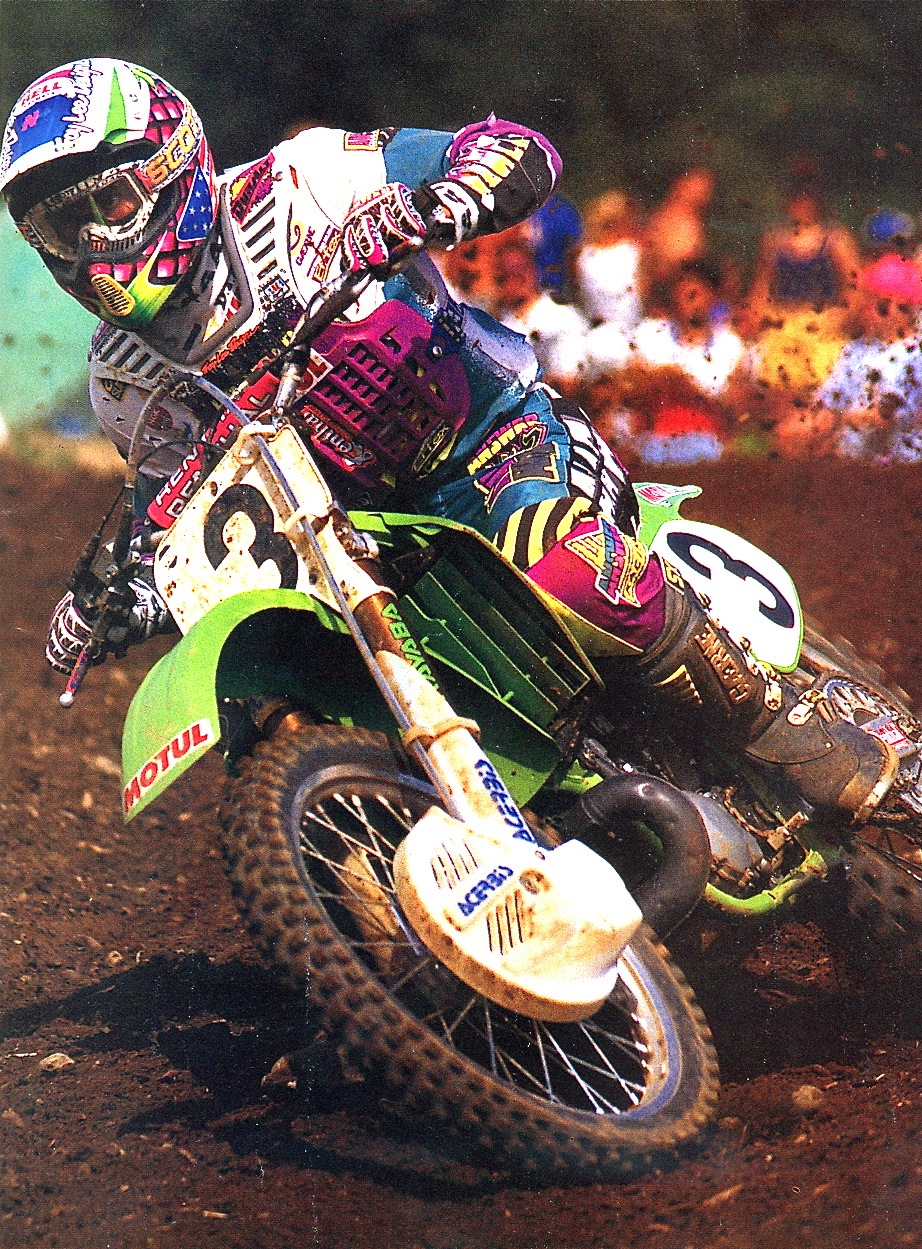 There have been a myriad of historical moments when teammates have not been the best of friends. It's inevitable, given personal differences and the constant pressure of performing at the highest level. Honda teammates Jeff Stanton and Jean-Michel Bayle weren't friends in the slightest. Bob Hannah and Broc Glover weren't on speaking terms during their Yamaha tenure. The brouhaha between Kawasaki teammates Mike LaRocco and Mike Kiedrowski was famously captured by ESPN's television cameras following the first moto at the Red Bud National in 1994. It was "the ram seen 'round the world" and created a ripple effect throughout the industry.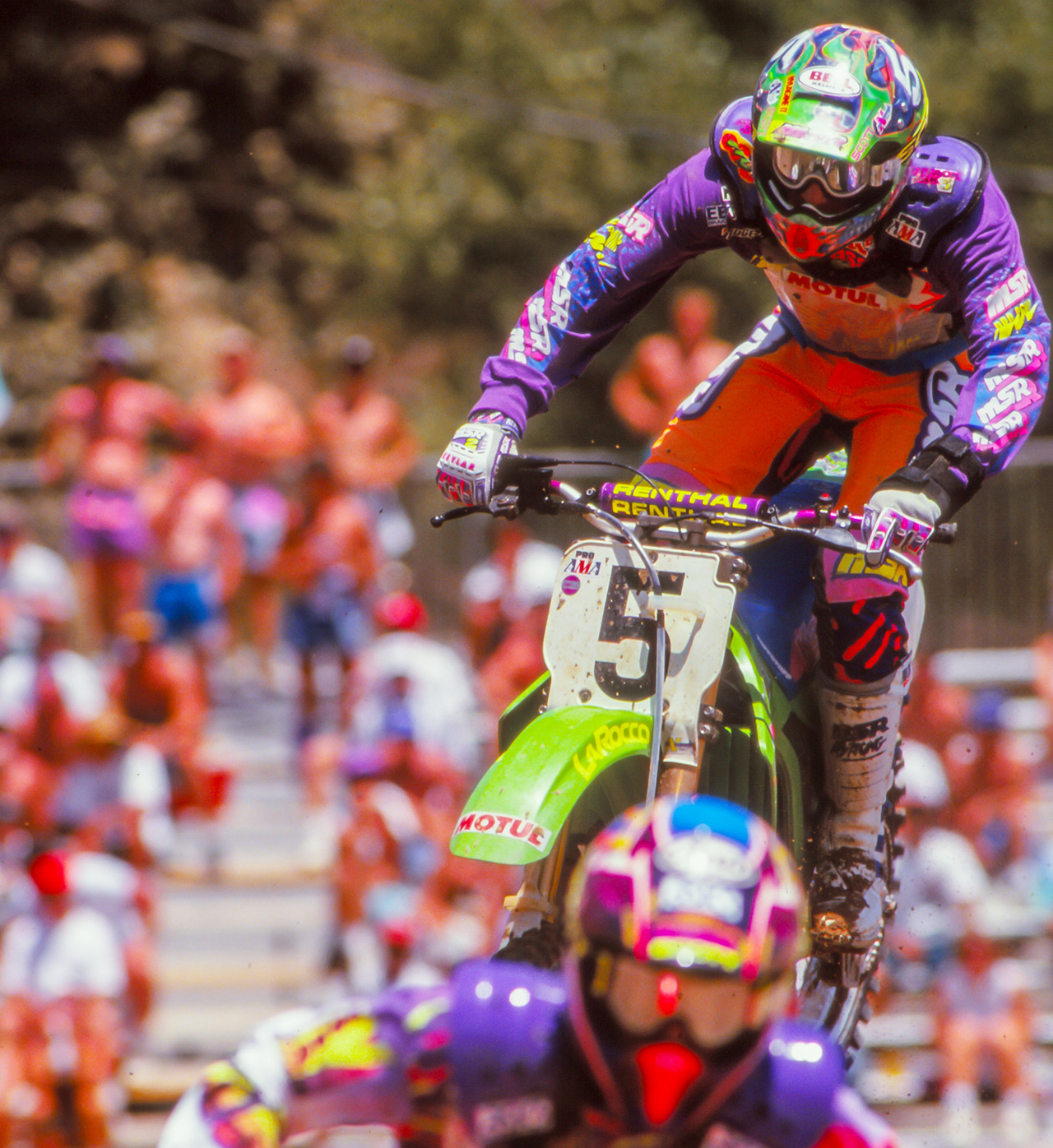 Mike Kiedrowski edged out Mike LaRocco by 59 points for the 1993 AMA 250 National Championship, although LaRocco captured the last-ever 500 National title of that year. Both would contest the 1994 AMA 250 Nationals while at the peak of their powers. The writing was on the wall. Two alpha males on the same team had the potential for disaster. Kawasaki brass knew that trouble was brewing, although any manufacturer would happily put up with a few spats just to have two title contenders in its stable.
Somehow Kiedrowski and LaRocco were cordial through the beginning stages of the 1994 Nationals, despite regularly trading moto wins. LaRocco went 2-1 to take the National opener in Gainesville, only to have Kiedrowski win the following race at Hangtown. The back-and-forth winning continued as the series headed to Red Bud, which at that time was the halfway point in the series. On July 3, 1994, a day before America celebrated its 218th year of freedom, sparks flew in Michigan.
"LITTLE DID LaROCCO KNOW THAT A FUMING MIKE KIEDROWSKI WAS CLOSING QUICKLY WITH MALICIOUS INTENT. KIEDROWSKI CLEARED THE FINISH-LINE JUMP, POPPED THE CLUTCH ON HIS FACTORY KAWASAKI SR250 AND GHOST-RODE HIS BIKE INTO LaROCCO'S FACTORY KAWASAKI."
The first moto between LaRocco and Kiedrowski was one for the ages. A dogfight ensued, as both riders fought for the upper hand. LaRocco, two years younger, gave his rival no quarter. As a result, LaRocco and Kiedrowski came together, with Kiedrowski falling down. The man known as "the Rock" crossed the finish line and celebrated in victory. Little did he know that a fuming Mike Kiedrowski was closing quickly with malicious intent. Kiedrowski cleared the finish-line jump, popped the clutch on his factory Kawasaki SR250 and ghost-rode his bike into LaRocco's factory Kawasaki. From there Kiedrowski confronted his teammate, citing dirty riding. The dramatic affair added excitement to an already-turbulent 250 National series.
Mike Kiedrowski's temper cost him, as the AMA slapped him with a $1000 fine. LaRocco, for his part, was required to pay $400. A livid Kiedrowski came storming back and won the second moto. He went 2-1 for the Red Bud National overall. Unfortunately, things fizzled out as quickly as they had heated up. Mike Kiedrowski suffered a broken hand the following race at Unadilla when he was roosted by a rock. His title hopes vanished; Kiedrowski helplessly watched his archrival, Mike LaRocco, capture the 1994 AMA 250 National crown. Neither racer would ever win an outdoor title again, although both were constant threats for race wins.