FLASHBACK FRIDAY| RON LECHIEN & THE WORKS HONDA CR125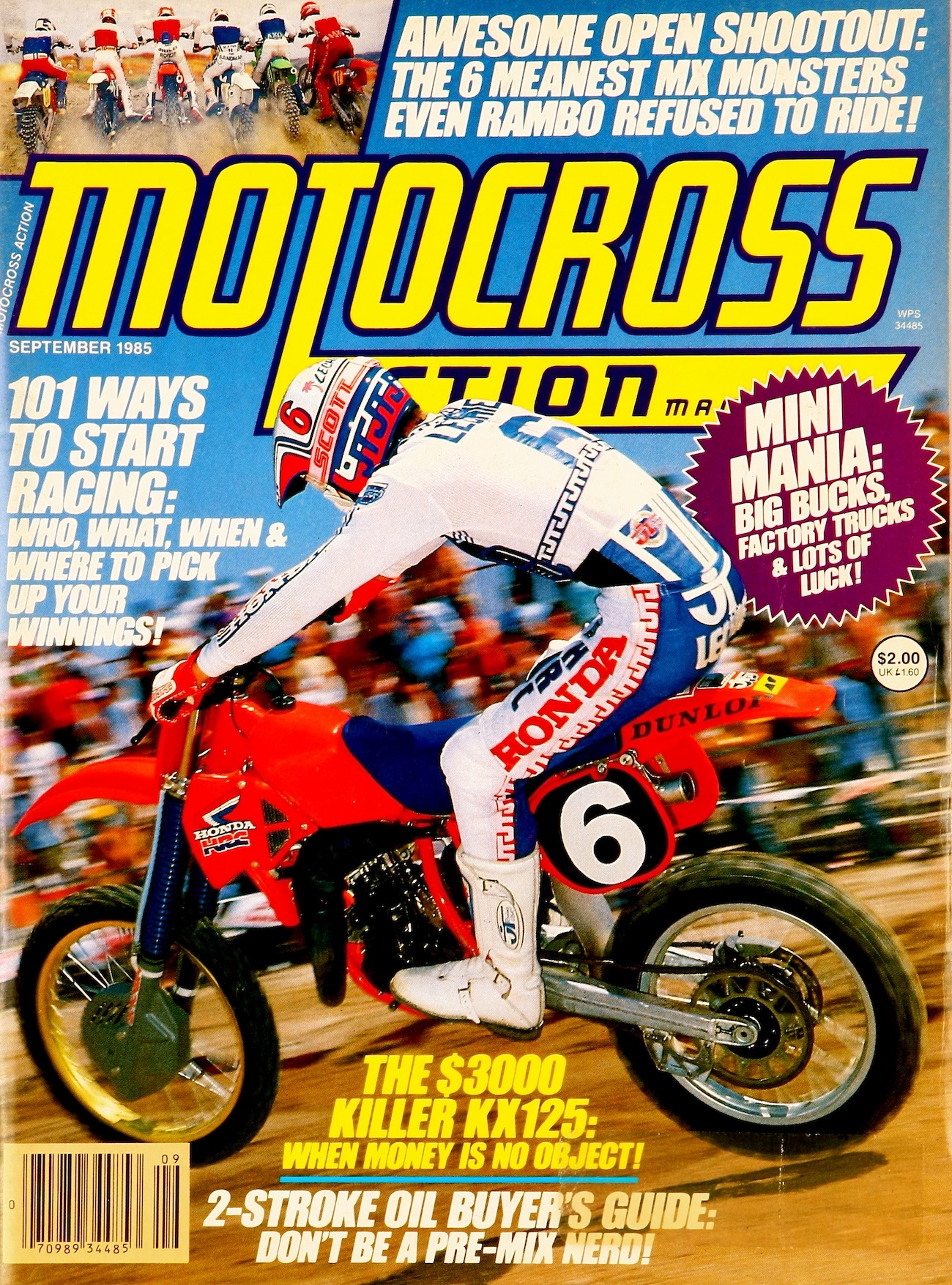 September 1985 cover of MXA. 
Although it was 31 years ago, 1985 was a pivotal year in professional racing. It was the last time that true-to-life factory bikes were legal in AMA competition. Beginning in 1986, the AMA instituted the production rule. Works bikes, with one-off trickery like handmade fuel tanks and exotic engines, weren't allowed on the racetrack. Ron Lechien was the last rider to race a true Honda CR125 works bike. He went on to win the 1985 AMA 125 National Championship over Erik Kehoe and George Holland.
We don't claim to be an expert on motocross history, but we do appreciate the sport's past. The MXA archives are overflowing with negatives, slides, prints and medium-format photos of the good old days. Color photos in motocross magazines weren't on every page until the mid-1990s. However, the cover of MXA has always been in color.
The magazine's cover photo is the statement piece, and that September 1985 cover photo of Ron Lechien was killer. The "Dogger" exuded style in his white JT Racing gear, open-face helmet with Scott faceguard, foam JT gloves and back-less chest protector. Younger generations might not understand that Lechien's kit was on point, but it was the modern definition of "steeze." Then, there was the works Honda CR125 with the pipe coming out the left side, handmade gas tank, shorty silencer and bead weld running down the center of the swingarm. Chris Haines was Lechien's mechanic at Honda. He must have worked tirelessly to get Ronnie's bike running like a scalded cat, because Lechien won seven of nine 125 Nationals in 1985.
"THE 1985 HONDA CR125 WAS PROBABLY ONE OF THE MOST FUN BIKES I EVER RODE. IT HAD KILLER POWER FOR A 125–MORE THAN ANYONE ELSE HAD ON OTHER TEAMS–AND HANDLED LIKE A DREAM. THE SHOWA SUSPENSION WAS INCREDIBLE. I FELT LIKE I WAS IN THE PRIME OF MY CAREER AT THAT TIME, AND THAT THERE WASN'T ANYBODY FASTER."
August cover of MXA.
Instead of talking about Lechien's masterful season or his bike, it seemed better to get the story about the September 1985 cover photo directly from the horse's mouth–Ron Lechien.     
In Ron's words, "This photo was taken at the 125/250/500 National in Las Vegas. I can't remember the name of the track, but it was north of town out by the Whisky Pete's Casino [note: Las Vegas Motocross Park]. It was super hot that day, like 110 degrees out. The start was concrete and I didn't get the best jumps off the gate, but it didn't matter. It did not take me long to get to the front in both motos. I went 1-1 for the win.
"The 1985 Honda CR125 was probably one of the most fun bikes I ever rode. It had killer power for a 125–more than anyone else had on other teams–and handled like a dream. The Showa suspension was incredible. I felt like I was in the prime of my career at that time, and that there wasn't anybody faster. Others might have been smarter and in better shape than me, but not faster. 
"I was very meticulous with my gear/sticker placement and had a big hand in how I looked and what colors I wore. I would spend time during the week cutting out decals and making my stuff look trick! I remember it was my idea to get the HRC logos down the front of the pants, as I thought that would be cool. It was nice to have JT at my fingertips to make whatever combinations I wanted.
"I really enjoyed cutting out all my stickers and designing my helmet/bike. I did it from a pretty young age. I can remember cutting out the Yamaha logos and putting them on the front fender of my 1980 YZ80's. I also put them on my boot covers in 1982 and had them stitched up for the factory look.
"On another note, the previous month's cover was a color photo of me on my factory Honda CR250 from the L.A. Coliseum Supercross. I wonder how many other riders have gotten two straight months of MXA cover racing footage from over the years? Maybe Jody would know this?"
What's the answer? It is possible that Lechien is the only rider featured on consecutive MXA covers. Jody did some digging, but going through every cover would take far longer than any of us have time for. We're trying to make next month's magazine, after all. If there was another rider to go two-for-two, theoretically it could have been Ricky Johnson from the 1980s, Jeremy McGrath from the 1990s or Ricky Carmichael during the 2000s. 
Do you know the answer? Are we missing someone? If so, email us at [email protected]