FLASHBACK FRIDAY | STEWART VS. REED 2009 SLUGFEST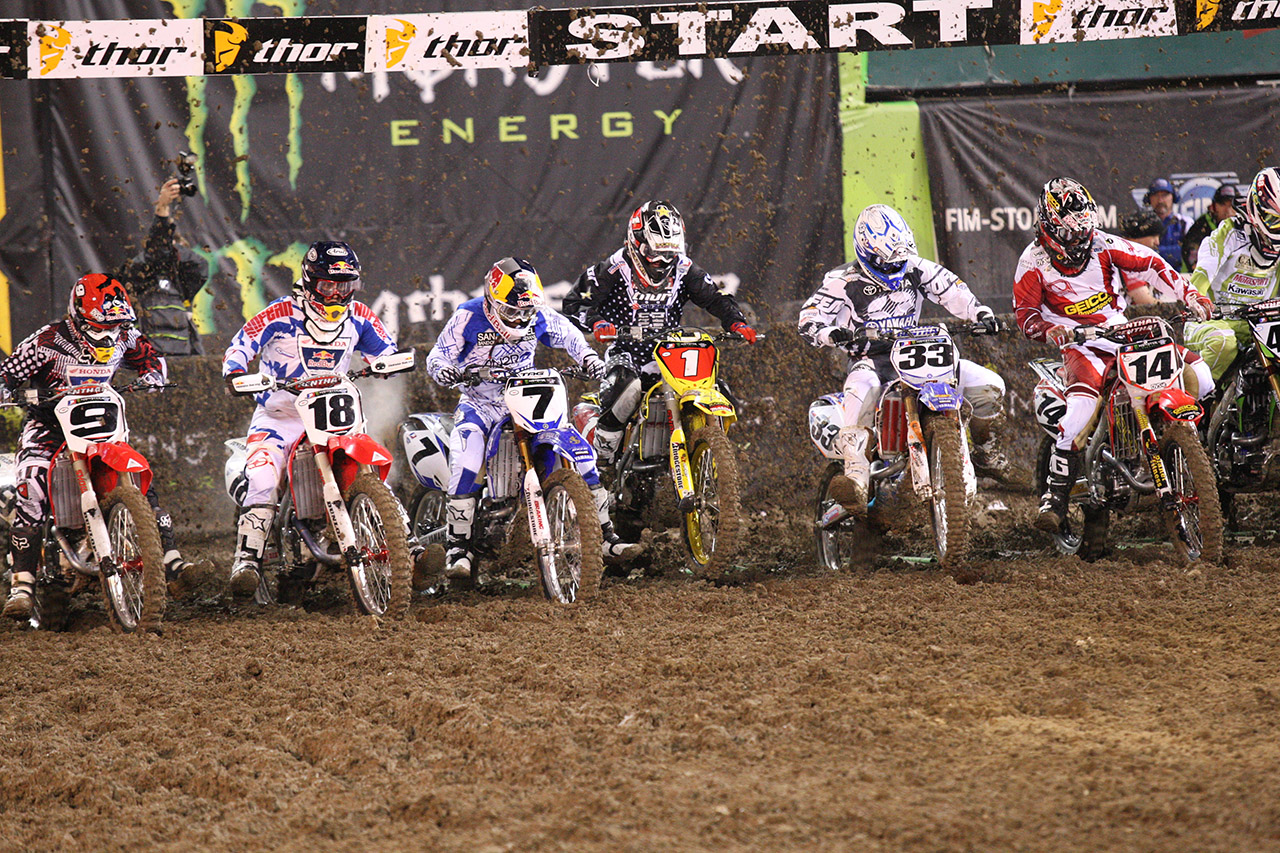 Chad Reed (1) and James Stewart (7) took the 450 Supercross down to the wire in 2009. Anaheim 3, where this photo was taken, was a precursor of what was to come. Ivan Tedesco (9), Davi Millsaps (18), Josh Grant (33), Kevin Windham (14) and Tommy Hahn (48) surround Stewart (7) and Reed (1). 
Chad Reed and James Stewart will forever be linked together, just as Bob Hannah and Kent Howerton, or Jeff Stanton and Jean-Michel Bayle have been. Reed and Stewart have had a fierce rivalry for over a decade. The 2009 AMA Supercross Championship was the boiling point. Chad Reed emerged victorious in 2008 (while Stewart was out with injury) and was determined to defend his title. Reed used consistency in 2009 to build a comfortable points lead over his archrival. James Stewart floundered at the Anaheim opener that year and had to play catch-up throughout the season. He managed to claw his way back into the hunt by winning 12 of 15 races. Everything changed at round 15 in Seattle. Chad Reed got caught up in a first-turn pileup and could only manage seventh that night, while Stewart finished second. The eight-point swing was enough to catapult Stewart into the 2009 Supercross points lead.
Chad Reed's 2009 Factory Suzuki RM-Z450. 
The penultimate round in Salt Lake City provided more fireworks. James and Chad battled tooth and nail for the win. Things got really interesting as they blazed through lapped traffic. When Reed lapped James Stewart's San Manuel Yamaha teammate Kyle Chisholm, Chisholm collided into Reed in what looked like either an intentional block or a whiskey-throttle moment. The AMA instantly black-flagged Chisholm, as James Stewart won the race and extended his points lead to six heading into the Las Vegas finale. The specter of team tactics hung heavy in the air. After the race, Chad Reed famously quipped, "Kyle Chisholm? Who's that guy?"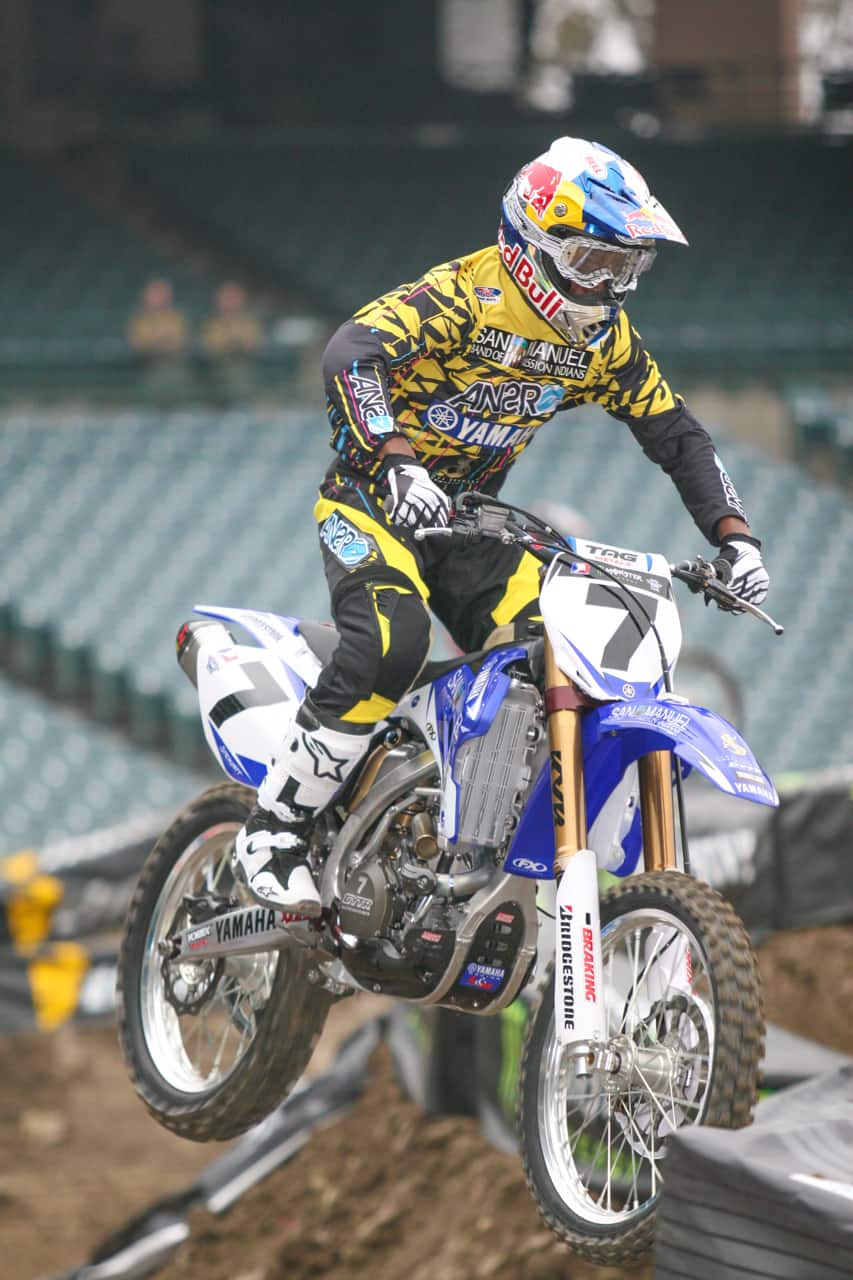 James Stewart back in 2009. 
STEWART WAS PUNTED OFF OF THE TRACK, BUT SINCE HE HAD BEEN EXPECTING SOME KIND OF DESPERATION MOVE FROM CHAD, HE BRAKED IN TIME TO AVOID A TOTAL TAKE-OUT.
In order for Chad Reed to defend the number-one plate, he needed to win in Las Vegas and hope that James Stewart would finish fourth place or worse. It's important to note that throughout the series, Reed and Stewart were head-and-shoulders above everyone; however, things had started clicking for 450 Supercross rookie Ryan Villopoto toward the end of the 2009 series. Villopoto powered away for the win in Vegas, passing a conservative-riding Stewart. Meanwhile, Reed charged up from fifth to Stewart's rear wheel halfway through the race. Chad pressured James, but instead of passing Bubba and pulling away, Reed elected to play a game of cat-and-mouse with Stewart. Why? Because passing Stewart wouldn't get him the six points he needed. Chad needed Stewart to fall—and Chad wanted to be right behind James just in case he could help that happen. Coming around Las Vegas' high-speed sweeping corner, Reed saw his chance and cut up the inside and aimed at Stewart's front wheel. Stewart was punted off of the track, but since he had been expecting some kind of desperation move from Chad, he braked in time to avoid a total take-out. James collected himself and cruised to third place on the night and won the title by four points.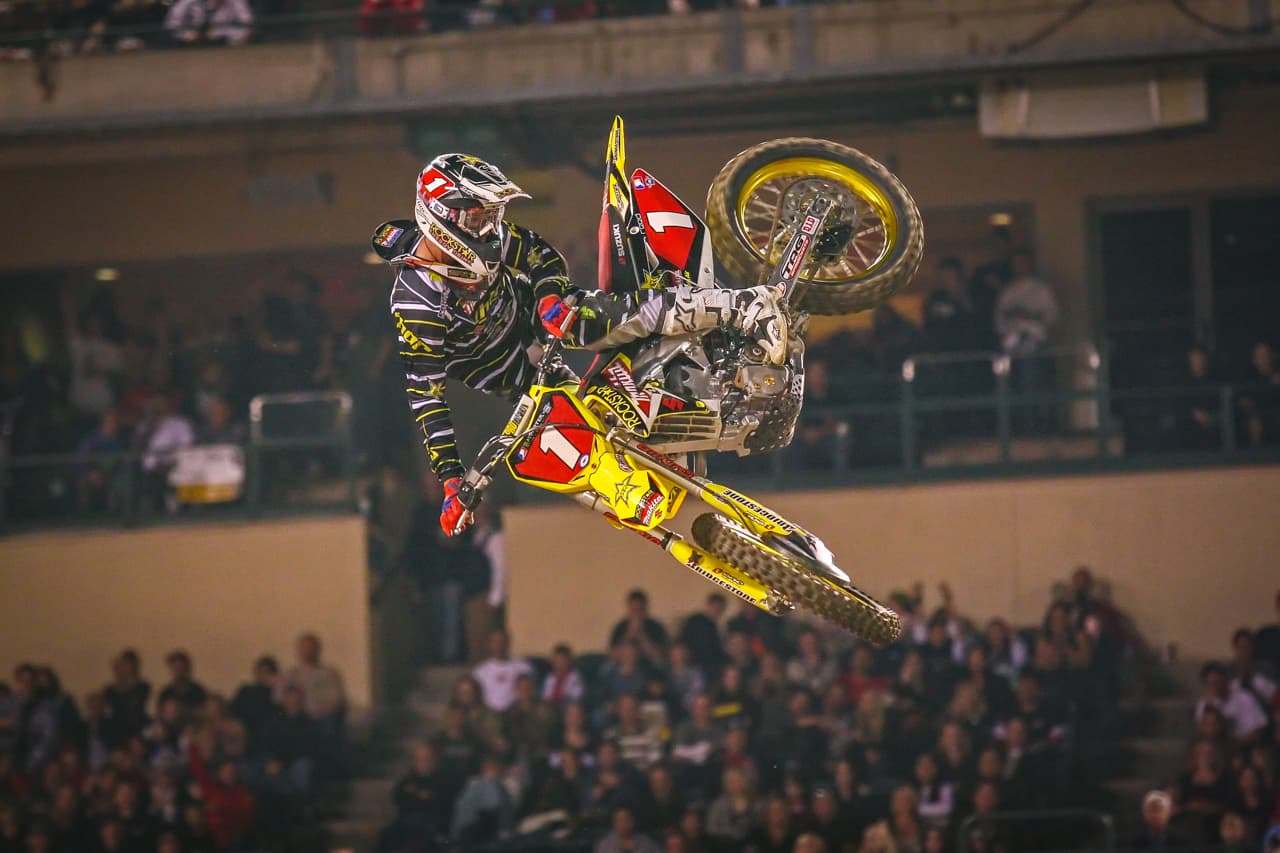 A jubilant James Stewart captured his second 450 Supercross crown, while the defeated Chad Reed was left to ponder how different things would have been had he not crashed at Seattle. Reed defended his riding in Vegas by stating afterward, "I just tried to get in there and get aggressive. I pretty much did whatever he would have done to me if he was in that position. I had fun out there and definitely would have preferred to win the race, but Ryan Villopoto rode great. He was in a great position tonight, with us playing some cat-and-mouse. Hats off to him, and to James for the championship."
The 2009 Supercross series marked the culmination of the Stewart-versus-Reed slugfest, because in the years since the flames have been tamped.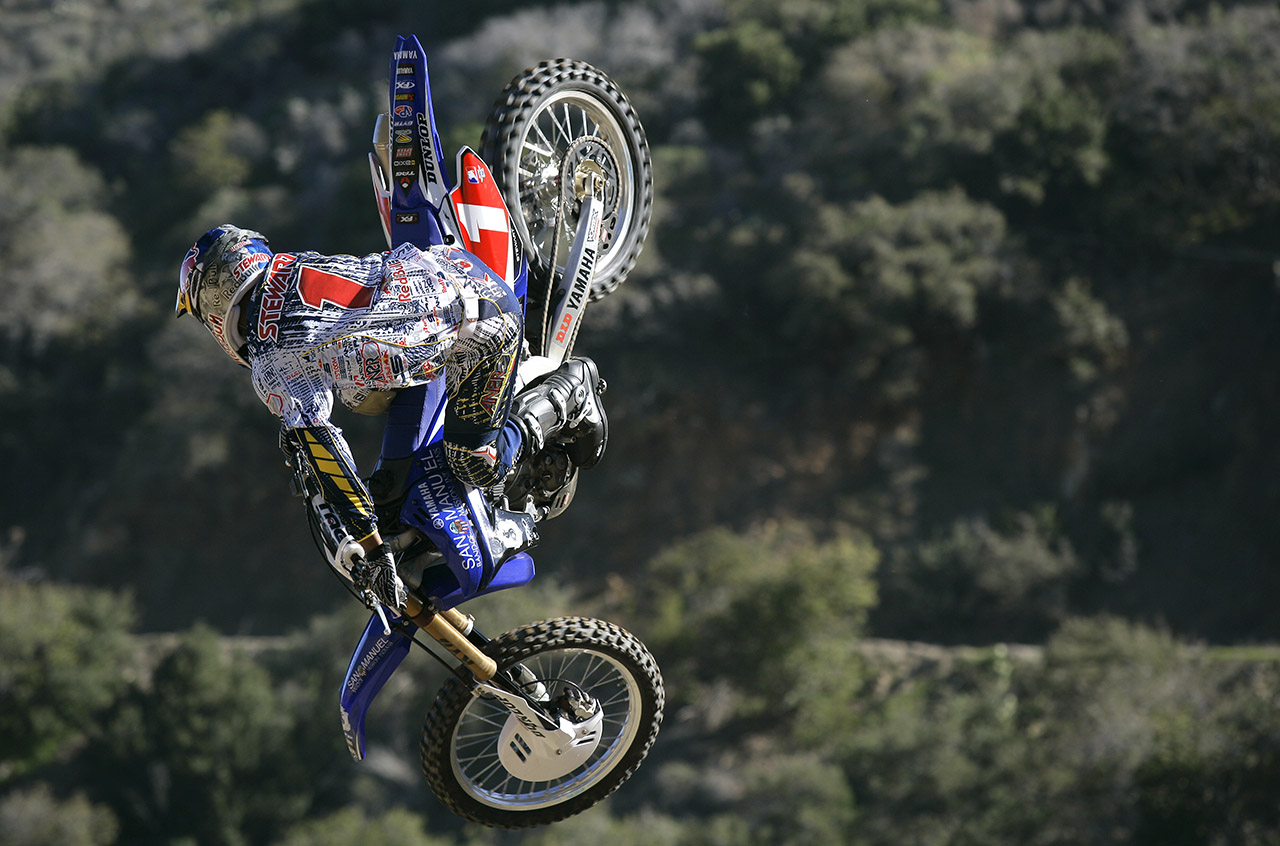 Stewart with his number one plate from beating out Reed in 2009.