FLASHBACK FRIDAY | THE 2004 MILLVILLE NATIONAL | REMEMBER WHAT HAPPENED?
The holeshot between two-strokes and four-strokes back in 2004 always went to the thumpers. James Stewart (259) on a KX125 two-stroke never got the holeshot. 
By Tim Olson back in 2004
Normally I'd do everything in my power to get out of going to Rochester, Minnesota. Not because the town, which is celebrating its sesquicentennial, is bad, but because compared to Southern California, the Mecca of the motocross industry, Rochester, Minnesota is best known for one thing, and one thing only–the Mayo Clinic. No offense to the Mayo brothers, but I never want to be in need of their services. I go to Rochester for the best reason of all—the Millville 125/250 National.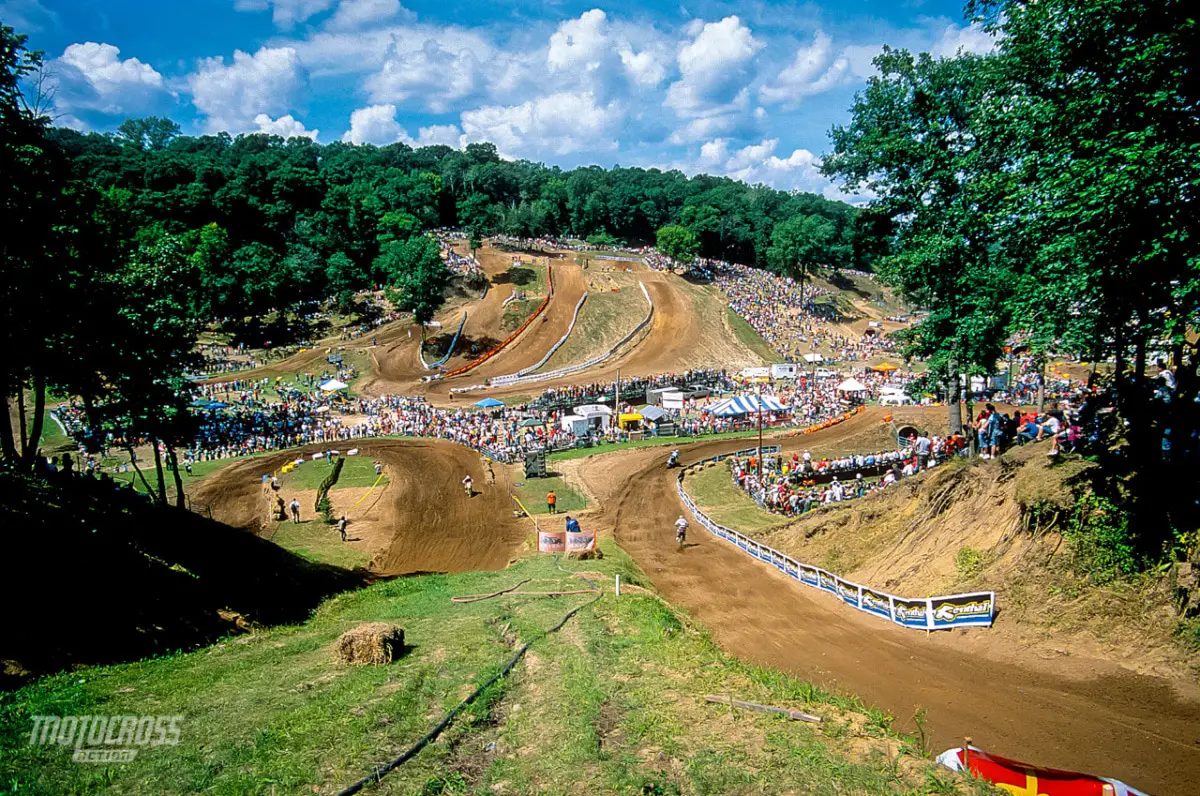 The Millville outdoor National track back in 2004. It still looks very similar today.
Once a year, half of the SoCal motocross industry (team managers, mechanics, riders, aftermarket reps and hangers-on), hop the Friday flight to Rochester. This year, there were even more moto mavens onboard my Northwest Airlines flight than usual. Why the influx? Certainly, everybody in California didn't decide to vacation in the land of 10,000 lakes (and most looked way too healthy as the belted back free drinks in First Class to be heading to the Mayo Clinic). The answer was simple. Millville was going to be the unveiling of the "Next Big Thing." AMA National number nine was going to be Mike Alessi's coming out party!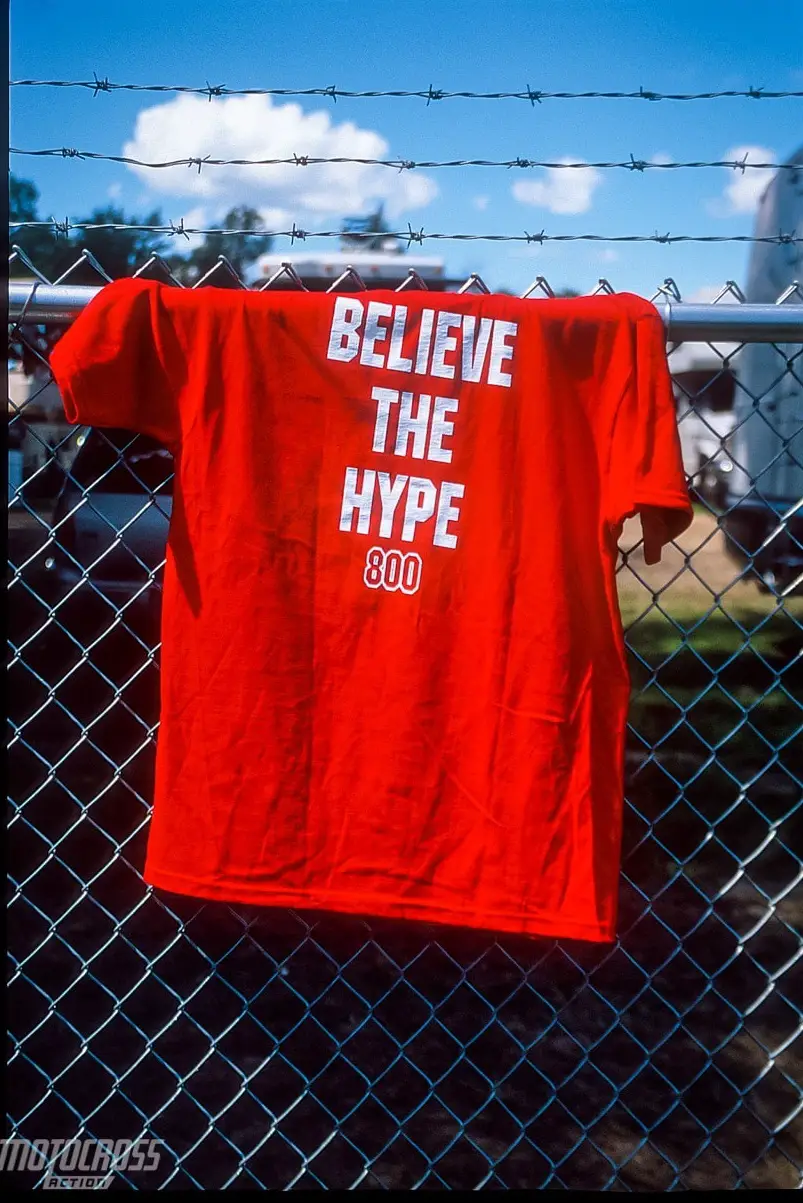 The notorious "Believe the Hype" Mike Alessi t-shirt. Millville was Alessi's first pro race and it was on a CRF450.
THE MINORITY REPORT
A young Mike Alessi and Honda team manager Erik Kehoe. 
I've known Mike since he was a little kid. His dad raced against my dad. I saw Mike's (and brother Jeff's) first race ever at Perris Raceway in SoCal. Jeff tested Pee-Wees and mini-cycles for MXA for almost eight years. I like him, his brother, his mom and his dad. Amazingly, that put me in the minority on the plane.
Previous mini-cycle champions have been hyped, touted and ballyhooed as they made the transition from amateur to pro, but never with the angst, vitriol and ire that Alessi's coming out party stirred up. Mike had done in a few weeks what it takes most people years to do. He had made enemies. He had badmouthed, directly or indirectly, literally every racer that he would face (and those that Mike had failed to irritate, dad Tony finished off). There is no doubt that people came to see how good Mike would do while hoping that he would fail. And fail he did. In a big way! I'm glad. That may sound mean coming from someone who considers himself a friend, but it was just what Mike needed. It was a dose of reality. Mike set his sights high and talked a good fight, but now he knows that he didn't set them high enough and that talking is meaningless prattle without results.
To say that the Alessi clan would have been unbearable if Mike had had a good day at Millville is an understatement. A top-five finish would have stunted his growth, not as a racer, but as a human being. Losing is the first step to understanding what winning is all about.
Ricky Carmichael was unstoppable. 
As for the previous "Next Big Things," losing is not on the 2004 agendas of James Stewart and Ricky Carmichael. They were the only ones not embroiled in the Mike Alessi traveling show—they were above it…and way ahead of it.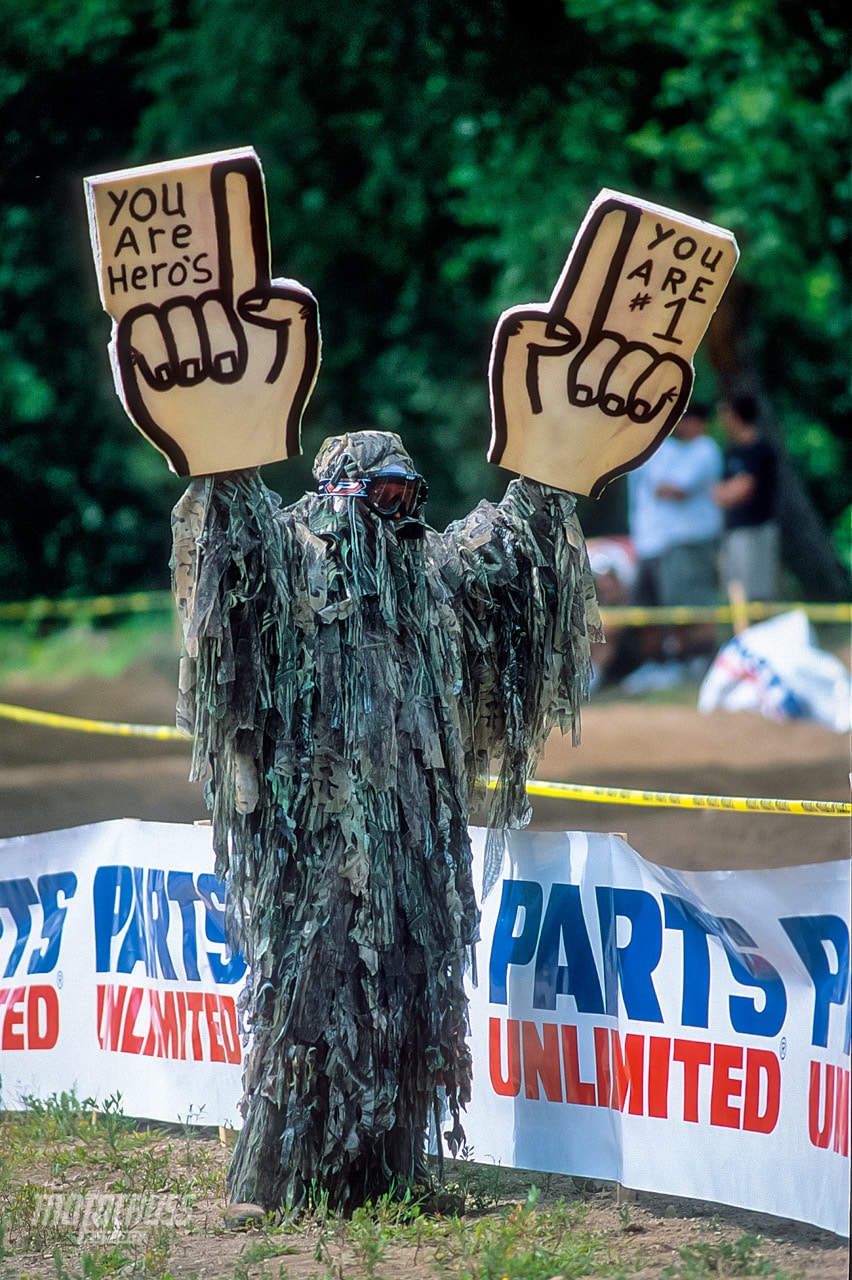 The Millville whoop monster.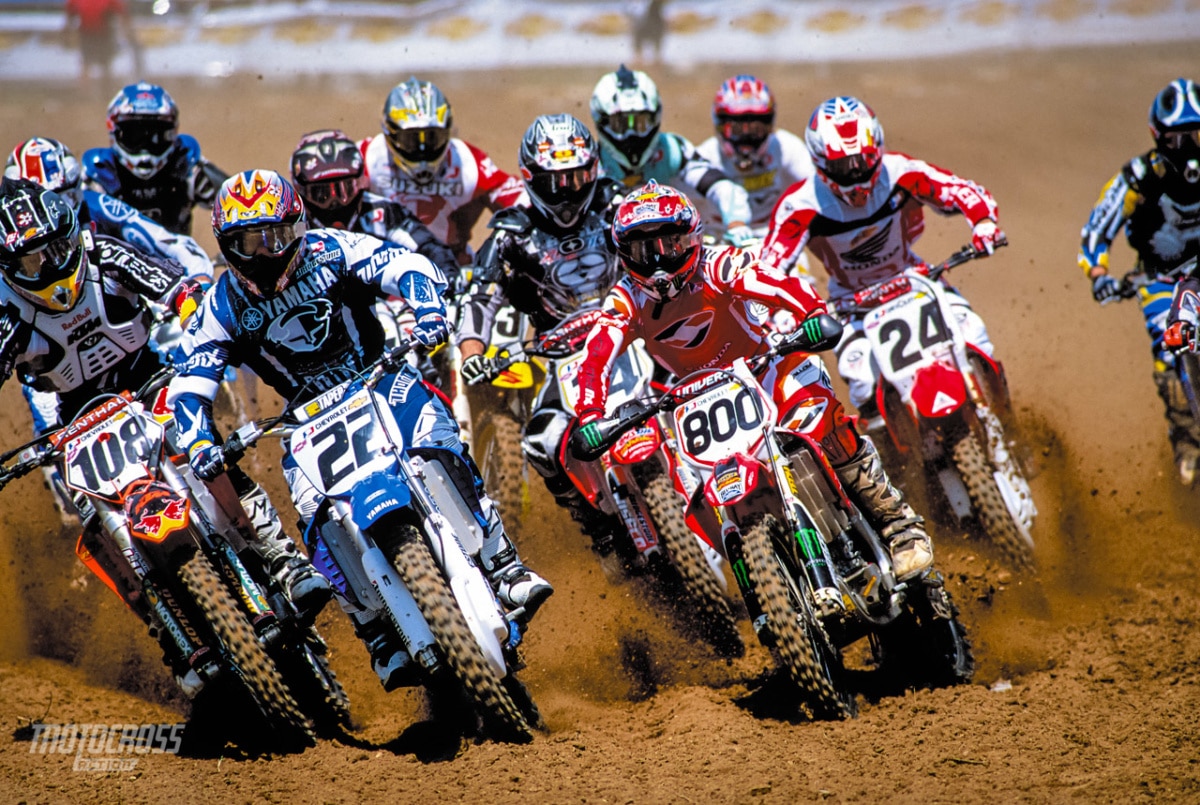 Mike Alessi (800) had good starts for his first moto, although he had bad luck in both motos going 27-25 for 30th overall. Chad Reed (22) got the holeshot in moto one and pulled off a second-place finish. In the second moto Reed ended up 35th. 
RESULTS: 2004 MILLVILLE 125/250 NATIONAL
James Stewart may have been the only rider on a 125 in a sea of 250 four-strokes, but he still managed to go 1-1 for the overall. 
125 Class
1. James Stewart (Kaw)…1-1
2. Broc Hepler (Suz)…2-2
3. Matt Walker (Kaw)…3-6
4. Nathan Ramsey (Hon)…4-5
5. Ryan Mills (Hon)…6-10
6. Troy Adams (Kaw)…5-13
7. Ivan Tedesco (Kaw)…9-12
8. Mike Brown (Yam)…31-3
9. Davi Millsaps (Suz)…37-4
10. Danny Smith (Yam)…38-7
11. Josh Grant (Hon)…7-32
12. Chris Gosselaar (Hon)…35-8
13. Timmy Weigand (Hon)…14-15
14. Andrew Short (Suz)…8-26
15. Greg Schnell (Hon)…22-9
16. Turbo Reif (Hon)…13-17
17. Kelly Smith (Yam)…10-34
18. Brian Gray (Suz)…25-11
19. Branden Jesseman (Suz)…12-20
20. Josh Woods (KTM)…11-38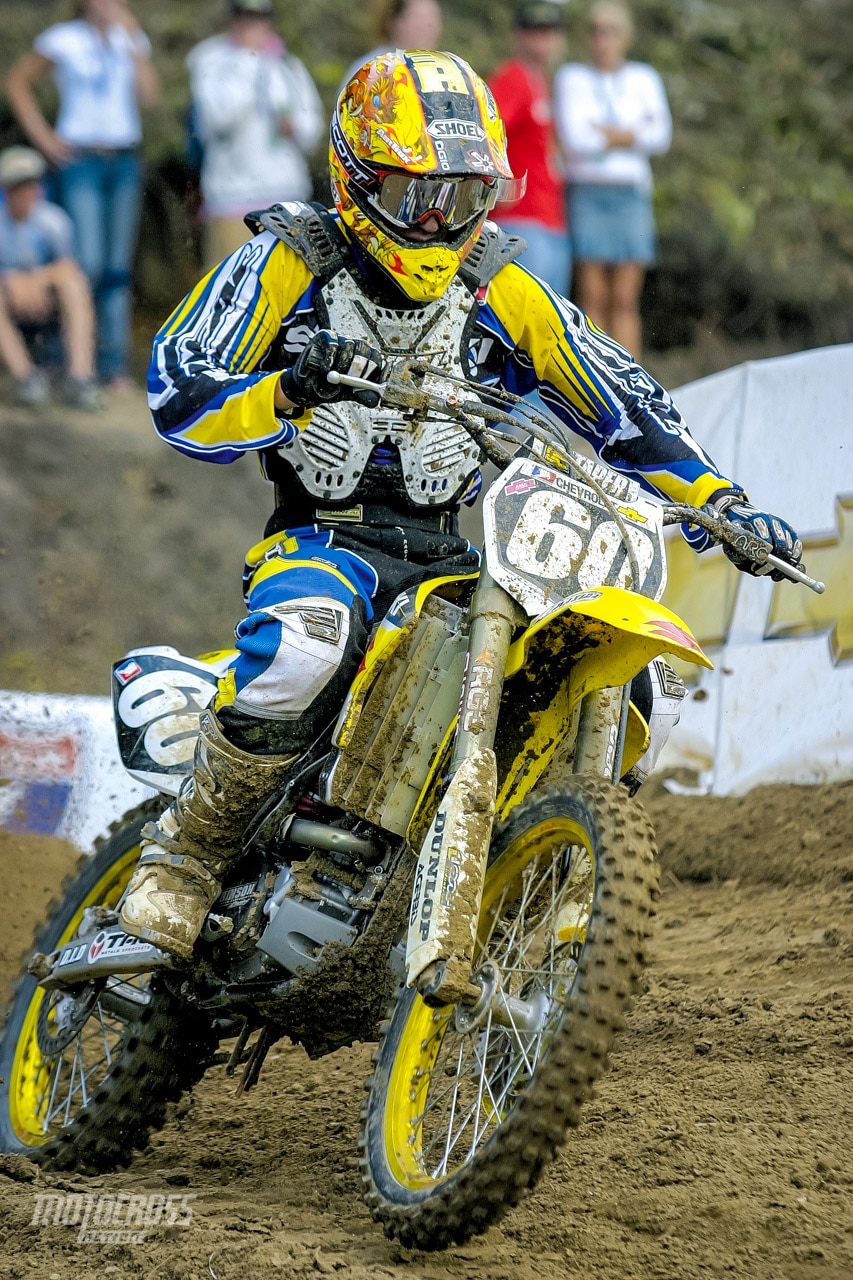 We miss Broc Hepler at the races. He was one of the nicest riders to be around. He now races offroad events back east. Broc went 2-2 in Millville.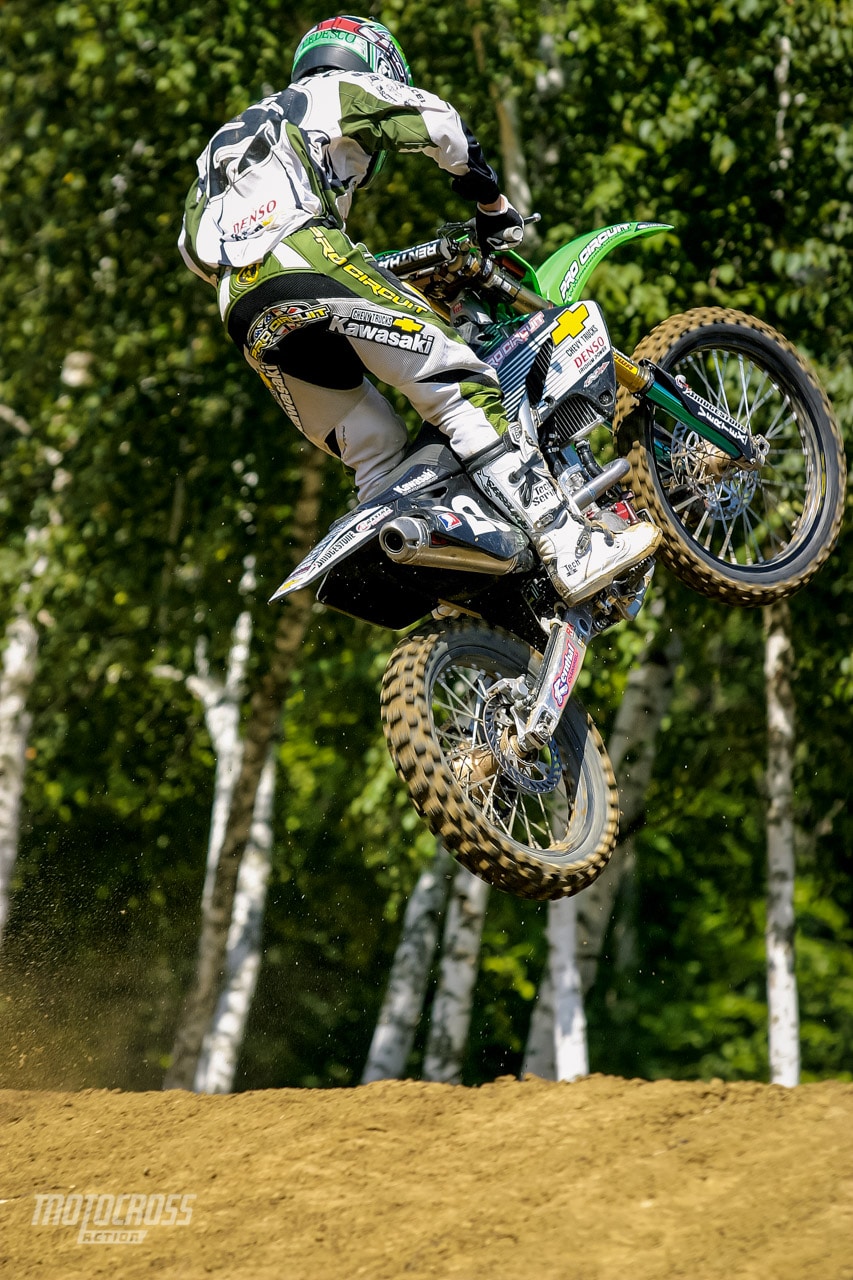 Ivan Tedesco.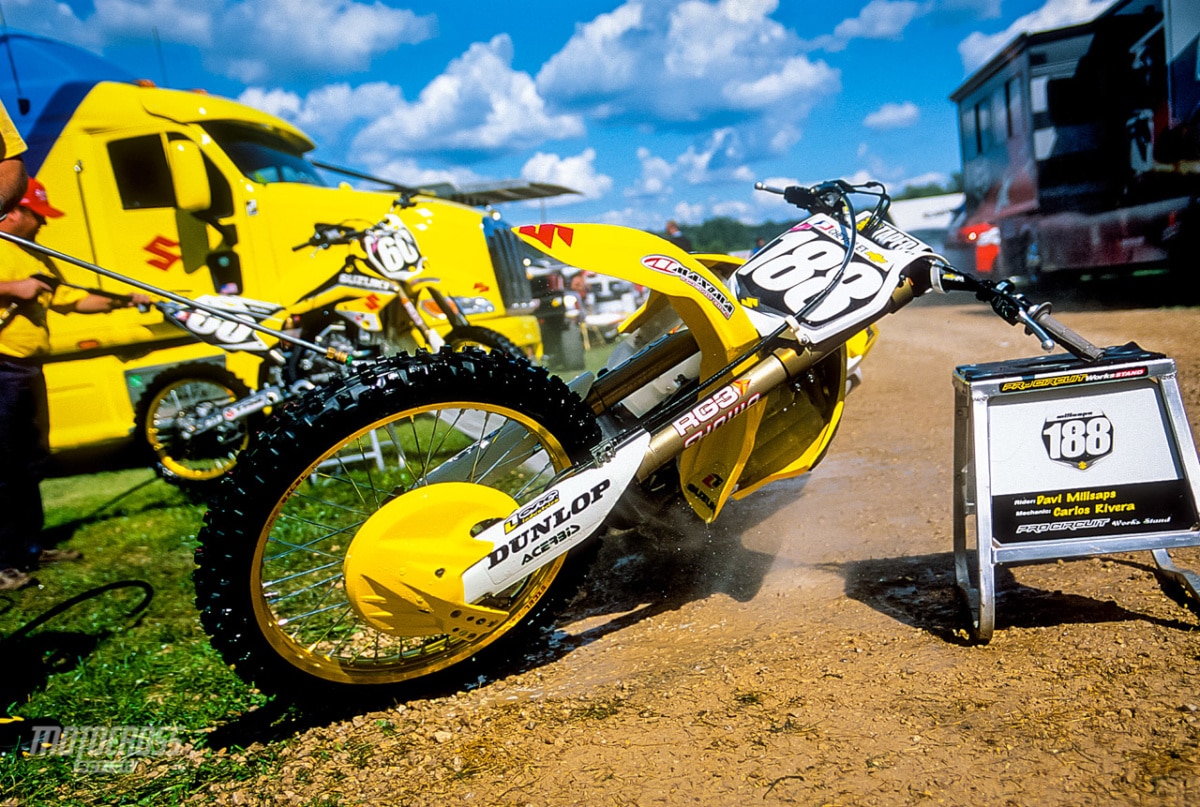 Davi Millsaps' factory RM-Z250 getting ready to be washed by mechanic Carlos Rivera.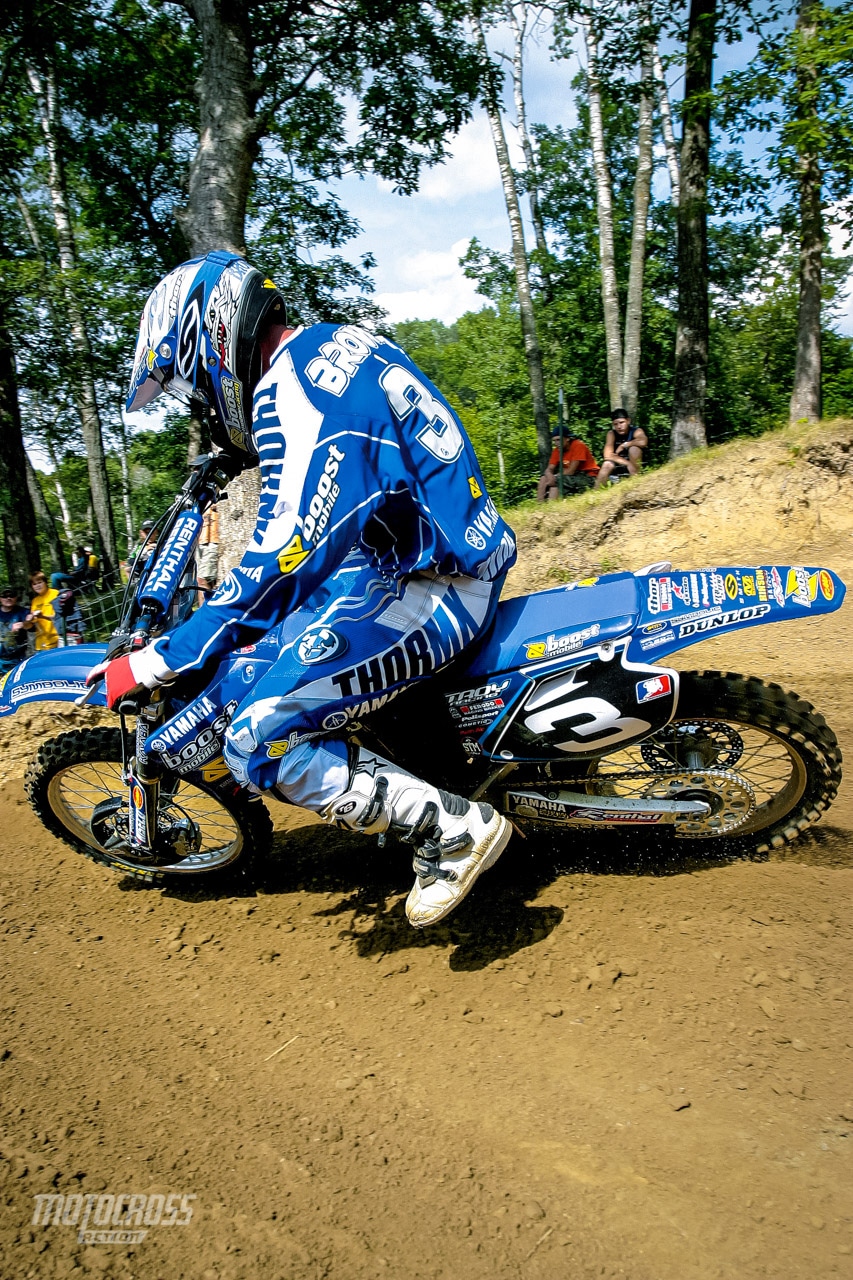 Mike Brown.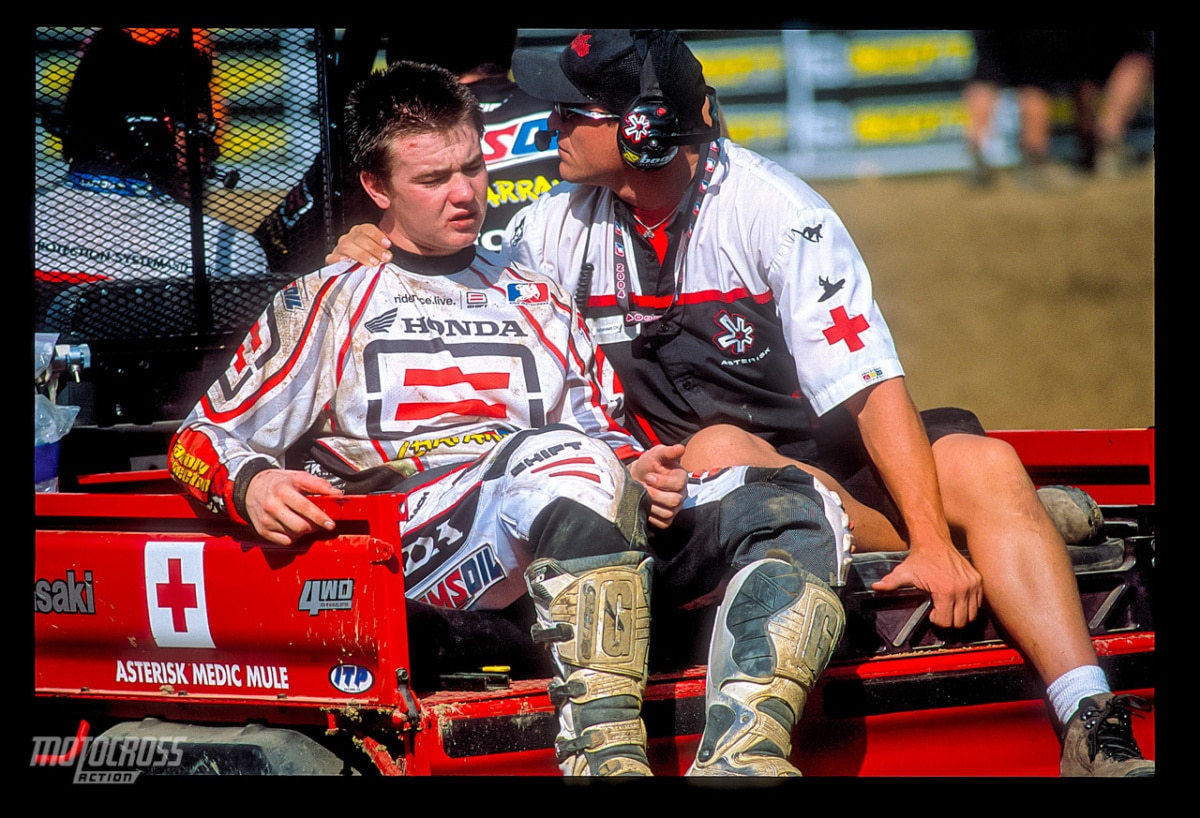 Josh Grant getting carted off due to a bad crash.
THE 250 CLASS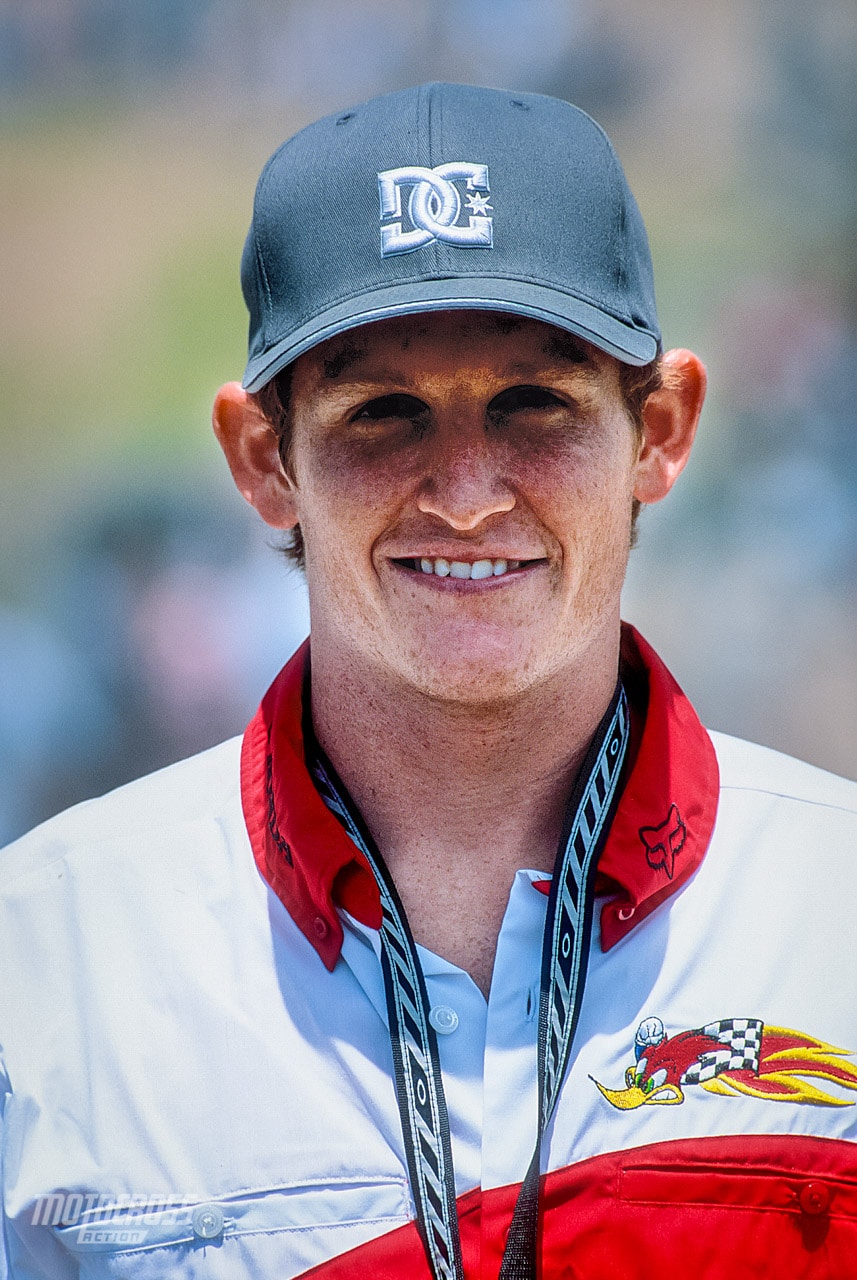 Ricky Carmichael was a man on a mission in Millville. 
1. Ricky Carmichael (Hon)…1-1
2. Kevin Windham (Hon)…5-2
3. Sebastien Tortelli (Suz)…4-3
4. David Vuillemin (Yam)…3-4
5. Ernesto Fonseca (Hon)…7-5
6. Nick Wey (Suz)…6-8
7. Joaquim Rodrigues (KTM)…10-6
8. Michael Byrne (Kaw)…9-7
9. Heath Voss (Yam)…13-9
10. Chad Reed (Yam)…2-35
11. Jason Thomas (Hon)…12-10
12. Craig Anderson (Hon)…13-14
13. Kyle Lewis (Hon)…18-11
14. Ryan Clark (Yam)…14-15
15. Clark Stiles (Hon)…11-38
16. Rodrig Thain (Suz)…21-12
17. Ryan Abrigo (Hon)…29-13
18. Justin Buckelew (Hon)…19-17
19. Jeff Gibson (Yam)…15-37
20. Richie Owens (Kaw)…22-16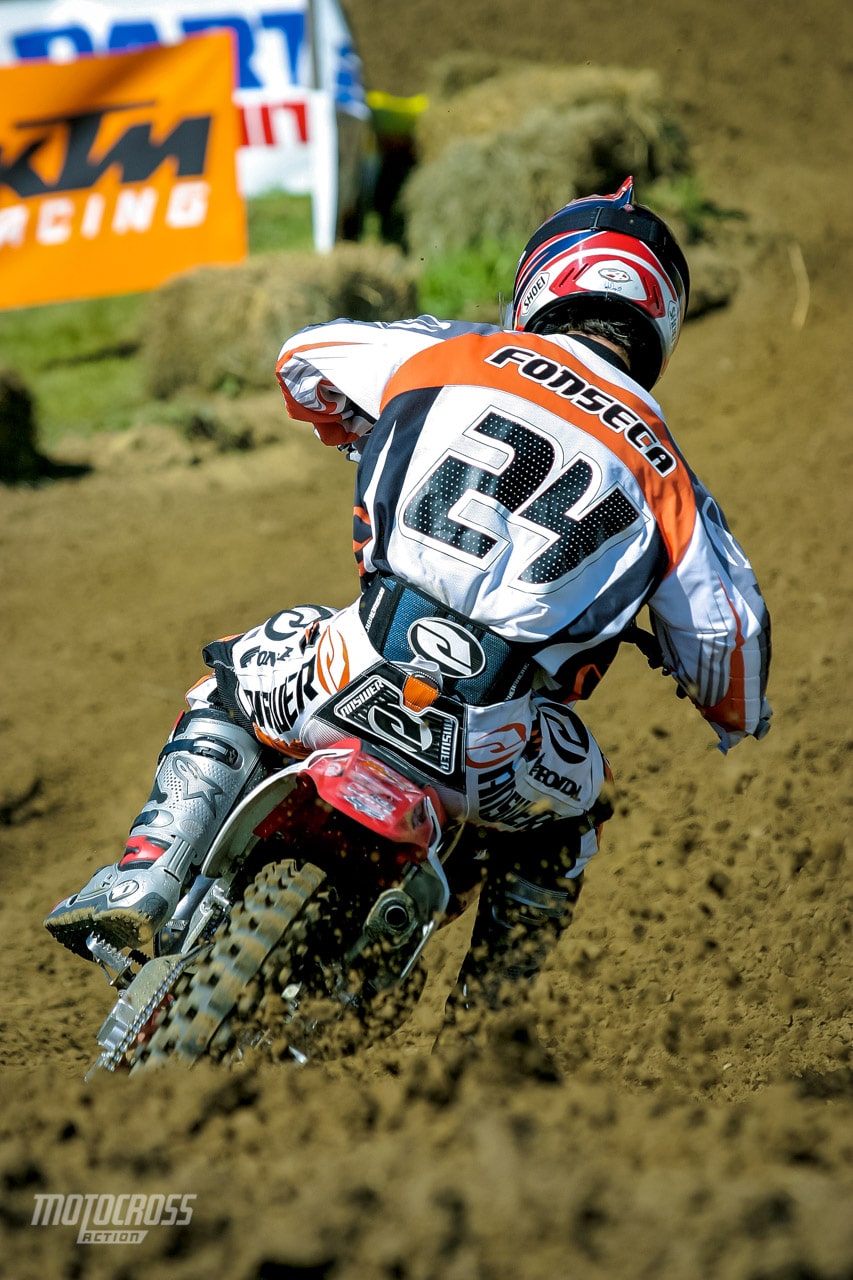 Ernesto Fonseca went 7-5.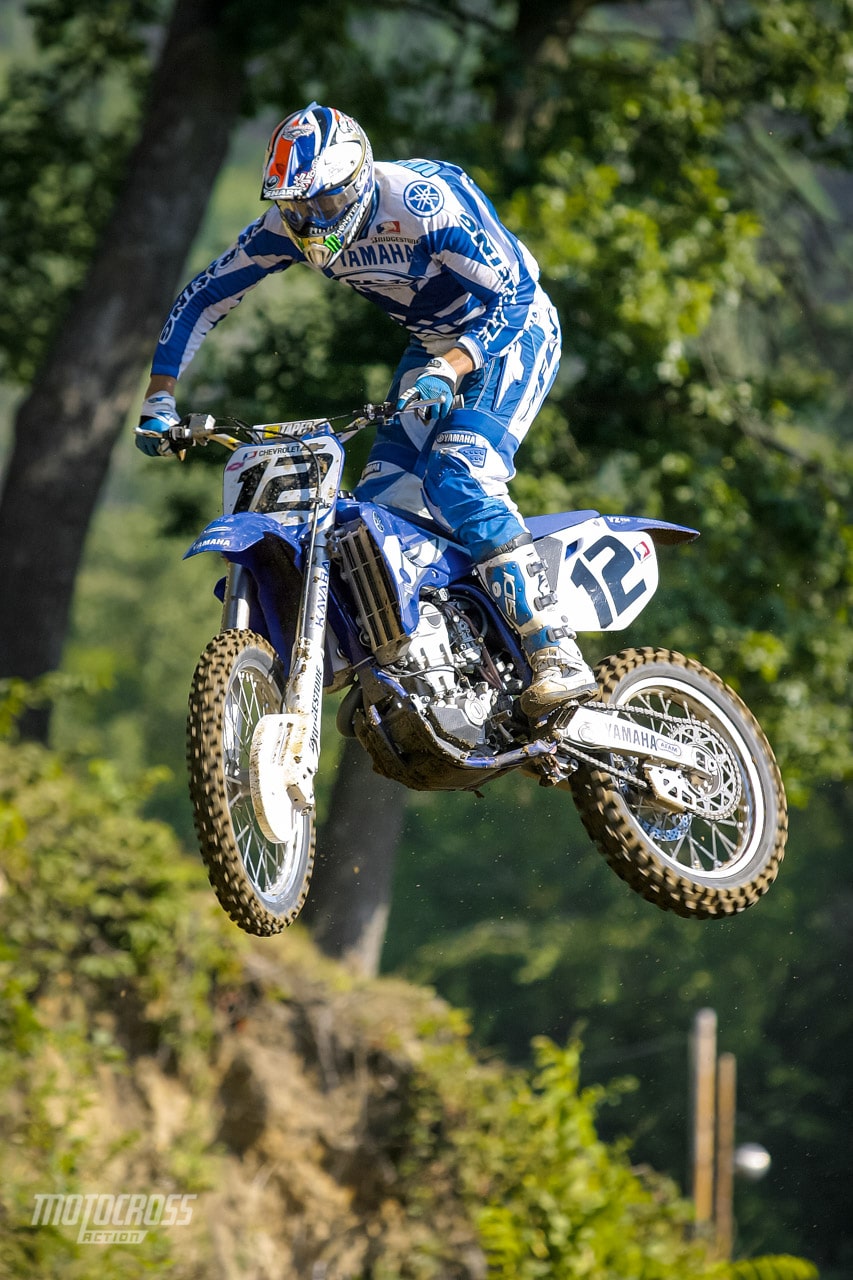 David Vuillemin. 
Kevin Windham was second to RC.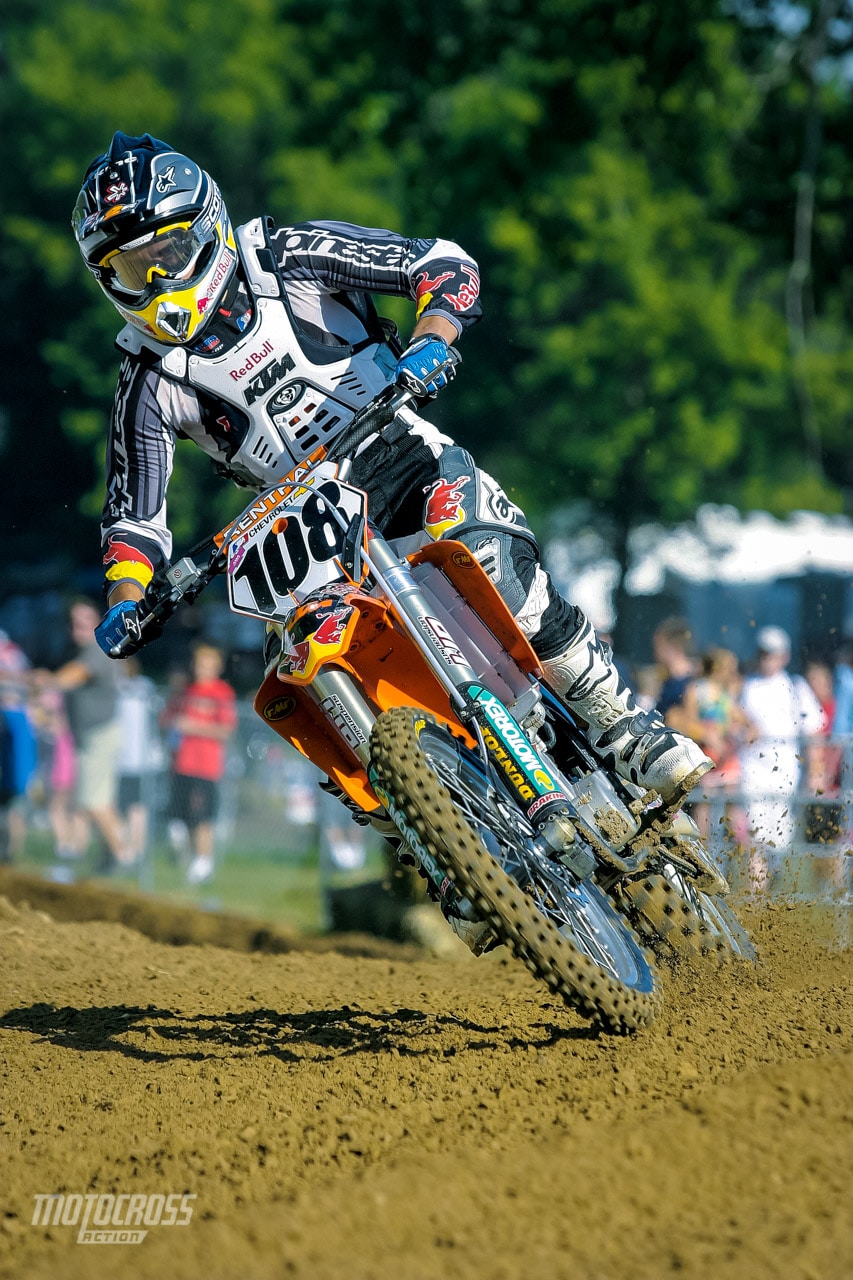 Joaquim Rodrigues.
Sébastien Tortelli.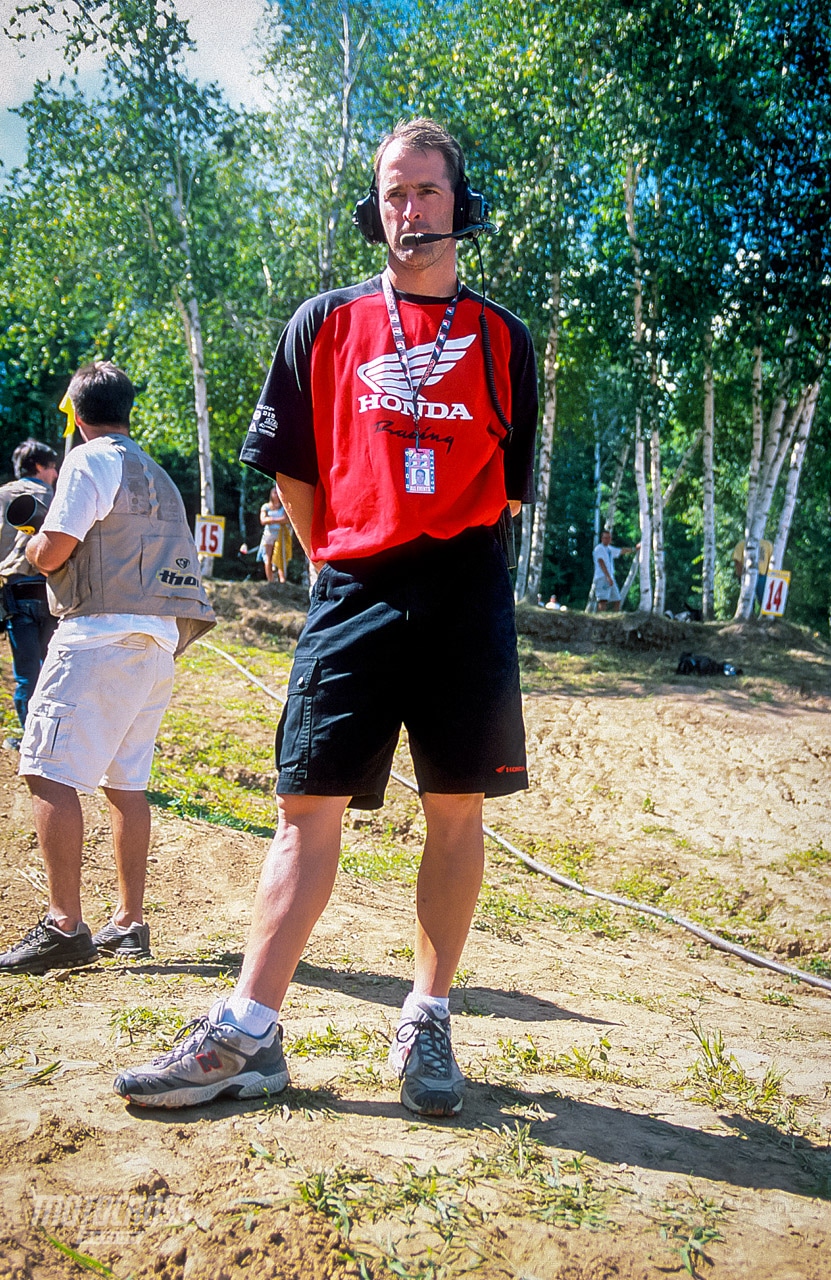 Jeff Stanton. 
Andrew Short.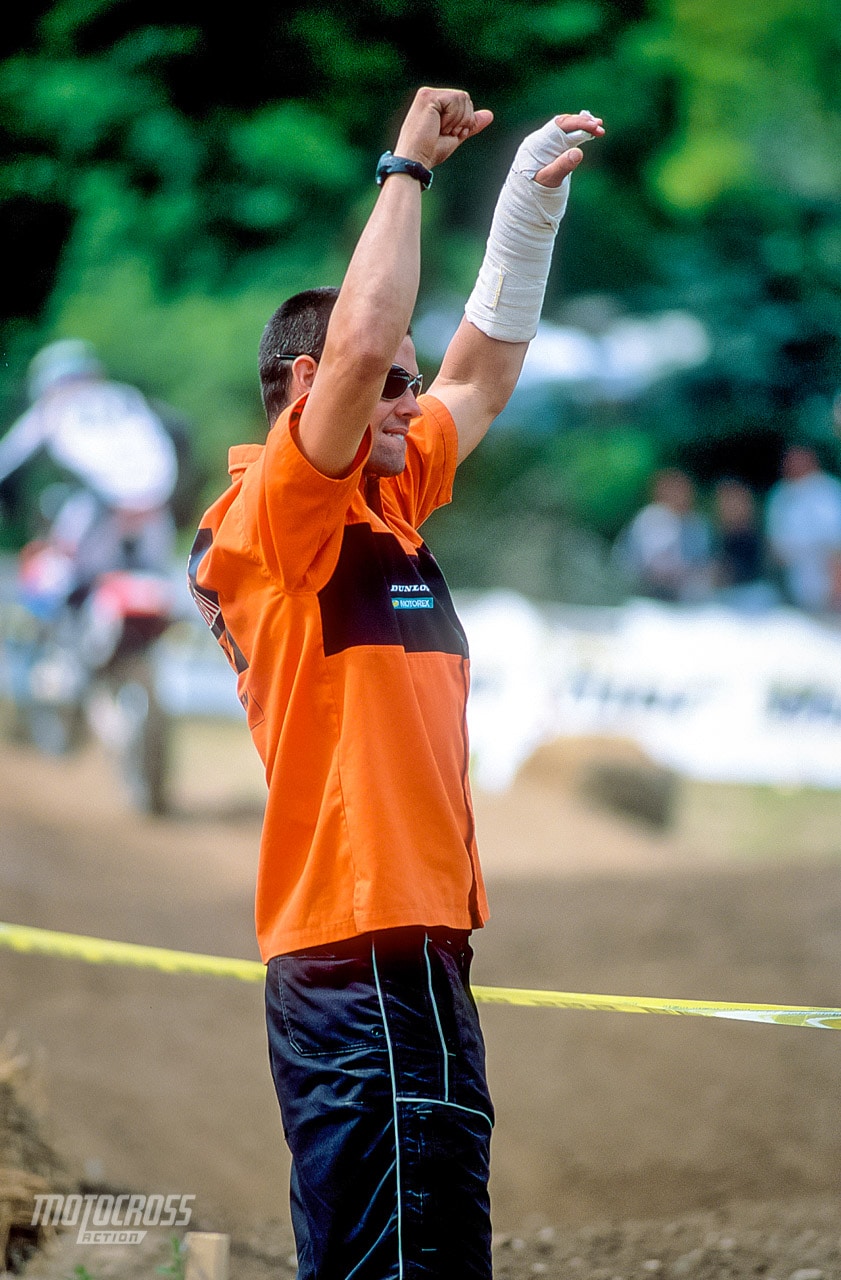 Ryan Hughes with a broken arm. 
Nathan Ramsey's mechanic back in 2004 was Andrew "Hoppo" Hopson.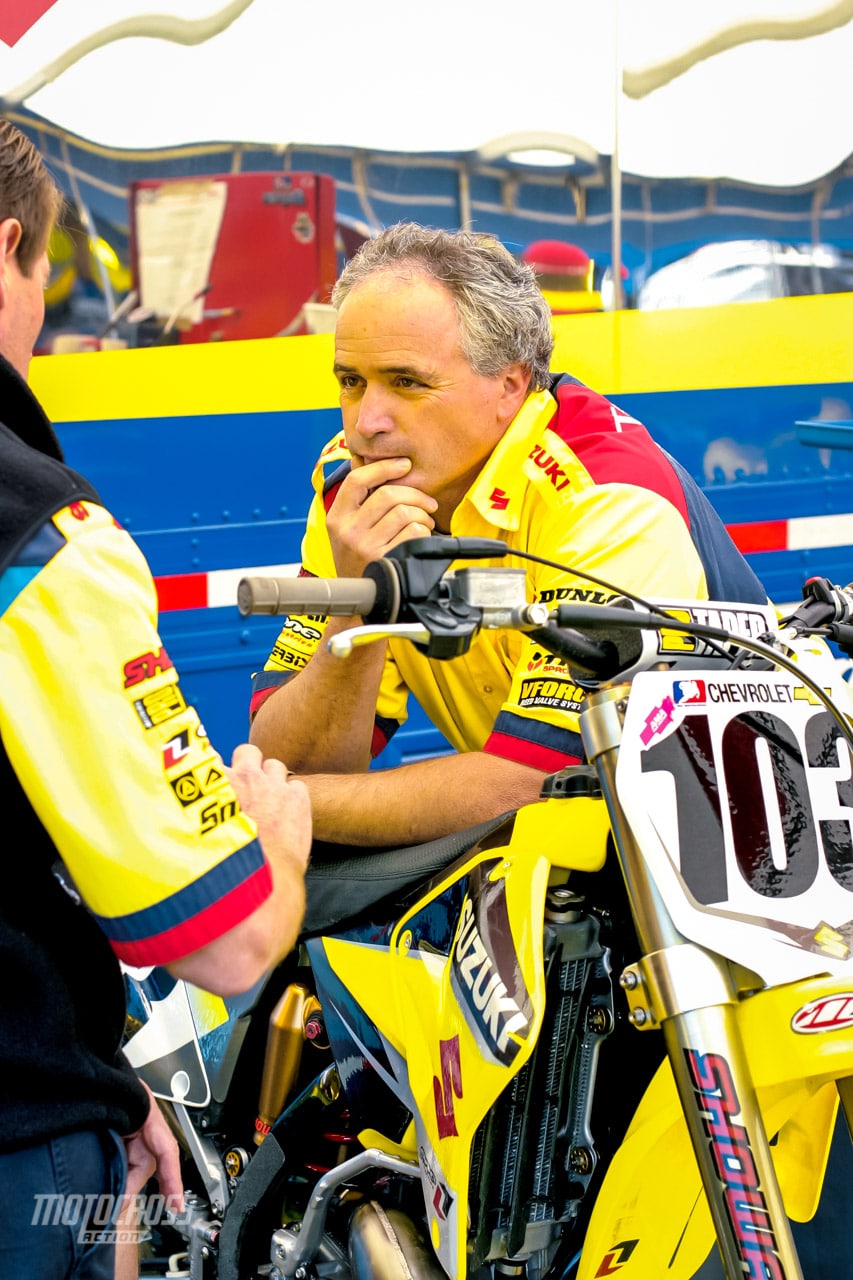 Tony Berluti.
RC's mechanic, legend Mike Gosselaar.