FLASHBACK FRIDAY | THE INFAMOUS SADDLEBACK MASSACRE
Kent Howerton (1) and Bob Hannah (100).
Feuds are a part of racing because competition often breeds contempt. History reveals that motocross racers are especially prone to lashing out at their foes. Think of Damon Bradshaw and Jeff Matiasevich sparring at Las Vegas in 1992, Jeff Stanton and Jean-Michel Bayle while teammates at Honda, or James Stewart and Chad Reed for the past decade; however, these battles pale in comparison to the knock-down, drag-out war that ensued on a warm spring day at Saddleback Park in 1981 between two champions.
Bob Hannah was lighting fast.
Kent Howerton won the 1980 250 National title in convincing fashion. Bob Hannah, the 1979 champ, had broken his leg in a freak waterskiing accident and missed the opportunity to defend his title. The stage was set for an exciting 250 outdoor series in 1981 between two very different riders.
Kent Howerton, the pride of factory Suzuki, took the win at the first round in Hangtown. In Kent's words, "I beat him pretty soundly at Hangtown, and after the race I did a few interviews. One journalist asked me what I thought about how Bob was riding. I replied by saying, 'I believe that Bob is riding faster now than he ever has before.' Somehow, my words got twisted around to the effect that Bob had never ridden as fast as I had. Bob read the comment and got fired up." It was the catalyst that sparked the most well-known feud in all of motocross.
"I CAUGHT UP TO [BOB] HANNAH, AND HE THOUGHT THAT I WAS PLAYING AROUND WITH HIM BECAUSE I BEAT HIM SO BADLY AT HANGTOWN AND I WASN'T PULLING AWAY VERY MUCH. I WASN'T MESSING AROUND, THOUGHT. I SIMPLY DIDN'T HAVE THE ENERGY, THANKS TO THE FLU. THE INCIDENT STARTED, AND IT ESCALATED QUICKLY."
Bob Hannah, never one to back down from a challenge, intended to make a statement at round two at Saddleback Park. He did not disappoint the fans, though he found a fierce adversary in Kent Howerton. As Kent said, "I caught up to Hannah, and he thought that I was playing around with him because I beat him so badly at Hangtown and I wasn't pulling away very much. I wasn't messing around, though. I simply didn't have the energy, thanks to the flu. The incident started, and it escalated quickly." The "incident" Howerton mentions was a series of T-bone moves that were malicious attempts to thwart forward progress and cause injury.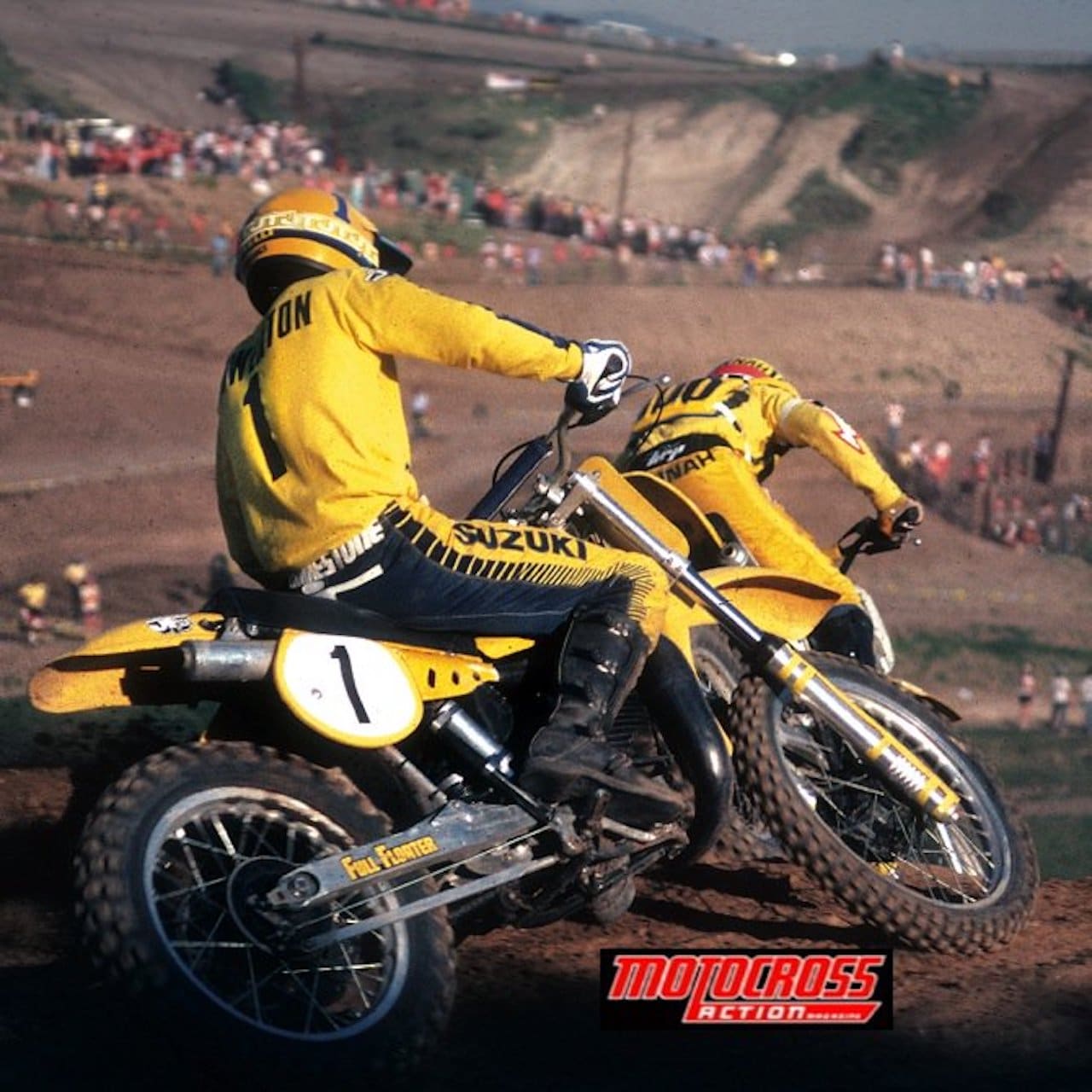 Howerton and Hannah playing cat and mouse. 
As the first moto wore on and the barrage of take-out maneuvers continued, Bob Hannah finally dropped Howerton to the ground. While falling over, Kent extended his arms to try to drag Bob down with him. The desperate attempt failed to work. Even so, Howerton quickly remounted his bike and proceeded to catch up and pass Hannah for the moto win.
The AMA sought out both riders afterward and threatened punishment if the dirty riding continued in the second moto. Cooler heads prevailed, but the damage was already done. Bob Hannah took the second moto win and clinched the overall, while Kent Howerton got the last laugh by capturing the 250 National Championship. To this day, Kent shakes his head when he thinks about that fateful day of April 5, 1981. "It should be known that Bob and I were friends before the 1981 season. Since then, we haven't been friends. I don't have anything against the guy. He's just Bob Hannah. There's not much else to say."
The day's events will forever be etched in our memories, thanks to exclusive footage and interviews shot by Todd Huffman in the Massacre at Saddleback film (www.hannahracingproducts.com, $19.95).