FLASHBACK FRIDAY | THE MOST DOMINATING RACER IN THE 90s
THE MOST DOMINATING RACER IN THE 90s
Who was the winningest rider in America in the early 1990s? When asked that question, the first name that comes to mind is McGrath. Jeremy's win record already exceeded Hannah's and Johnson's, and the still fresh McGrath wasn't near quitting yet. End of story, right?
We beg to differ. For seven years we watched a rider chip away at local win after local win, and then regional championships, state crowns, national championships and even world titles. Who is the rider? It was a young Mike Alessi.
PINT-SIZE POWER PACKAGE
"Mom and dad had bought each my brother Jeff and I PW50s when we were born," recalls Mike. "As we grew, though, dad didn't think we were big enough to handle them." At the time, Mike's father, Tony, had been announcing local motocross for GFI Racing and saw how much older and larger the pee-wee racers were. "By the time I was three," Mike continues, "dad still didn't think I could ride the PW."
But Mike had other ideas. "Every day I would sit on the PW, turn the bars, feel the brakes and snap the throttle."
Eventually, a much older neighborhood friend started to show interest in the pee-wees that were "just sitting around." So when Sean Storm asked if he could ride one, Tony agreed and even took him out to a local field to ride.
"I was so mad," continues Mike. "That was my PW." Tony saw how upset Mike was, but told him that he was still too small. Mike insisted so the other pee-wee was loaded and off to the lot they went. The Alessi's and Storm made a small circle track. Then Mike jumped right on the PW and rode at least 100 laps. "My dad couldn't believe it," smiles Mike. "That is how my racing career started. The track is still there today and many others like Cole Seely learned to ride on it."
WUNDER KID INGREDIENTS
Mike Anthony Alessi was born May 19, 1988, to Tony and Kim Alessi. Tony had been an aspiring 125 Intermediate before the kids were born on the local SoCal circuit. Tony ceased his pursuit of stardom when he realized that he didn't have the backing to make a serious pro effort. So he became a family man instead.
At first, the Alessi parents never thought of their children racing. Things started to move in that direction as soon as Mike started to ride a bicycle. "At two I was riding without training wheels and spent most of the day zipping around the neighborhood. That is when we met Sean Storm. He was a six-year-old BMX expert that besides forcing me to prove to my dad that I could ride the PW, also turned us on to BMX racing."
Every day Mike would ride at Simi BMX and when he was two years and ten months he started racing every Saturday and Sunday. By age four Mike was racing and winning in the Expert Division. Do date he is the youngest expert to ever race at Simi BMX.
"To move up in BMX I had to in one year win ten races in each division, racing against much bigger and stronger kids. It definitely taught me what it takes to win."
ULTIMATE RESUME AT 11 YEARS OLD 627 WINS, 64 CHAMPIONSHIPS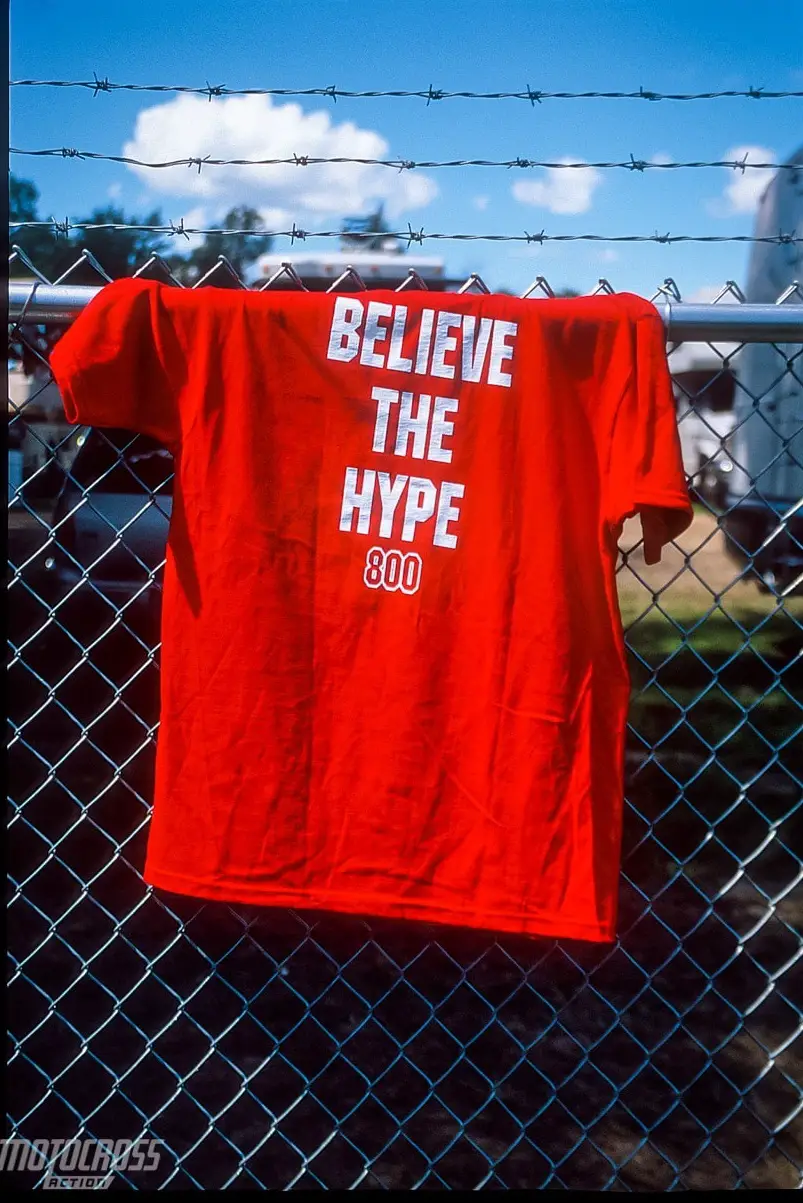 By the time he was four, Mike had shown himself as a BMX Expert, and more importantly, proven that he was big enough to handle the PW. So Tony and Kim took him to race in the First Time Class at Perris Raceway during the summer of '93. Three wins later Mike was booted out of the class and has never stopped moving up divisions since. Here is a condensed look at Mike's racing career.

January '94: The same GFI Summer Series Mike started racing at a year earlier. But now he was riding and winning the 50 Expert Class. Mike had also begun practicing on a KX60. "When I started riding a 60 at the end of '94," says Mike, "people would say that I was too small to handle it. Four months later in April, I won my first 60 race at age five." The Alessi's raced pee-wees and 60s every weekend.
October '94: Scott Harden was showing off the new KTM SX50s at Star West's Mini Stars. "He commented that I worked together really well with the motorcycle and wanted to help me next year." Mike went on to win the pee-wee class and the Alessi's had a lot to talk about on the way home.
November '94: Mike wins his first 4-6 50 Championship at the Florida Mini Olympics.
January '95: Mike signs with KTM to ride SX50s. A contract is also signed with R & D Racing to tune the bikes.
February '95: The Alessi's sit down and structure their race effort. They create a DOC Program, which stands for Domination In Class. "We set out to be dominant in a class at any race, any time and anywhere," says Mike. "When that happens we are ready to move up to the next level."
Early to mid '95: Mike wins every possible championship title in the pee-wee 4 to 6 division.
September '95: Mike moves up to the 7-8 50 division and races Branson. First 7-8 50 title and first 60 championship in the 0-8 division.
November '95: After winning every available national title we achieve DOC in the 7-8 50 class with one year of eligibility left. Kawasaki says they will offer backdoor support for Mike to also compete aboard a KX60 in '96.
December '95: On advice from R & D's Dean Dickinson we choose a Suzuki as our first 80. At age seven Mike races the 80 beginners and finishes 9th out of 28. Mike starts competing in the 50, 60 and 80 classes all on the same day.
April '96: Secure a 7-8 50 championship and two top five 60 finishes at the World Mini in Las Vegas.
June '96: Mike consistently wins the 80 class at age eight.
July '96: At Ponca City Mike wins championship titles in the 7-8 Stock, Modified and Super Pee-Wee classes, and finishes second in the 60s.
December '96: Alessi achieves DOC in the 0-8 60 division.
January '97: Mike becomes an official Team Green riders.
April '97: At the World Mini Mike wins the 7-8 Mod Pee-Wee and both 0-8 Stock and Mod 60 classes. Mike is now DOC in the 0-8 60 class.
June '97: Mammoth Mountain lowers their 80 age to 7 and Mike leads most of the race for an eventual third place finish.
July '97: Ponca City. Mike wins the Mod Pee-Wee and Stock and Mod 60 classes.
April '98: Talks begin with KTM and Yamaha on Mike riding for KTM in the 60 class and Yamaha in the 80 class.
March '99: In a year Mike earns 22 more Championship titles including his first 7-11 Mod 80 title aboard a KX80.
April '99: At the World Mini Mike wins the 60 9-11 Stock and Modified, the Race Of Champions and the 7-11 80 titles. The 80 win means that Mike is closing in on DOC in that class. Talks with both KTM and Yamaha seem to become a certain reality.
September 10, '99: The Alessi's receive their release from Kawasaki.
September 11, '99: Mike re-signs with KTM and signs a new contract with Yamaha.
December '99: Mike has earned an amazing 16 additional champions since the April '99 World Mini and won every available title of the year. At age 11, 70 pounds and four feet, seven inches, Mike wins his first two 125 races.
SPONSORED BY TWO FACTORIES | MIKE ALESSI'S YZ & KTM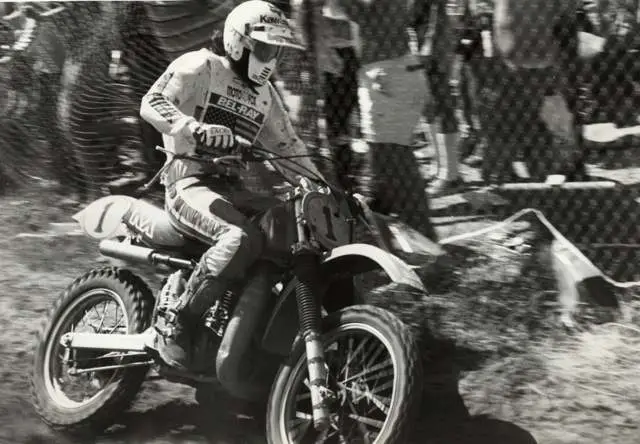 Brad Lackey had signed contracts with both CZ and Kawasaki at the same time. Mike Alessi did the same thing with KTM and Yamaha. 
Lance Smail was paid to ride works KTMs in the nationals and sponsored by Husabergs at the four-stroke championships. But KTM owned Husaberg. To find the last rider who was paid to actually ride for two individual manufactures at the same time, we have to go back to Brad Lackey's early days. The year was 1971 when Brad raced a CZ in the 250 Nationals and a development Kawasaki works bike in the 500 Nationals. Brad says, "It was Kawasaki's first motocross bike and they didn't have a 250. And CZ was only concerned with winning in one class. I lost the 500 title to Mark Blackwell by one point that year." (Brad went on to win every 500 National for Kawasaki in '72.)
As soon as Mike was released from his Kawasaki contract he and his dad met with both Yamaha and KTM. Tony Alessi says that both manufacturers include an addendum in each contract that allows Mike to compete aboard the other brand in non-conflicting classes. Tony says, "When we first started talking in '98, a concern was that the other manufacturer would receive more attention. But we pointed out that we only had one year left in the 60 class and KTM doesn't make a competitive 80 yet. So we signed with KTM for one year and with Yamaha for two years."
"This is the second time we signed two separate contracts with two individual manufacturers," says Tony. "Many forget that from '97 to '99 we had simultaneous contracts with both Kawasaki and KTM."
R & D STAGE II KTM 65SX DOMINATOR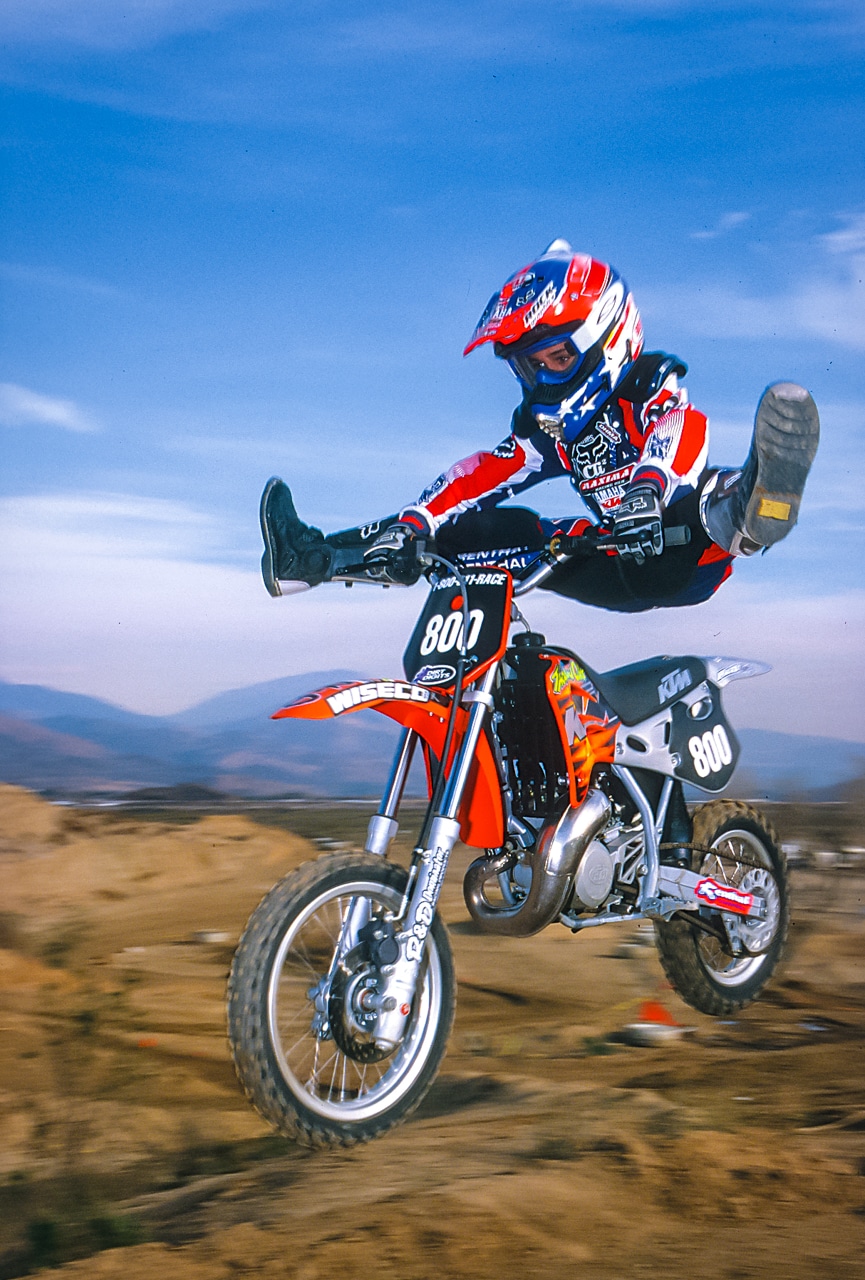 Mike on a KTM 65SX built by R & D Racing. 
R & D Racing's Dean Dickinson on the KTM: "Stock the KTM is actually a pretty good bike. It's weak on overrev and doesn't make enough peak horsepower. It suffers from an anemic intake, and that is where we concentrated much of our effort. A stock bike varies between 13 and 14 horsepower. The Stage II engine peaks at 18 horses and the mods cost $1500.
"We tried to make the suspension better for Mike, but after Branson, he went back to the standard, looser settings. Mike bends the fork tubes from jumping, so we rotate the upper tubes 180-degrees after practice and each moto. If you adjust the rear brake tight it will hydraulic lock the brake on. An easy check for too tight adjustment is to remove the wheel. Use a screwdriver to pry the pads apart. If can't retract the caliper pistons by forcing the pads apart the adjustment is too tight. (The tight adjustment covers the bleed and doesn't allow the oil to backflow into the reservoir.) Also, watch pulling the filter–it's easy to drop dirt down the boot."
YZ80 STAGE I DOMINATOR
Mike's YZ80. 
Dean on the Stage I YZ: "I was happy when Mike signed with Yamaha. We had already spent three years working with Justin Buckelew and the same basic bike. The Stage I engine that Mike uses is based on the same engine Justin used for the first year and a half he rode for us.
"On Stage I we don't go for a big increase in peak power. The stock engine is already an upper midrange revver and makes 20-1/2 horsepower. Our engine peaks at 21, but it makes two more horsepower from the bottom all the way to peak. The big deal with our engine is that it gives a foot-pound more torque across the entire spread and is much easier to ride. The Stage I engine is $600.
"Because of Mike's weight it was necessary to make a bunch of changes to the suspension. Both the front and rear are valved and sprung lighter. The suspension mods go for $400.
"Watch the bottom motor mount, they break. We drill it out and replace with a 10mm YZ125 bolt. The nut that holds the top triple clamp on falls off. Red loctite it. Also red loctite the chain guide bolts and top shock bolt."
R & D STAGE II DOMINATOR
Dean continues: "We are forced to run 80 Expert locally in California and are racing against elite 14 and 16 year olds that are much more aggressive. Mike needs power to get away from the guys. He's moving up to the Stage II engine for the rest of the year. We do more cylinder and head work, and run a different pipe and ignition. It peaks at 23 horsepower with a much harder and longer pull. Mike will run this engine in the same Stage I chassis. The Stage II engine kit costs $1600."
R & D SUPER MINI
"The Super Mini class allows 112 cc and my engine runs 109cc. You need to rebalance the crank and bore the cases to accept the larger Wiseco piston. It still runs the stock carburetor and ignition, but the R & D pipe is designed to match the displacement. It makes 26 horsepower. Mike told me that the Super Mini has so much power it's stretching his arms longer! For now we're sticking to the same suspension and wheel that Mike is using on Stage I and II. first year on super mini. The Super Mini engine runs $1300
MIKE ALESSI's SASAKI YZ125
11 years old on a Yamaha YZ125. 
"We were racing at Starwest and started talking with this visiting Japanese guy," says Mike. "It turns out that he is Akira Sasaki and a former Yamaha of Japan employee and chief YZ400 engineer. We hooked up and the next thing you know he's my full-time mechanic. He watches me ride and at the finish of the moto I tell him how the bike worked. Then he just starts tearing into it. Akira is simply amazing.
"It was Akira's idea to make this bike for me. He chose the '96 model because it has the smoothest power delivery and which he felt would be best for me at the time. We were able to find a brand new one.
"Akira lowered the suspension, cut the subframe and raised the footpegs by four inches. The damping is much lighter." It would cost $2000 to build an Alessi Sasaki replica.