FLASHBACK FRIDAY: THE PISTOL FROM BRISTOL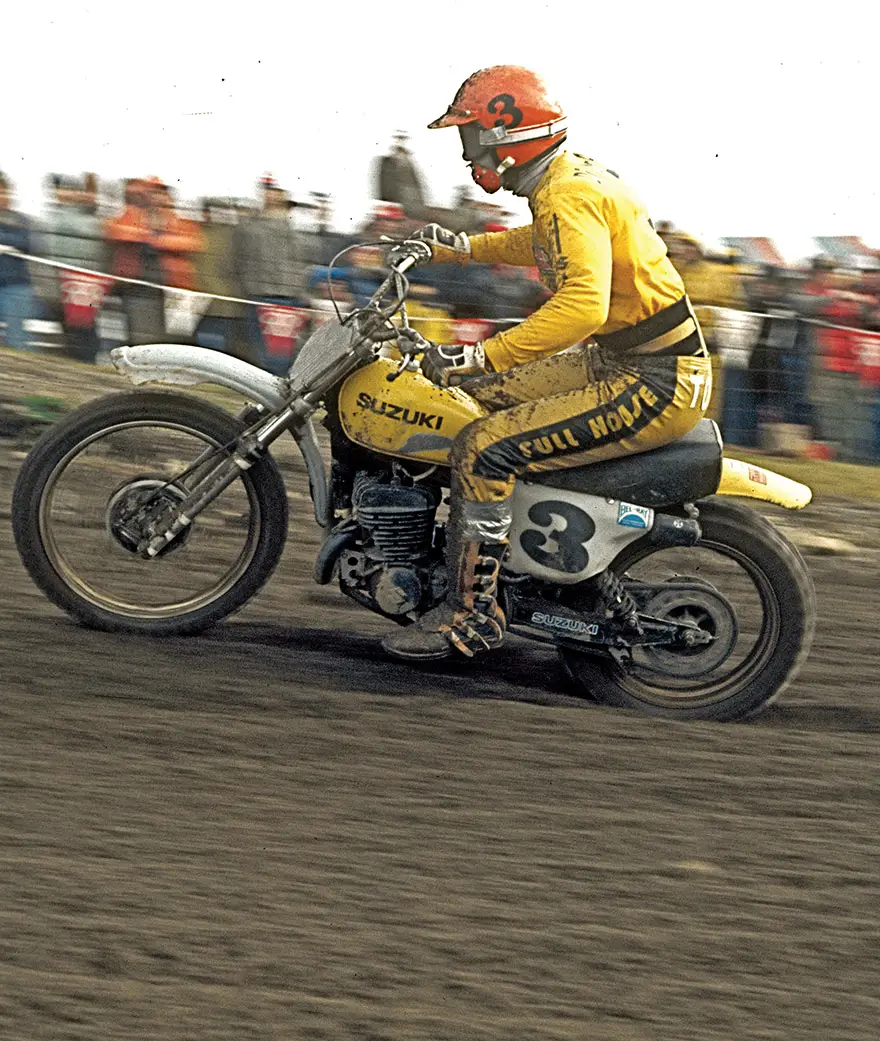 Tony DiStefano was the epitome of a true professional motocross racer in the 1970s. He didn't let injury prevent him from racing, and he remained the same person after achieving success in the booming sport.  
To what ends would you go in order to race motocross? For Bristol, Pennsylvania's Tony DiStefano, racing trumped everything else. Case in point, as a hotshot 15-year-old, he used an older rider's AMA license so that he could race Pro motocross events. The AMA didn't allow riders under 18 to compete professionally. That didn't matter to DiStefano. Unfortunately, the AMA cared. They suspended him from competition, although shortly thereafter the AMA lowered the age restriction to 16. Tony didn't need to wait long before making a statement on a privateer CZ in 1973.
Professional motocross racers in those days were far different than today. Even the best in the sport drove to the races, nobody flew back and forth and they stayed out on the circuit until it came back to their home town. They didn't have agents, personal handlers, trainers, coaches or man friends. And it goes without saying that the new generation of AMA Pro's certainly wouldn't weld their cracked frames in a parking lot by themselves. Yet that's what Tony did, all because he wanted to race.
While DiStefano's rookie year of 1973 was impressive, his sophomore season was remarkable. "The Pistol from Bristol" won two AMA 500 National while supported by a minimally-funded CZ effort. Tony shocked the establishment. He wasn't a one-hit-wonder, but a force to be reckoned with. Had it not been for a broken thumb that he suffered in the middle of the AMA National series at a local night race, DiStefano might have won the 1974 AMA 500 National title. Instead, he finished second overall (while riding with a cast).
UNLIKE MOST WHO REACH THE SUMMIT OF PROFESSIONAL MOTOCROSS, DiSTEFANO TOOK IT ALL IN STRIDE. SUCCESS DIDN'T TAINT HIM OR CHANGE HIS FRIENDLY PERSONALITY, ALTHOUGH IT GAVE HIM AN INSATIABLE APPETITE TO KEEP ON WINNING. AND WINNING IS EXACTLY WHAT HE DID.
Tony came up short in 1974, but all was not lost. Team Suzuki signed him for the 1975 season. The ride couldn't have gone to a more deserving guy. He flourished on factory equipment, winning the 1975 250 National Championship over Kent Howerton, Billy Grossi, Jimmy Weinert and Jimmy Ellis. Tony also won all three rounds of the Inter-AMA series in capturing that title and was the top American in the highly-competitive Trans-AMA series. Unlike most who reach the summit of professional motocross, DiStefano took it all in stride. Success didn't change his friendly personality, although it gave him an insatiable appetite to keep on winning. And winning is exactly what he did.
Tony D's 1976 AMA 250 National campaign was more impressive than the prior year. He finished on the podium in six of seven Nationals and won in a landslide, amassing a 55-point lead by the end of the series. Tony also won the Daytona Supercross. The following season, DiStefano again defended his 250 National title, holding off Marty Smith and Jim Pomeroy in the process. He strung together three straight National wins to claim the crown.
DiStefano's career changed when he wrenched his knee at the Houston Supercross in 1978. He took three months off, but the injury hampered him. Tony wasn't able to defend his outdoor title and Suzuki dropped him. Then, at the beginning of the 1960 season in which he planned to race Husqvarna for Mitch Payton's shops, he suffered a workshop accident and had to undergo three eye operations. Lesser men would have quit, but not Tony D. He came back two years later to race the AMA 500 Nationals with vision in one eye only.
But, fate wasn't through with the "The Pistol from Bristol." After retiring he started a successful motocross school, but crashed at a local New Jersey track in 1988 and was paralyzed from the chest down. The most determined racer to ever grace the sport fought back one more time. As soon as Tony was out of rehab, he was back teaching his motocross schools from the seat of a quad. To quote Tony, "It's not what you do when the crowd is cheering; it's the kind of man you are when they stop."