FLASHBACK FRIDAY | THE RACE TO REPLACE THE RACE THAT NEVER WAS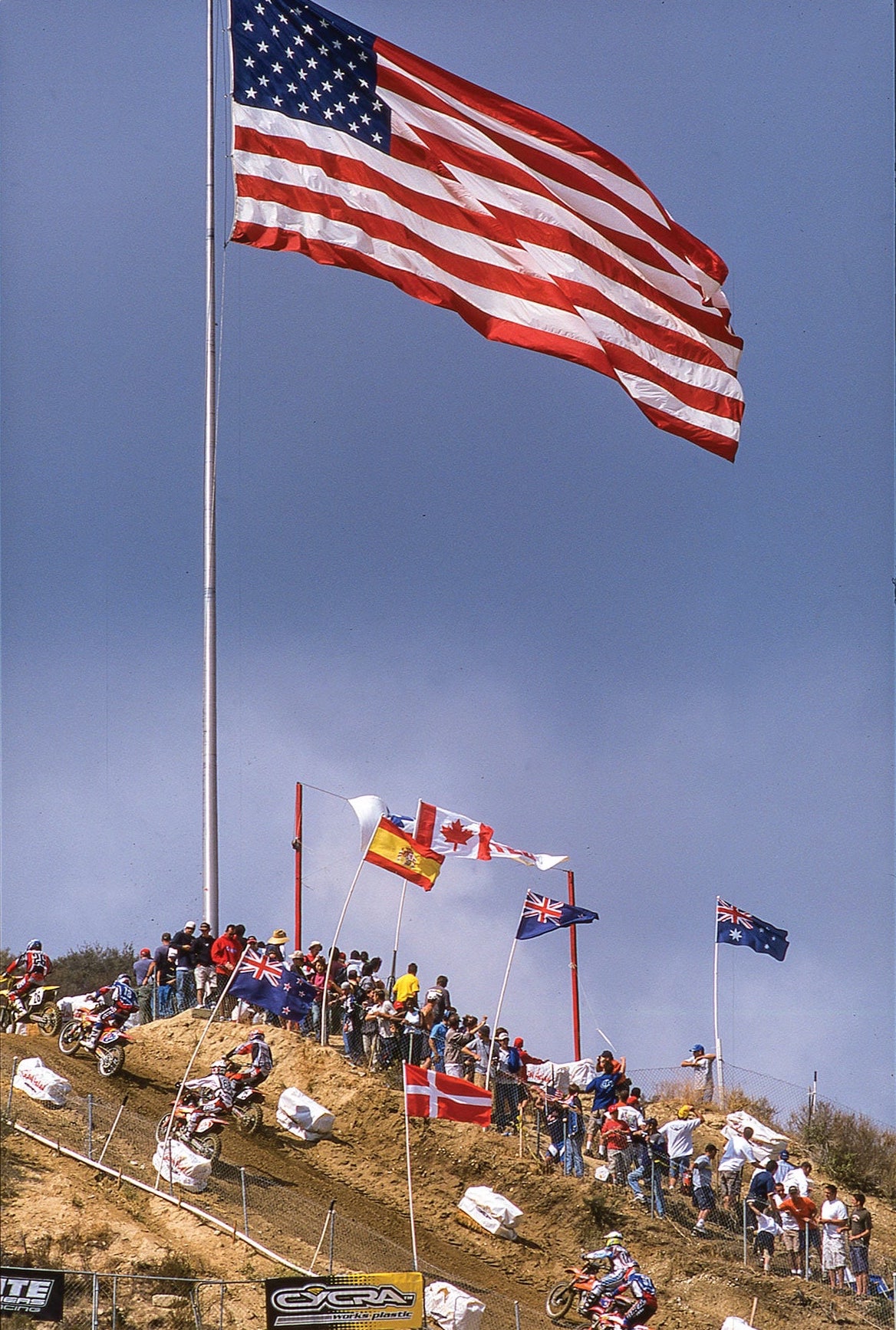 The 2002 World Cup of Motocross was born out of the cancellation of the 2002 Motocross des Nations at Comp Park in San Jacinto, California. Many of the des Nation's teams had flown to America only to find out that the Indian tribe who owned the land that Comp Park was located on had refused to allow the race to take place. Glen Helen volunteered its racetrack as a replacement, but Giuseppe Luongo wanted $650,000 in payment for Glen Helen to bail him out of the embarrassing situation. Glen Helen refused, but felt bad for the teams from Bolivia, France, Argentina, Czech Republic, Chile, New Zealand, Denmark, Costa Rica, England, Japan, South Africa, Canada and Australia. So, the name was changed to the 2002 World Cup of Motocross, and Glen Helen invited the abandoned MXDN teams to race. 
In moto one, Tim Ferry and Chad Reed battled for the lead, with Reed getting the win after Ferry crashed. England's James Dobb was a lonesome third. France's Sebastien Tortelli crashed and went to the hospital as a precautionary measure—where he checked out okay.
The second moto was an epic battle between Ernesto Fonseca on a CR250 two-stroke and Chad Reed on a YZ450F. Sean Hamblin and Grant Langston were originally up front but had a run-in that left them both on the ground. Fonseca's two-stroke got the better of Reed's four-stroke.
In the final moto, Chad Reed and Timmy Ferry battled until Ferry went down. Langston and Hamblin came together again in what we suspect was payback from Langston. Chad Reed went 1-2-1 for the overall, as the Aussie team of Reed, Michael Byrne and Craig Anderson won the 2002 World Cup, with the USA second, Canada third, South Africa fourth, Japan fifth and England sixth. 
In an effort to save face, the FIM rescheduled the 2002 MXDN at the Bellpuig circuit in Spain in late October. Only 16 nations showed up (with no teams from the USA, Canada, England, Japan, Australia, Finland, Brazil, Argentina, Holland, New Zealand or Russia). Worst of all, the race was a weird one-moto affair that Italy won by going 2-3 in the single moto (the third rider's points were dropped).
Perhaps the most memorable moment of the 2002 World Cup was when Team Bolivia showed up at Comp Park on race day to be met by a locked gate; they barely made it to Glen Helen in time to race.