FLASHBACK FRIDAY | TRAVIS PASTRANA BURSTS INTO PROFESSIONAL RACING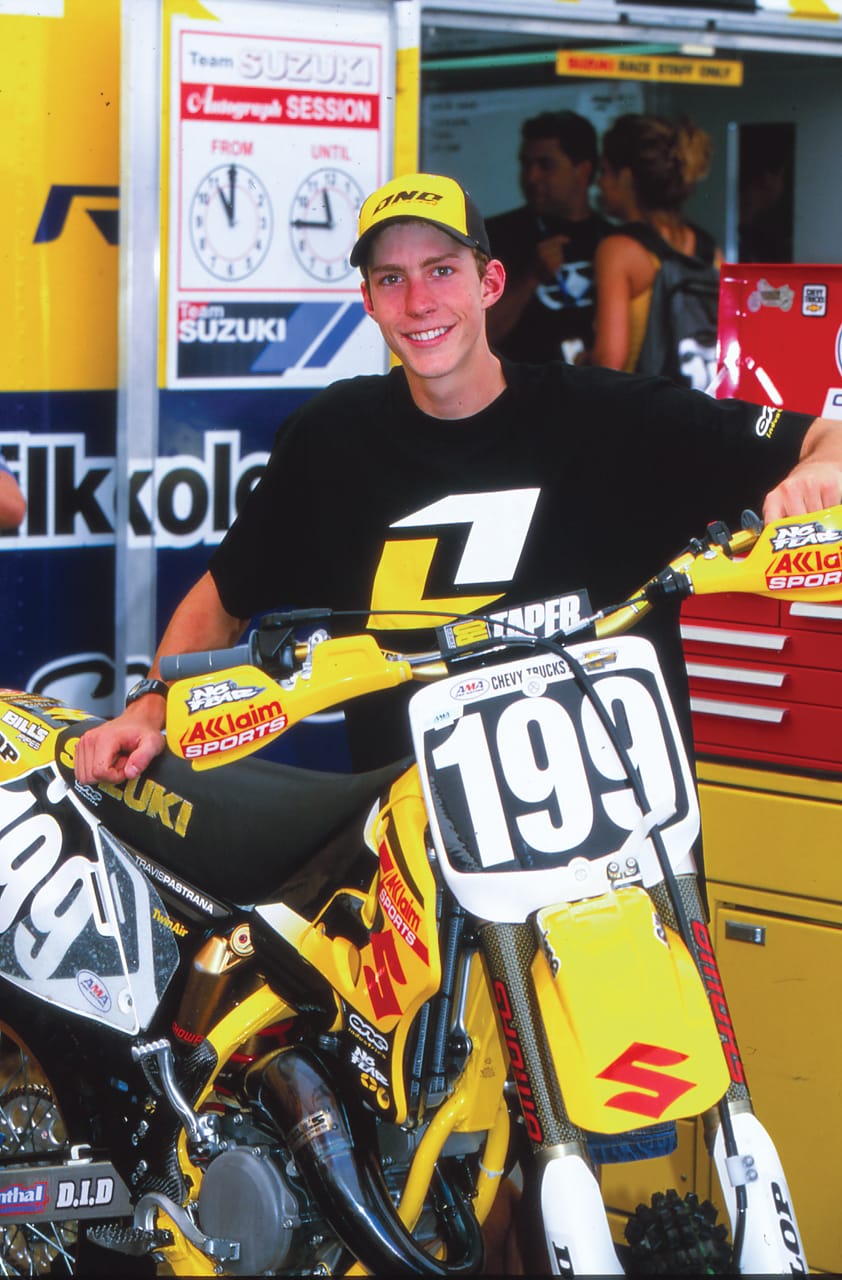 Pastrana was the it kid coming into the Pro ranks. 
Travis Pastrana was the "it" kid in 1999. A top-ranked Amateur, the Maryland native won two Loretta Lynn's titles in his final year before turning Pro. Hand-groomed by Suzuki from an early age, Pastrana was supposed to reinvigorate the brand's winning ways. Suzuki was desperate for a 125 National title, something Suzuki hadn't accomplished since Guy Cooper in 1990. Suzuki also needed to change the public's perception of the company after the embarrassment of Jeremy McGrath's failed experiment with Suzuki of Troy in 1997. With Roger DeCoster at the helm and good equipment, Suzuki was missing one key component—a rider capable of battling against Yamaha of Troy and Pro Circuit Kawasaki. Travis Pastrana was supposed to be the goose that would lay the golden egg.
Of course, history reveals the extent of Pastrana's success. Travis' brief racing career wasn't unlike a Wolf-Rayet star. These massive stars live fast and die hard, burning brightly before exploding. Travis Pastrana was only in the spotlight for six years, although four of those seasons were spent nursing injuries or dabbling in freestyle motocross; however, "Wonder Boy," as fans affectionately called him, was one of the most popular riders, even well after he called it quits in 2006.
Travis burst onto the scene in 2000, racing the 125 East Supercross series. In what became the norm throughout his short career, Pastrana was nursing an injury entering his first race at Indianapolis. Despite a freshly broken thumb, he gutted out a fourth-place finish. It's obvious that Travis would have likely won the 125 East title in his rookie year if not for the thumb injury. Still, with three main-event victories, including the 125 East/West shootout, Suzuki had finally found its man.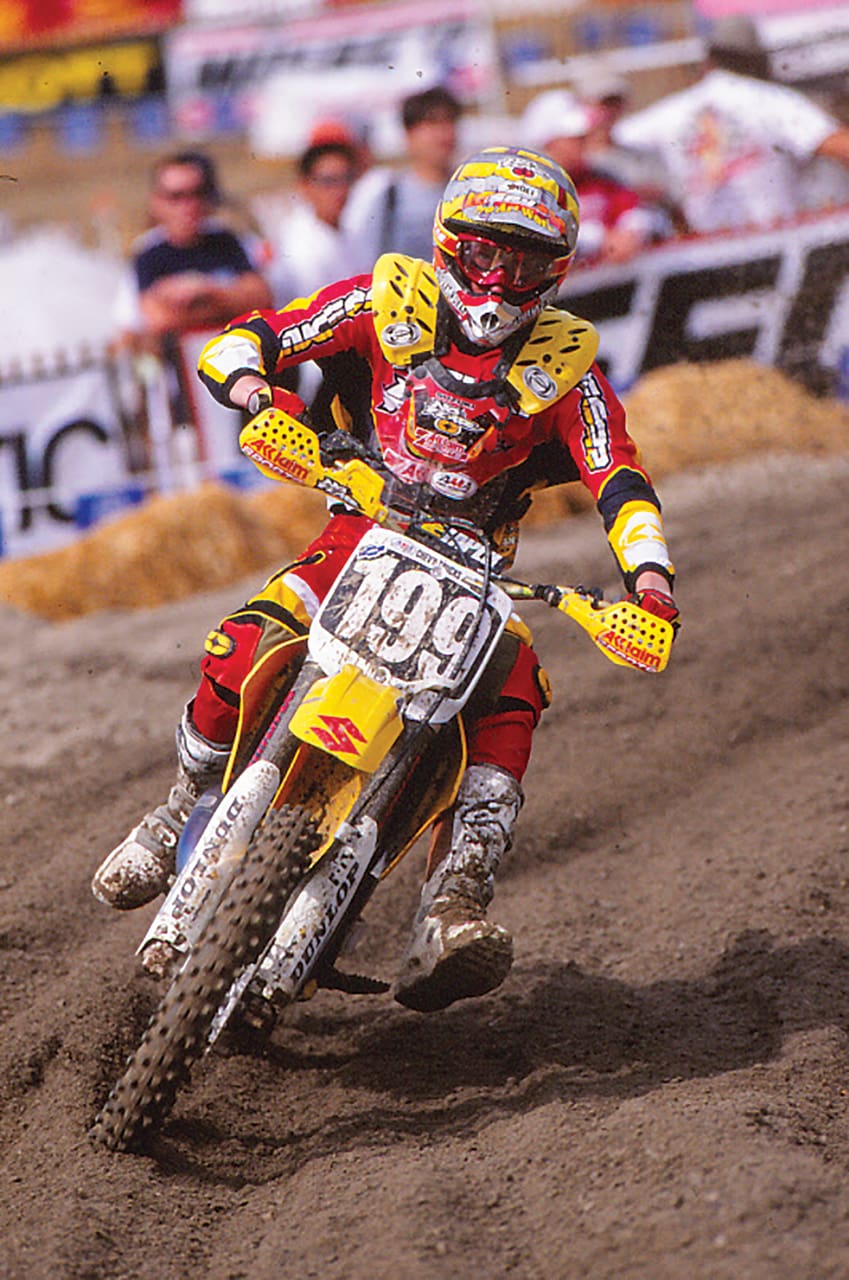 Travis had the speed, determination and personality to be the next big thing, but Travis had other plans. 
The 2000 AMA 125 National series was one for the ages. Maybe it was destiny that Pastrana's rookie year fell in the gap between Ricky Carmichael's departure to the 250 class and James Stewart's impending arrival in 2002. Maybe it was dumb luck. Whatever the case, Travis captivated crowds across the country with his fearless riding en route to the 125 National crown; however, few could have guessed that Pastrana would emerge the champion after the opening rounds. The Suzuki rider finished fourth at Glen Helen, 10th at Hangtown and sixth at High Point. Stephane Roncada, Tallon Vohland and Steve Lamson established themselves as the early favorites. Meanwhile, Pastrana's yo-yo results—crashes and bike failures mixed with brilliant performances—held him back.
Many look at Southwick, site of Travis' first 125 National victory, as the turning point. That's not accurate; in fact, the second moto at High Point was Pastrana's coming-out party. While Kelly Smith secured KTM its first 125 National overall in the U.S., Travis slogged through the mud to win his first outdoor moto. From Southwick onward, Pastrana finished off the box only once (Troy, Ohio) and slowly clawed his way back into the points race. Yet, it was Stephane Roncada's title to lose. The Frenchman was on fire, but a crash and twisted knee at Millville left him powerless against Travis' relentless attacks in Minnesota. In the penultimate round of the series at Binghamton, Pastrana again went 1-1 to force a winner-take-all situation at the Steel City finale.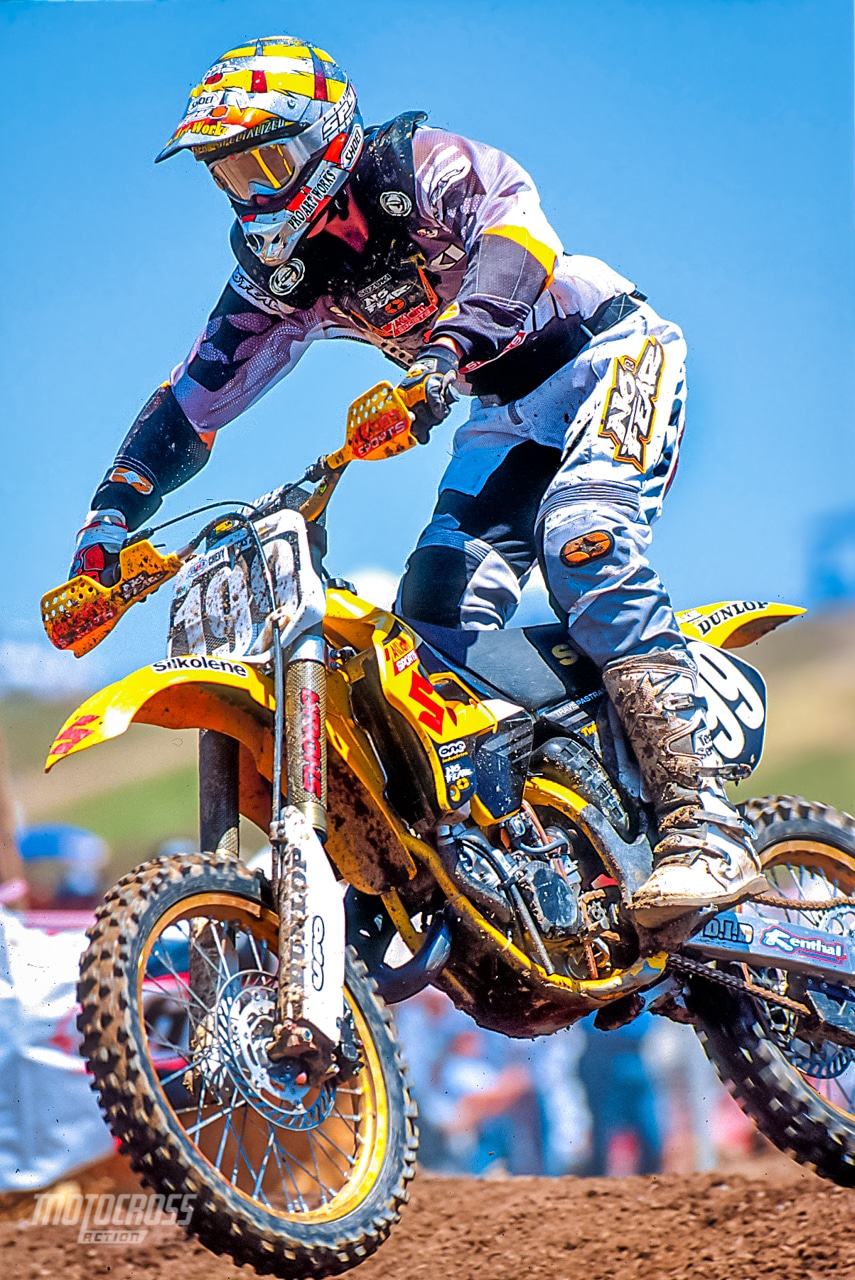 On September 3, 2000, Travis Pastrana rode like a man possessed to win both motos and steal the title away from Stephane Roncada by two points. Looking back, the story lines from that day are bittersweet. It was the only National title Pastrana would ever claim and the closest Roncada would come to winning an outdoor crown. Yet, the two competitors formed an unlikely bond. Believe it or not, they had bets and wore stickers on their chest protectors to promote one another during the series. Can you imagine Cooper Webb and Eli Tomac doing that?
Travis Pastrana's professional racing career was bright, until it exploded like a Wolf-Rayet star just days before the 2003 AMA 250/450 Supercross opener. Pastrana lawn-darted himself while free riding at Castillo Ranch, resulting in a blown-out knee. He would never win again. Roger DeCoster, Suzuki's team manager throughout Travis' time on the factory program, later quipped, "We had Travis Pastrana win a 125 title in 2000, but Travis was more interested in being famous. Between the concussions, the freestyle and his parents, he squandered what could have been a great racing career." While that's true, Pastrana should have very few regrets. He has gone on to win rally races, make movies and become a household name. Perhaps he should be compared to a red supergiant, the largest type of star in the cosmos.