FLASHBACK FRIDAY | TREY CANARD'S ROLLERCOASTER RIDE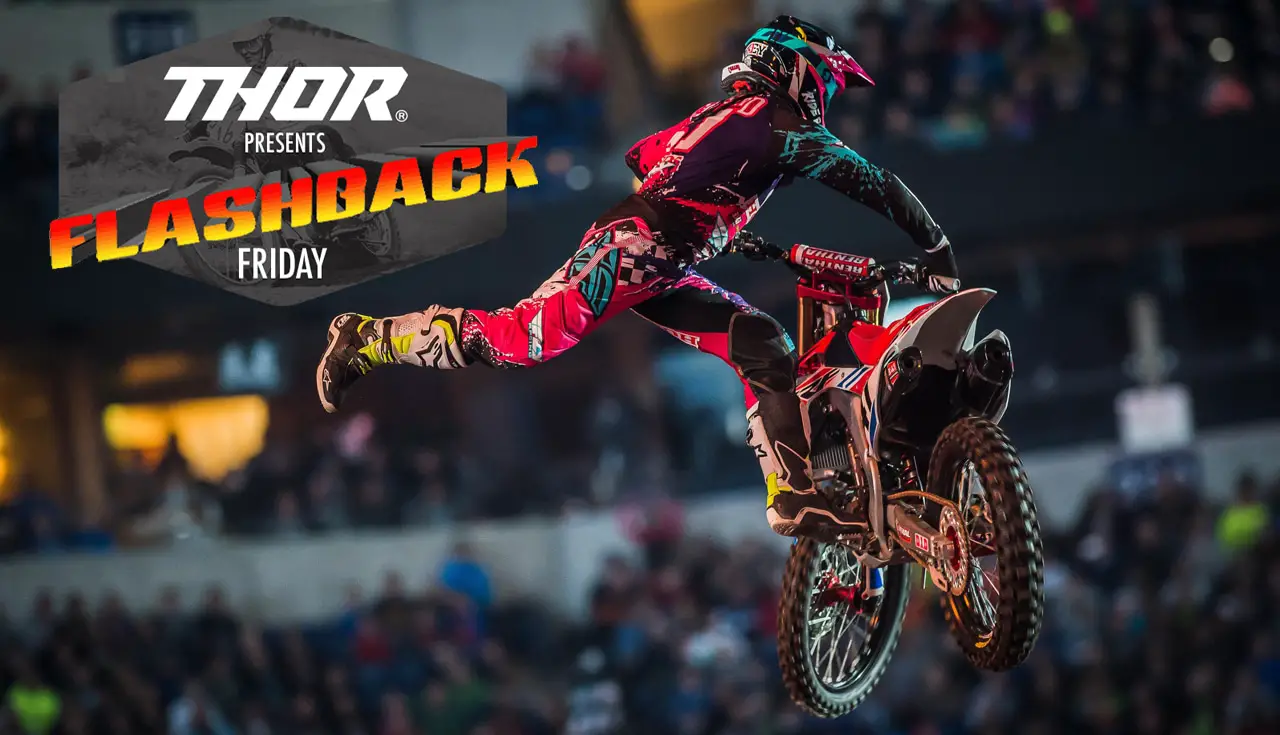 Trey Canard's entrance in professional racing came rather quietly. The Oklahoma kid raced the final four 250 Nationals of the 2007 season, with his best overall a fifth at Freestone. However, Canard made waves when he lit the candles at the 2008 AMA 250 East Supercross opener in Atlanta. The Factory Connection Honda rider kept 2007 AMA 250 West Champion, Ryan Villopoto, at bay. It was a David versus Goliath scenario–inexperienced rookie taking on the established champ. Instead of withering away, Canard would prove himself a worthy adversary in the slam-bam fight for the crown. It was literally a knock-down, drag-out affair at the St. Louis finale when Canard pushed Villopoto wide. Ryan careened into the finish line support, and Trey clinched his first title.
Two years later the Shawnee, Oklahoma red-head put the screws to Christophe Pourcel in the 2010 AMA 250 National Championship. Canard went on a mid-season hot streak, winning four Nationals in a row and five of the last seven rounds. Even if Trey hadn't captured the 250 National title, he was already assured a spot on Muscle Milk Honda for the 2011 season. He had proven himself more than capable of success in the 450 class when, earlier in the year, he filled in at factory Honda for six Supercross rounds. Aside from his 450 debut at Indianapolis, Canard finished on the podium at every round. Six years after Ricky Carmichael left the Honda fold, the Red Riders had finally found their man–Trey Canard.
Trey aboard his Factory Honda.
Wins in Houston, Jacksonville and Dallas were bright spots in a remarkable 450 rookie campaign. Canard was in the running for the 2011 Supercross title, but then disaster struck. While preparing for the Nationals, Trey crashed and broke his femur. He was sidelined for three months. After a third at Millville, it was on to Washougal…a track where Canard is snakebitten. One wild scrub and another broken femur later (the same injury that took Trey out of the 2008 AMA 250 Nationals at Washougal), he was out for the season.
HAVE YOU EVER HEARD THE EXPRESSION, "IF IT WASN'T FOR BAD LUCK, HE'D HAVE NO LUCK AT ALL?" THAT EFFECTIVELY SUMS UP TREY CANARD'S 2012 SEASON. IT WAS A DISASTER.
Have you ever heard the expression, "If it wasn't for bad luck, he'd have no luck at all"? That sums up Trey Canard's 2012 season. It was a disaster. Trey was trying to knock the ring rust off at the beginning of the 2012 Supercross series. It all came crashing down when Canard doubled the triple in the opening lap of the Los Angeles Supercross main and was landed on by Ryan Morais. Miraculously, both riders were eventually able to recover, although Morais would call it a career. Today he's one of the integral components at the Red Bull KTM racing winning machine.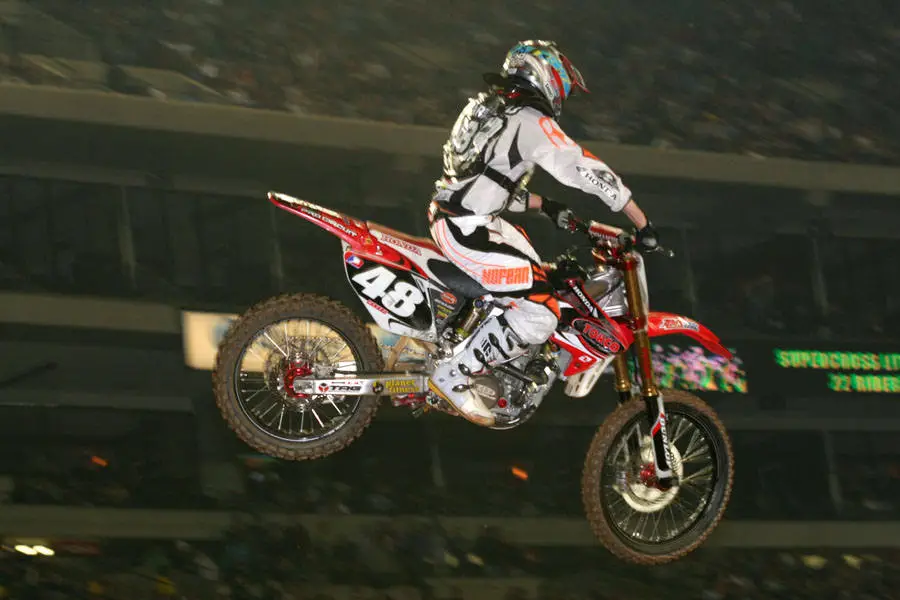 Trey during the 2008 season on a Factory Connection CRF250.
Trey Canard is a fighter. He battled back and entered the 2013 season with a full head of steam. After a second at Anaheim 1, Canard hovered in the top ten for most of the Supercross series. Consistency netted him sixth. He followed it up with a fourth overall in the Nationals. Trey was back on track, only for disaster to strike again. Canard broke his arm in practice over the Thanksgiving weekend while preparing for 2014. He missed 12 of the 17 Supercross rounds that year. Just like so many times before, when Canard came back he was instantly a force. Most riders take a few races to get into the swing of things. That's not Trey's style. He logged a fifth in his first race back. That summer, Canard was just a tick off the pace set by Ken Roczen and Ryan Dungey. He bested the then-KTM teammates at the Utah finale by taking the overall. It was a good way for Canard to end the season.
Although Canard won the San Diego Supercross in 2015, his year was marred by the odd (a brouhaha with Chad Reed at Anaheim 2) and unusual (Trey landed on Jake Weimer at the Detroit Supercross and broke his arm). This season the pressure was Canard to put in favorable results or else lose his Honda ride. With Honda making room for Ken Roczen, either Canard or Cole Seely was on the way out. Trey crashed at Anaheim 2 and injured his hand, causing him to miss the next two rounds. When he came back, he could do no better than fourth in a Supercross main. Meanwhile, Seely was meeting expectations. The writing was on the wall. Trey Canard and Honda would be no more.
When Canard signed with Red Bull KTM in 2017, everyone thought a change would be good for Trey. Reset the clock. Trey started off Anaheim 1 with a 22nd place. Things got better as he made it into the top 10, but the old Canard that we use knew was no longer behind the handlebars. Canard only raced six races in the 2018 Supercross season before disaster struck in a crash while testing. He injured his shoulder and was sidelined once again.
Trey was doing testing for factory Honda in 2020. 
Trey retured to racing at round five of the 2017 AMA Nationals. He placed 12th and followed that up with another 12th at the next  round. Trey then had another practice crash that was the straw that broke the camels back. Enough was enough for Trey. At round eight of the AMA Nationals Trey announced his retirement from professional racing.
This is what Trey had to say about retiring.
Canard: "I love racing and my passion for doing so has not changed, but there comes a time in every racer's career where you come to the realization that although the spirit is willing, the flesh is weak, and I know in my heart it's time to call it a day. I've had many injuries throughout my career and have always done my best to heal and bounce back. However, I feel I am not able to push myself to the level I need to in order to be competitive at the highest level of racing. I am sad to say goodbye but also extremely grateful and thankful for the last 10 years of my life. I never could have dreamed I'd do the things I've been able to do, to live out a childhood dream and meet and become close with so many wonderful fans and industry people."
"I'm extremely grateful to KTM for the opportunity to work alongside everyone at the Red Bull KTM Factory Racing Team this last year and I am happy to end my career with the full support of the team. I've raced for top manufacturers and teams throughout my career and I'm honored that they chose me to race for them at the highest level of racing and represent their brands. I can't say thank you enough to my family and close friends who have been with me since day one and I hope to see everyone at the races for many years to come. This will always be a community that I cherish and feel connected to on so many levels."
Two great champs. Trey Canard and Ryan Dungey.