FLASHBACK FRIDAY | WHAT HAPPENED AT THE 2000 MXDN
Sebastian Tortelli and Ricky Carmichael split wins in moto two and three of the 2000 Motocross des Nations. 
Team USA won the 2000 Motocross des Nations. It was a big deal (and of course, it was not such a big deal). We were suppose to win. We were expect to win. If we didn't win it was because the whole thing was rigged. The real surprise was that we were on a three year losing streak. So, in the year 2000 we loaded up all the best riders in the USA, even if they were French, South African or Presbyterian and shipped them to France for the Motocross des Nations.
Okay, maybe all of these riders weren't born in the USA and most of them had to ride for the countries they abandoned when they moved to the land of opportunity (we forgave them). But, when the race was over you either had an AMA license in your pants pocket (regardless of what team you raced for) or you were sucking French soil all day.
SEE THE USA, JOIN THE AMA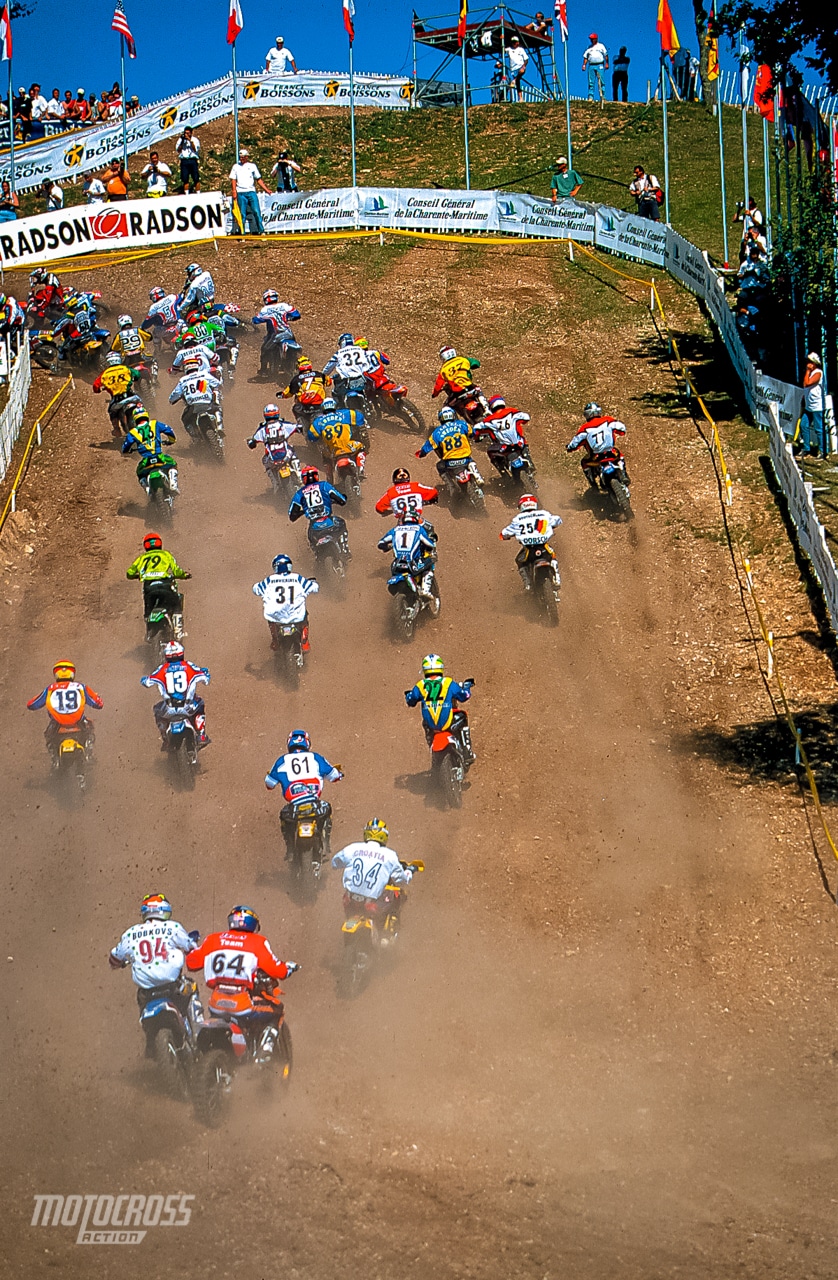 Ricky Carmichael and Sebastian Tortelli split wins in moto two and three, while Ryan Hughes won moto one (after James Dobb got zapped by bad karma for giving up his AMA license and moving back to Merry Old England—served him, right).
Meanwhile in the tiddlers Travis Pastrana and Stephane Roncada picked up where they left off at the 12th and final round of the 2000 AMA National Championships just a week before. The only spoiler in the mix was South African Grant Langston, who was the first 125 in the first moto (ahead of Pastrana and Roncada), but he quickly made amends for his faux pas by applying for an AMA license, renting an apartment in Corona and booking his South African Airways flight to SoCal (which he will call home from now on).
AND WHAT DID THIS ALL MEAN?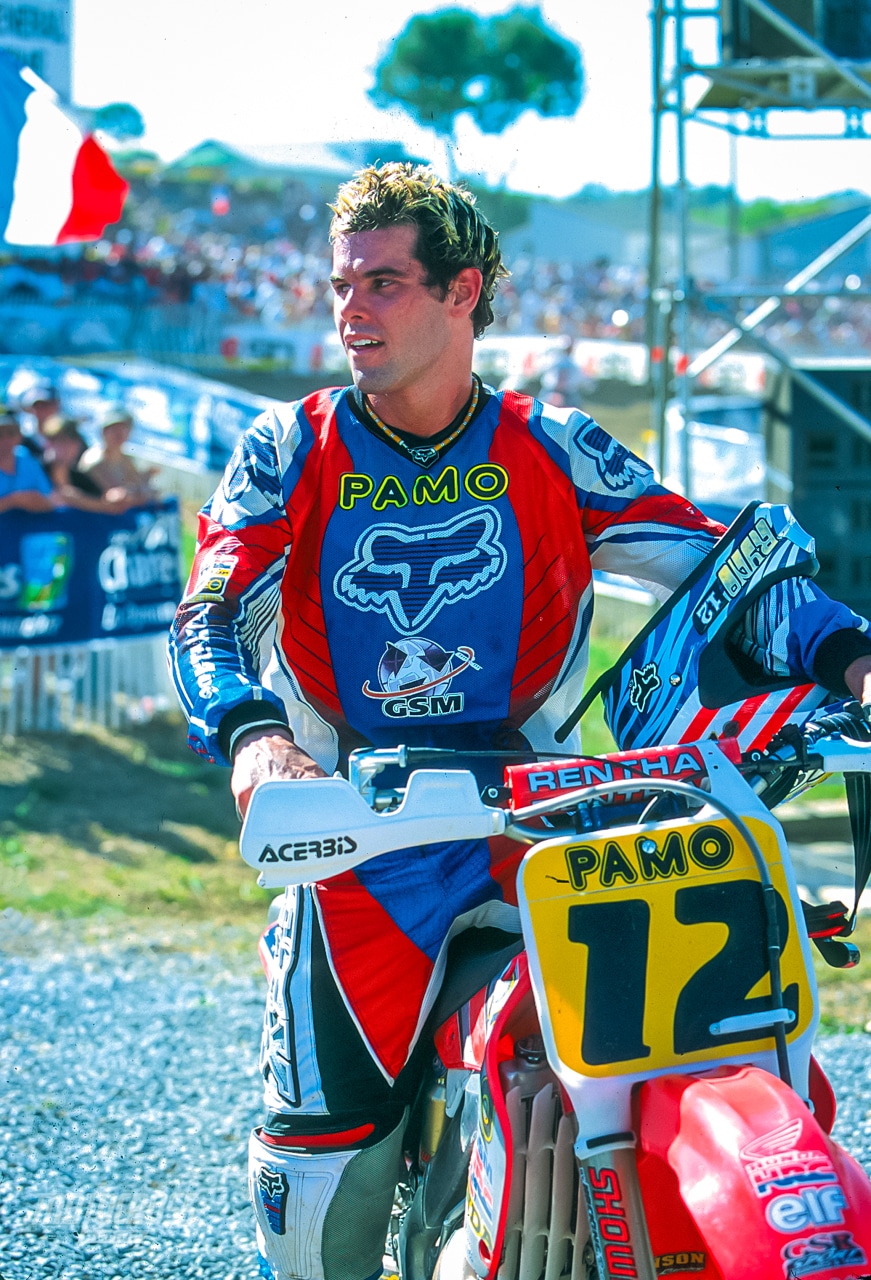 Ryan Hughes won moto one. 
It was important that America won the Motocross des Nations. Without the victory to prop up our fragile national ego we might have fallen behind France, England, Belgium and Italy in Gross National Product, defense spending, nuclear warheads or countries invaded.
Thankfully, we won.
RESULTS: MOTOCROSS DES NATIONS | St. Angely, France
Ricky Carmichael. 
1. America…19
2. Italy…36
3. Belgium…44
4. Great Britain…47
5. South Africa…55
6. Japan…62
7. Australia…99
8. Finland…99
9. Czech Republic…103
10. Germany…105
11. Ireland…109
12. Spain…110
13. Austria…110
14. Portugal…114
15. Denmark…126
16. Latvia…126
17. Croatia…141
18. France…23*
19. New Zealand…51*
20. Sweden…33*
(*had two or more DNF's)
Italy's Thomas Travershini.
MXDN MOTO 1
1. Ryan Hughes…USA
2. James Dobb…Eng
3. Andrea Bartolini…Ita
4. Peter Johansson…Swe
5. Francisco Garcia Vico…Spa
6. Grant Langston…SoA
7. Chad Reed…Aus
8. Erwin Machtlinger…Aua
9. Miska Aaltonen…Fin
10. Travis Pastrana…USA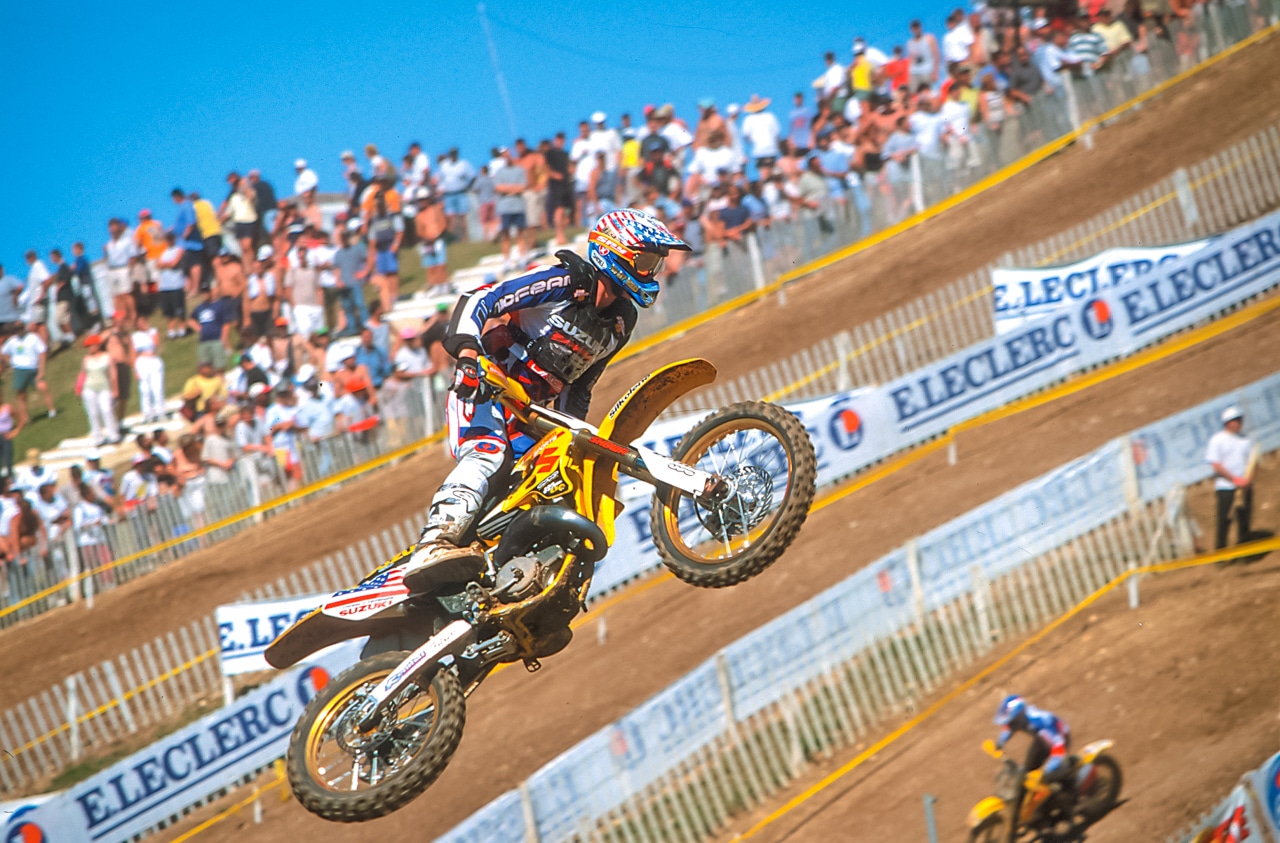 Travis Pastrana rode an RM125 for team USA. 

MXDN MOTO 2
1. Ricky Carmichael…USA
2. Sebastien Tortelli…Fra
3. Marnicq Bervoets…Bel
4. Paul Cooper…Eng
5. Claudio Federici…Ita
6. Josh Coppins…NZ
7. Yoshitaka Atsuta…Jap
8. Gordon Crockard…Ire
9. Stephane Roncada…Fra
10. Greg Albertyn…SoA
15. Travis Pastrana…USA
Stephane Roncada.
MXDN MOTO 3
1. Sebastien Tortelli…Fra
2. Ricky Carmichael…USA
3. Andrea Bartolini…Ita
4. Marnicq Bervoets…Bel
5. Ryan Hughes…USA
6. Greg Albertyn…SoA
7. Gordon Crockard…Ire
8. Paul Cooper…Eng
9. Joel Smets…Bel
10. Darryl King…NZ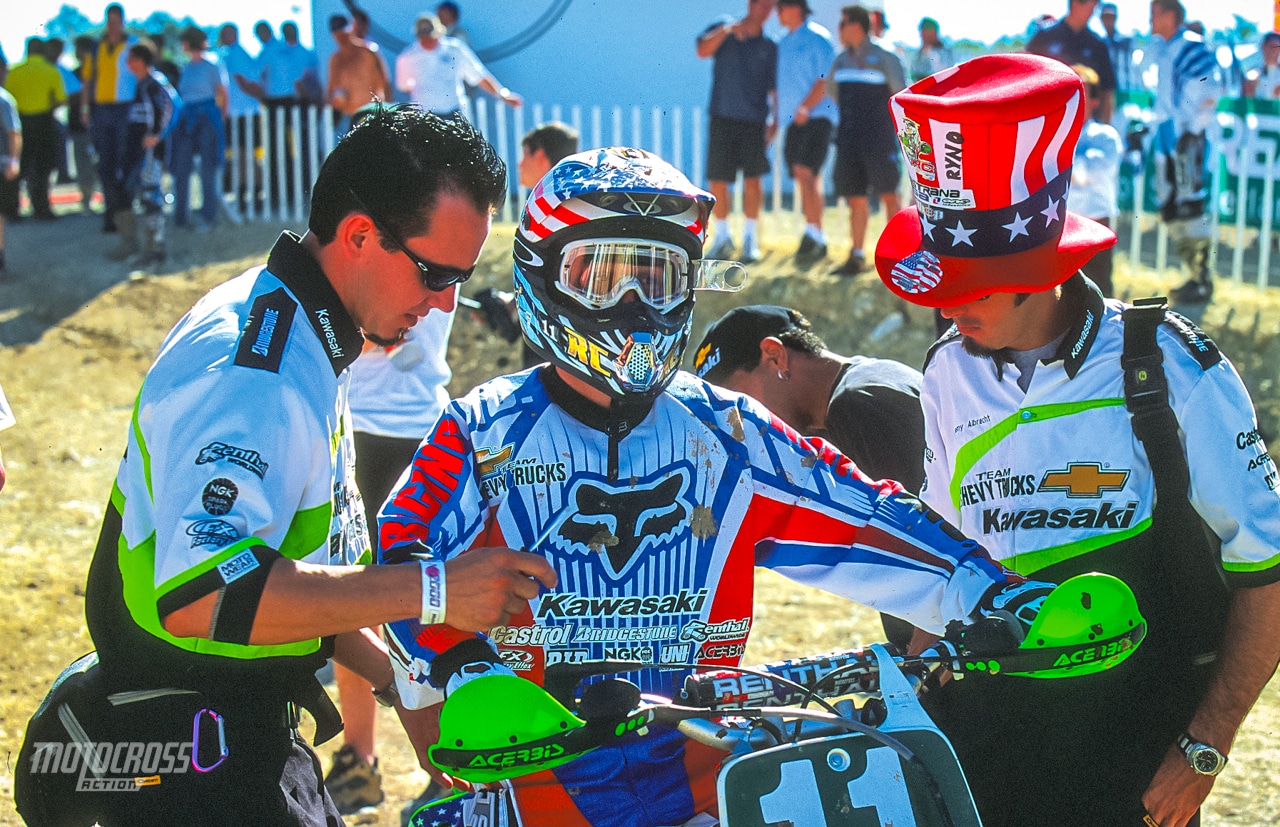 Chad Watts, Ricky Carmichael and Jeremy Albrecht (in his Sunday go-to meetin' hat).