FLASHBACK FRIDAY | YOU REMEMBER THE ONES YOU LOST
There is a famous line from the movie On Any Sunday that says, "They don't all make it through every season." And they don't. Riders get hurt in every conceivable way. The MXA wrecking crew decided to chronicle some of the most famous injuries.
There is a famous line from the movie On Any Sunday that says, "They don't all make it through every season." And they don't. Riders get hurt in every conceivable way. The MXA wrecking crew decided to chronicle some of the most famous injuries.
---
Corrado Maddii: At the final race of the 1984 125 World Championship, Corrado Maddii had such a big points lead that if he scored three points on the day, he would win the title. Unfortunately, during practice, Michelle Fanton did a practice start and collided with Corrado where the start straight joined the racetrack. Maddii was carried off the track on a stretcher with a broken leg. While lying in a hospital bed, Maddii heard that Michele Rinaldi overcame a 30-point deficit to win the 1984 125 World Championship by three points. Above, Corrado Maddii liis carried off the track as his 1984 FIM 125 World Championship slips away to Michele Rinaldi.
Tony DiStefano: While leading the 1974 500 National Championship on a privateer CZ, Tony DiStefano decided to race a Friday-night race at SoCal's now-defunct Indian Dunes Raceway. Tony D crashed and broke his thumb. He raced the next five 500 Nationals with his hand in a cast and lost the title to Jimmy Weinert. One year later, he was leading the AMA Supercross series on a works Suzuki when the front end broke off at the Dallas Supercross, costing him that Championship. Later in his career, he suffered a cut eye in a workshop accident and although he returned to racing with vision in one eye, he eventually had to quit to get more eye surgeries.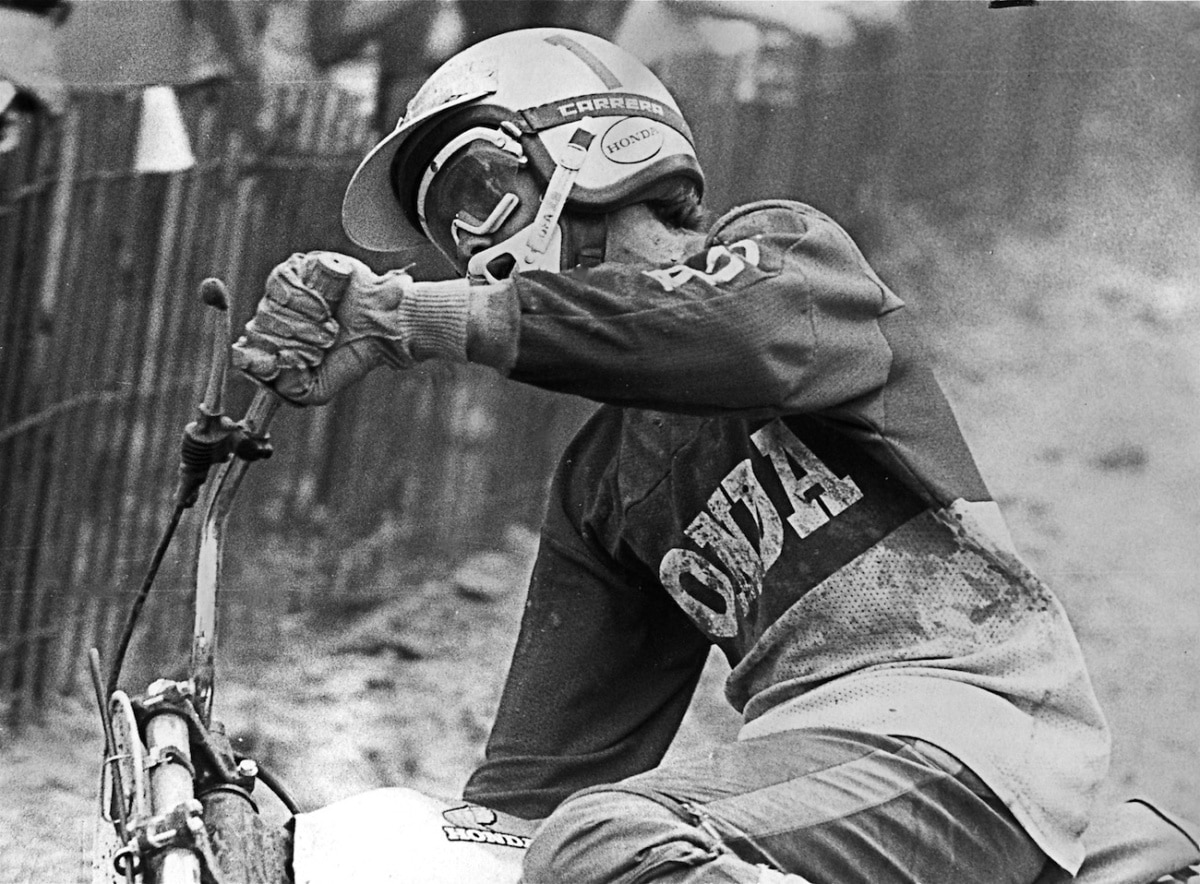 Gary Jones: Four-time 250 National Champion Gary Jones never had a chance to win five consecutive championships. At Daytona in 1975, Jones got his leg stuck in the rear wheel of Peter Lamppu's Montesa. The broken leg healed wrong and had to be rebroken six months later. Jones missed almost two full seasons.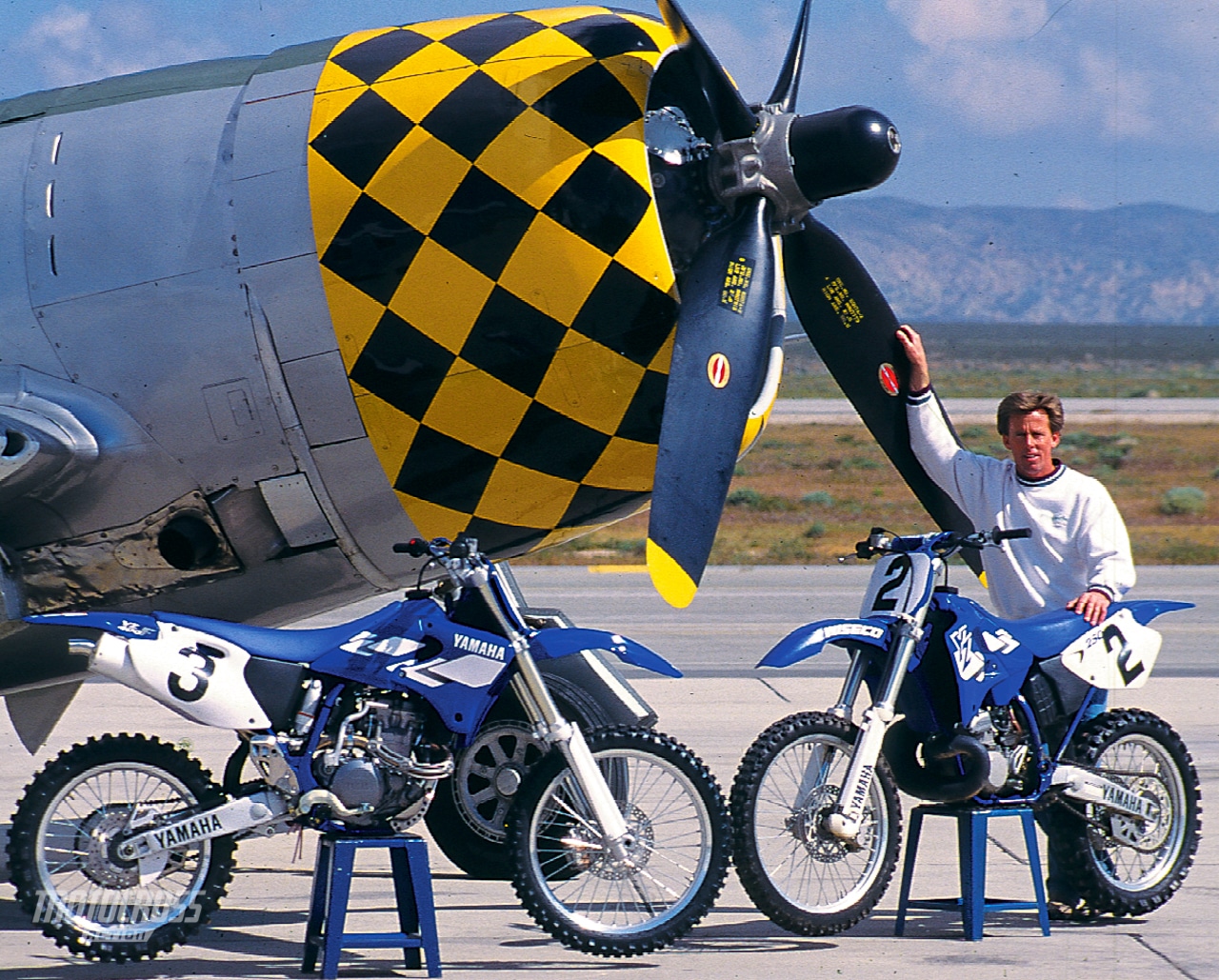 Bob Hannah: In 1979 Bob Hannah went water-skiing at Lake Havasu with Marty Tripes. Tripes, who was driving the boat, accidentally slingshot his arch-rival into the rocks on the beach. Hannah broke his femur and missed the entire 1980 season.
Jacky Vimond: During a celebration for Jacky Vimond's victory in the 1986 250 World Championship, he was lowered from a nightclub ceiling on a platform. Unfortunately, a cable broke and Vimond fell to the floor. He suffered a broken back.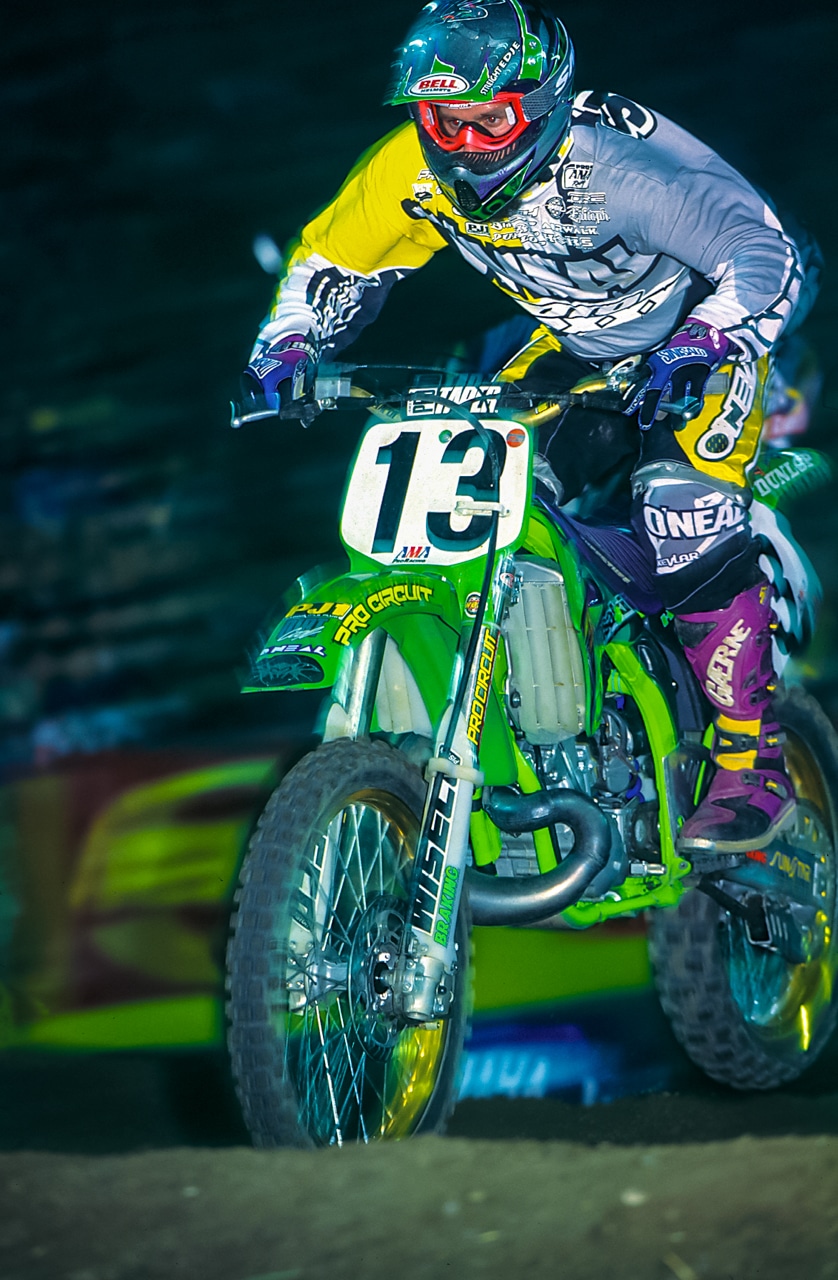 Mike Craig: After winning his first and only 250 Supercross at Tampa in 1994, Mike Craig claimed to have tripped over his shoes in his hotel room while making a late-night pit stop. Insiders at Team Yamaha professed that they never believed that Craig was seriously injured and the team dropped him in mid-season.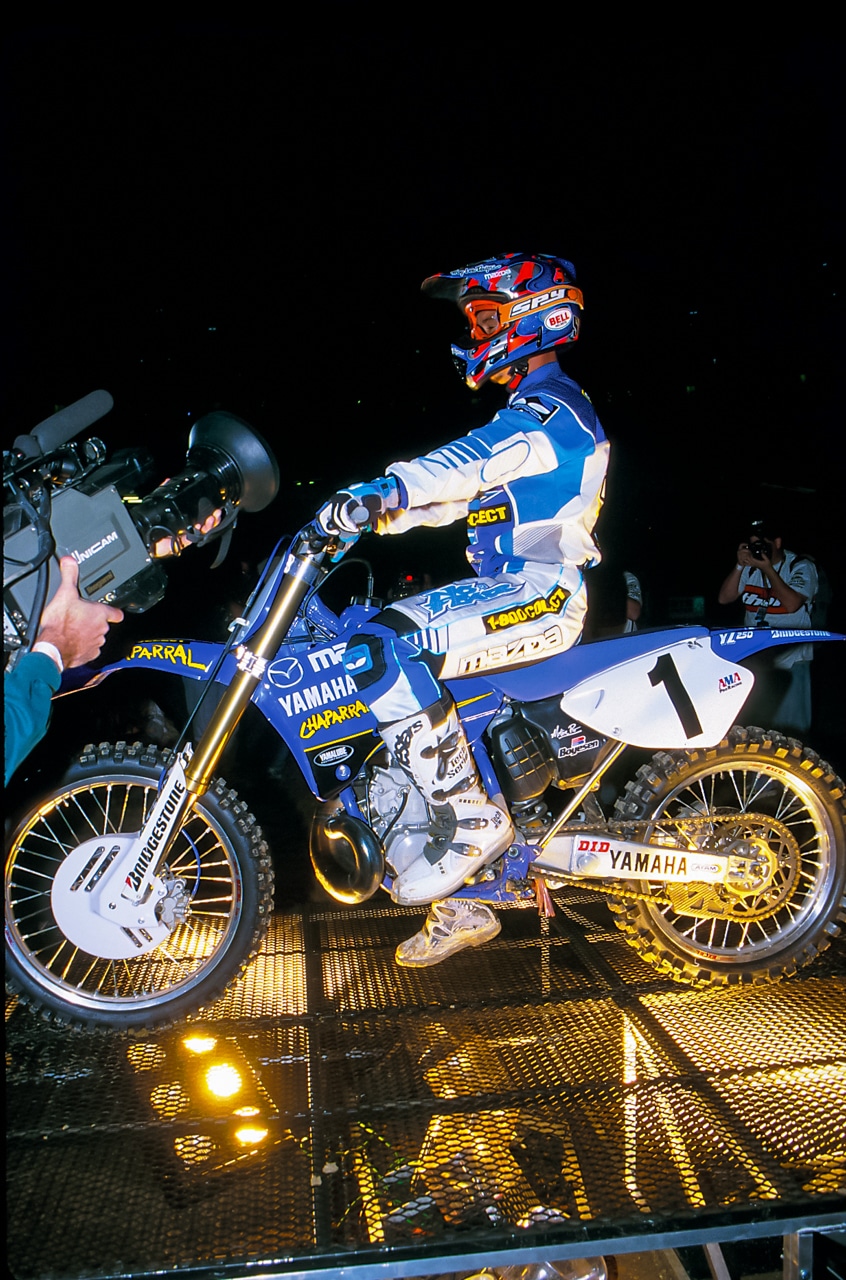 Jeremy McGrath: In 1997, Jeremy McGrath lost the Supercross crown to Jeff Emig. Jeremy had lots of excuses. He switched to Suzuki just weeks before the season started. Steve Lamson took him out twice on opening night. He burned up his clutch in Indy. And, he got a flat tire while leading at Charlotte. But, it didn't help that Jeremy cut his foot before the final round and had to ride with stitches in his heel. Jeremy lost the 1997 title by 15 points. Jeremy had lost 19 points at round one when he had two run-ins with former Honda teammate Steve Lamson. Jeremy's 7 AMA Supercross Championships and 72 victories provide him with solace for his 1997 loss.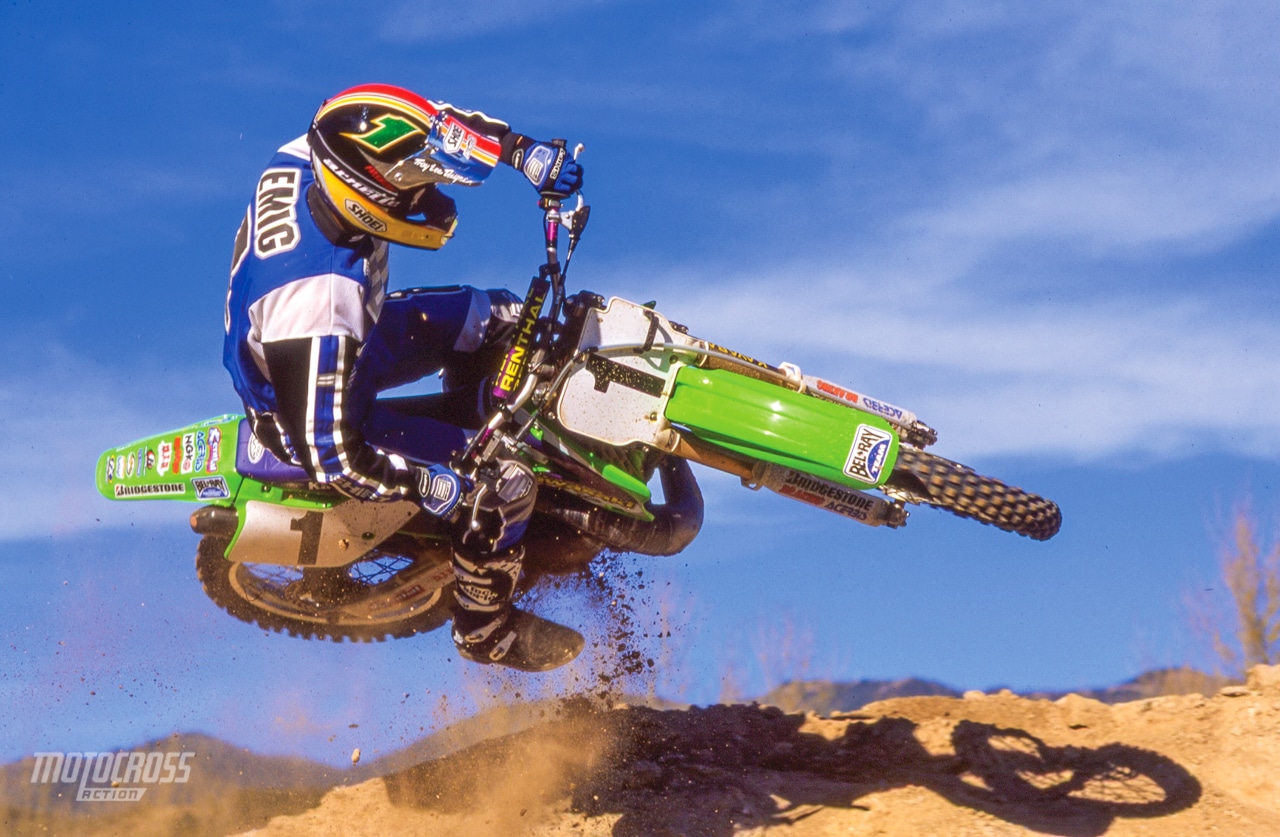 Jeff Emig: Following his career-defining 1997 season, Jeff Emig slumped seriously in '98. What was his problem? Conjecture has it that the high G-loads that Emig sustained while on a demonstration ride with the U.S. Navy Blue Angels ruined Emig's equilibrium. A year later, Jeff Emig broke both wrists a week before the 2000 season started, and five months after that Jeff's throttle stuck while practicing at Glen Helen. He broke his back and retired to the life of a TV commentator.
Josh Hill: Josh Hill made a blip on the 2018 AMA Supercross radar when he got a three-race fill-in ride at Team Yamaha. It was significant because Hill was once a full-time factory Yamaha racer, but his professional career was derailed in 2010 when he attempted a backflip in preparation for the X Games. On his second attempt, Hill was ejected from the bike and broke his right femur, right humerus and pelvis and collapsed a lung. He was never the same afterwards. Josh took a job at Mosnter Energy, dabbled in videos, did a few races and even came back to the 250  Supercross class in 2020.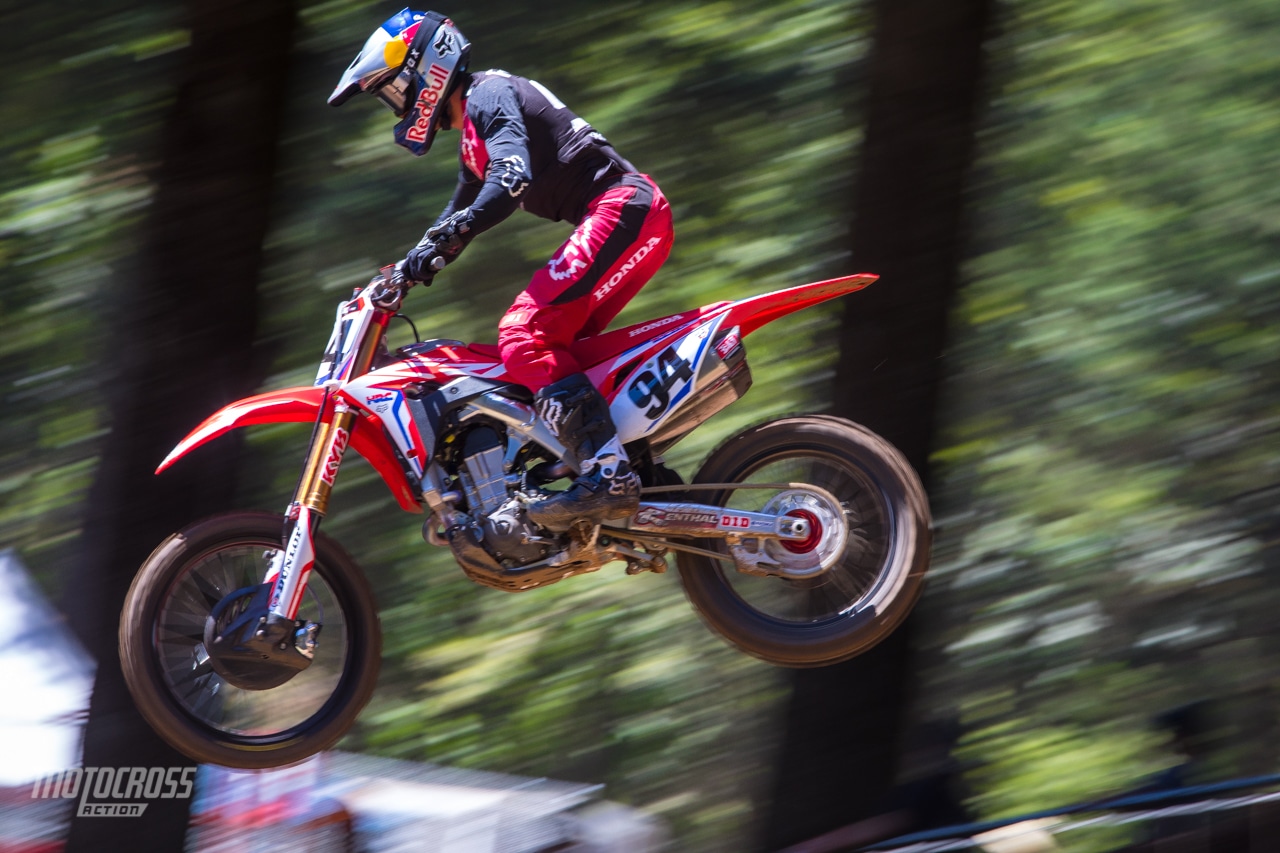 Ken Roczen: Ken Roczen signed a multi-million-dollar deal to race for Team Honda in 2017. He won the first two rounds of the 2017 AMA Supercross season and then at round three was kicked over the bars, dislocating his left elbow, breaking his arm and fracturing his wrist. After a dozen surgeries, he returned to action for the 2018 AMA Supercross series. In the first five Supercross races, Ken went 4-2-9-3-2; but, at the San Diego round, he took exception to the way Yamaha's Cooper Webb was riding and slid up into Webb in a bowl turn. Sadly, Ken lost the rear end and fell with his outstretched hand being sucked into the YZ450F's spinning rear wheel, breaking and dislocating every metacarpal in his throttle hand. Amazingly, Ken Roczen eventually made his comeback to racing and returned to his winning ways.