FORGOTTEN MOTOCROSS TECH: AIR SHOCKS? IS IT READY FOR PRIME TIME AGAIN?
Justin Barcia put the air shock back on the map in Houston. WP had pulled their prototype out of action after it failed on Ryan Dungey and Andrew Short a few years ago. They didn't give up on developing it, but they decided not to test it in public. However, at the first-ever AMA Supercross for a GasGas MC450, they brought the latest version of the air shock back and Justin Barcia handed both the GasGas MC 450Fand WP air shock their first win.
Motocross history is filled with examples of creative ideas that were heralded as groundbreaking, but, because of the rapid rate of change in development, sank into the swamp of forgotten technology. Although some ideas are best left abandoned, others were truly innovative (if not ultimately successful). MXA loves to reveal motocross' tech trivia. Do you remember the rise and fall of air shocks?
2021 FACTORY PROTOTYPE WP AIR SHOCK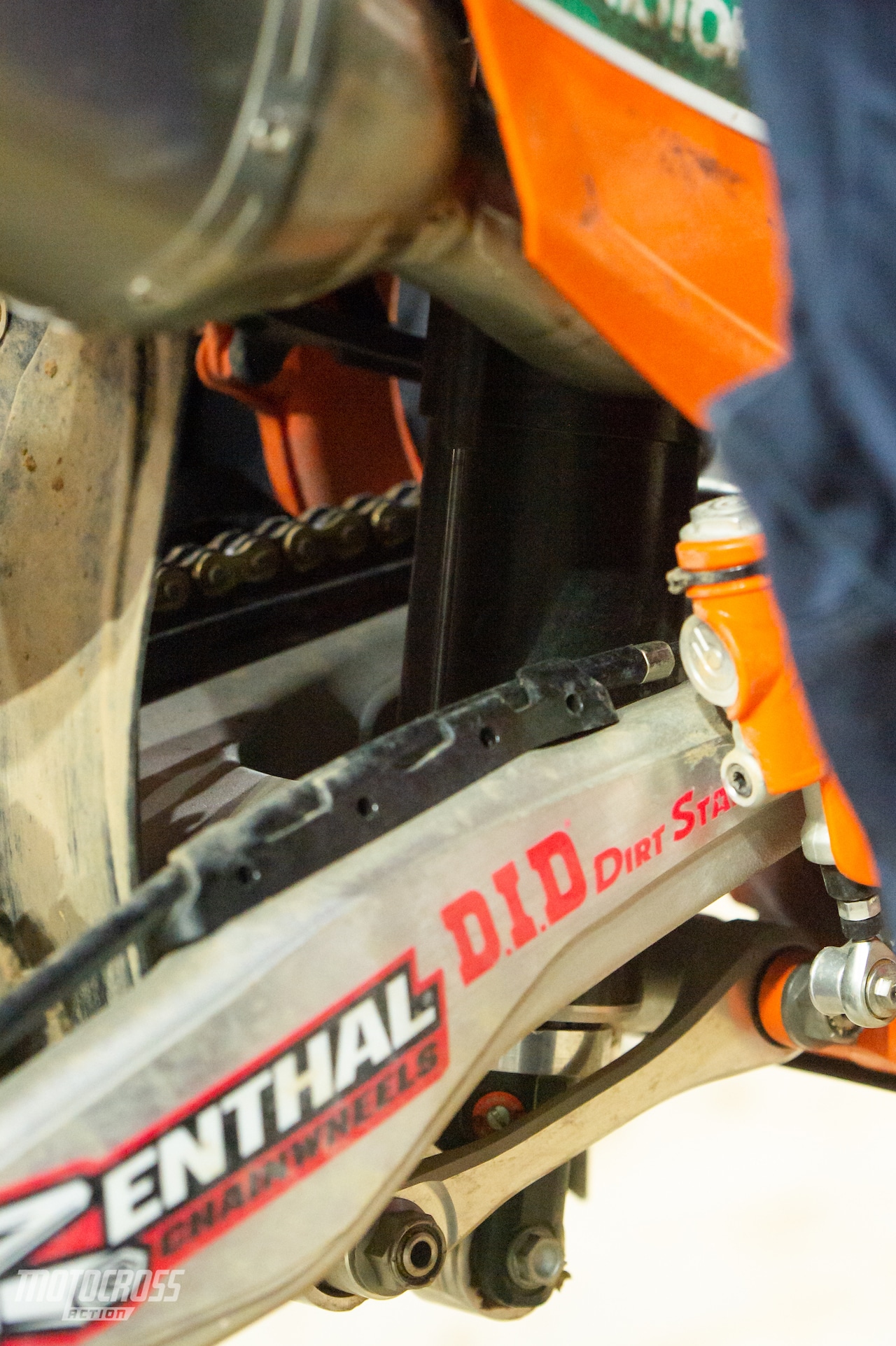 Justin Barcia isn't the only rider with an air shock. Here is it on Marvin Musquin's Red Bull KTM 450SXF.

Our best shot of the air shock on Barcia's bike. This photo was taken at the podium after he won the first Round in Houston. 
1975 FALTA CZ AIR SHOCK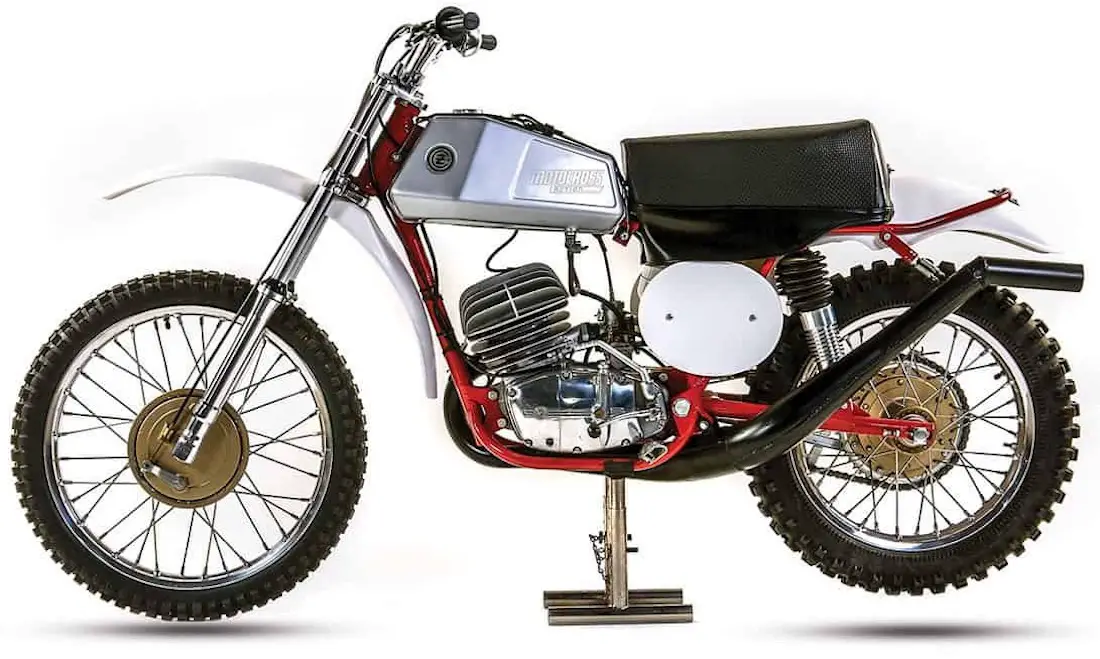 1975 CZ Falta Replica with production alloy air shocks made in Czechoslovakia.
Jaroslav Falta was CZ's premier rider in 1975 and to boost sales of the Czechoslovakian brand in the USA, Ceske Zavodny (CZ) released a 1975 Jaroslav Falta Replica. It was trick by CZ standards and, most notably in came with Czech-made air shocks. Although every CZ racers in 1975 tried out the single-pressure air shocks, most took them off and ran Girlings.
The only production bike to come with air shocks was the 1975 CZ Falta Replica (although Yamaha did put air forks on their bikes back in 1976).
THE FOX AIRSHOX
Perhaps the best known air shock system and most widely used air shocks in the sport were the Fox Airshox. Designed by Bob Fox and marketed through Fox Factory, they were used by virtually every rider in 1976-1978…including factory teams. The Fox Airshox had two air chambers. A low-pressure chamber for small bumps and a secondary high-pressure chamber for big hits.
Brad Lackey on a Fox Airshox-equipped works Honda.
When Kent Howerton won the 1976 AMA 500 National Championship on a Fox Airshox-equipped Husqvarna, the air shock took off and amateur racers embraced it. It last just over three years before longer travel suspension and single-shock suspension killed it. Fox Factory did make a very long Yamaha Mono Airshox, which might have led to a Fox Airshox for single-shock bikes, but the longer stroke of the monoshock generated too much heat. As a moto wore on the Airshox would get hotter and hotter, and stiffer and stiffer. To make it to the end of a 30-minute moto a rider had to start with the air pressure very very low and suffer for a few laps until the pressure built up.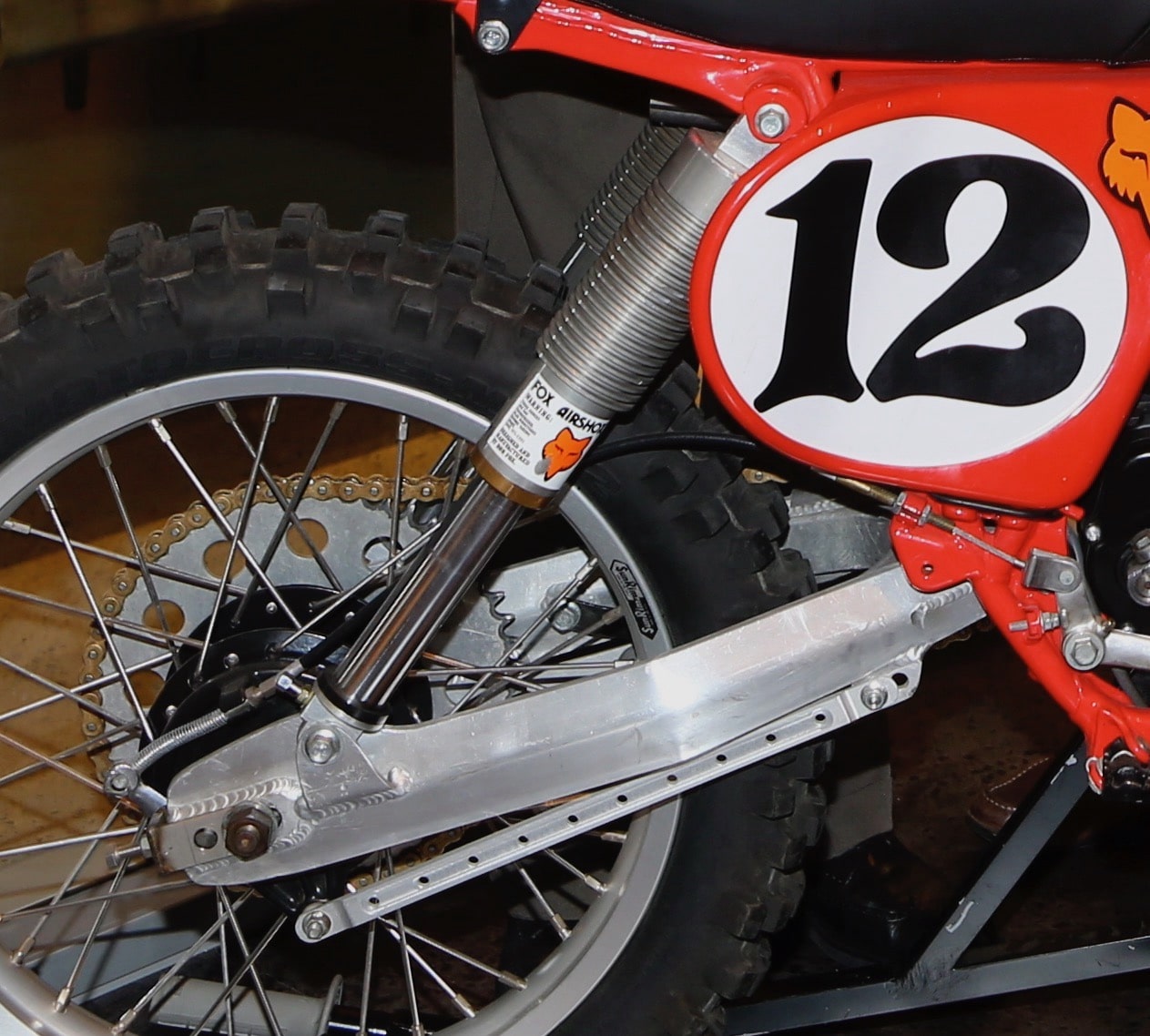 Steve Wise's Honda CR125 with Fox Airshox.
This restored 1979 Yamaha YZ125 was equipped with both a Fox Mono  Airshox (you can see the braided steel air line just below the front of the tank) and Thorwaldson leading link forks.
THE FN JOBE AIR SHOCK
Georges Jobe, a five-time World Motocross Champion, had started a suspension company after he retired and he worked out an air shock design that set the trends on how to do it. MXA tested the FN Jobe air shock in 2001 when Georges Jobe brought his radical air suspension to Glen Helen for us to test—and we believe that he had been at KTM headquarters the day before. Georges said, "I know the negatives of air shocks, but I believe that at FN Jobe we have solved most of the problems. Air forks do not get as hot as an air shock, since they are not driven through the bumps, so the pressure build-up in forks is not as much of a problem. On the shock, I have included a series of pressure-relief valves and regulators that maintain a constant air pressure inside the shock. Our regulator system keeps the air pressure constant all the time, from the beginning to the end. We have developed a system that doesn't require us to adjust the shock after every ride. We use both an air spring for compression and a negative air spring to control rebound."
In essence the FN Jobe system was designed with a series of blow-off valves that released excess air pressure, while a regulator controlled the optimum pressure setting. There was a dial that allows the rider or mechanic to change the base air pressure setting with a bicycle pump. Even when MXA over-inflated the shock on the stand, it would gasp out air when we exceeded the regulator setting. And that is what it does on the race track. As the air pressure increased with heat buildup, the shock bled off the excess pressure.

THE WP AIR SHOCK
Ryan Dungey's raced an air shock-equipped KTM 450SX early in the 2013 Supercross season.
WP made a lot of progress with the air shock in testing and decided to have Ryan Dungey race with it at selected event in 2013. He stopped using it after the shock failed on the starting line a few weeks later. Andrew Short used it in 2015 until it failed on him also. It has not been seen since until it showed up at the 2021 Houston Supercross on the majority of KTM-built race bikes in the 450 class—including winner Justin Barcia's GasGas MC450F.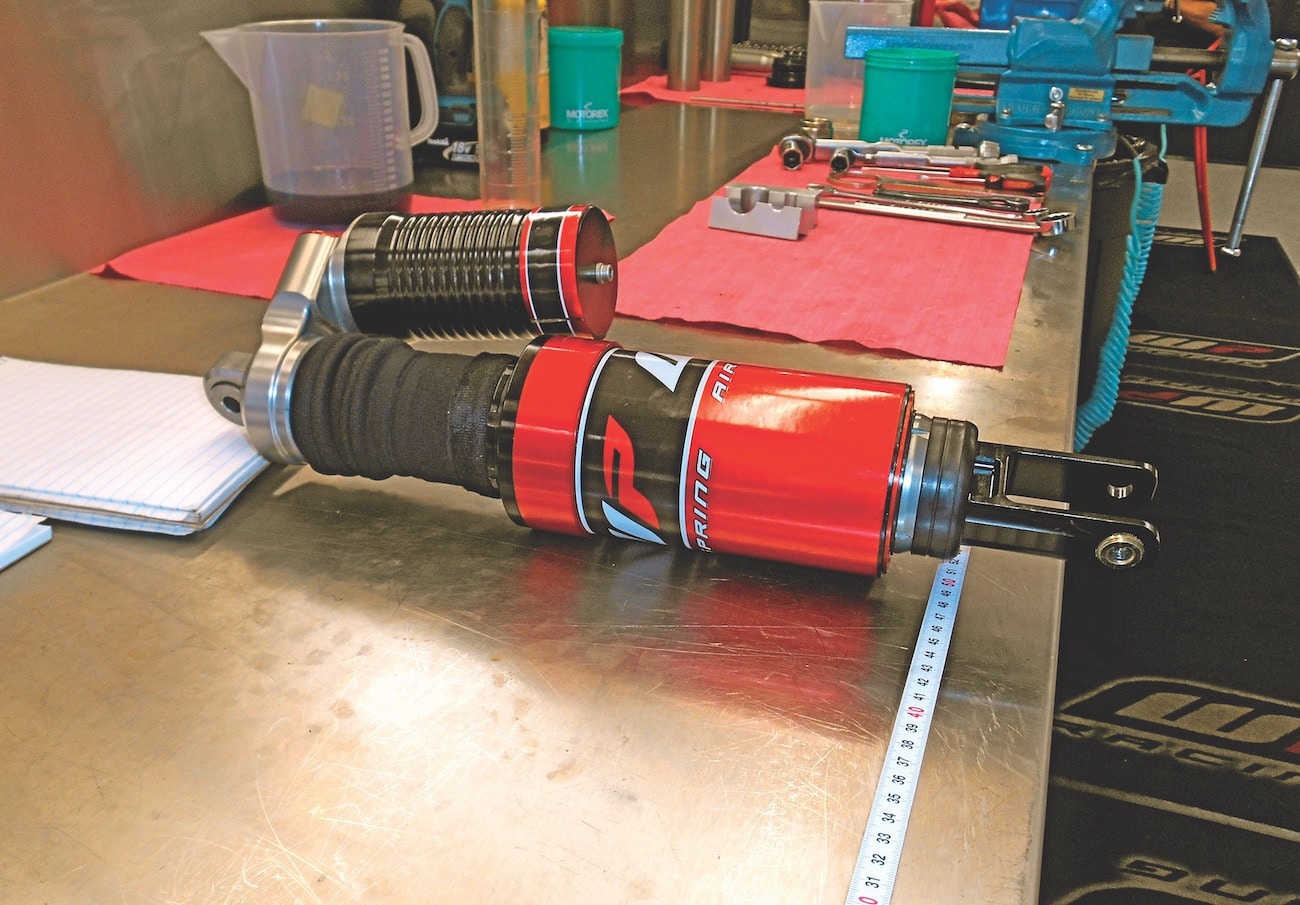 This is what the Dungey WP air shock looks like off the bike. It is much lighter than a conventional shock, but looks heavy because of its girth. But the shock body is upsized because they need a large diameter shock shaft to hold more air volume.

MXA was never allowed to shoot photos of it when the shock had its ultra-secret WP attachment on it and even at races the secret parts was tucked down into the airbox so no one could see it. But MXA didn't need to see it because we had ridden the FN Jobe shock a decade earlier and knew that the secret sauce was a regulator to stabilize air pressure and eliminate air pressure build up. We did test a bike with the WP air shock on it and it worked very well.
Will the WP air shock offer the same boost to WP, when the shock is available to the public, that the Fox Airshox got after Kent Howerton won on Bob Fox's twin Airshox in 1976. It could happen, but that would require WP to make it foolproof enough for ham-fisted amateurs to use and reliable enough not to fail in mid-flight—something that our litigious society would attack mercilessly.