FORGOTTEN MOTOCROSS TECH: FRANK STACY'S 1977 SEVEN-SPEED SACHS
Frank Stacy and his one-off, coffin-tank, seven-speed, Sachs MX250.
Motocross history is filled with examples of creative ideas that were heralded as groundbreaking, but, because of the rapid rate of change in development, sank into the swamp of forgotten technology. Although some are best left abandoned, others were truly innovative (if not ultimately successful). MXA loves to reveal motocross' tech trivia. Do you remember these ideas? The Sachs MX250 seven-speed?
Every professional motocross racer strives to make his mark in the world—and in rare cases that apex is aligned with an AMA National Championship. But for Frank Stacy, that wasn't the case. Oh, don't get us wrong; Frank had a better-than-average Pro career, finishing eighth overall in the 1974 AMA 250 Nationals with top-10 results in every National, with a career-high third overall behind Kent Howerton and Jimmy Ellis at the New Orleans National.
Over the next seven years Stacy finished in the top 10 in 16 AMA Nationals, matching his career-high third overall again at Southwick in 1979. As good as his Pro racing career was, Frank Stacy is best remembered not for anything he achieved during his AMA National career, but for the one-off bike he raced in the 1977 Trans-AMA 250 Support class and for the contributions he made to the sport after he retired.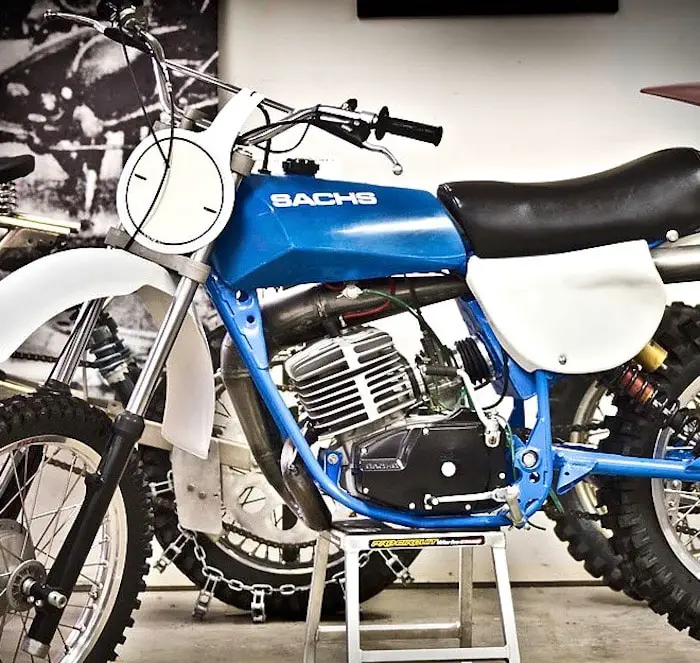 A Museum quality seven-speeder. Photo: Moto Armory
The Trans-AMA series was a Europe-versus-America series that took place in the fall from 1970 to 1978. The big-name stars raced the 500 class, while the up-and-coming racers rode the 250cc Support class. Midway through the 1977 National season, Frank Stacy was approached by Sachs/Hercules to help them develop a new bike for the U.S. market. The prototype Sachs MX250 was unique because it came with a seven-speed transmission and was a one-off, hand-built German motocross bike. Stacy added a new swingarm, Fox Airshox, geometry changes, Ceriani forks and an aluminum coffin gas tank in less than a month leading up to the 1977 Trans-AMA.
As for the seven-speed tranny, Frank said, "First gear was so low you could climb a wall. We blocked first gear out and made it a six-speed, but really, I could only use second through sixth gears. I never used seventh gear because it was geared for the interstate." Frank finished fifth at the opening race and ended the series in eighth overall. But, Sachs/Hercules pulled the plug right after the Trans-AMA was over. They went back to importing enduro versions to the USA but in very limited numbers. Eventually, the AMA banned any bike with more than six gears.
After retiring from racing, Frank worked as a Dunlop test engineer and went on to develop some of its greatest motocross tires. Today, Frank operates Stacy Testing, a tire design consulting firm. Stacy Testing's clientele has included Metzeler, Trek Bicycles, Kenda, Pirelli, Specialized Bicycles, Maxxis and WTB mountain bike tires.