FORGOTTEN MOTOCROSS TECH: HOW TO PAY OFF YOUR SPONSORS

MXA has built several project bikes with bodywork. This Honda CR250 used clear Lexan panels that were painted on the inside so that the graphics could not be rubbed off.
Motocross history is filled with examples of creative ideas that were heralded as groundbreaking, but, because of the rapid rate of change in development, sank into the swamp of forgotten technology. Although some are best left abandoned, others were truly innovative (if not ultimately successful). MXA loves to reveal motocross' tech trivia. Do you remember this idea? Full bodywork to help find outside sponsors
Do you remember when bodywork was the next big thing? Many teams made project bikes and several famous freestylers used the full coverage bodywork. The plus was that you could double or triple the signage to offer paying sponsors more exposure for their money — something that motocross bikes seriously lack (especially when compared to NASCAR's rolling billboards). There were issues with cooling that were resolved with duct work, but the main reason that bodywork, from Rhino, DMC or SRP, never caught on in motocross was because the manufacturers forbid their race teams from using it. Since the factories were paying the bills, no team could use the extra signage space to attract outside sponsors if it meant losing their bike deal. The last time full bodywork appeared on any high-profile teams on on the SRP/Blue Buffalo-sponsored Honda team in 2014.

The Avenger four-stroke came stock with body panels. Under the bodywork was a very unique four-stroke bike powered by a Rotax.
The ADB Avernger was designed by Horst Leitner (of ATK and AMP Research fame) and sold in England as the PBH/Scott, but without the bodywork. When it came back to America the name was changed to "Avenger" and a small production run was made. You can read more about Avenger at www.americandirtbike.com.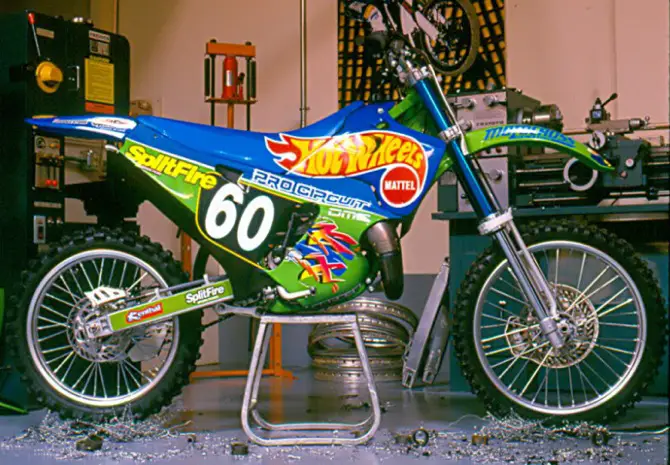 Dave Miller of DMC built this full bodywork Kawasaki for Mitch Payton's Hot Wheels team, but Kawasaki said no because it didn't look like a Kawasaki.

This MXA Honda CRF450 shows how large the signage area could be for a rider or team looking to reel in a sponsor.
Since the days of MXA's earlier and expensive Lexan version, the next generation of bodywork used molded plastic with a graphics wrap. Freestyle riders embraced the bodywork movement, most notably Trevor Vine's Sobe Yamaha, but Mike Metzger, Chuck Carrothers and Ryan Capes also used Slater Skins on their bikes.

The On The Line bike used the body work more for design than for advertising.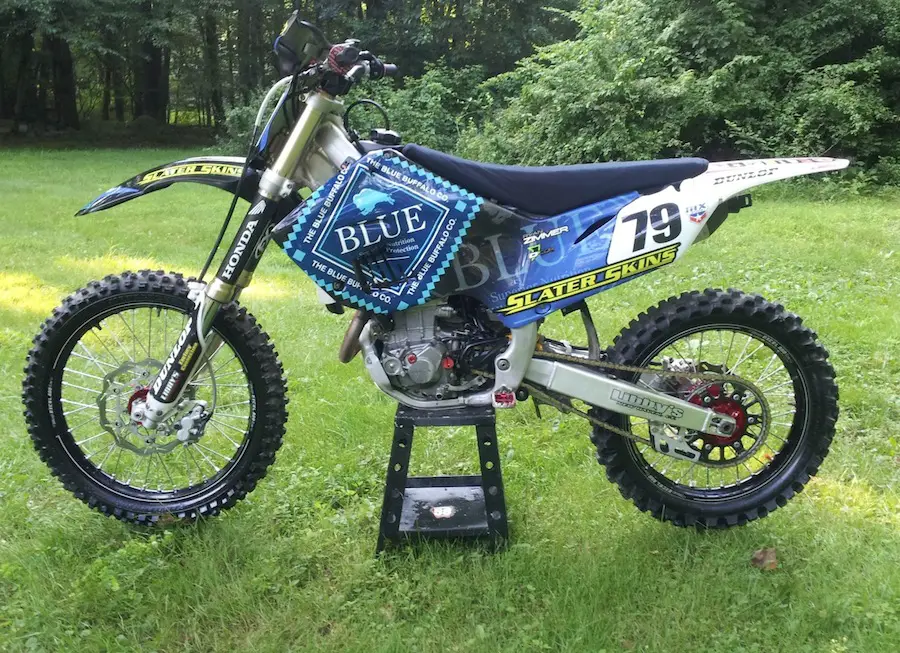 Ryan Zimmer raced this Blue Buffalo-sponsored Honda at a couple AMA Nationals in 2014.