FORGOTTEN MOTOCROSS TECH: THE VERY COMPLICATED 1989 SAVARD 2X2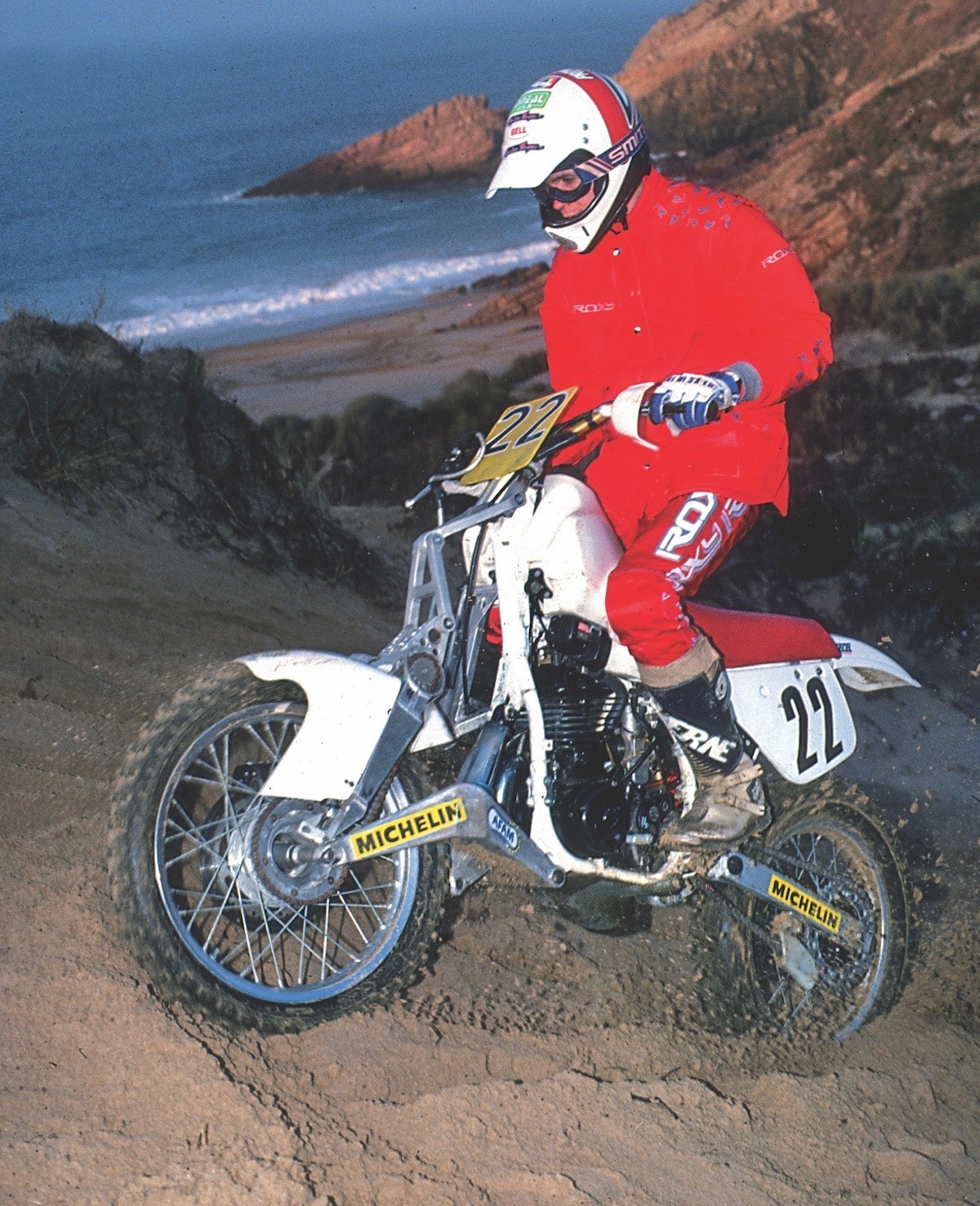 Motocross history is filled with examples of creative ideas that were heralded as groundbreaking, but, because of the rapid rate of change in development, sank into the swamp of forgotten technology. Although some are best left abandoned, others were truly innovative (if not ultimately successful). MXA loves to reveal motocross' tech trivia. Do you remember this ideas? The Savard 2X2.
Two-wheel-drive motorcycles are nothing new. In the 1920s, Raleigh, Ariel, FN and Rex experimented with a supplemental shaft drive to the front wheel. The two-wheel-drive craze died down in the '30s, and with the exception of the Rokon Trailbreaker, two-wheel-drive for off-road bikes was all but forgotten. Street bike designers still fiddled with the concept, most notably the 1987 Suzuki Nuda, but it wasn't until two brothers in France unveiled the Savard 2X2 that offroaders got a chance to see all-wheel drive in action.
Patrick Savard worked as an engineer on the radical ELF-3 road racer, so (with experience learned from the center-hub-steering road racer) he and brother Franck decided to build an all-wheel-drive dirt bike. One look at the YZ490-based Savard 2×2 proves that the two brothers were on a different plateau from normal folks. The forks, called "episcopic" by the brothers, used a four-bar linkage equipped with a scissor mechanism. Turning was accomplished not by rotating the forks but by turning the front hub via concentric ball joints.
To make both wheels drive, the Savards used a jackshaft on the countershaft to a transfer gear above the carb. The transfer gear was connected by a chain, conveniently hidden inside one of the episcopic forks' swingarms, to a second jackshaft that connected to the front hub. Because of the center hub steering, the final jackshaft had to be able to rotate when the front wheel was turned. There is no proportional drive. When the countershaft spins, both wheels are driven all the time (Ohlins' hydraulic system regulates power between the front and rear wheels).
It was very creative but very complicated. Even though the Savard 2X2 had success in France's Supermotard Championships, 24-hour races and the Le Touquet beach race, it was quickly forgotten outside of French motorcycle history books after 1991. Today, Christini has picked up the two-wheel-drive off-road baton.