FORGOTTEN MOTOCROSS TECH: TWIN CARB? PISTON-PORT? ROTARY VALVE? PUCH MC250
Motocross history is filled with examples of creative ideas that were heralded as groundbreaking, but, because of the rapid rate of change in development, many sank into the swamp of forgotten technology. Although some are best left abandoned, others were truly innovative (if not ultimately successful). MXA reveals motocross' tech trivia. Do you remember this idea? The Puch twin-carb MC250.
In the 1970s you could get two-strokes with two different intake systems. (1) Piston-port designs could be used with or without reeds. It was called a piston-port engine because the intake tract was aimed directly into the back of the piston. (2) Rotary-valve induction was unique in that the carb's intake was positioned on the side of the engine cases, where the intake charge was timed to go into the bottom end via a pie-shaped disc that spun on the end of the crankshaft. Each design had its pluses and minuses.
Austrian moped manufacturer Puch entered the 250 World Championship with a totally unique take on the piston-port/rotary-valve conundrum. The MC250 featured two 32mm Bing carbs—one feeding the back of the cylinder and the other through a rotary valve. Puch hired Belgian motocross rider Harry Everts to race the 1974 250 World Championships on a new machine. Everts finished third in Puch's first year, and the factory responded with a much-improved machine for 1975. Everts then promptly rewarded Puch with its first World Championship in motocross. It was no small feat for a new company to win the 250 World Championship in its second year of competition.
Everts' 1975 Puch was a spectacular machine. The 70mm x 64mm engine was cutting edge, with magnesium cases and twin 32mm Bing carbs (one in the traditional piston port position and the second carb feeding a rotary valve in the cases). Not only was the engine magnesium, but so were the hubs and Marzocchi forks.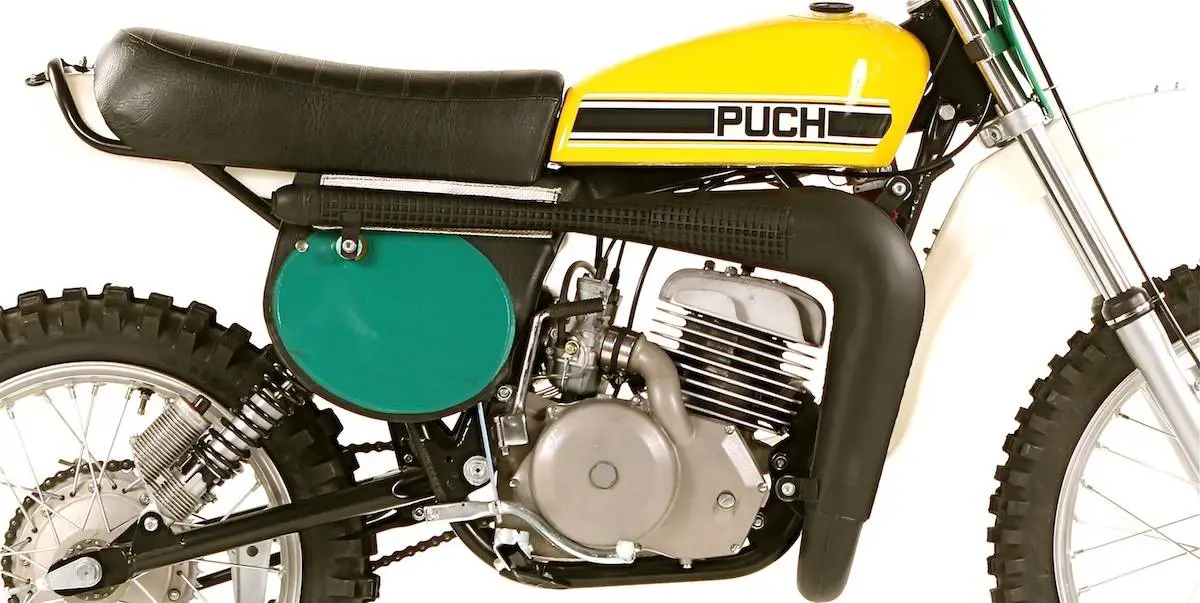 Although the design was a racing success, with Harry Everts winning the 1975 FIM 250 World Championship on a twin-carb Puch MC250, it was never a sales success. Puch only made 97 production bikes in 1976. A price was never established in America, as the MC250s were never formally imported from Austria. The rumored price was around $3000, which was about double that of a Japanese machine.
Herbert Schmitz on the rare Puch MX400 (note the lack of rotary valve intake on the engine cases). Only 8 MC400s were built.

As a side note, Puch also made the MC400 for Herbert Schmitz  to race, but it had single piston-port carb. Puch was successful in the moped business until 1987 when it was bought by Vespa, who continued to sell mopeds under the Puch brand name.