FORK WORKS: KYB FACTORY KIT SPRING FORKS FOR KTM/HUSQVARNA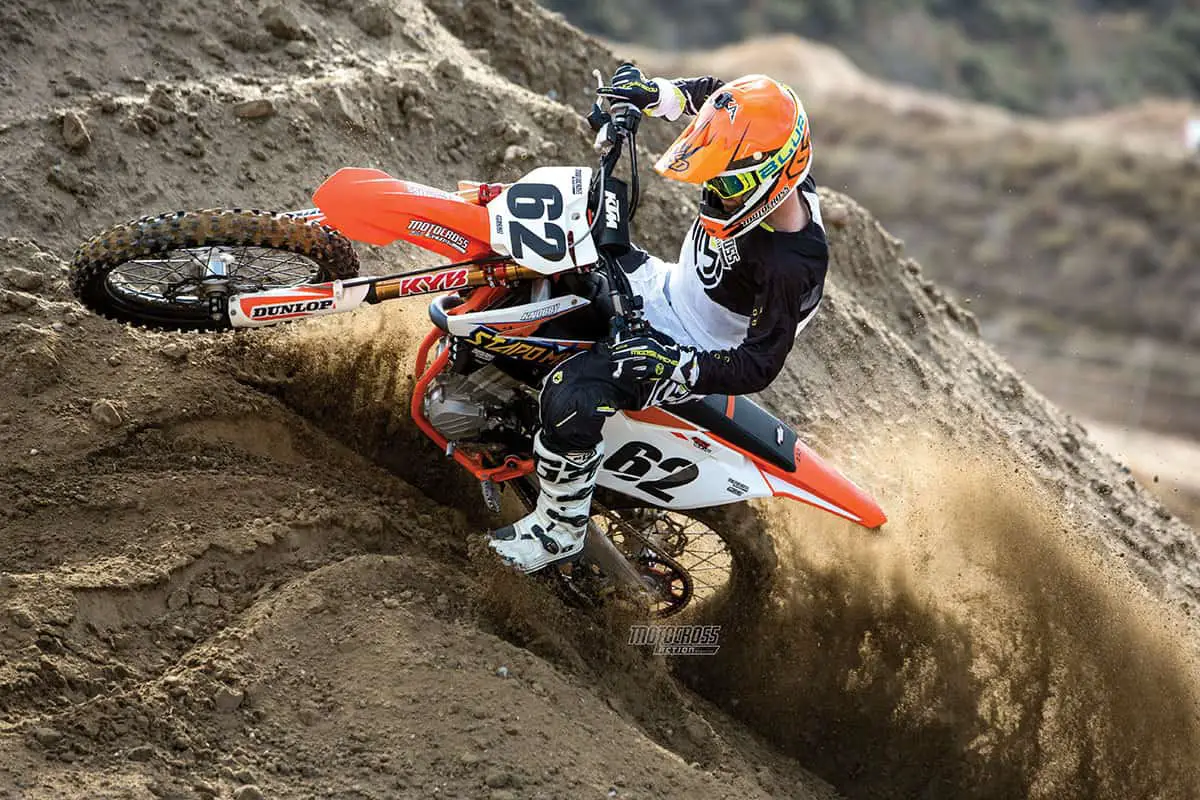 As quickly as air forks came on the market, they disappeared. They have been replaced by coil-spring OEM forks, aftermarket conversion kits and special works forks from Showa, KYB and WP. There are five different types of forks in use in the sport:
(1) Stock OEM forks. These are the forks that come on the bikes off the showroom floor.
(2) Re-valved OEM forks. When a rider finds flaws with his OEM forks, he can send them out to get them re-valved by a suspension tuner.
(3) Conversion kits. The latest trend is aftermarket conversion kits, such as the Dal Soggio Sphere cartridge kit that replaces the OEM internals with all-new parts. The goal is typically to turn air forks in to coil-spring forks.
(4) A-kit forks. Although the term is proprietary to Showa's special forks, it has come to mean any high-tech fork that WP, Showa or Kayaba puts out that mimics the factory forks. A-kit forks are essentially works forks for the masses.
(5) Full-factory works forks. True-to-life works forks only fall into the hands of factory Honda, Yamaha, Husqvarna, Suzuki, KTM and Kawasaki factory riders (although older-model works forks are often sneaked out of the factory late at night).
Since every racer has OEM forks, which he can re-valve or convert at will, and almost no racers have full works forks (unless they are cashing big paychecks from the factories), that leaves A-kit forks as the only achievable dream for most racers. There are currently three major A-kit suspension suppliers—Showa, Kayaba and WP. Each builds and sells "works replica" forks through its aftermarket arms. Each of these special forks has its own name. At Showa, they are A-kit forks. At WP, they are Cone Valve forks. At KYB, they are Factory Kit Spring forks. They are as close to full-factory works forks as possible—with special coatings, different internals, more setup options and closer tolerances. They also have prices ranging from $3500 to $8000.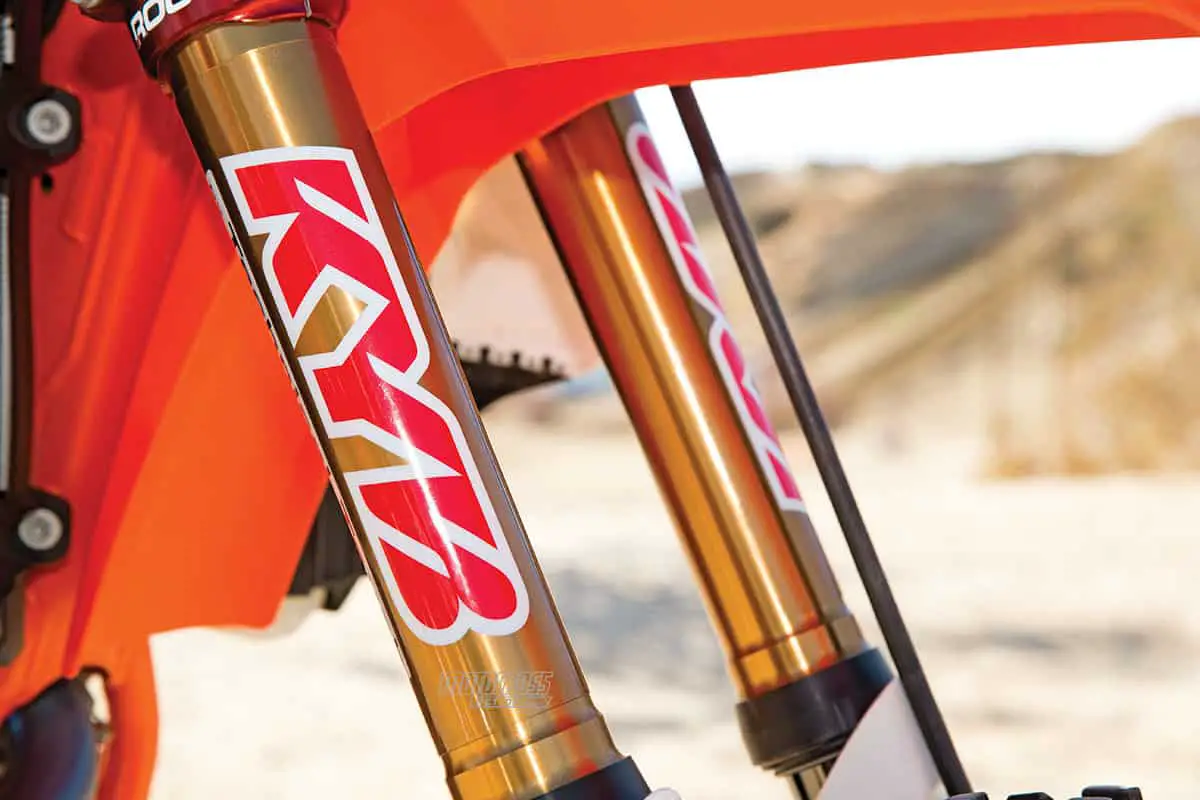 Who buys A-kit-style forks? AMA privateers trying to close the gap on factory riders, custom builders trying to add pizzazz to their project bikes, old rich guys who want the best, and 250 factory support team riders for whom works forks are out of the question.
The golden goose of A-kit-style forks is grabbing a piece of the giant KTM pie. It is massive, and it is currently all air forks. The MXA wrecking crew has lots of experience with WP Cone Valve forks, Showa A-kit forks and KYB Factory Kit Spring forks. So, when Kayaba offered us a set of 2018 Factory Kit Spring forks for our KTM 450SXF, we couldn't turn them down. These are the same forks that we used on our Dean Wilson Replica YZ450F, upcoming Chad Reed Replica Husky FC450  and on two other Yamaha project bikes.
We had never tested them as a replacement fork for the stock WP AER air forks. The Kayaba Factory Kit Spring fork is a closed-cartridge design that reduces cavitation to ensure consistent damping. Kayaba Kashima-coats the inner cylinders for better wear resistance and DLC (Diamond-Like Carbon) coats the inner tubes to reduce friction, increase surface hardness and add corrosion prevention. Internally, the KYB Factory Kit Spring fork uses a metal spring perch with small bleed holes to control compression. The base valve piston and mid-speed valve work in unison with the factory-designed spring collar to make the end of the stroke more progressive. All you have to do is provide Technical Touch, the sole KYB Factory Kit Spring fork supplier, with your weight and skill level. They do the rest. We were pleased with our settings, which is a good thing, because you can forget about the fancy machining, colored coatings and high-tech design if the valving isn't right for your riding style. Valving can make works forks bad and OEM forks into works forks.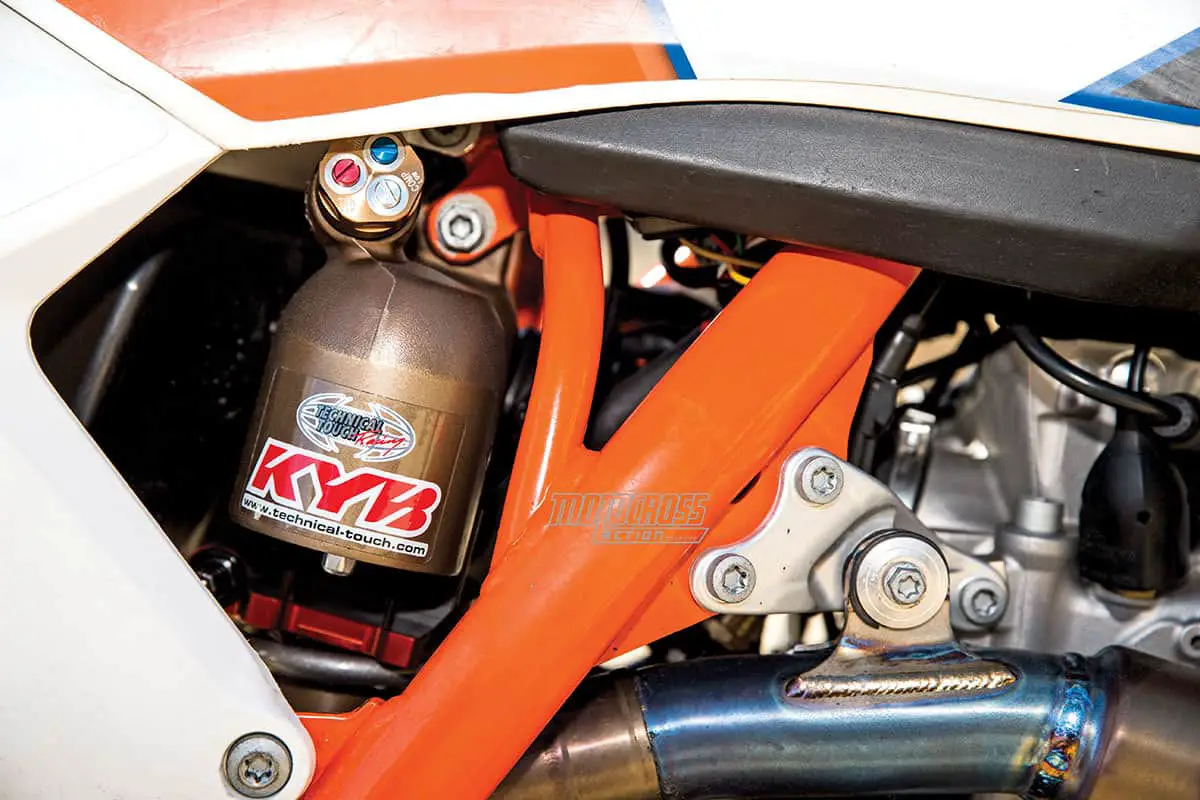 On the track, the Factory Kit fork worked wonders, especially in transition from small chop to heavy impacts. Best of all, the bottoming resistance was super plush. There was no point in the stroke where we had any complaints. As a bonus, Pro, Intermediate and Vet riders could find clicker settings that worked great for them. Be honest about your skill level, because the stock custom spec is set for a fast Pro rider, not a 40-year-old Vet. However, if you are a Vet, just ask for the valving in MXA's Chad Reed Replica or Dean Wilson Replica YZ450F
The retail price of the Kayaba Factory Kit spring fork is $4500 (plus $900 for the Xtrig ROCS triple clamps). For more information, please visit www.technicaltouchusa.com.