FOX LAUNCHES ALL-NEW WEBSITE: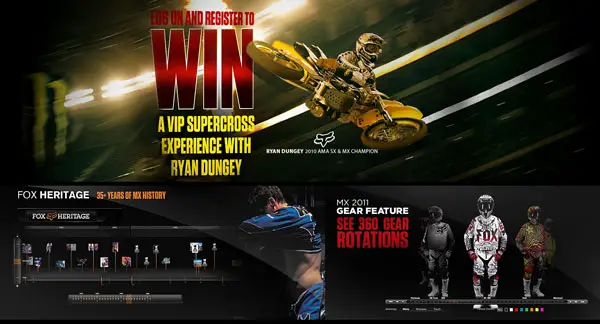 Click on the link above to view Fox Racing's new website.
    Fox, the brand known for its innovative products and championship heritage, is pleased to announce the launch of their all-new website. The user will encounter a seamless experience between outstanding team content along with industry leading product presentations.
    360 degree head-to-toe racewear views, insightful product technical videos, a full library of Terra-Firma films, weekly event & team rider photo galleries and behind-the-scenes video coverage will ignite the passion of the core motocross fan. In addition, check out the Fox Heritage micro-site and experience the rich history of
Fox motocross over the last 35 years.
    Visit WWW.FOXRACING.COM today and register to win a VIP SX Experience with Ryan Dungey. One lucky winner & guest will receive round-trip airfare, tickets to Anaheim 2 and hangout with Ryan Dungey & other Fox team riders.
About Fox Head, Inc.:
    Fox Head, Inc. has been a global leader in performance Action Sports apparel since 1974.  For three decades, the Fox Head logo has been recognized as a brand synonymous with quality and innovation, making Fox the # 1 apparel brand in the Motocross as well as a leader in Surf, BMX, Wakeboarding and Youth Culture. Fox team riders make up an elite, championship-winning team.  Fox designs and distributes Motocross performance apparel, Men's and Junior's clothing, Footwear and Accessories to over 50 countries.