SUPER TECH: INSIDE SHOWA'S TAC AIR APP

By John Basher
AIR FORK REVOLUTION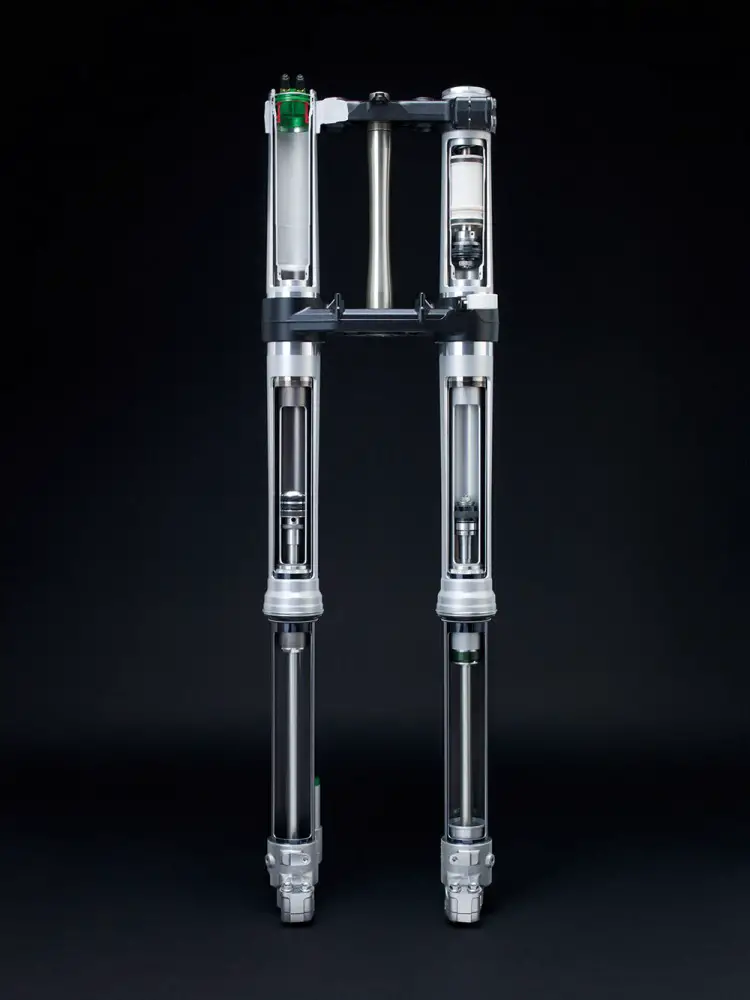 Showa's Separate Function Fork Triple Air Chamber (SFF-TAC) fork comes standard on the 2015-'16 Kawasaki KX450F, Suzuki RM-Z450 and Honda CRF250.
Air forks came into prominence in 2013 when Honda and Kawasaki utilized Kayaba's all-new PSF (Pneumatic Spring Fork) on the CRF450 and KX450F. Since that time air forks have become de rigueur in motocross. It remains to be seen whether air forks are actually in the best interest of the general consumer. More on that below. Truth be told, the MXA wrecking crew has worked tirelessly in order to find settings that can meet the demands of most riders. Often we have to sacrifice one performance gain for another.
There are benefits to the air fork design. Over two pounds lighter than a convention spring fork layout, air forks lessen overall weight. Given that many of the 450 four-strokes had ballooned up to 240 pounds–notably the 2016 Suzuki RM-Z450–shedding weight was a welcome benefit to the air design. Showa's Triple Air Chamber (TAC) fork–which comes standard on the 2015-'16 KX450F and RM-Z450–offers an infinite number of adjustments via the inner chamber, outer chamber, balance chamber, oil height, and clickers. However, therein lies the rub. Air forks are too complicated for the average rider. It's not a lack of faith in the weekend warrior; rather, air forks are too difficult for most people to understand. Try explaining the nuances of pressure between the inner and balance chamber to a guy who probably doesn't even check his race sag. Air forks might offer a wide range of setting options, but they're not simple by any means (unless you understand Boyle's Law). That, and most folks are too lazy to check the air pressure in their tires, much less in their forks.
SHOWA SFF-AIR SUPPORT APP

The user can choose between three different settings and view the differences on a graph.
That's why Showa's new "SFF-Air Support" application is so useful. Most motocross riders are visual learners, and the SFF app is very adept at illustrating what will happen to the fork's performance when air pressure in a distinct chamber is adjusted. Don't know the difference between the inner and outer chamber? Don't worry. Download the Showa SFF-Air Support app on your smartphone. Open the app, choose a language (you better know English or Japanese) and select your model bike. At this time the app only has settings available for the 2015 Kawasaki KX450F, 2015 Suzuki RM-Z450 and 2015 Honda CRF250. We expect Showa to add 2016 models soon. Following the bike selection, you'll need to select your chosen unit of air pressure (MXA prefers using psi, while Pro Circuit's famed suspension guru, Bones Bacon, works only in kPa, or kilopascals). Set your rider weight–with gear on, of course–and agree to the terms of use. Hit the "Setting Simulation" button, which takes you to a new screen. There are three sets–Standard, Set A and Set B. Standard contains the OEM-recommended settings, which provide a good baseline comparison. These settings cannot be changed by the user. Set A and Set B can be adjusted via sliders that correspond to a graph that allows the user to overlay three different setting configurations. The graph illustrates how the forks will react in the different parts of the stroke when changes to the inner chamber, outer chamber, balance chamber and oil height have been adjusted.
SFF-AIR SUPPORT LIKES & DISLIKES

The SFF-Air Support app includes a Frequently Asked Questions section. We like it.
There are several things I like about the Showa SFF-Air Support app. For starters, the application doesn't require cell phone or wifi-enabled service, meaning that you can use it anywhere you want. Second, the app is very easy to use. Even a technology holdout could understand how to use the app (as long as they know how to turn on a smartphone). Most importantly, the app is a winner because it visually shows how changing one area of the fork will impact the overall performance. That, and the user can overlay three different fork settings on a graph. Very cool. Best of all, the application is free to download.
Showa's app does have some shortcomings. The Showa SFF TAC-enabled 2016 model bikes haven't been loaded into the app yet. An app is only relevant if it's up to date. Also, some of the Japanese-to-English translations are a bit suspect. What I would really like to see is a reset button that allows the user to clear Set A and Set B settings (currently you'll have to go back to the main screen, select another model bike, hit the "Setting Simulation" button, exit back to the main screen, and then select your preferred bike again). It's a hassle.
To download Showa's SFF-Air Support application, visit Google Play (Droid users) or the Apple App Store (iPhone users). The Apple version requires iOS 7.0 or later. It is compatible with iPhone, iPad and iPad touch; it is optimized for iPhone 5, iPhone 6 and iPhone 6 Plus. Read below for the literature from Showa.
SHOWA "SFF-AIR SUPPORT" APP INFO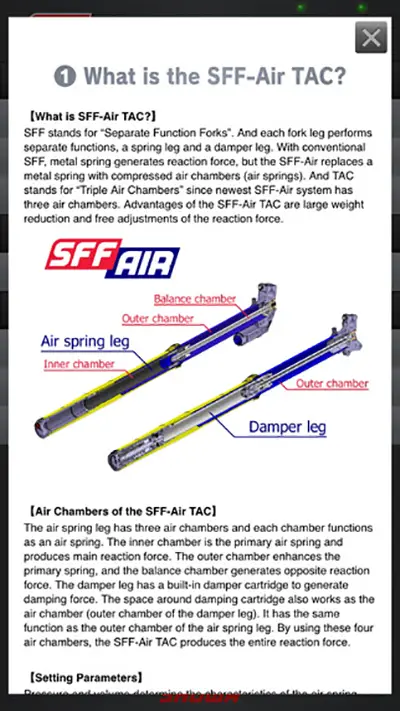 [Press Release]
The "SFF-Air support" is an application that you can simulate air settings of the SFF-Air TAC in just four sliders operation. It can be operated in a stand-alone, meaning it can be used at anywhere even there is no signal. [Note: This app is just a tool for you to set up your SFF-Air TAC. It does not guarantee a best performance for your motorcycle.]
* Simply move the sliders left and right. Moving four sliders right and left corresponds to the setting items of the SFF-Air TAC, values and reaction force lines will change along. You can draw your appropriate reaction force line with using the sliders only. These values with appropriate reaction force lines are the desired values for your settings.
* Aim the intersection of the red area and the white line. If you draw the reaction force line to pass through the intersection of the vertical red area and the horizontal white line located on the graph, it will minimize the change of positioning of the motorcycle when you sit on.

* Leading to the best setting while comparing the reaction force lines. This app can show three reaction force lines. One line is standard setting (STANDARD), another two lines are for your simulation (SET A and SET B). By comparison the reaction force lines with each other, makes easier to find next setting you want to try.
* FAQ is a technical support section answered by SHOWA tuners. FAQ is the summary of the setting guide from SHOWA tuners involved in race support and production suspension tunings. It explains the countermeasure against your trouble with settings with reaction force line. If you have trouble with settings, please refer to the FAQ.
* Knowing the basics is the way to the best performance. In the manual, SHOWA listed things that you need to know about setting up SFF-Air TAC. Such as, basics of the SFF-Air TAC system, how to look at reaction force lines, and cautions for making changes and riding new settings. Understanding these bases can help you to set up your SFF-TAC easier and quicker.
[Note: The manual in this app does not list all the information to set up the SFF-Air TAC. When you set up, please refer to the instruction manual or service manual of your motorcycle.]