FRIDAY'S USED MOTOCROSS BIKE GUIDE: HOW TO SETUP YOUR 2009 KAWASAKI KX250F: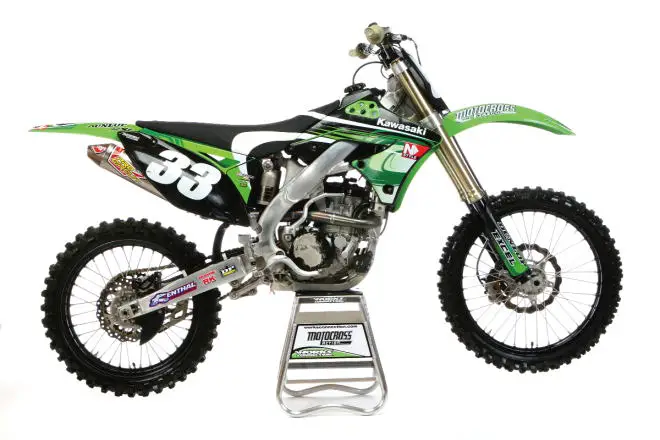 1. Triple clamps. Kawasaki switched to a 23.5mm offset (down from 24.5mm) for 2009. It wasn't enough. We switched to 22mm offset triple clamps to sharpen the steering from center-out. www.procircuit.com
2. Gearing. The stock 48-tooth gearing is very gappy (especially between second and third gears). Changing to a 49-tooth rear sprocket strengthens the transition between gears.
3. Exhaust. At AMA sound test levels, the 2009 KX250F has a legal 94dB muffler. But, at speed, the KX250F exhaust is extremely loud. We swapped to a 94dB Pro Circuit Ti-4R race system. It improved mid-to-top power (and is the exact pipe that was used by the then-Kawasaki team of Pourcel, Morais, Stroupe and Weimer). www.procircuit.com
4. Rear axle. Kawasaki still uses an old-fashioned cotter pin in their rear axle nut. We made life easier for ourselves by switching to a 32mm Honda axle nut and throwing out the lawyer-suggested KX-F cotter pin.
5. Chain guide. The stock KX250F chain guide doesn't provide enough clearance for the chain, especially when adding extra teeth to the rear sprocket. Before eating through the rubber and metal, we switched to a TM Designworks rear chain guide. You should too because it is the best solution. www.tmdesignworks.com


6. Front brake. The 2009 KX250F has one of the weakest front brakes in the class. We replaced the stock 250mm rotor with a 270mm Galfer Tsunami rotor kit, which greatly improved braking power. www.galferusa.com

7. Clutch. The stock plates are very durable, but when it comes time to replace them, be sure to face the sharp side of the plates out (rounded side toward the engine) or the clutch will slip. We do what the Monster Pro Circuit team does?which is switch to a Hinson clutch.

8. Graphics. The stock graphics lasted an hour before they blew off like rice paper in a windstorm. We opted toinstall N-Style's Accelerator kit (www.n-style.com) and DeCal Works preprinted numbers. www.decalmx.com

9. Jetting. The stock mainjet was too rich for most conditions. We dropped the mainjet, richened the pilot jet and leaned out the fuel screw. If you ride in hot conditions or at high altitude we recommend that you stick with the stock pilot jet.
    Main: 180 (182)
    Pilot: 42 (40)
    Needle: NHJT
    Leak jet: 55
    Clip position: 4th from top
    Fuel screw: 2 turns out (2-1/8 stock)
    Notes: The NHJT needle was new for 2009. The taper has a gradual progression, unlike the 2008 needle, which is stepped. 

10. Plastic. The radiators shrouds, side panels and fork guards break with regularity. There is almost always a crack in one of the three at any time. We run aftermarket plastic when feasible. www.acerbis.com (for Acerbis plastic) or www.decalmx.com (for UFO plastic).