FRIDAY'S USED MOTOCROSS BIKE GUIDE: HOW TO SETUP YOUR 2009 SUZUKI RM-Z250: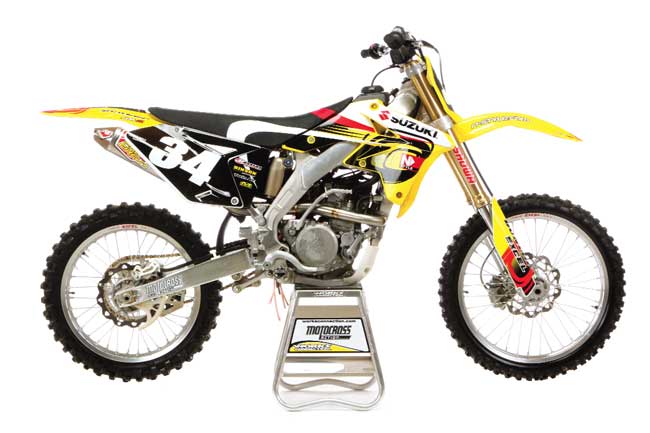 1. Forks. If you're faster than a Novice or weigh more than 150 pounds, then you will need to install stiffer fork springs. The stock 0.44 kg/mm springs are too soft. MXA switched to 0.46 kg/mm springs. Once the change has been made, your wrists will thank you.
2. Shock spring. Suzuki either missed the boat completely during pre-production testing or their test force is comprised of rail-thin riders. We drop-kicked the 5.4 kg/mm shock spring and jumped up to a 5.6. Those who are thick around the waist (read fat) or expert level riders might need an even stiffer shock spring.
3. Gearing. Do yourself a favor and gear down the 2009 RM-Z250 by one tooth. While it does magnify the snap in first gear, it closes the gap between second and third. Going to 12/49 gearing allowed us to use second gear in tight corners and third in fast corners.
4. Exhaust system. The RM-Z250 is a fun bike, especially from low-to-mid, but the engine falls off from mid-and-up. We decided to install the same exhaust system that Ryan Dungey and Nico Izzi rely on?a Pro Circuit Ti-4R exhaust. www.procircuit.com


5. Hot-start lever. Suzuki made a wise decision to reroute the hot-start lever to the throttle side (to prevent riders from twisting the throttle during start up). Unfortunately, the plastic arm on the hot start is flimsy and prone to breaking. We had to replace the hot-start lever several times. www.dubachracing.com

6. Clutch. The stock RM-Z250 clutch works well for the first few hours, but then starts slipping wildly. We overhauled the clutch with a Hinson clutch basket, inner and outer hub, and clutch plates. www.hinsonracing.com
7. Miscellaneous. We used an aluminum throttle tube in order to prevent a costly DNF (and it's necessary when changing grips, as the stock grip is vulcanized onto the plastic throttle body). We also used DeCal Works (www.decalmx.com) preprinted numbers and a Dunlop MX51 rear with an MX31 front. (www.dunlopmotorcycle.com).
8. Graphics. N-Style Accelerator graphics and seat cover enhanced the plain Jane look of the stock RM-Z250. The N-Style full kits include, tank & shroud decals, front & rear fenders, front fender curves, upper & lower fork decals, airbox decals, new 3-way color seat design and new background trim.  www.n-style.com