FRIDAY'S USED MOTOCROSS BIKE GUIDE: HOW TO SETUP YOUR 2009 YAMAHA YZ450F: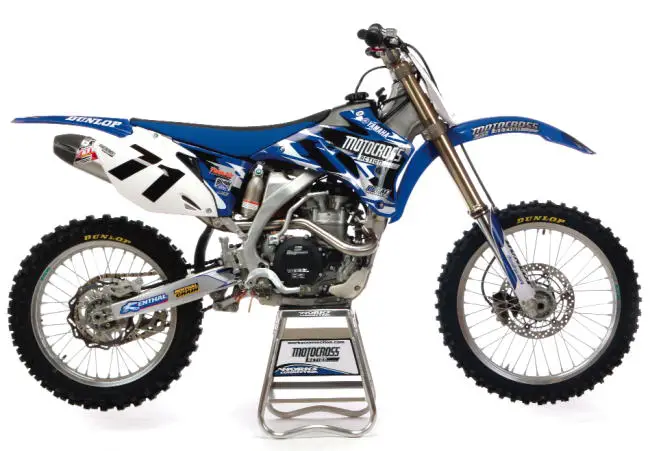 1. Shock. This is the best production shock on the market. We don't touch it. The spring rate is spec'ed for a 175-pound Intermediate, which makes it good for virtually everyone (save featherweights).
    Spring rate: 5.5 kg/mm
    Race sag: 100mm
    Hi-compression: 1-1/2 turns out
    Lo-compression: 11 clicks out
    Rebound: 10 clicks out (12 clicks stock)

2. Forks. If you are very fast or very fat, you might want to go up to 0.49 kg/mm fork springs, but in most cases this isn't necessary. It is also not necessary to send these forks out to be revalved (unless you are at the extremes of the weight range).
    Spring rate: 0.47 kg/mm
    Oil height: 350cc
    Compression: 12 clicks out
    Rebound: 12 clicks out
    Fork leg height: 5mm up

3. Jetting. For the stock setup, the 2009 YZ450F is well jetted. Our only issues arise when we remove the restrictive stock muffler and replace it with an aftermarket pipe. In this case, we swap the stock 160 mainjet for a 165 and fiddle with the needle position.
   Main: 160
   Pilot: 45
   Needle: NFLR
   Clip position: 3rd from top
   Fuel screw: 2-3/8 turns
   Leak jet: 55
   Notes: If you run an aftermarket exhaust pipe, swap the stock 160 mainjet for a 165 and raise the needle one clip position. If you want to finesse the jetting, you can put in the 2006 NFPR needle. It is a half clip richer than the NFLR.


4. Exhaust system. Most MXA test riders like the broad and manageable powerband of the DR.D exhaust system. It delivers more power over a broader range without changing the personality of the YZ450F. www.dubachracing.com

5. Radiators. When we ordered the DR.D exhaust system, we also ordered DR.D's radiator lowering kit. This simple $69.95 kit lowers the radiators almost an inch to help the YZ450F feel more aggressive in the corners. It is noticeable. The reason we order the lowering kit when we order the exhaust system is because DR.D makes a special head pipe that works with the lowered radiators. www.dubachracing.com
6. Gearing. Yamaha's stock gearing would be really good if the Yamaha made more horsepower. With the stock exhaust system, we gear it down one tooth to help give the bike more oomph out of the corners. If you add an aftermarket pipe, the stock gearing is perfect.
7. Brakes. The front brake wasn't strong enough. We opted for a Brembo 270mm front rotor kit (with the stock Yamaha pads). Pucker power from www.dubyausa.com
8. Miscellaneous. We also used DeCal Works graphics (www.decalmx.com) and a gas-tank-mounted DR.D hour meter. www.dubachracing.com)