BRIAN MEDEIROS: FROM THE ISLANDS TO AMA MOTOCROSS
Brian in an emotional moment after qualifying for the AMA 250 Washougal National on his box-stock Suzuki RMZ250.
BY BRIAN MEDEIROS
Most call it a vacation destination; I call it home. I was born and raised on the island of Kauai in the beautiful state of Hawaii. With a total population of only 72,000 people, the motocross community on Kauai is very small. There is only one track on four of the Hawaiian islands. My family and I would travel twice a year to the other islands to compete in the Hawaii State Championship races in February and July. Our local track, called Wailua, was only open every other weekend. I went to public school and lived a normal life through high school. I remember being in school and sharing magazine articles on motocross with my classmates. At the time, I didn't truly know what a professional motocross racer was. 
After I graduated from high school, I planned to go to trade school to become a diesel mechanic. When it came time to sign my college papers, I couldn't do it. Scared out of my mind, I went to my parents and asked if I could take a year off from school to give this motocross thing a try. They agreed to let me do it, but since I had never raced outside of Hawaii, they told me that I would have to figure it out on my own. I spent the next year working seven days a week to save as much money as I could to buy a new motorcycle to begin this adventure.
When it was announced that there would be a Loretta Lynn's qualifier on the island of Oahu, I thought this was my big chance. My dad and I shipped my 2013 RM-Z250 and flew to Oahu. This is where I met Northern California's Brian Dominguez. Brian was on a family vacation on Oahu. He was a professional racer and was gracious enough to answer all the questions I had about racing in California. By the end of the weekend, I had qualified for the regional qualifier in California, and Brian invited me to stay with him in to prepare for the race.
With $500 in my pocket, a one-way plane ticket, and my bike shipped to California, the adventure began. I said my goodbyes to my family at the Kauai airport, thinking I would be back in Kauai in a little over a month after the regional. Unfortunately, I dislocated my shoulder at the regional. Brian invited me to stay with him in California and his family for as long I liked, but he told me that I had to have a job. Within two days, I was working construction in Northern California because I knew this is where I wanted to be. I had no idea what I was trying to achieve, but I knew I didn't want to leave. 
I'M NOT ASHAMED TO ADMIT THAT WHEN I CROSSED THE FINISH LINE, I DIDN'T KNOW WHERE I HAD FINISHED. I CRIED WHEN I FOUND OUT THAT I HAD QUALIFIED. THE PHONE CALL TO MY DAD AFTER THE LAST CHANCE WAS PRICELESS.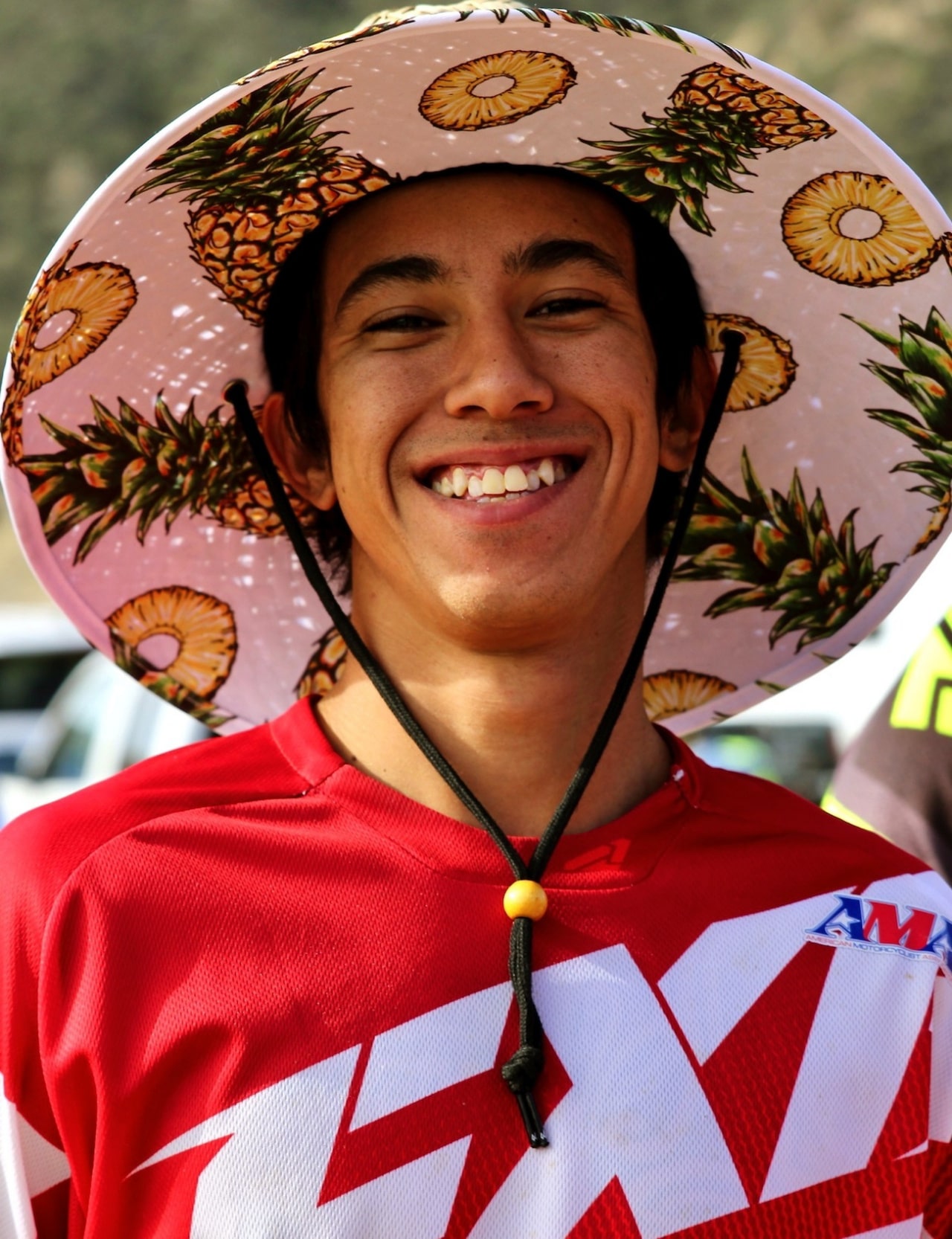 On a riding trip to SoCal with some friends, I met Dennis Stapleton. Dennis was an AMA Pro, worked for MXA and had a motocross vacation business. He offered me a place to stay and a job helping him with his rental bike business. I accepted it. My friends and I drove back to Northern California to get the rest of my belongings, and I drove right back down to start the next chapter of this crazy adventure.
Fast-forward to 2017 after a few years of riding, racing, training and working, I was able to get my AMA Pro license. For some, this comes easily, but back in Hawaii, this was something I never dreamed was possible. Back home, my family and friends supported me when I left Hawaii, but there were lots of people who said I would never make it. That hurt. With my newly minted Pro license, my goal was to qualify for the 2018 Washougal National. I chose Washougal because it was the closest race to me on the calendar. Once there, I raced my way into the 40-man field by qualifying through the Last Chance. The feeling of being on the starting line next to all the riders I'd seen in magazines was surreal. I had done what I had set out to do and achieved my big dream.
Living in Southern California, I got to meet a lot of amazing and influential people at the local tracks, but none more so than the MXA wrecking crew. They taught me a lot about riding, racing and testing, and encouraged me when I was thinking about starting my own suspension business. I had worked for a suspension company for five years, but when COVID hit, the shop closed, and I was out of work. With the helpful advice of the MXA crew and a few close friends, Ekolu Suspension Co. was born. I now own and operate my own suspension company in Southern California.
As time went on, building my business took priority over chasing the outdoor motocross series. When I had time, I tried to qualify for a few Nationals, but a couple years had passed since I made it into the Fast 40 at Washougal. I knew that to qualify I'd have to throw myself into testing, training and preparing 100 percent—and my business would suffer. I wasn't ready to do that. 

Brian flying through the trees at Washougal.
2022 started off like any other year. I was working on suspension and racing locally when fellow MXA test rider Josh Mosiman told me that he was going to race the opening round of the 2022 AMA National at Pala Raceway. I decided to join him. With little preparation on MXA's 2022 Yamaha YZ250F test bike, I knew I wasn't ready, but this race was still special for me. My dad flew over from Kauai to help me. We had just lost my grandma (my father's mom), and spending time with my dad was about more than just racing motorcycles. It was about being together on the starting line and trying to compete at the highest level. Although I didn't qualify, the time that we had together was something that I will hold on to for the rest of my life.
Brian with his dad when he qualified for the Pala National.
Jody had assigned me to put some time on MXA's 2022 Suzuki RM-Z250. This is not the most popular Pro bike, but I love it. On Kauai, the local Suzuki dealer was the first shop to help me. Since then, I have always had a soft spot for Suzuki. I enjoy the way the bike handles, as well as the low-end torque that it has. I'm not a rider who revs my motorcycle a lot, so the Suzuki power delivery suited my riding style better than the high-rpm bikes from KTM, Husky and Kawasaki. I am only 130 pounds, so I can get away with having less horsepower. I spent a few weeks testing and racing the RM-Z250 and got really comfortable with it. The engine was completely stock, save for an FMF exhaust and a stock Vortex ignition (that hadn't been mapped). I had re-valved and re-sprung the suspension for my weight, and I felt that it was good enough to race a National on. And since Josh Mosiman said he was going to the Washougal National, I decided to take the Suzuki to the big time.
The Washougal National was a 16-hour drive from SoCal, but with the MXA crew heading up to the Pacific Northwest in full force, I couldn't resist. My girlfriend and I loaded up the truck with my RM-Z250 in the back and headed north to meet up with the rest of the MXA crew. Washougal is my favorite National. It has very similar dirt to what I grew up riding on in Hawaii. I knew that my bike was going to be good on the hardpack and slippery conditions, because I had time to prepare for it. This race was a step forward for me mentally. We always hear riders and trainers talk about the "mental game" in motocross. I never really put much thought into it until this race. 

MY FAMILY AND FRIENDS SUPPORTED ME WHEN I LEFT HAWAII, BUT THERE WERE LOTS OF PEOPLE WHO SAID I WOULD NEVER MAKE IT. THAT HURT.
I had just come back from a week-long trip to Hawaii to celebrate my grandmother's life, and something about that trip changed my outlook on things. It made me realize that I needed to enjoy every moment on this earth and be grateful for the things that we get to do. The goal for this race was to enjoy it. I was the most relaxed and stress-free that I had ever been at an AMA Pro Motocross race, and it showed in my riding. Although I missed qualifying into the Fast 40 on time, I was mentally prepared to race my way in through the Last Chance. I told myself, "I'm a racer," and vowed that, "No one was going to take this from me." And, I did it! 
My fourth in the LCQ meant that MXA would have an orange helmet in the 250 class to go along with Josh's orange helmet in the 450 class. I like to think that knowing I was racing the slowest bike at Washougal gave me the motivation to push harder than I've ever pushed. The fans were drawn to the MXA pits, most likely to meet the MXA guys, but once there, they all shared stories of when they raced a Suzuki. I may be mistaken, but it seems like everybody raced a Suzuki at one point in time.
I'm not ashamed to admit that when I crossed the finish line I didn't know where I had finished. I cried when I found out that I had qualified. The phone call to my dad after the Washougal Last Chance was priceless. The amount of time, money and effort that it took to make this possible was all worth it. Before this race, the thought of not trying to race at the highest level crossed my mind more than a few times. People doubted me (and they doubted the RM-Z250), just like they had back on Kauai, but it's the greatest feeling to prove people wrong. I'd like to thank everyone at Motocross Action Magazine, Steelkorr, Pasha Racing and Suzuki for making this all possible!