BAD CHOICES & FREAK EVENTS: THE GAME CHANGERS OF MOTOCROSS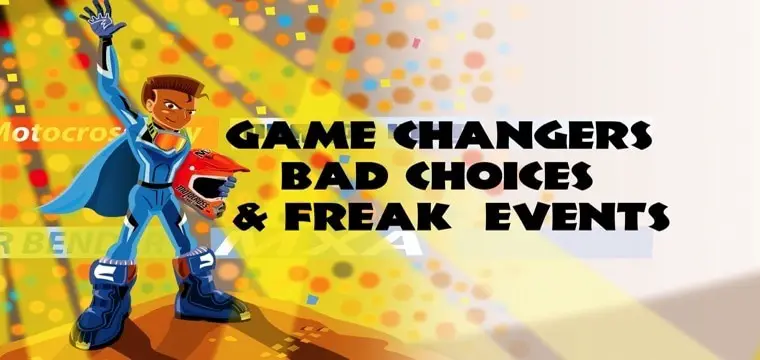 BAD CHOICES & FREAK EVENTS: THE GAME CHANGERS OF MOTOCROSS
The modern world is filled with angst—the might-have-beens, the if-onlys and the coulda-woulda-shouldas. The sporting life is a cruel mistress and a handmaiden to the vagaries of success. For every quarterback who throws a successful Hail Mary, there are thousands more who's passes are intercepted. For every batter who hits the game-winning home run, there are many more who whiff three times. For every motocross racer on the pinnacle of success, there are legions who have slipped ingloriously from the heights.
Fame, glory and victory are what motocross stars aspire to, and a few get to call their own shots, but many more are the victims of the whims of fate. To their credit, motocross racers are resilient. Here are some of the sport's most inspiring, heartbreaking and game-changing moments.
AKE JONSSON'S SPARK PLUG

Going into the final round of the 1971 500 World Championship at St. Anthonis, Holland, Roger DeCoster and Ake Jonsson were locked in a close duel for the crown. Jonsson had won the 500 Luxembourg GP the week before and went to Holland with a one-point lead. Sadly, Ake's Maico short-reach spark plug unthreaded in moto one and he had to stop and thread it back in by hand. He raced back to 10th and then won the second moto, but he lost the 1971 500 crown to Roger DeCoster. Ake would never win a World Championship title.
TONY D'S BIGGEST BATTLES CAME AFTER HE RETIRED

Three-time AMA 250 National Champion Tony DiStefano suffered a knee injury at the 1978 Houston Supercross. The knee injury cost him his Suzuki factory ride, but after a stint on Can-Am, Tony switched to Husqvarna and had a great first outing at the 1979 Anaheim Supercross. Sadly, a week later, while he was working in his shop, a screwdriver slipped and seriously cut his eye. Although Tony could not see out of the eye after surgery, he returned to racing in 1981 and was a top-10 runner as a privateer. Tony was eventually forced to retire in order to have another series of eye operations. If that were the end of his story, it would be heartbreaking enough, but after retiring, Tony started a popular motocross school. Unfortunately, while out practicing, he hit a tree root on the side of the track and was paralyzed in the ensuing crash. Amazingly, one year later, he was back teaching his motocross schools from the seat of an ATV.
BOB HANNAH GOES WATER SKIING

Bob Hannah had been on a roll in the 1970s. He had won the 1976 125 title, 1978–'79 250 crowns and 1977–'79 Supercross titles. But one week after clinching the 1979 AMA 250 National Championship, he broke his right leg in 12 places while waterskiing on the Colorado River with Marty Tripes. Bob was out of action for one year, and during this time his leg became infected and he had to undergo surgery. Hannah would never win another National Championship, but he came back in 1981 to finish second in the Supercross Championship. Even more impressive, Hannah would race for another 10 years, riding his last official race at Southwick in 1989.
DONNIE HANSEN WAS ON TOP OF THE WORLD…UNTIL

The 1982 season was incredibly good to Donnie Hansen—and incredibly bad. The good? Donnie Hansen won both the 1982 AMA Supercross Championship and 250 National Championship. Selected for the 1982 American Motocross des Nations team, Donnie flew to Sweden to race the final 250 Grand Prix before heading to Germany for the MXDN. Donnie won the Swedish Grand Prix easily, but four days later he crashed at Rolf Dieffenbach's practice track and suffered a closed-head injury. Hansen never fully recovered enough to race at the highest level again, but has successfully transitioned into coaching young riders and teaching motocross schools. Click here to read a recent interview we did with Donnie Hansen.
CORRADO MADDII'S FASTEST LAP & WHAT IT COST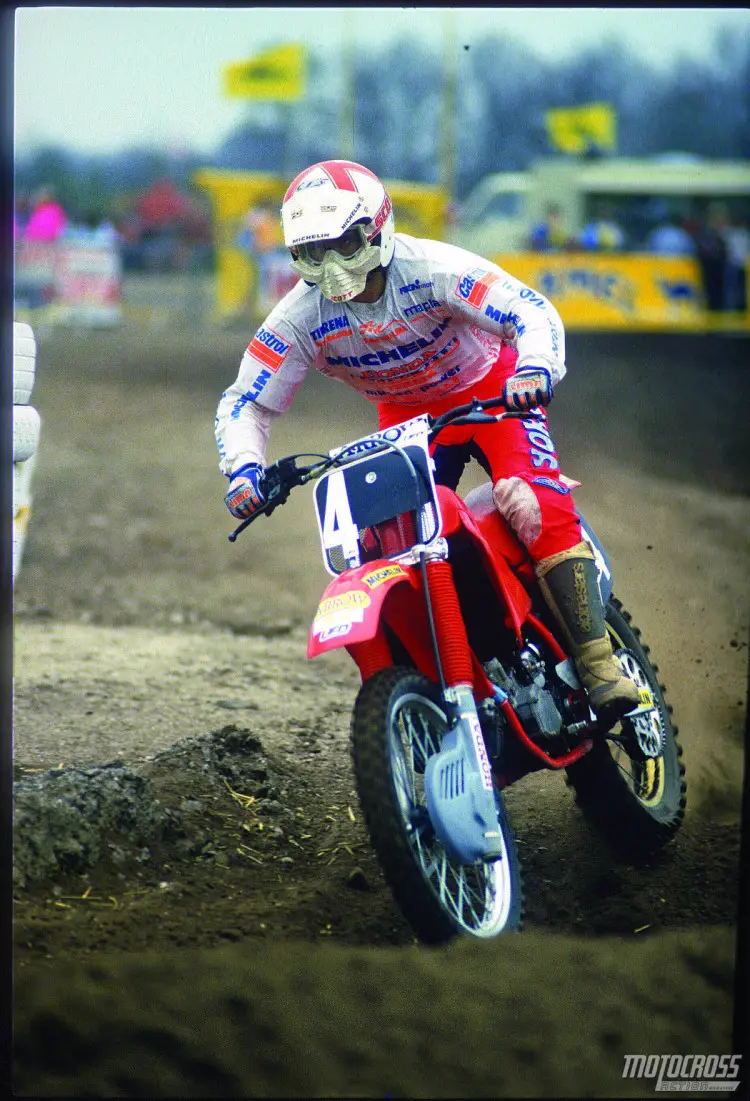 Back in 1984, Cagiva rider Corrado Maddii had a 30-point lead over Michele Rinaldi going into the last 125 GP of the year. All he had to do was finish both motos in points-paying positions and he would be the World Champ. Corrado Maddii set a fast time in practice, but when Rinaldi bested his time, Maddii went back out and reset the fastest time. After his hot lap, he was cruising around the track and collided with Michele Fanton, who was practicing the start. They hit at the spot where the start straight joined the racetrack. Maddii broke his leg and was carried off the track on a stretcher. Rinaldi won the crown.
ANDRE VROMAN'S BRAIN FADE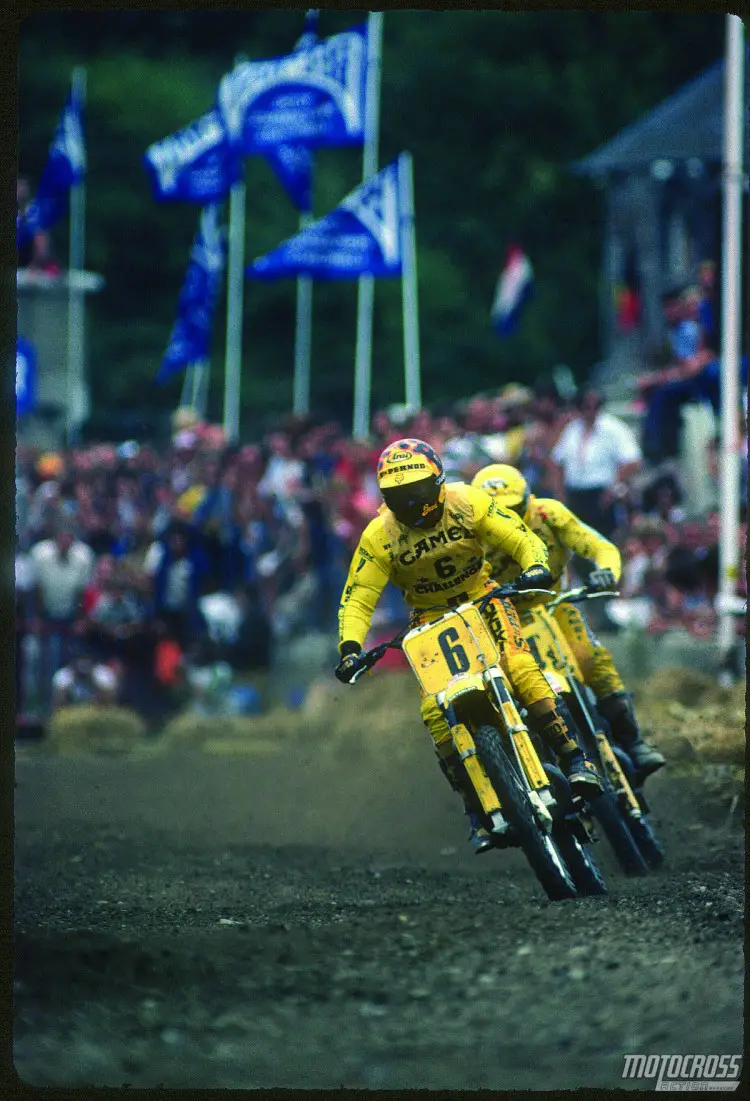 Brad Lackey (6) and Andre Vromans (4).
Andre Vromans.
In 1982, Brad Lackey and Andre Vromans, Suzuki teammates, were dueling for the 500 World Championship. They went into the final moto of the year only six points apart. When the gate fell in moto two, Andre Vromans led the pack up the hill to the left-hand turn at the top. Unfortunately for Vromans, at Ettelbruck, Luxembourg, that part of the track was not used on the start—it was picked up after the first lap. "It was the biggest mistake of my life," said Vromans later. Lackey would become the first American to win a World Motocross Championship that day.
DANNY MAGOO CHANDLER'S LAST RODEO WHIP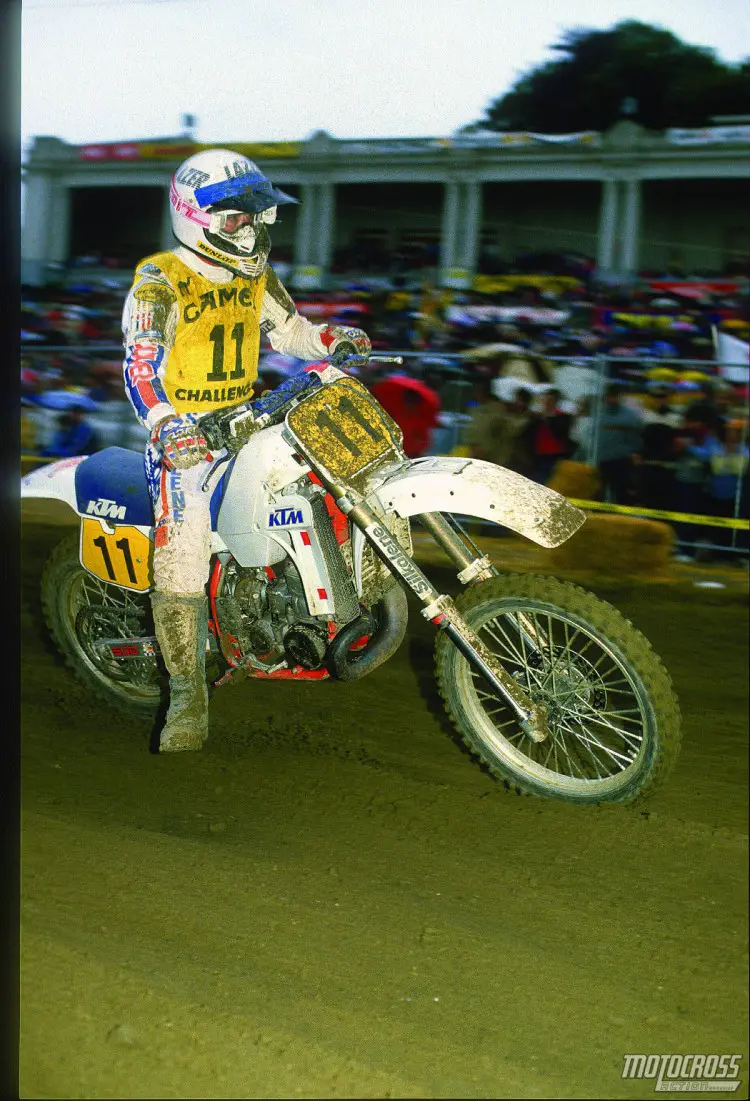 Danny "Magoo" Chandler was the wildest-riding motocross star in history. And, Danny made history by winning the 1982 ABC-TV Superbikers race, 1982 United States 500 Grand Prix, every moto in the 1982 Trophee and Motocross des Nations, and the 1985 French Grand Prix. Sadly, Danny's racing career ended at the Paris Supercross when he misjudged his patented "Rodeo Whip" over the finish line. Danny was paralyzed in the crash. In the years after his accident, Danny promoted rider safety and died unexpectedly of natural causes on May 10, 2010.

MIKE CRAIG'S HOTEL ACCIDENT
Just before the 1994 season started, Team Yamaha's number one rider, Damon Bradshaw, walked out on the rest of his existing contract. Yamaha was shocked but signed Mike Craig to replace Damon. Craig was solid, but he was unhappy at Yamaha. The season highlight, and a high note for any rider, was when Mike Craig won the 1994 Tampa Supercross, but two weeks later he tripped over his boots in his hotel room and hurt his knee. Yamaha didn't believe that Craig was hurt and let him go before the 1994 season was over. Craig, who replaced Bradshaw, was in turn replaced by John Dowd.
THE STORBECK/JOHNSON ACCIDENT
Ricky Johnson had an amazing career, and it would inevitably have come to an end, but it is always worse when a freak accident puts a star on the sidelines. In 1989, Johnson won the first five Supercrosses of the year, but at the Gainesville 250 National, Danny Storbeck landed on Johnson's right wrist. Johnson recovered and kept racing but would never win another Supercross in his career (although he did win two AMA Nationals, one 250 and one 500 in 1990). Ricky visited every doctor he could, but his wrist never got better. Ricky raced five races in 1991, finishing on the fringe of the top 10, and called it quits after the San Diego Supercross in February of 1991. He was 26 years old.
WORLD'S WORST CHAMPIONSHIP CELEBRATION

In 1986, Jacky Vimond won the 250 World Championship. Vimond was the first French World Champion, so the French wanted to celebrate with a big party. At the party, they lowered Vimond and his bike from the ceiling amid flashing lights and loud music. As Vimond was being lowered, one of the cables broke, and Vimond was thrown from his bike to the hard concrete floor. He suffered a broken back and was never the same as a racer. Jacky has since gone on to be a successful riding coach.
THE BEST PARKING TICKET MICKAEL EVER GOT

In 1999, after a minor dispute arising from Mickael Pichon's father parking his rental car in the wrong spot at Mt. Morris, Mickael was fined $3000 by the AMA and fired from Team Honda. Mickael claims that the incident was nothing more than a shoving match provoked by a track official (we'll let you guess who), while the AMA and Team Honda say that Mickael struck an AMA official. Whichever version you believe, Mickael was sent packing. Pichon was not having a great season in 1999 and had already announced that he would leave Team Honda at the end of the year. Who got the last laugh? Pichon would return to the Grand Prix circuit and win the 250 World Championships in 2001 and 2002 for Suzuki.
A CAREER IN DISREPAIR HAS BEEN SALVAGED LATER IN LIFE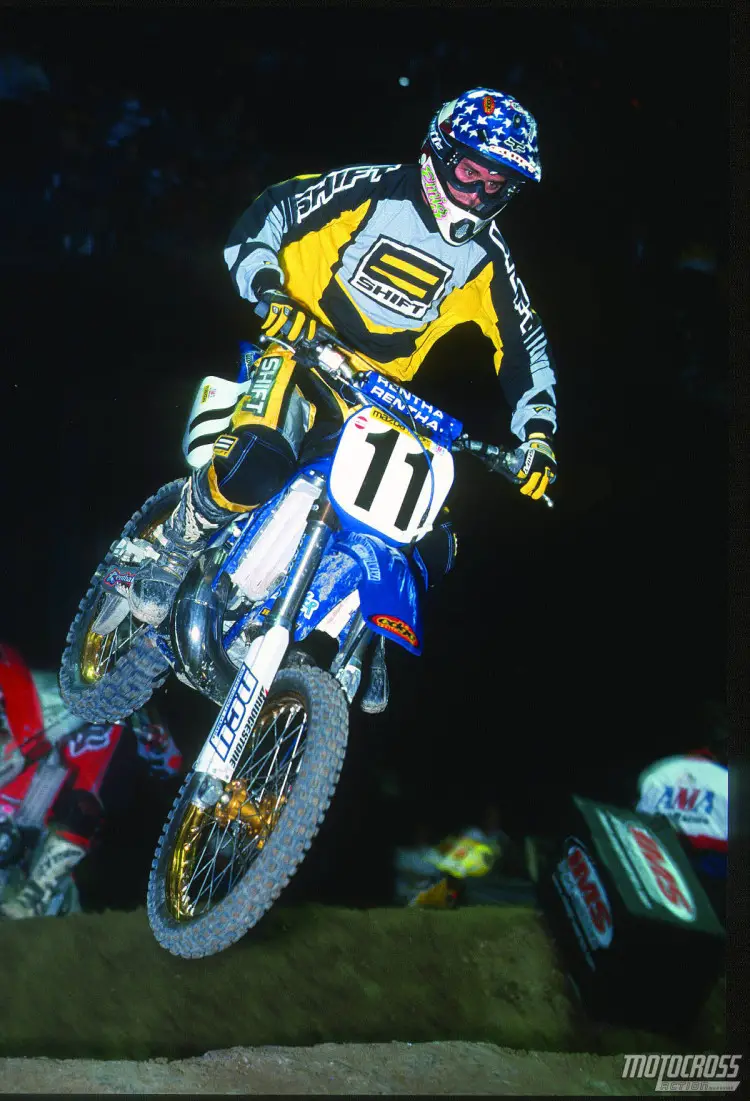 Jeff Emig led a charmed life up until 1999. Then, on August 22, 1999, he was arrested in Lake Havasu for marijuana possession. That was the end of his days as a factory rider. Four months later, Jeff crashed while practicing for the 2000 Supercross series and broke both wrists. He healed up in time to have his throttle stick while practicing at Glen Helen. Jeff broke his leg in two places and crushed a vertebra. He decided to call it quits. Post-injury, he focused on running his privateer Edge Sports team before becoming best known as a TV commentator.
SPEED ISN'T ENOUGH TO INSURE SUCCESS IN MOTOCROSS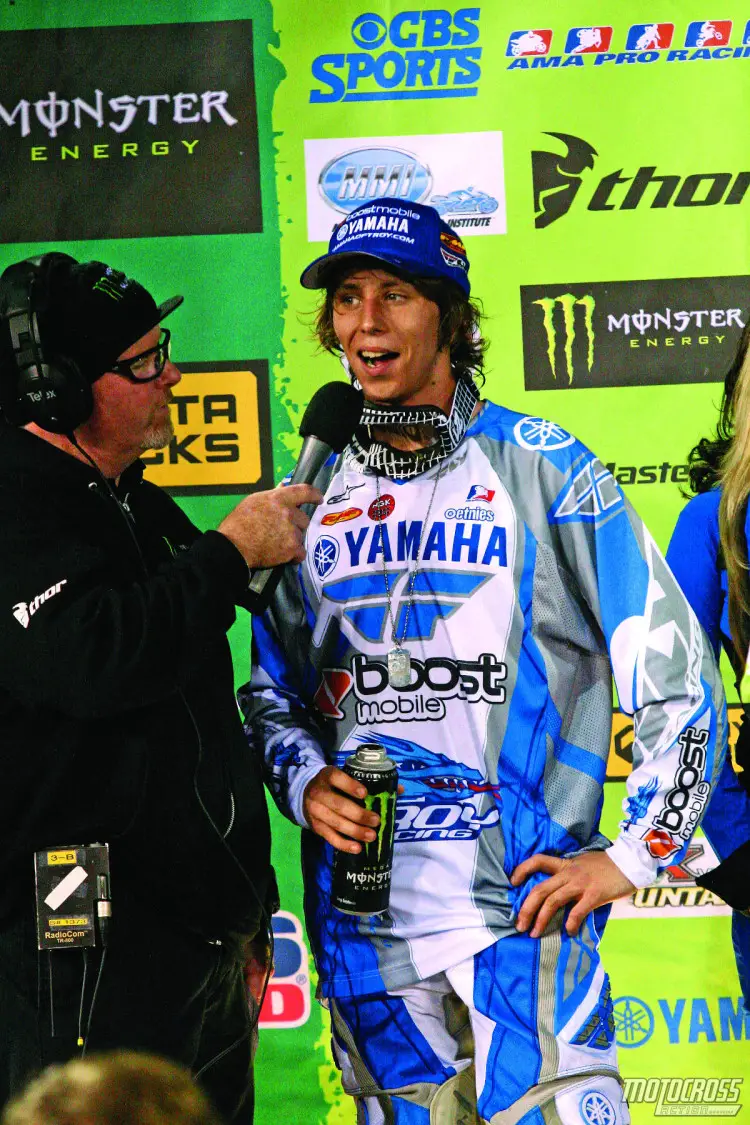 It is hard to pinpoint exactly what ruined Jason Lawrence's motocross career. Could it have been his on-track fights? Biting off the ear of a friend? Rolling a rental car in the pits? His year in the Riverside County Jail? Or just his personality? He had lots of talent, but that isn't always enough. The erratic Lawrence spent a lot of time harassing a young Ryan Dungey. So much so that when Ryan Dungey signed to wear One Indusries motocross gear and One Industries also signed Jason Lawrence, Dungey got out of his One contract and signed with Fox. Today, Dungey is a retired multi-millionaire with seven AMA Championships to his credit. Jason Lawrence is off the radar.
FUEL-GATE CHANGED A TITLE CHASE

In 2006, Ricky Carmichael's fuel failed to pass the AMA lead test. Was he disqualified as Jeff Emig had been in 1996? No. Was he penalized 25 points as David Vuillemin, Chad Reed and Tyson Hadsell had been in 2004? No. Was he disqualified as Michael Byrne and James Stewart had been in 2005? Nope! Instead, the AMA fined Ricky, and he got to keep his finishing position, purse money and AMA points. Why? Blatant favoritism. The 25 points that Ricky got to keep earned him the 2006 Supercross Championship, which he won by two points over James Stewart—but with an honest sanctioning body, he would have lost by 23 points. The AMA's rule enforcement has always been a joke, but this special treatment was a disgrace.
VALIANT EFFORTS DON'T ALWAYS HAVE FAIRY TALE ENDINGS

In 2007, Josh Coppins was hand-picked to fill the big shoes left by 10-time champion Stefan Everts at Team Yamaha. The New Zealander started the season like gangbusters, and in the first 10 GPs made the podium at every event and won five GPs outright. Coppins went into round 11 with an almost unbeatable 107-point lead with five races left. Unfortunately, a crash damaged Coppins' left shoulder. He tried to ride injured but lost the 450 GP title to Steven Ramon—even though Ramon didn't win a single GP in 2007.
A BLACK MARK MOMENT IN MOTOCROSS HISTORY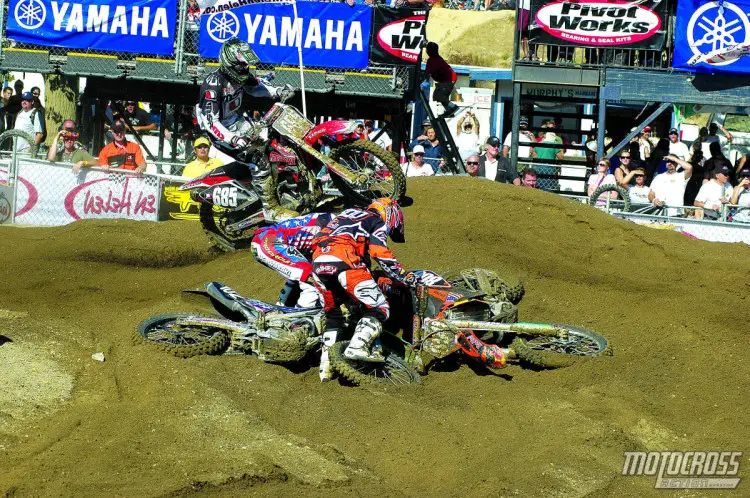 Mike Alessi has had a bumpy ride in the AMA Pro ranks. The former minicycle champion has been at the center of controversies that have been bracketed by the "Believe the Hype" T-shirts and the 2013 Laser-Gate incident at Washougal. But what really derailed Mike's career and turned the fans and industry against him was the 2005 kill-button incident at Glen Helen. Mike went into the final race of the 2005 125 National Championship 35 points behind Pro Circuit's Ivan Tedesco, but after Tedesco DNF'ed the first moto, the points spread between the two was reduced to 10 points. Then, when Alessi and Tedesco crashed into each other at the end of Glen Helen's infamous "Muddy Straight," Mike stood on Tedesco's bike so that Ivan couldn't pick it up and made an obvious move to hit Tedesco's kill button. In the end, Tedesco won the 2005 125 title, even though he went 21-11 at Glen Helen. As for Mike Alessi, he was disqualified for the day for "engaging in an activity detrimental to the sport." Worst of all, he has been known as a cheater for the rest of his career (and no matter how hard to tries to put it behind him, he can't seem to clear his name from recurring controversy).
THE RUMOR OF MONEY KILLED THE DEAL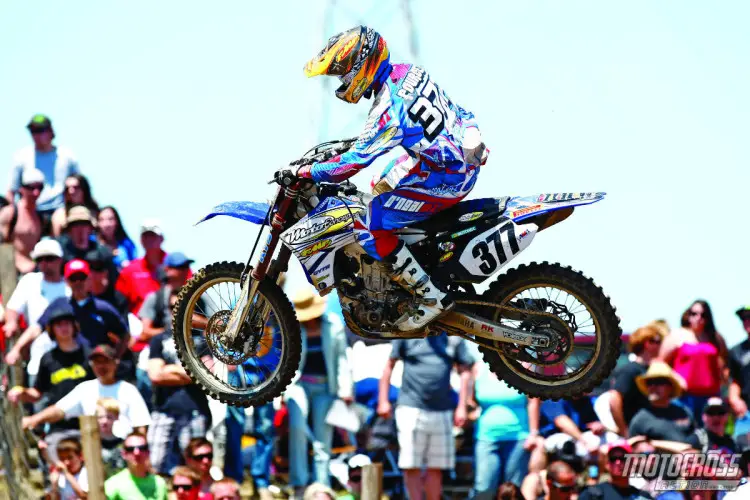 Christophe Pourcel came to America after a successful career in Europe, and in 2009 and 2010, Christophe won the 250 East Supercross Championship and came heartbreakingly close to winning the 2009 and 2010 250 Outdoor National titles as well. Christophe assumed that Team Kawasaki would hire him in 2011 as a 450 rider (based on the fact that they had moved other former 250 Supercross winners to the factory team), Pourcel didn't pursue any other deals. But, Kawasaki never called. It didn't help Pourcel's cause that he reportedly wanted $1.5 million for 2011. Whether Pourcel actually asked for $1.5 million is incidental, because he got no offers and ended up on the privateer MotoConcepts Yamaha team. That ride was short-lived (very short-lived), and Pourcel moved back to the GP series for an uneventful 2012 season, where he raced for one season and then decided that he didn't like the GP system. Two years later he was back in the USA racing for Yamaha in the 250 Nationals. And, then with the Rockstar Husqvarna team. In 2017 after a lackluster start to the AMA Supercross series, Husky demoted him to the Canadian Nationals and replaced him with Dean Wilson.
IF YOU GO FREESTYLE, IT'S HARD TO COME BACK

Josh Hill's professional motocross career was derailed when in June of 2010 he attempted a backflip in preparation for the X Games. On his second attempt, Hill was ejected from the bike and broke his right femur, right humerus and pelvis, and collapsed a lung. Although Josh returned to racing after two years of recovery, he was never the same. To this day he is still struggling to gain the respect of the factory team managers. After a good 2014 AMA Supercross season, he was let go by RCH Suzuki and raced in Canada. But, he kept getting hurt. Today Josh is racing exhibitions to showcase the Alta electric bike (and is trying his hand in the 250 East Supercross series in 2020).
THE PAPERWORK WILL GET YOU EVERY TIME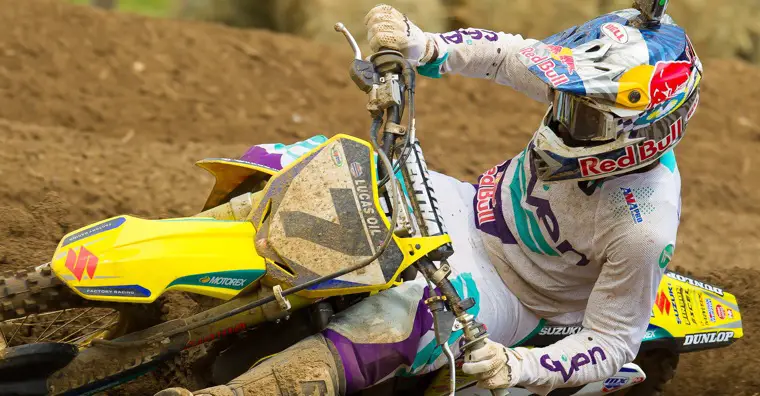 There is no doubt that James Stewart got caught with unapproved drugs in his system during the 2014 AMA Supercross series. There is no doubt that he failed to file the TUE paperwork required to allow him to use that drug. There is no doubt that the FIM cracked down on him. What is in doubt is what this incident meant to the ground breaking rider's legacy, what the true story was and whether he really wants to return to his former greatness. After his suspension was served he came back and won the meaningless 2015 Red Bull Straight Rhythm race, but then got hurt at the Monster Cup and the Paris Supercross. In the meantime, he caused an international stir by trying to back out of his contract to race the 2015 Australian Supercross event in Sydney—which he finally agreed to race and then canceled following his Paris ankle injury. James has disappeared to the confines of his Florida home and has not raced since.