GAME PLAN: WHAT TIXIER'S WIN IN CZECHO MEANS TO JEFFREY HERLINGS' HOPES
Click on images to enlarge
Jeffrey Herlings can still win the 2014 250 title by sitting at home, hoping Tixier has bad luck or by showing up in Mexico.
Jeffrey Herlings was on his way to one of the easiest 250 World Championship victories in history. Although he missed round one to injury, he won every other Grand Prix and built up a 154 point lead with four races left. Then, disaster struck Herlings. He broke his leg at a charity race just before this past week's Czech Grand Prix. Depending on how the rehab for his broken femur goes, Jeffrey Herlings has four options to win the 2014 FIM 250 World Championship.
(1) Strategy One: Strategy One is simple—stay at home, heal up and leave the outcome to the fates. If his leg doesn't heal quickly, then there is little he can do but hope that his 102-point lead over Jordi Tixier will hold up. However, there are 150 points still up for grabs (50 points per event and 25 points per moto).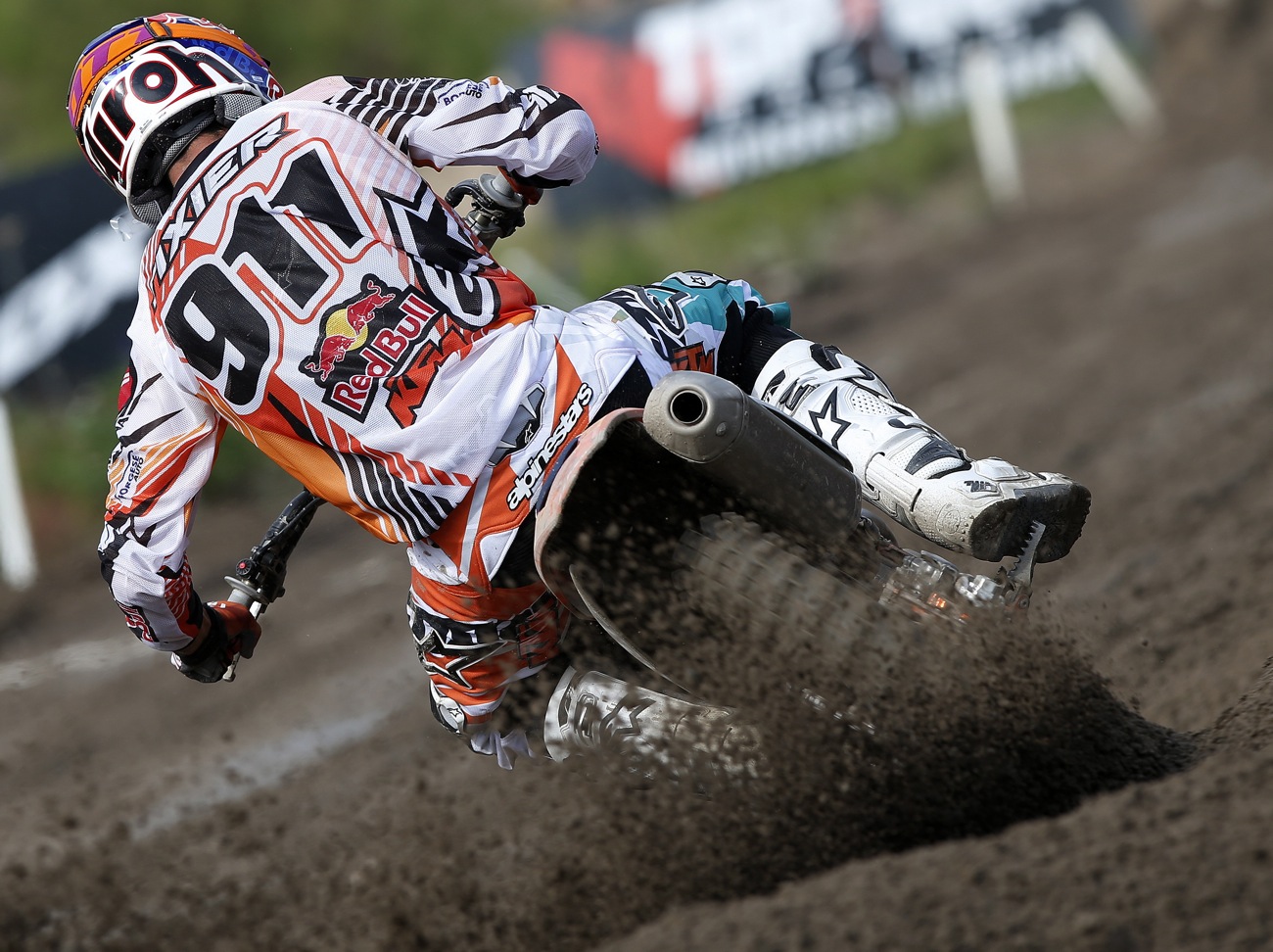 Jordi Tixier can win the title—if he can earn 34 points over the final three GPs. Tixier helped his cause by winning the 250 overall this past weekend in Czecho.

(2) Strategy Two: Strategy Two is identical to Strategy One, but it puts all the burden on Jordi Tixiers. If Jordi Tixier has one or two bad motos out of the final six motos, Herlings won't have to show up at the final race in Mexico because he will win the title with the points he currently has. This strategy the leaves the title hopes of both riders up to Tixier—not Herlings. Bad things do happen. Huqvarna rider Romain Febvre was still mathematically in the points chase until he went to Czecho. Febvre went 5-9 and only earned 28 points (out of a possible 50) — he is now mathematically eliminated from any chance of catching Herlings.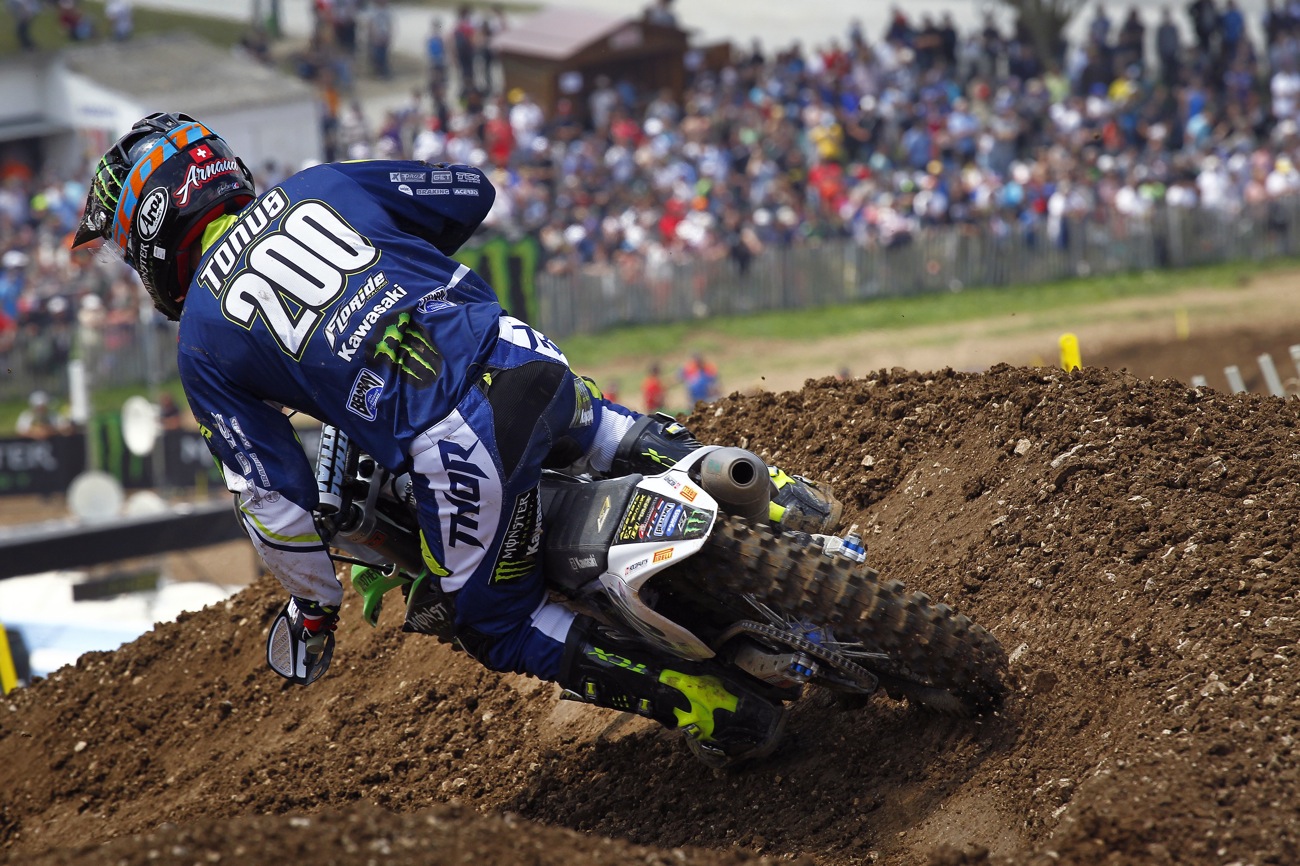 If Arnaud Tonus (200) and Glenn Coldenhoff heal up in time to race a couple 250 GPs, they could be the wild cards that steal points from Jordi Tixier. Two of the final three races are fly-away races to Brazil and Mexico.

(3) Strategy Three: Strategy Three is Herling's last ditch effort (and it is based on the current sad state of GP motocross). Given the poor rider turnouts for the 2014 GP series (there are just over 25 riders showing up and much less expected at the final two fly-aways), Jeffrey Herlings could hope to rehab his broken femur from July until just before the final race on September 14 in Mexico. Then, show up in Mexico and try to earn a couple points—based on the fact that everyone who shows up in Mexico will probably earn points. That gives Herlings two months to recover enough to ride his bike—and he doesn't have to ride it fast. This is Herlings' bail out plan (but it has ramifications for his health in the long run).
(4) Strategy Four: Strategy Four would require team tactics. KTM could move Tony Cairoli to the 250 class in Mexico (he will most likely clinch his 450 World Championship in Brazil). As a former 250 World Champion, Cairoli could take points away from Tixier (and KTM could justify it because they could claim that Tony needs practice before racing the 250 class at the MXDN). KTM could also send Marvin Musquin and Jason Anderson to Mexico from America. But, there is a hitch in this plan. Tixier is a factory KTM rider. Why would KTM care who wins as long as it is a KTM rider. They probably don't — but rumors are that Jordi Tixier will not be re-signed for 2015 (and will be replaced by teenager Davy Pootjes —  who has already signed a factory contract for 2015). Thus, if Jordi Tixier wins the Championship he could take his number one plate to another team—unless KTM has a right-of-first-refusal in Tixier's contract or an automatic renewal should he win the title.
There are three GPs left —Belgium next weekend and then there is a five week break before the final two races in Brazil on September 7 and Mexico on September 15.
CURRENT 250 WORLD CHAMPIONSHIP POINTS STANDINGS
(After 14 of 17 races)
1. Jefffrey Herlings……………..594
2. Jordi Tixier…………………….492
3. Romain Febvre………………454
4. Dylan Ferrandis……………..425
5. Tim Gajser…………………….420
6. Arnaud Tonus………………..389
7. Valentin Guillod……………..354
8. Aleksandr Tonkov…………..335
9. Jose Butron……………………321
10. Jeremy Seewer……………282
Photos by Ray Archer and Kawasaki