GENEVA SUPERCROSS DAY 1: PRACTICE REPORT

By John Basher
The 31st annual Geneva Supercross is upon us, and MXA is on the scene for what, on paper, looks to be the most stacked traditional European Supercross race of the offseason. Sure, there was the SMX Rider's Cup, but that was a poorly executed melding of Supercross and motocross. Geneva, like Lille, has a tamed down Supercross track that promotes tight racing. This year the likes of Marvin Musquin, Justin Brayton, Justin Barcia and Malcolm Stewart are headlining the event, while Swiss rider Arnaud Tonus, Cedric Soubeyras and Thomas Ramette hope to spoil the American party. Okay, technically Marvin Musquin is French.
Justin Brayton is hoping to win his fifth Geneva Supercross crown this weekend and cap off a successful offseason.
Justin Brayton, the newly crowned Australian and New Zealand Supercross Champion, has had an eventful offseason. Brayton, a four-time Geneva Supercross winner, did damage Down Under on his red rocket. As Justin explained to me this morning, he was approached by Honda of Australia about competing in the Australian Supercross series. During negotiations Honda of Australia and American Honda were in cahoots about offering support. As it turned out, American Honda wanted to provide Brayton with works parts. It was a good deal for both sides. Brayton won the title, Honda won the title, and for 2017 Justin will be racing on a factory-supported 2017 Honda CRF450. Even better, the friendly Iowa native has a two-year deal with MotoConcepts Honda. He will be doing a Supercross-only schedule in the U.S., and then traveling to Australia to race that Supercross series. Brayton is good to go for two more years. I should add that MotoConcepts also got a good deal in signing Brayton. Ever the consummate professional, Justin will improve MotoConcepts' image, which has been in the spotlight for a few negative reasons in recent years. The Brayton/Honda/MotoConcepts trio looks favorable for all involved.
Marvin Musquin looked comfortable this afternoon in practice.
If Friday's practice here at the Palexpo Arena in Geneva is any indication, Marvin Musquin is still on a hot streak. The Red Bull KTM rider scored wins at the Red Bull Straight Rhythm (over teammate Ryan Dungey). He followed that up by winning the Lille Supercross (besting Justin Barcia, Malcolm Stewart and Christian Craig). This afternoon Marvin blitzed the field in timed practice, logging a 37.07. He's the only rider to break into the 37 second range. In fact, he's 1.3 seconds faster than the next fastest rider (Malcolm Stewart). If that isn't enough, he's a full two seconds quicker than Justin Brayton and put three seconds on Justin Barcia. Wow. Aside from a different shock, Musquin is running his same setup that he won Lille on. The KTM 450SXF is almost a carbon copy of the factory bike he will be throwing a leg over for Anaheim 1. The factory power was evident in practice, as he was only one of two riders (the other being Stewart) to triple-quad-quad the rhythm section. In case you're counting, Marvin's Dunlops touched the slippery Geneva soil only twice through the length of the stadium. It's ridiculous.
In his second race on a Suzuki, Justin Barcia had a rough go of things in practice. He crashed and suffered a bike malfunction. Bam Bam lined up for the second qualifying session, but the lack of track time showed in his lap times. Don't worry, he's good to go for the night show.
Musquin's equipment is an advantage, just as it was in France last month. Still, Marvin was riding on another level in practice. We'll see how that speed translates to the night show. Justin Brayton has some factory equipment in suspension, shifter and footpegs (from what was visible to the naked eye). His engine has been tuned up, but it's not the caliber of what Brayton will have at his disposal come Anaheim 1. That power disadvantage yo Musquin was visible, but Justin has proven time and again that he excels once the gate drops. Justin i's riding the same bike that he had in Lille. Initially the JGRMX Suzuki team had planned on having a closer version of what Justin will race for the 2017 Supercross series. However, they're still trying to play catch up after signing a deal at the eleventh hour with Suzuki. Barcia has different suspension settings at Geneva compared to Lille, but that's about it. For Justin, Geneva is all about getting more seat time on the RM-Z450.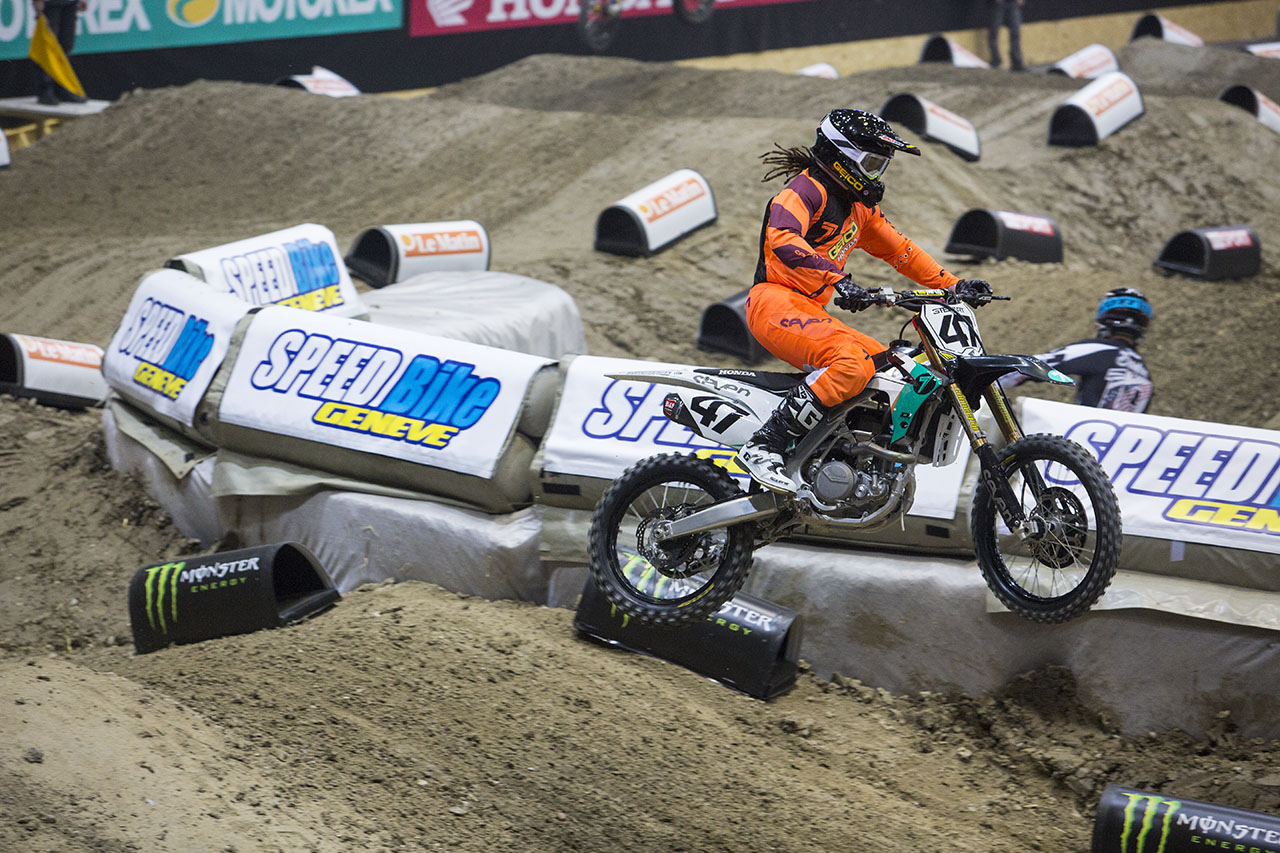 Malcolm Stewart is out to prove a point this weekend. His war chant should be, "Give me a ride!" 
Malcolm Stewart hopes to open the blind eyes of 450 race team managers this weekend. Malcolm seemed at ease and was smiling in the pits, a sure sign that the pressure of not having anything lined up for the 2017 Supercross series isn't weighing him down. Either that, or he has a really good poker face. Stewart is riding a mostly blacked-out Honda CRF450 with Seven logos plastered all over the bike. If Malcolm can walk out of Geneva with a win, or even a second, it will hopefully serve notice to the race teams. The win would be icing on the cake—but his option to get a factory ride are quickly running out, with Husqvarna looking to be his last slim hope.
Stay tuned, as we'll have race coverage and plenty of photos from the 31st running of the Geneva Supercross up later.
450 QUALIFYING TIMES
1. Marvin Musquin (KTM)…37.07
2. Malcolm Stewart (Hon)…38.336
3. Arnaud Tonus (Yam)…38.448
4. Cedric Soubeyras (Suz)…38.613
5. Thomas Ramette (Suz)…39.222
6. Justin Brayton (Hon)…39.252
7. Cyrille Coulon (Suz)…39.410
8. Adrien Escoffier (Hus)…39.883
9. Khounsith Vongsana (Hus)…40.033
10. Valentin Teillet (Hon)…40.037
Other notables: 11. Justin Barcia (40.296); 12. Killian Auberson (40.341); 16. Maxime Desprey (40.748); 17. Kyle Chisholm (40.835)