GIANT CZECH GRAND PRIX PHOTO GALLERY
Click on images to enlarge
Photos by Massimo Zanzani
The Grand Prix riders lined the start line for one-minute of silence for fallen 85cc support class rider Igor Cuharciuc from Moldova. Igor died from injuries sustained in the first moto of the 85 EMX races. The second moto was canceled.
At 13th round of the 2017Motocross World Championships in Loket, Czech Republic, KTM's  Antonio Cairoli and Pauls Jonass each took their sixth wins the season.
450 CLASS
The Grand Prix of the Czech Republic start.
Tony Cairoli's 450 victory was his 83rd career GP win. Tony said, "I'm really happy to leave this GP with a victory. I want to dedicate this victory to the rider who passed away yesterday, we are all together with his family and hope that they will be okay." Clement Desalle's consistent 2-2 took second overall.
Last year it looked like Tony Cairoli's career was drawing to a close, but he was revitalized by the threat of the youngsters who were beating him in 2015-16. It helped that most of them were injured at some point during the 2017 series. But Tony, at 83 wins, is closing in on Stefan Everts 100 GP wins record.

Another revitalized old hand is Clement Desalle. Clement just re-signed a new Kawasaki contract for 2018.
Tim Gajser missed two GPs and rode injured in two others, but has clawed his way back into the top five in 450 GP points, Gajser went 1-4 in Czecho. It doesn't look like Gajser will be able to fulfill his dream of coming to America for a few more years.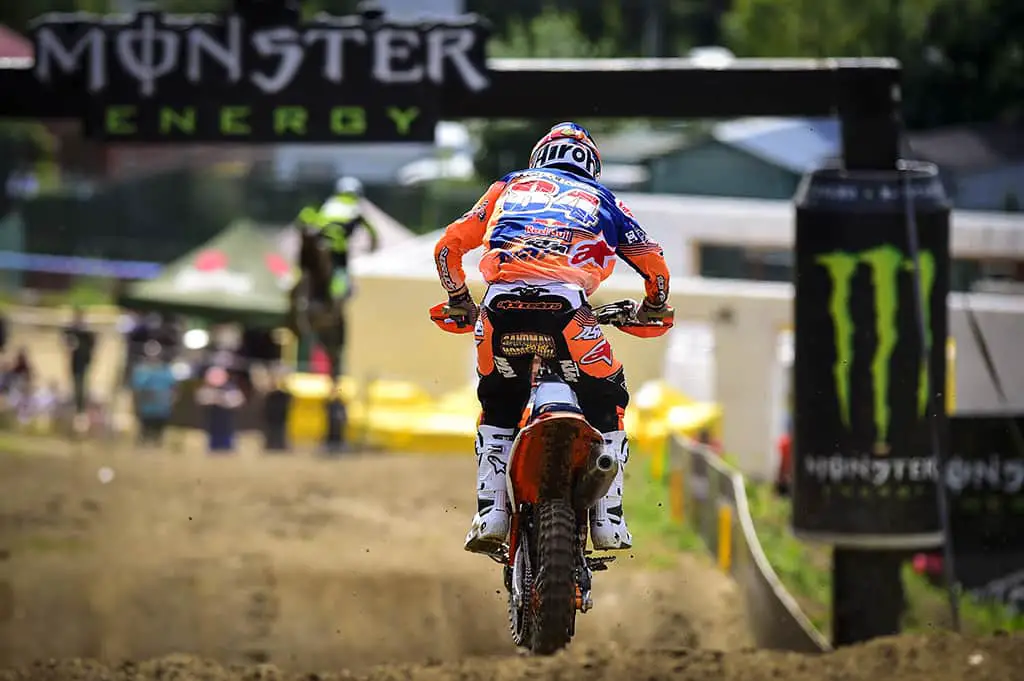 The 2017 season has been a learning experience for Jeffrey Herlings. Used to winning with ease in the 250 GPs, he hasn't had it so easy in the 450s. Herlings went 5-3 in the Czech Republic.

Gautier Paulin has only won a single moto in 2017, only finished second twice and third 5 times, but he's still fourth in 450 GP points (one point behind Jeffrey Herlings).
Glenn Coldenhoff is the invisible man at Team KTM. Since he rides for Tony Cairoli's DeCarli team he is really only there to support Tony. Glenn is 11th in GP points, has never been in the top three overall and only has scored one moto in the top five. But, he got his contract renewed for 2018.

The fire has gone out of Max Nagl. In the past, he was always a podium contender, but in 2017 his average moto finish over the first 13 GP's is 10th place.
The 450 CZecj Republic Grand Prix podium was Clement Desalle (left), Tony Cairoli and Tim Gajser (right).
450 RESULTS: GRAND PRIX OF CAZECH REPUBLIC
1. Tony Cairoli (KTM)…3-1
2. Clement Desalle (Kaw)…2-2
3. Tim Gajser (Hon)…1-4
4. Jeffrey Herlings (KTM) …5-3
5. Gautier Paulin (Hus)…4-5
6. Romain Febvre (Yam)…7-6
7. Jeremy Van Horebeek (Yam)…8-7
8. Arnaud Tonus (Yam)…6-10
9. Glenn Coldenhoff (KTM)…11-11
10. Evgeny Bobryshev (Hon)…14-7
Other notables: 11. Max Nagl; 12. Kevin Strijbos; 13, Arminas Jasikonis; 16. Max Anstie; 17. Jordi Tixier; 19. Ken DeDycker;
FIM 450 WORLD CHAMPIONSHIP POINTS
(After 13 of 19 Rounds)
1. Tony Cairoli…523
2. Clement Desalle…431
3. Jeffrey Herlings…418
4. Gautier Paulin…417
5. Tim Gajser…353
6. Romain Febvre…338
7. Max Nagl…308
8. Jeremy Van Horebeek…294
9. Evgeny Bobryshev…286
10. Arnaud Tonus…279
Other notables: 11. Glenn Coldenhoff; 12. Max Anstie; 13. Arminas Jasikonis; 15. Shaun Simpson; 18. Kevin Strijbos; 20. Jordi Tixier.
250 CLASS
The Czech GP is held in a natural bowe, with lots of ups and downs.

KTM's Pauls Jonass came back to Loket to make up for the season ending crash that he had at this track in 2016. In the end, Pauls Jonass claimed the overall with a 2-1 result (Thomas Covington won the first moto, but fnished 10th in moto two).

Pauls Jonas has won 12 motos and finished second in 7 others. He has built up a 47-point leade on second place. There are six GPs to go.
Jeremy Seewer is second in the 250 World Championships and closing in on 23 years old—which means that he can't race the 250 class in 2018. No problem! Seewer already has a 450 deal for 2018 with Suzuki.
Thomas Covington won the first moto at Loket, but finished tenth in moto two for third overall. Covington won Mexican Grand Prix earlier this yearand has had a couple podium finishes, but is currently 6th in 250 GP points and four full motos behind Jonass in points.

Benoit Paturel (6) has a shot at finishing in the top three in the 250 World Championships. Benoit (pronounced Ben-Wah) is only 5 points behind Dane Thomas Kjer Olsen for third.

Jorge Prado was hand-picked by KTM to run up front with Pauls Jonass in the battle for the 250 World Title. Prado won the Italian Grand Prix, but is 280 points behind Jonass for the crown.

Brit Conrad Mewse has had a spotty 2017 season. His best moto finish was a third in Latvia, but he has failed to score points in 10 of 26 motos so far,

American Darian Sanayei missed two GPs with injuries, but was back in the Czech Republic and went 36-14 for 15th. Sanayei is 12th in GP points.

The 250 GP podium was Jeremy Seewer (left), Pauls Jonass and Thomas Covington (right).
250 RESULTS: GRAND PRIX OF CZECH REPUBLIC
1. Pauls Jonass (KTM)…2-25
2. Jeremy Seewer (Suz)…16-2
3. Thomas Covington (Hus)…25-11
4. Benoit Paturel (Yam)…15-20
5. Jorge Prado (KTM)…20-15
6. Brian Bogers (KTM)…14-18
7. Hunter Lawrence (Suz)…13-13
8. Thomas Kjer Olsen (Hus)…18-8
9. Marshall Weltin (Kaw)…10-10
10. Conrad Mewse (Hus)…11-9
Other notables: 11. Julien Lieber; 12. Jed Beaton; 14. Brian Hsu; 15. Darian Sanayei; 19. Brent Van doninck
FIM 250 WORLD CHAMPIONSHIP POINTS
(After 13 of 19 Rounds)
1. Pauls Jonass…548
2. Jeremy Seewer…501
3. Thomas Kjer Olsen…403
4. Benoit Paturel…398
5. Julien Lieber…374
6. Thomas Covington…339
7. Brian Bogers…273
8. Jorge Prado…268
9. Brent Van doninck…226
10. Hunter Lawrence…225
Other notables: 11. Michele Cervellin; 12. Darian Sanyei; 15. Ben Watson; 17. Conrad Mewse; 19. Samuele Bernardini.