GIANT RUSKIE GRAND PRIX PHOTO GALLERY
Click on images to enlarge
450 CLASS AT ORLYONOK
Photos by Massimo Zanzani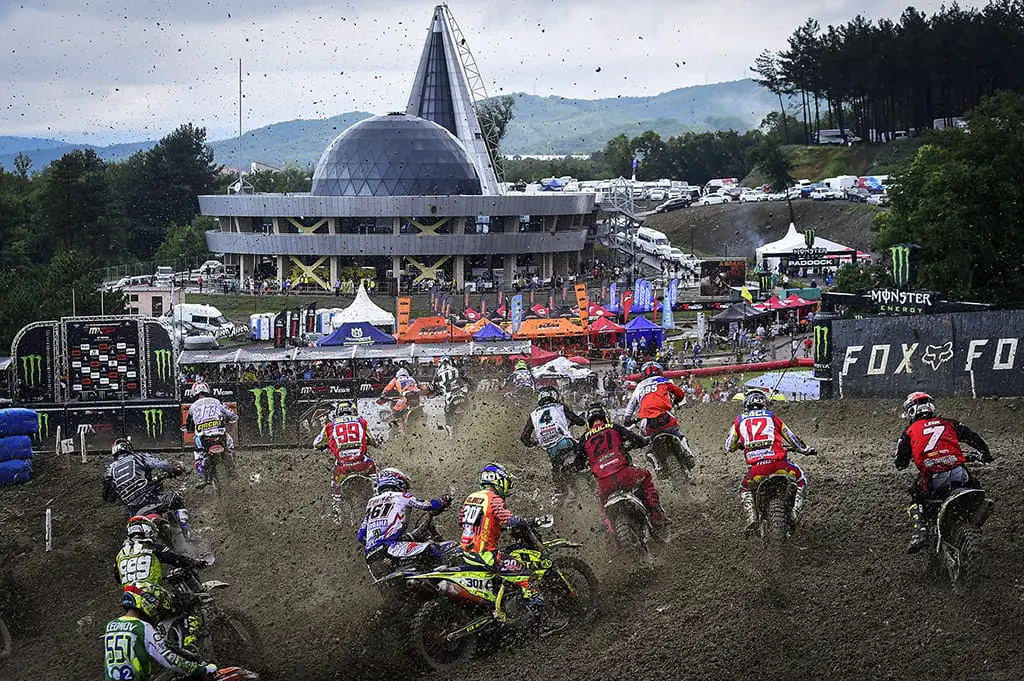 Tony Cairoli is in the lead, but Tanel Leok (7), Max Nagl (12), Gautier Paulin (21), Arnaud Tonus (4), Max Anstie (99) and Ken DeDycker (9) have a lot of work to do.

Kawasaki's Clement Desalle took his second straight Grand Prix victory with a 3-1 in the Russian mud. Desalle has narrowed the gap to leader Tony Cairoli to 47 points.

Jeffrey Herlings went 1-8, but that was still good enough for second overall in Orlyonok. Paulin is one point behind Desalle in the title chase.

Gautier Paulin, now on Husqvarna, was third overall in Russia and has taken over third in 450 GP points.
Tony Cairoli has a massive lead after the injury to Tim Gajser, so he doesn't have to risk anything on a muddy day. Tony went 2-9 for 5th, but leads Clement Desalle by 47 points.

Former 450 World Champion Romain Febvre struggled in the first moto to 10th, but came back in the second moto for a 2nd. Febvre is 139 points out of the lead after an eartly season injury.

Arnaud Tonus won Saturday's gate pick qualifier in the dry, but finished 7th on Sunday in the wet. Tonus in 10th in points

The soggy 450 podium —Jeffrey Herlings (left), Clement Desaale and Gautier Paulin.

RESULTS: 450 RUSSIAN GRAND PRIX
1. Clement Desalle…3-1
2. Jeffrey Herlings…1-8
3. Gautier Paulin…5-3
4. Max Anstie…4-5
6. Tony Cairoli…2-9
6. Romain Febvre…10-2
7. Arnaud Tonus…9-4
8. Arminas Jasikonis…7-7
9. Glenn Coldenhoff…11-6
10. Max Nagl…8-11
Other notables: 11. Alessandro Lupino; 12. Evgeny Bobryshev; 13. Ken De Dycker; 15. Rui Goncalves; 16. Evgeny Mikhaylov; 20. Damon Graulus.
250 CLASS AT ORLYONOK
There is nothing like deeply ripped mud and water on the charge to the first turn. Jeremy Seewer won this drag race.
Pauls Jonass has manhandled the 250 pack in 2017. He is 45 points ahead of Seewer, 97 points ahead of Olsen and 106 points ahead of Lieber.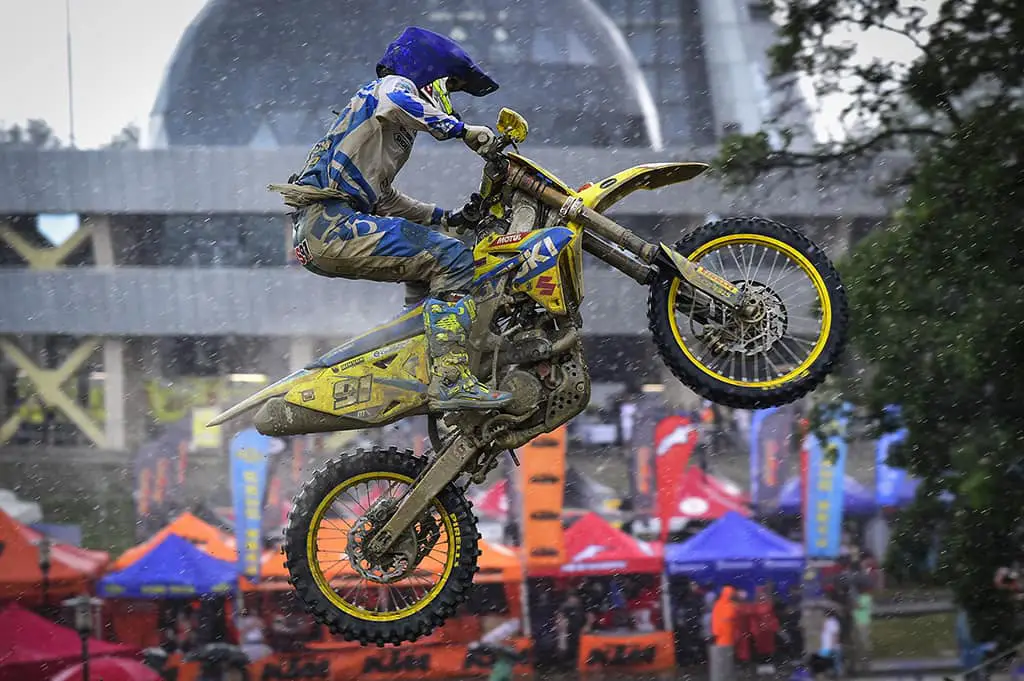 With the rain coming down Jeremy Seewer used a 7-1 for second overall in Russia.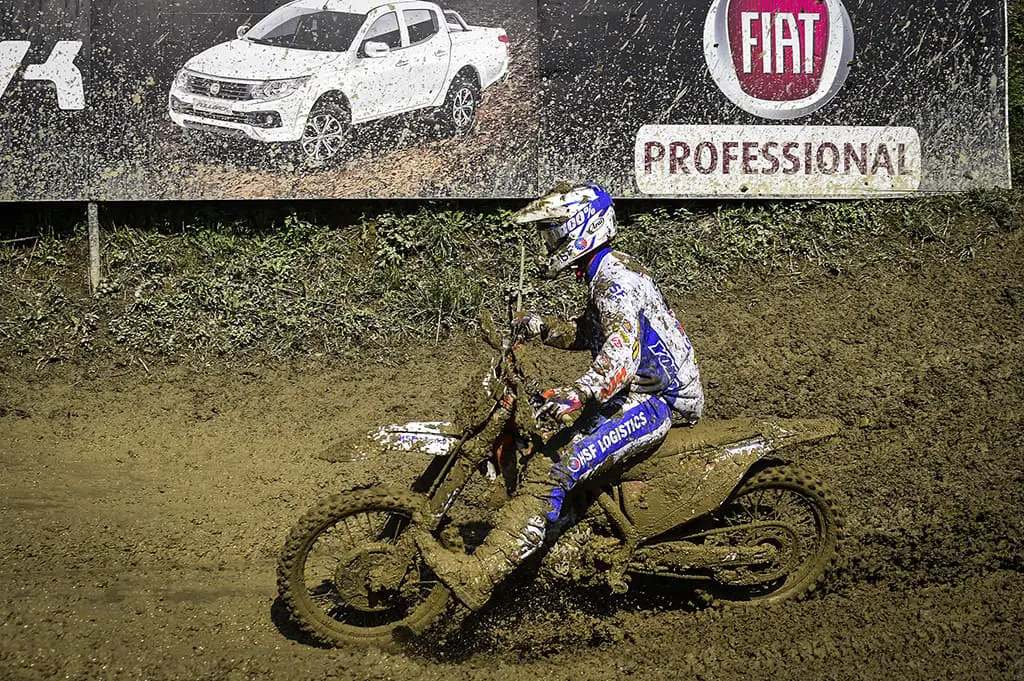 Brian Bogers is a sand specialist, but he's pretty good in the mud also. Boger's 6-2 gave him third overall and moved him into 9th in 250 Grand Prix points after 10 of 19 rounds.

French rider Benoit Paturel (6) Jet Skis through a low spot. Paturel had a 3rd in the first moto, but the mud magnets dragged him back to 12th in moto two.

Alvin Ostlund (161) wasn't bothered by the mud as he was a very consistent 8-6 for 5th overall.

A rare sight in Russia was the rider in clean gear. Julien Lieber went 11-5, but is 4th in the 250 World Championships.


Thoma Kjer-Olsen has been the hottest new rider on the 250 GP circuit. Olsen won the first moto, but crashed back to 20th in moto two

American Thmas Covington finished 14th overall, but still held on to 7th in 250 GP points. Covinton is 7 full motos behind points leader Pauls Jonass.

The 250 podium — Jeremy Seewer (left), Pauls Jonass and Brian Bogers.

RESULTS: 250 RUSSIAN GRAND PRIX
1. Pauls Jonass…2-3
2. Jeremy Seewer…7-1
3. Brian Bogers…6-2
4. Benoit Paturel…3-12
5. Alvin Ostlund…8-6
6. Hunter Lawrence…4-11
7. Julien Lieber…11-5
8. Thomas Kjer Olsen…1-20
9. Jorge Prado…15-4
10. Ben Watson…12-7
Other notables: 13. David Herbreteau; 14. Thomas Covington; 16. Conrad Mewse; 18. Darian Sanayei; 20. Michele Cervellin;  24. Petar Petrov.