GIUSEPPE LUONGO TRIES TO DEFLECT CRITICISM BY DOING SOMETHING NICE… NO, REALLY!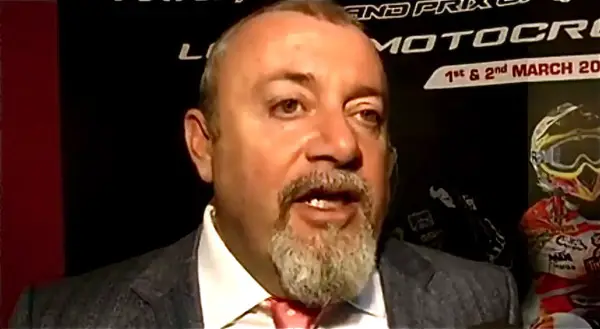 Giuseppe Luongo.
You have to give Giuseppe Luongo credit. No matter how much he has mucked up the World Motocross Championships, he just keeps throwing out ideas to see if anything sticks. There is no shortage of ideas ? just of good ones. His latest move is actually something fairly nice ? but nice is not his actual motive. Luongo will hold a tryout for the 2014 450 World Championship series at the British Grand Prix next month. During this tryout, if a rider can come within 110 percent of the average lap time to the top ten British GP qualifying times they will have the possibility of receiving a free entry to one or more GPs in 2014.
HERE IS HOW IT WORKS
On Saturday, August 24, two practice sessions will be organized at the British track. The hopeful riders will take part in one free practice session and one timed practice using a 450cc four-stroke bike under the same track conditions as the MX1 class.
The riders who are eligible to attempt to earn the free entry are limited to: (1) Riders who did not race a GP in 2013. (2) Riders who are not part of any officially approved Grand Prix teams. (3) All privateers of all nationalities (as long as they have and FIM Pro license). (4) Riders have to apply by e-mailing [email protected] with a resume of their last three year's results. Only 50 riders will be accepted.
How these categories are interpreted will make a big difference. Just because it says that a rider who hasn't ridden a GP in 2013 is eligible, doesn't mean that all riders who haven't ridden a GP are eligible because rule number 3 says "Privateers." Identifying a privateer could mean that no rider on any national team, like the British Maxxis Championship riders who race for a Honda, Yamaha, Suzuki or Kawasaki national team could would be allowed to race because they aren't "privateers." If you dropped every rider who had a deal, but wasn't a GP rider, there would be very slim pickings. It would eliminate all the French, German, British, Latvian, Irish, Estonian, Swedish, Canadian and American riders who have a bike-and-parts deal. Let's not put it past both Luongo and the archaic British ACU to make this whole publicity stunt pointless ? which is what Luongo actually wants. 
WHAT IS THE CATCH?
There is no catch, apart from elephant in the room about who gets accepted and who gets rejected, but Luongo's motive is, in our opinion, not to find fresh new talent. In fact, Giuseppe Luongo has claimed recently that there are no other riders in the world capable of riding fast enough to enter the FIM 450 World Championship ? except for the riders who are already riding it. Of course, he doesn't want to give away free entries, and it is very unclear about whether a rider who gets within 110 percent gets one free entry, two free entries or a full series worth of free entries. What Luongo most likely hopes for is that a bunch of local yokels come out and do lap times that are 30 seconds a lap slower than the GP top ten. He thinks this will stop his critics from making fun of the 450 World Championships for having trouble filling a starting gate.
We will have to wait and see what happens…and whether or not actually he lets anyone get a free ride.