"GIVE AN INCH, THEY TAKE A MILE" -SHANE MCELRATH TALKS ON 450 SUPERCROSS RACING
"GIVE AN INCH, THEY TAKE A MILE" -SHANE MCELRATH GETTING THE FULL 450 EXPERIENCE
After two Rounds of the 2022 Monster Energy Supercross season, Shane McElrath is in full student-mode learning the lay of the land in the 450 class. No, he's not a 450SX Rookie, but after only racing two 450 Supercross Main Events in 2021 and dealing with pre-season shoulder injury and a mid-season back injury, Shane was off the bike for most of 2021. Thankfully, Forrest Butler of Rocky Mountain KTM believed in Shane and signed him for the 2022 season. After riding for Star Racing Yamaha in 2020 (scoring 2nd in the 250SX East standings and 3rd in the 250MX National standings) and MotoConcepts Honda in 2021 (only racing three events), Shane is back on KTM, the same brand he rode for with Troy Lee Designs through the 2019 season. Shane McElrath currently has 18th and 14th place finishes in the Main Events so far, but his starts have been near perfect and, as he explains, he's been learning valuable lessons quickly. Read our interview with Shane below, or click the link to listen to the podcast version of our talk with him. 
GREAT JOB RUNNING UP FRONT AT THE FIRST TWO ROUNDS, HOW DOES IT FEEL? First off, thank you. We got the starts dialed. We have Jamie from Twisted Development doing our engines and tuning our engines and I feel like we're pretty dialed engine wise. We had to back the power off a little bit just 'cause he built it fast and I wanted it more rideable. It's been really good. Starts have been good. I know I'm a good starter, I know that I am lacking some experience and like you said this is technically my rookie year, so I came into A1 healthy and that was my main goal. I was excited to be there and it took me about half the day to actually focus on the race. I'm excited, I'm healthy and I've been getting good starts and that's gonna really just help me help me to gain that experience. 
I've not been ready for the first like 6 laps in these races. It's like nothing I've ever experienced before, there's definitely a lot going on out there. It's taken some time and I'm kind of ok with it. But it's nice to see we're making progress. I'm continuing to learn the 450. It's quite a bit different than the 250 and it's a big change. 
Shane ran up front early in the 450 Main Event at Anaheim 1, but ultimately finished 18th. 
WHAT'S DIFFERENT ABOUT THE 450 CLASS COMPARED TO THE 250 RANKS? Just the depth of the field. I've raced most of the guys before. Some of them, my rookie year was their last year in the 250 class and some of them I actually didn't get to race. It's their experience and their race craft. The crazy thing is like, it sounds weird, but it's not all about speed like in the beginning. You have to be so smart, it's like playing chess and I've never really played chess, so that's what is hard.
Everybody is different in that class, but everybody has their own race craft has their own choices that they make out there and the choices in the 450 class don't seem to be the same choices that were in the 250 class, so that's where I'm like, "ok, how do how do I race in front of and behind me at the same time?" Because there is literally no break. I get held up in a corner when somebody runs me high, and I lose just enough time for somebody else to be right on me. And I'm like "Dude, I don't know whether to guard the inside in the next corner or not." There's a lot going on and it's a I'm trying to learn and handle it the best I can in the moment, but it's like, what do I do?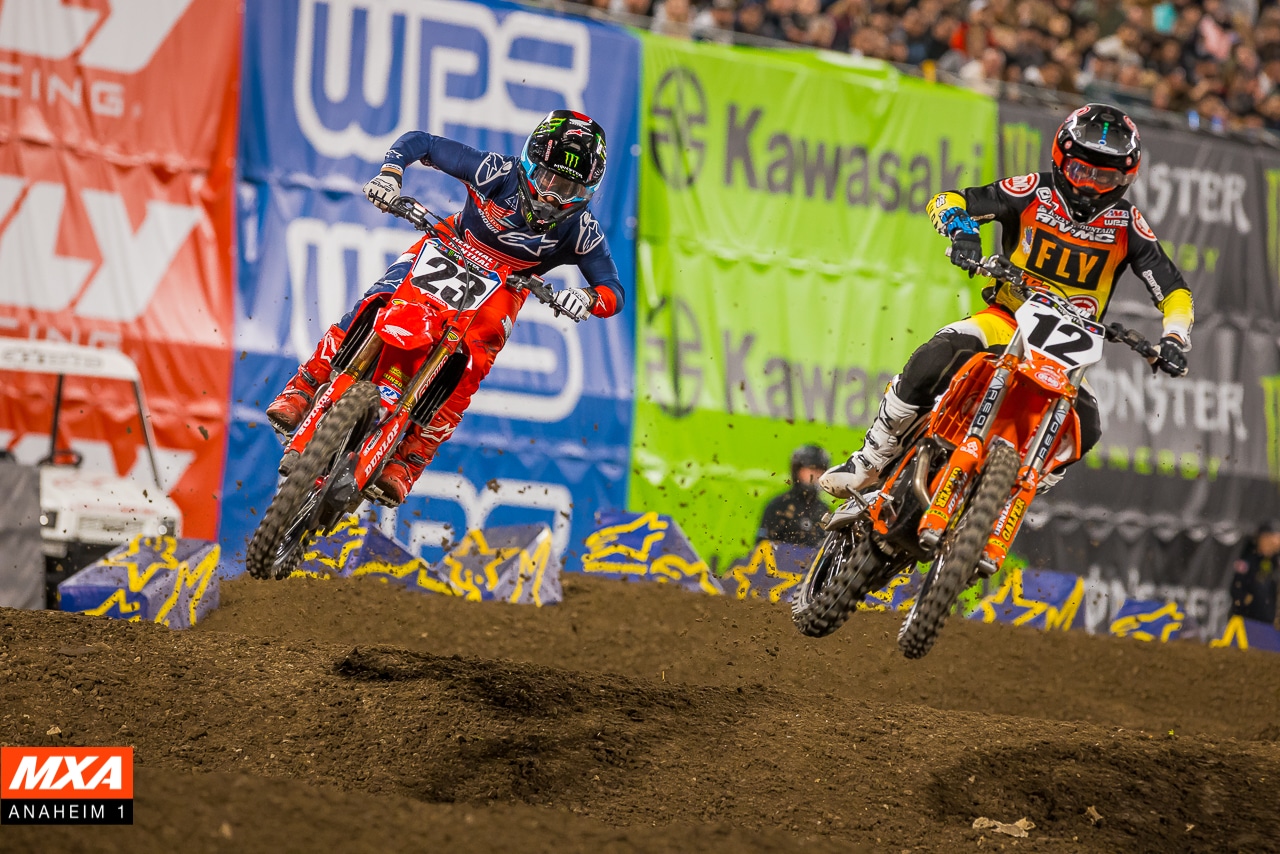 In his first 450 Heat race of 2021 Shane grabbed the holeshot and finished second to Chase Sexton.
ARE THEY MORE AGGRESSIVE IN THE 450 CLASS? Honestly, it's almost kind of the saying "give them an inch and they take a mile." If there's a sliver of an opportunity for anybody out there, they're on that opportunity. And it's like it almost doesn't matter if it screws up the whole next rhythm. If there's an opportunity for somebody to pass me, it seems like they take it with no regard of the next section or what that's going to entail, and so that's where I'm like, coming from the 250s, at times you're worried about doing the rhythms. 
It's almost like so in my head like just after the last two races it's like there's zero care about what the next section is. If someone is just going to come in and shut the whole rhythm down just to get by you, and that's where I'm like, it almost doesn't really make sense 'cause I'm trying to race, but it's almost like a cat and mouse game, especially early on when everybody is together. 
Shane with his new mechanic Dalton Keeven during track walk at Anaheim. 
DOES THE EXTRA POWER OF A 450 AFFECT THE BATTLES YOU'RE HAVING? Yeah, on the 450, powerwise it's super easy to ride normal. It takes zero effort to do any of the jumps or do any of the rhythms and that's where it's hard because you're trying to be intense about it, but then you're going far, you're over jumping stuff and your timing is all off.
I'm getting used to being that aggressive, and now you're racing guys trying to manage the bike, trying to make sure your timing is on and that's like last weekend at Anaheim 1, I boosted that quad before the finish, and I don't know why. I just felt like I hit it the same that time, as I did the lap before in the laps after, and I just went long. I haven't quite figured it out. It catches me off guard because I don't feel like I'm going long until you start coming down and you're like "Oh no I'm a little long" and you really don't have time to set up for it either. I learned a lot in the offseason but now racing the last two weekends, it's like, "Alright, just keep throwing it at me" because I'm just trying to soak it all up. 
HOW ARE 250 RIDERS ABLE TO PUT DOWN LAP TIMES COMPARABLE AND SOMETIMES FASTER THAN THE 450s? I've always kind of wondered why it was like that, and there's been times where I've qualified faster than the 450s, and now being out there on the 450, it's honestly a track thing because there's no time we go out on the track where the track is in decent shape. We're always at the tail end. At Anaheim, I was in the first Heat race and this weekend I was in the second Heat race and even the difference between those two is like a big deal. Whereas like when you're the first Heat of the 250 class, you can go wherever you want, the track is so much fun because that's the ideal Supercross track and now you have all these rhythms to learn with all these ruts that are a little bit different, and so it's a whole another step of change that I've really never encountered before. So that's I would say that's probably the biggest thing. 

Shane improved his 18th at Round 1 to a 14 at Oakland. We expect him to continue improving as he gets comfortable in the 450 class.

HOW COME NOBODY CAN CUT DOWN IN THE TURNS AND STAY LOW LIKE COOPER WEBB DOES? I mean, for me it's not something we ever really practice. As racers we practice momentum and speed and going up the berm and stopping and cutting down, that's not a category to work on, so it's honestly more of a race scenario situation and so that's kind of another new thing I'm learning. When I'm out there and I'm kind of pacing myself with the other guys, I'm doing similar lap times at times taking these lines where I'm almost stopping in the corner just to some of the hit a clean face or something so it's a little bit deceiving because when we get to the Main Event, any even Forrest Butler, my team manager this weekend he was like "Whatever you do, separate the Main Event tonight, for the first 10 minutes the track's going to be one way, the next 10 minutes is going to be a completely different race." 
Shane McElrath only raced two 450SX Main Events in 2021 for the MotoConcepts team. At the first race at Orlando, he grabbed the holeshot in his Heat race and held off Eli Tomac for most of the race. Unfortunately, his back injury cut his season short. 
AFTER YOUR INJURIES LAST YEAR, HOW IS YOUR BODY DOING NOW? ARE YOU ALL HEALTHY? My body is actually doing really well, that's what was kind of good about last year. I got a full offseason in, making it to A1 healthy, ready to race was goal number one and I got sick right after Christmas, so I really didn't get to ride much after Christmas until A1. Physically, I was fine, mentally I was having a hard time with not really getting much riding time and not racing in a year. I understand that I'm lacking experience and I'm OK with that and it was more so being OK with it. Going back to my start, I just had to tell myself, I have a lot of learning to do and in order to learn, I have to give myself a shot to learn. So I was like, I don't care what happens after the start, but I'm making sure I do a good start to put myself in a position to try and that's been my number one goal.  
We're continuing to learn with the bike, but I know I can get a good start and I'm just telling myself, "don't be afraid to get a good start" and so that's really kind of what I've went back to just because there's a lot that I am lacking and a lot that I'm working on. I'm trying to learn each race, give myself the opportunity to take in more, take in more, take in more and that's, for me, that's a win in itself. 
WHAT WAS IT LIKE RACING A1 AFTER PRACTICALLY MISSING A FULL YEAR OF RACING? Mentally I was not there the first half of the day at A1. I'm just like dude, I'm here, I don't know what else to do. And so I made it through that race and it was right after the main I was like, "that's done with had a good start did alright for a couple laps, but we got work to do, let's do it." This weekend was a good step, but again, it's like right after the race, you know there were a lot of positives, but let's get back to work. I'm ready to continue making progress.  
In 2020, Shane battled Chase Sexton (1) for the 250 East Coast title.
YOU'VE WON ANAHEIM 1 MULTIPLE TIMES IN THE 250 CLASS, WAS THAT ON YOUR MIND LAST WEEKEND? Normally I guess in years past for the 250 class, my mindset has been that you have to start the first round good because you only have five or six races and then a break and eight or nine races total. This time, after leaving A1 it was like, I've got 16 rounds left and I'm ready and so that's where it was exciting and encouraging, because it's technically my rookie year and I have high expectations of myself, but I also have some very attainable goals that we're going to keep working towards and that's really all I'm all I'm looking to do. 
IS THE TEAM PUTTING PRESSURE ON YOU? I mean Forrest told me this weekend, after the race, he's like, "Dude, you just need to believe in yourself. Believe that you're one of those guys because you are. You don't start up there consistently and not be one of those guys. He told me a few times "You're on this team because I've seen what you can do, I believe in you, I want you on this team and that's why you're here." Between Forrest and Seth Rarick who's our trainer and Dillon, who is kind of like our team manager, they're all workhorses. Whatever we gotta do to figure stuff out, we'll do it.