GLEN HELEN THROUGH DEBBI TAMIETTI'S VIEWFINDER
Josh Grant (33), Jason Anderson (21) and Christophe Pourcel (377) watch the 250 class while waiting behind the gate.
Cooper Webb (17) powered through the 250 pack in the first moto to take the win. Unfortunately, his 1-4 was only good enough to tie Jeremy Martin's 4-1 — which meant that both Cooper and Jeremy lost to Alex Martin's 2-2
Broc Tickle (20) pursues Trey Canard through the finish line double-double section. Trey would go 7-4 for 5th, while Broc had an 8-013 day for 8th.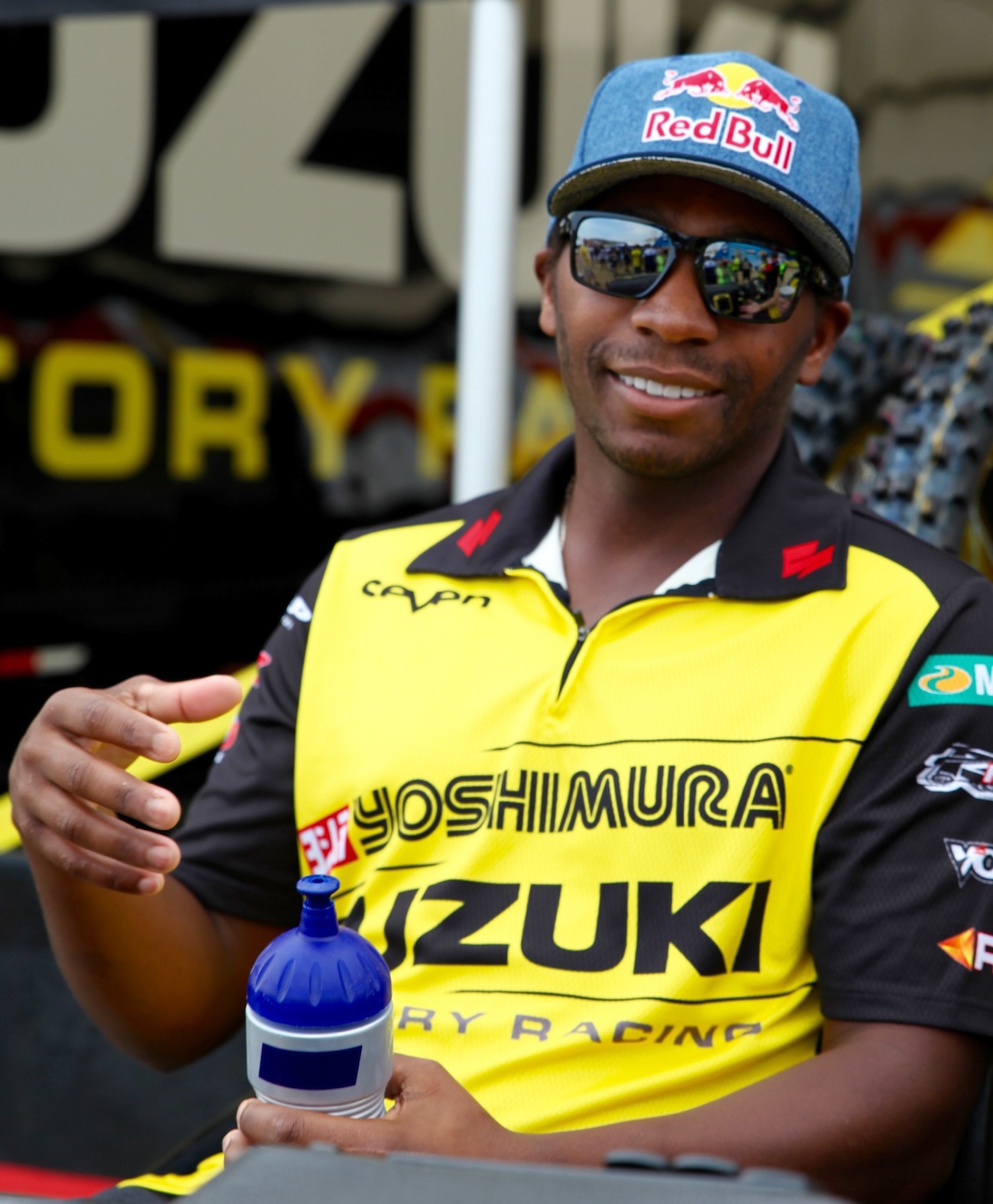 You gotta give James Stewart credit, he showed up at Glen Helen with all intentions of racing with his injured shoulder. But after few laps of Glen Helen's brutal terrain, he pulled into the pits and hung up his helmet.
Austin Forkner (214) is Mitch Payton's new "Wonder Boy," even though he still has the previous "Next Big Thing" (Adam Cianciarulo) on his team. Forkner went 3-5 to miss the 250 podium by one spot. Tristan Charboneau (403) got the call from Geico to move up to the big boys—which also meant the big bumps. Charboneau went 7-30.
Glen Helen is the track where Jeremy Martin (1) served notice in 2014 that he was the real deal. Jeremy ran away from this year's pack in the second moto, but his first moto 4th killed his victory chances.
We don't know what prankster flew the Australian flag upside down, but most Americans wouldn't know the difference.
Eli Tomac says things are getting better at Kawasaki, but he means better in relationship to this year's KX450F, not last year's CRF450. Remember, in 2015 Tomac was unbeatable…for 5 straight motos. He's a solid third, but needs a boost to get up to Roczen and Dungey.
Glen Helen's first turn is taller, wider and higher than it looks in photos. Suffice it to say that you could not walk or even crawl up it, and you need  speed to keep your bike plastered to the wall.
An air fork failure had to cost someone a win eventually. The unlucky victim of lost air was Ken Roczen in moto one. Even worse Kenny had a 13-second lead on Dungey—only to end up fourth instead of first. As most amateur racers know—springs don't go flat.
Ryan Dungey didn't have the pace of Ken Roczen this week, but his forks didn't go flat. Chalk one up for WP.
Here is the "glow photo" of the Glen Helen National. Jessy Nelson's TLD KTM and gear catch the sun's rays just right. Nelson ended up 6th, but he was on the podium in the second moto with a 13-3 day.
Canard (41), Dungey (1) and Barcia (51) hit the step-up in the middle of the Shoei Hill climb. Musquin (25), Roczen (94), Tomac (3) and Seely give chase.
The "Andrew Short Farewell Tour" hasn't been getting the kind of attention it deserves. This is Andrew's final year and thus the last chance for spectators at Glen Helen, Thunder Valley, Mt. Morris, Red Bud and the other tracks to see him race. Let's show Shorty some love.
Don't let Alex Martin's 2-2 score make you think he lucked into the first AMA 250 National win of his career. He earned it by manhandling the competition, beating both moto winners in their other motos and by making passes when they counted.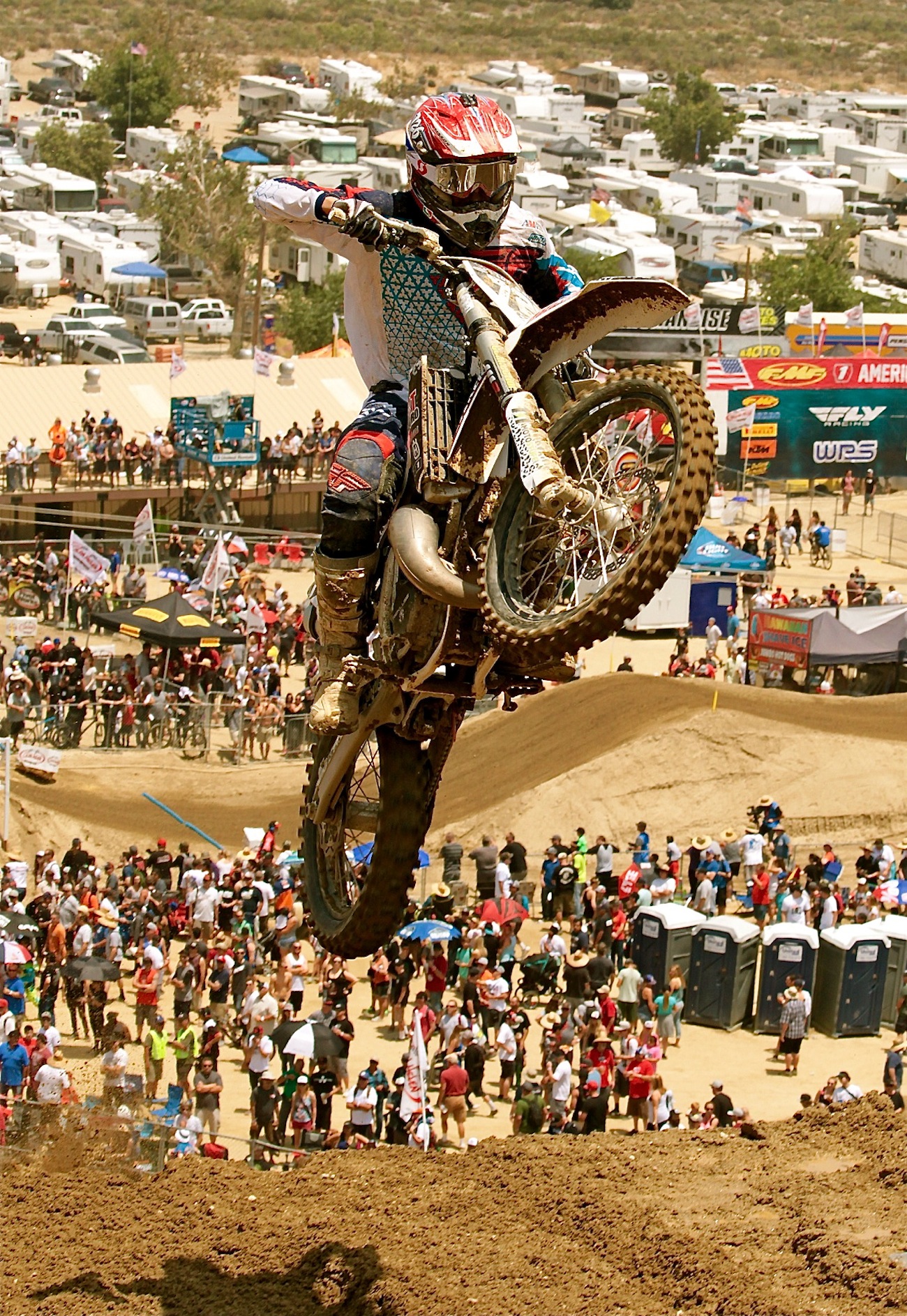 Every SoCal racers know that there couldn't be a worse race track to choose to race a Husky TC125 at than Glen Helen. With its long, deeply ripped, fifth gear start, followed by absolutely massive hill climbs and the infamous muddy straight (this year a muddy curve) it turns 125 two-strokes in 93cc weaklings. And now, Gared Steinke knows this.
Austin Forker gets flat at Glen Helen. No, not his forks, but his whole KX250F—forks and all.