GLEN HELEN THURSDAY PRACTICE PHOTO GALLEY
Vince Friese is back on the bike after suffering from an ACL injury during Supercross.
Glen Helen Thursdays are always on the radar for anyone visiting Southern California for a motocross vacation. Sometimes there are more factory Pro riders than others, but no matter what time of the year, there is always someone fast at Glen Helen on a Thursday. We met young photographer Trevor Nelson out at Glen Helen recently and we've been watching him gain more and more photo experience as he spends hours on end taking photos in between his own riding. Trevor has also been very generous to share his photos with the MXA crew and many other riders. This week we asked Trevor to send us his best shots so we could compile together a gallery for our loyal viewers enjoy.
Garrett Marchbanks was out putting in laps on his Pro Circuit Kawasaki with his trainer Ivan Tedesco on hand to make sure his lap times were on par. 
MXA's Assistant Editor, Josh Mosiman was testing 2020 bikes and gear on Thursday. The only thing he didn't change throughout the day was his orange 6D Helmet. 
MXA test rider, Brain Medeiros put some time in on multiple bikes as well. Here he's on the 2020 Kawasaki KX450.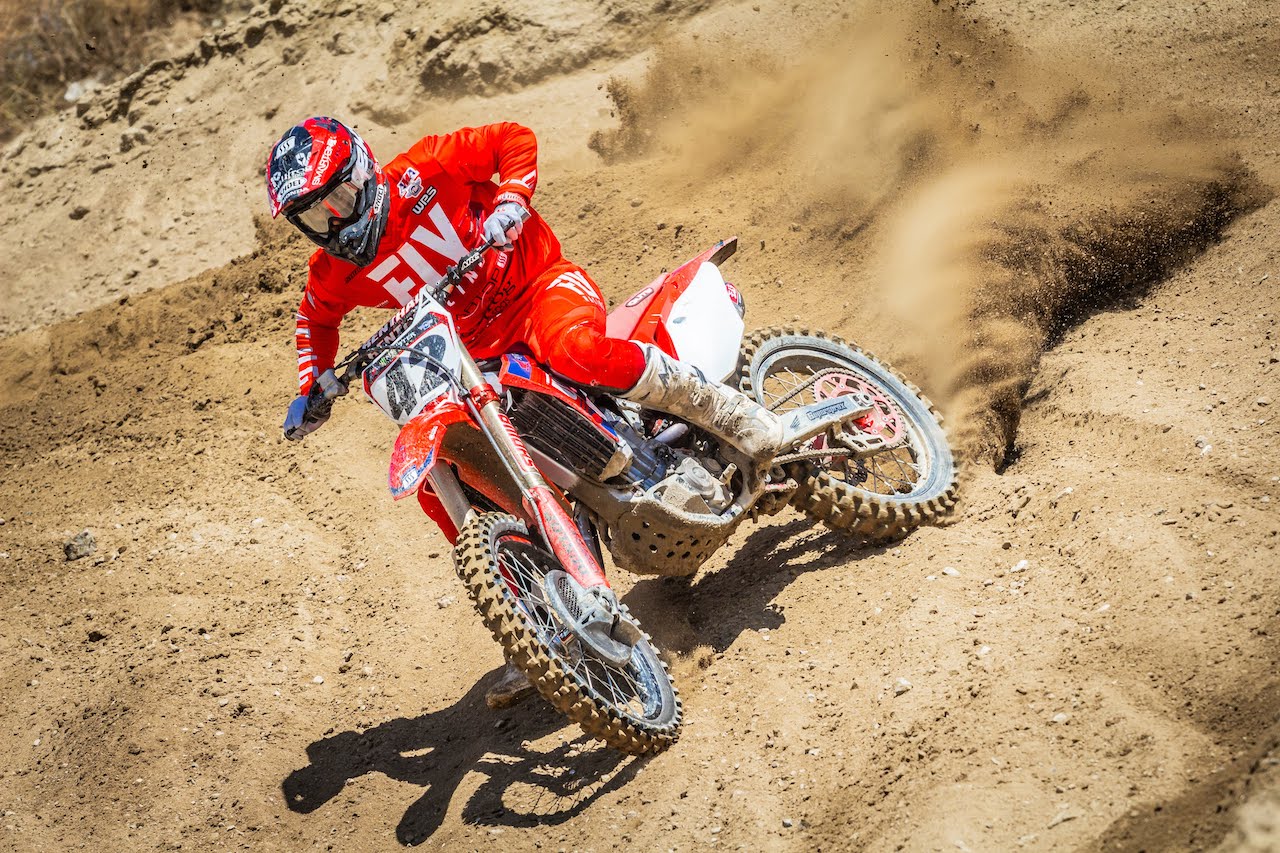 Vince Friese slides around a new corner on the main track. 
Josh Mosiman, Brain Medeiros and Daryl Ecklund debating on which corner would look good for photos.
Swiss native, Killian Auberson was putting in laps also.
Garrett Marchbanks has some fun in-between his Motos. 
Carson Carr throws a big opposite whip off the hip jump.
Tallon Lafountaine riding on his SLR Honda CRF450. Tallon has been racing the Worcs and Big Six off-road races this year.
Adam Enticknap was getting some outdoor riding in.
Garrett Marchbanks finished 9th overall at the Unadilla National last weekend.
Alex Ray making dust on his Suzuki RM-Z250.
Brian Medeiros charging on the 2020 Kawasaki KX450.
Australian rider, Tyler McCoy leans off the bike with style.
Josh Mosiman on the 2020 Honda CRF450.
Tallon Lafountaine leans into a nice berm.
Privateer rider Grant Wall rides under the TPJ racing team at the Nationals. TPJ stands for "The Privateer Journey" and they provide a great experience for privateer riders at the Pro races. Most importantly, they transport the bikes and parts to the races while the rider pays the team a flat rate per-race or for the season.

South African rider Bradley Lionnet slides the rear end around in the dust at the end of the day.

Brian Medeiros stretches out a new jump that him and Josh found. They were clearing over the turning table top that leads onto the start straightaway. It wasn't faster, but it was something different and it was fun!
Brain also put time in on the 2020 Husqvarna FC250.
Josh Kaller throws some dirt as well.
Josh leans the 2020 Kawasaki KX450 down low.
Tallon Lafountaine.