GLEN HELEN THURSDAY PRACTICE TO HAVE TWO SPECIAL 40-MINUTE SESSIONS FOR AMA PRO AND USGP RIDERS: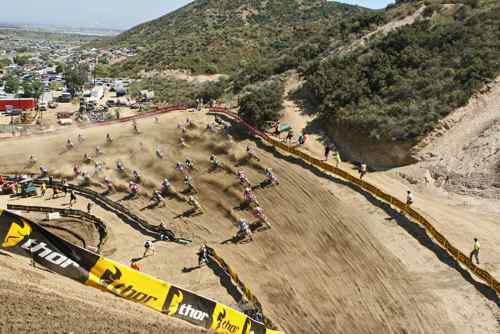 Glen Helen will have special practice sessions for AMA Pro riders this Thursday. Following last weeks run-ins between Pro riders and local amateurs, Glen Helen has decided to isolate the Pro riders into two 40-minute sessions (although most locals are willing to bet that the Pros will go out in the amateur sessions anyway).
Glen Helen is open for practice from 8am to dusk every Thursday, but starting this Thursday, May 13th, in consideration of the large number of Pro riders preparing for the $26,000 MTA World Four-Stroke Championship on Sunday, the Hangtown 250/450 National next Saturday, May 22, and the United States Grand Prix on May 29-30 at Glen Helen, the track has added two special Pro practice sessions. The scheduled times for these special practices will be from 10:00 am to 10:40 am and 12:00 noon to 12:40 pm.
With each passing week the Glen Helen track is being transformed into the USGP track, last week it was just the bare bones lay-of-the-land layout. This week several new sections have been added (and by Sunday's big Pro purse race the track will be changed again). With each day the track crew, led by Karl Scanlon, will be making changes to build what would-have-been the AMA National track?and is now the USGP track.
If you are an amateur or vet racer, be sure to show up early so that you can ride from 8am to 10:00 am (then watch the pros ride for 40 minutes before going back out from 10:40 until 12 noon). After 12:40 the track will be open to all riders.
For more information please go to www.glenhelen.com or call (909)880-3090.