GLEN HELEN'S "PRO THURSDAY" IS MIX & MATCH

Click on images to enlarge
Photos by Jody Weisel
Ken Roczen was doing suspension testing on his RCH Suzuki. He would do two laps and then come in and talk to his crew for 45 minutes, then do two more laps…it was excruciating to watch Kenny work through each setting.
Glen Helen's "Pro Thursday" is not limited to Pros. It is a mix of young kids, Vets, old timers and factory riders—all on the track at the same time. And this week, you could add in the extra spice of a field divided evenly between two-strokes and four-strokes.
You would think that the AMA Pros would be upset with the moving roadblocks in their way, but they look at it as good passing opportunities and chance to worked on their lapping strategies. Eventually the sheer number of AMA Pros overwhelms the slower riders and they pull off to watch the stars in action—as opposed to being in the middle of it. On the whole, the factory stars are good neighbors and play nice with the slower riders. They give them room—partially out of respect and partially out of the fact that they have more to lose in a collision than almost anyone on the track. It would be hard to explain to your boss that you broke your arm because you didn't want to give the corner up to a fat guy on a 2006 CRF450. Thus, factory riders are Princes on "Pro Thursday."
However, the lower rank Pros and wanna-be Pros are anxious to show everybody how fast they are by whipping their rear wheel next to a 40-year-old accountant from Pacoima. What they really show is how far they have to come to be taken seriously.
It's all part of "Pro Thursday." Come with MXA to see what it was like this Thursday.


"Pro Thursday" was the first time anyone got to put tire tracks on the 2016 World Two-Stroke track. Its wildest feature is that it goes backwards. Above is a photo of the Shoei uphill, the one with the double in the middle of it, except that now it is a challenging downhill with three steep drops.
There is no Supercross this weekend so the factory teams were taking the opportunity to do outdoor testing for the AMA Nationals. Jason Anderson (21) has done thousands of laps at Glen Helen, but this year he could just have what it takes to win the 450 crown.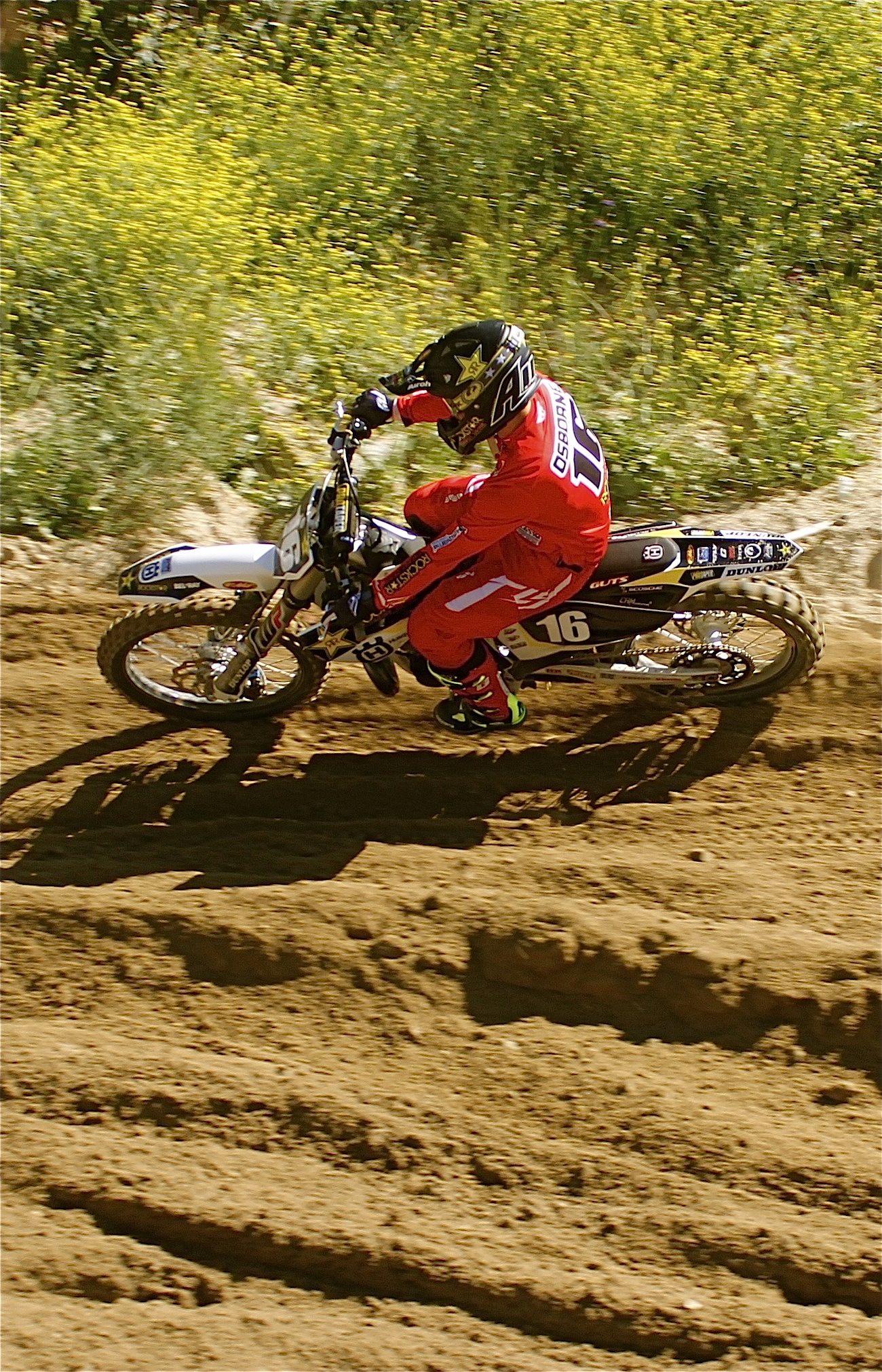 Zach Osborne plans to race the World Two-Stroke Championship on Saturday. Zach has been splitting his time between his FC250 four-stroke and TC250 two-stroke, but on "Pro Thursday" he was all smoker, all the time.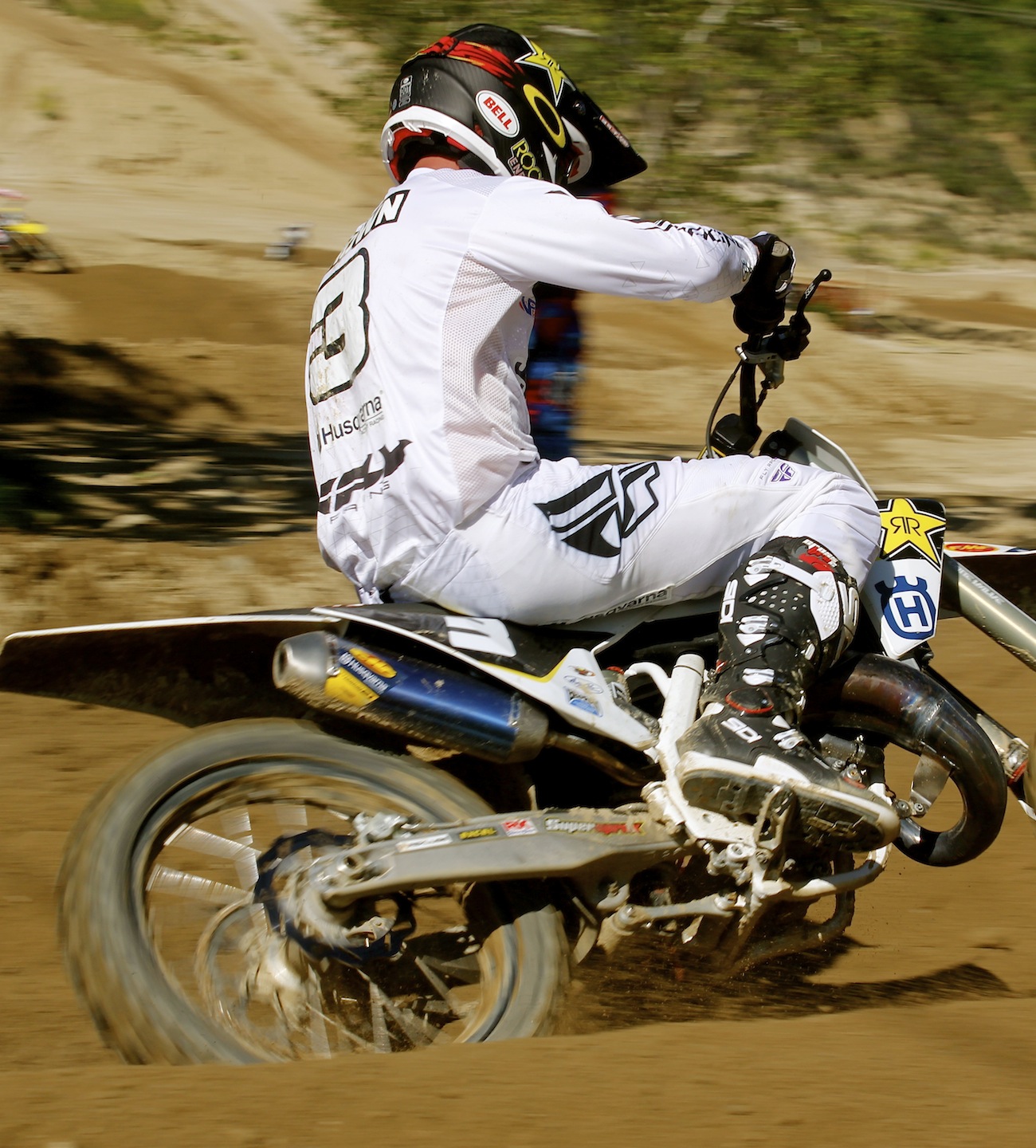 Former 125 National Champion Mike Brown says that he wants to enjoy the 2016 season by racing all the events he missed during his career—so he's signed up to race the 125 Pro class at the World Two-Stroke Championship, the Mammoth Mountain Motocross and the 2016 World Vet Championship.
The MXA wrecking crew was out testing our brand-new project 2007 KX250 two-stroke. Yes, we know that the 2007 Kawasaki KX250 was one of the worst bikes ever made, but we thought we could sneak up on it was fancy graphics and ten-year-newer suspension.
Fredrik Noren (43)  is all about the AMA Nationals. He pulled out of Supercross to focus on getting ready for the May 21 start at Hangtown.
Last week Colton Haacker won the FIM World SuperEnduro Championship in Spain. This week he's at Glen Helen getting ready for the World Two-Stroke Championship. Don't count Colton out—he finished second in the smoking section last year.
Husqvarna is sending a boatload of riders to the 2016 World Two-Stroke Championships—including Colton Haacker, Mike Brown, Zach Osborne, Austin Howell and Timmy Weigandt. Here, Tim Weigandt and Andy Jefferson watch their riders from up on the highlands that overlook the track. Weigandt may be the Husky team manager, but he's going to race also.
Austin Howell won the World Two-Stroke Championship back in 2010. He hopes to repeat in 2016.