GLEN HELEN'S "UN-RACE 2.0" DRAWS A BIG CROWD
Click on images to enlarge.
This is an awesome roost shot, made all the more awesome because Jon Ortner isn't on his normal YZ450F, but a YZ250F. Photo: Dan Alamangos
REM motocross racers are a strange lot. They are incredibly loyal to their race organization, they like each other, they share whatever they have and they want to race more than anything else in life. In fact, they want to race so much that when REM took a two-week break from racing in the dead of Summer, a hearty band of REM guys talked Glen Helen general manager Lori Wilson into prepping the race track, on the contingency that the racers would water it and guarantee a turnout. They called it the "Un-Race," because it was just a typical practice day, but for REM motocross racers only.
Broc Armbruster tried out MXA's 2017 KTM 450SXF and liked it so much that he didn't want to give it back. Photo: Dan Alamangos
The "Un-Race" was unique, not just because it was done to allow REM motocross racers a chance to ride on their favorite track, with their friends, at their own pace, but because Glen Helen does not prep the REM track for practice days—just the USGP track. This was a special perk for REM guys.
Justin Jones worked for Davi Millsaps' team during the Canadian Nationals. The ISDE Gold Medalist and Baja winner was glad to be home. Photo: Dan Alamangos
On the first Saturday of REM's two-week Summer break, the "Un-Race" was handled by word of mouth. The "Un-Organizers" emailed their friends and told them that the REM track would be prepped on Saturday—even though there was no race. But, that they should all meet there to ride. Those friends told their friends and 50 REM motocross racers showed up.
Frank Emerson races REM every week on his twin-shock, air-cooled, 1975 Husqvarna 500CR —He came to the "Un-Race 2.0" to embarass guys on new bikes. Photo: Dan Alamangos
It was not in the plans to hold a second "Un-Race." But Lori Wilson asked Jody Weisel if the REM guys would like to do it again. So, "Un-Race 2.0" was scheduled. Jody went to Glen Helen's REM track on Friday to meet with Cat operator John Allen to make a few changes to the track layout. Surprisingly, the changes were made just to make the track easier to water—with a focus on not leaving the REM stadium section and running the track as close to fire hose stations as possible.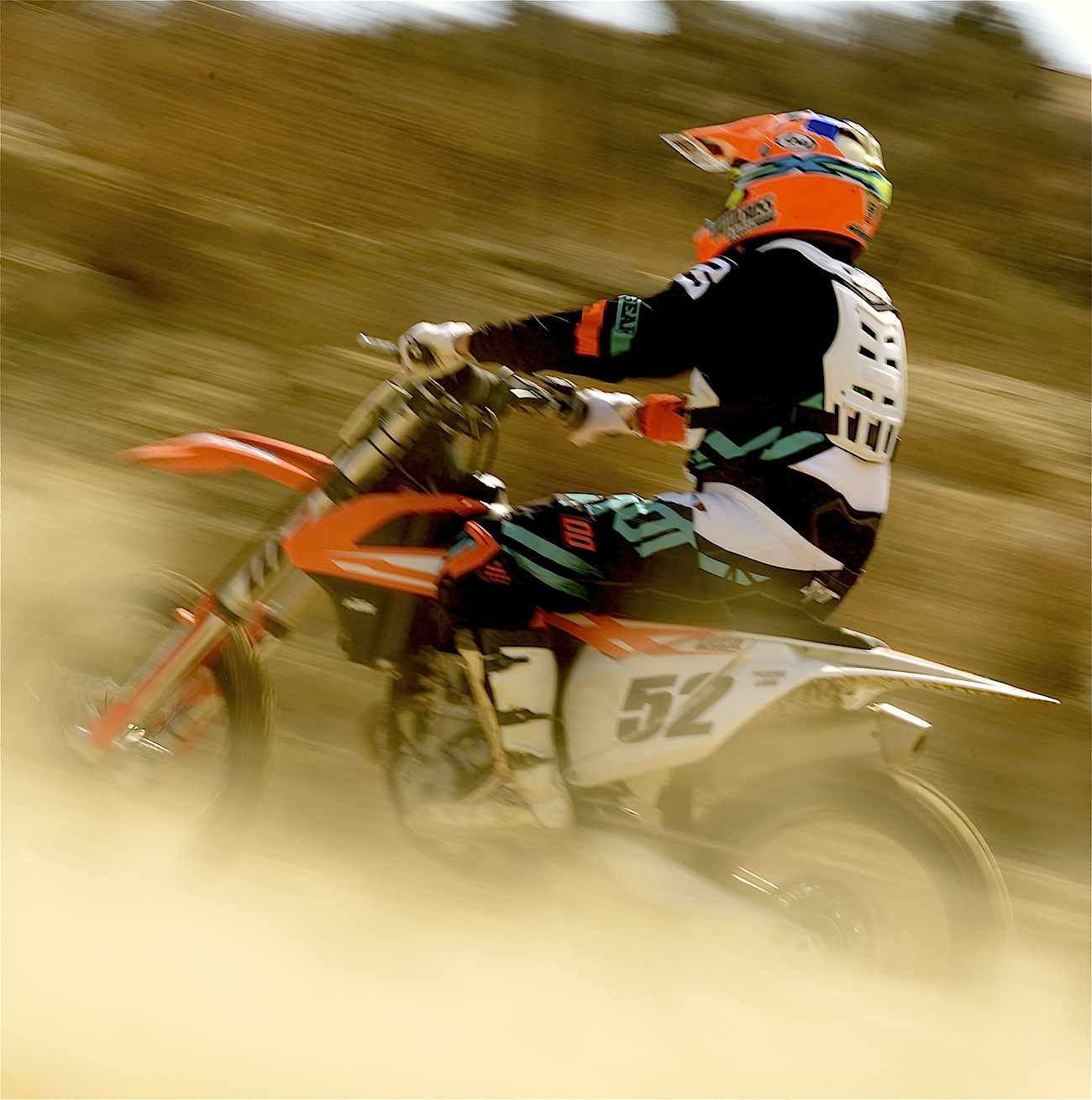 There was one 50-foot section on the uphill where the fire hoses could not reach. Jody Weisel glides through it on a cloud…of dust. Photo: Dan Alamangos
REM racers owe a thanks to Randy Skinner, Bob Rutten, Dan Alamangos, Josh Fout, Marc Crosby, Robert Pocius, Mic Rodgers, Chris Alamangos, Kent Reed, Kordel Caro and others for manning the fire hoses during the day. The track changes allowed everyone in the pits to be able to see 100% of the track and for almost 100% of the track to be watered by fire hose (by experienced racers, but inexperienced fire hose operators). Although, the track didn't use any of the back canyon or the section on the back side of Mt. Whitney, lap times were still at 1 minutes, 30 seconds.
Kordel Caro got his Arenacross points last year and prepped for the 250 Supercross West all winter, only to break his arm just before the Supercross season started. Now he's preparing for the 2017 Supercross season. Photo: Dan Alamangosv
There were more than a few REM motocrossers who were left out of the loop last Saturday for the first "Un-Race." No one called or emailed them. Their feelings were hurt, so they were sure to keep checking with their buddies to make sure that they weren't left out this week. The result? Twice as many motocross guys showed up for "Un-Race 2.0."
When this mini racer fell on the Mt. Whitney uphill, Will Harper stopped at the top and walked down to help the kid pick his bike up and get going again. When the kid saw Will coming down from the top of the hill he took off running at full speed. Photo: Dan Alamangos
The hard-working racers had the track watered and ready to be ridden on by 8:00 a.m. and the crowd arrived by 9:00 a.m. ready to ride. Since it was a casual, unorganized, ride day and not a official REM race — of which there are 40 a year — the riders could use the track to work on their suspension set-up or just to get in shape. Many took the opportunity to ride their buddy's bikes to see how the other side lived. All in all it was nice to have a competitive group of hardcore racers, who live to race, spend some relaxed time together without the need to be on the starting line at an appointed time. It was cool—and the fact that it wasn't 100-degrees for the first time in a month, made it all the cooler.
Josh Fout styles his way past the lower pits. Photo: Dan Alamangos
The "Un-Race 2.0" was not affiliated with REM in anyway, apart from the fact that it was on their track and every rider was an REM regular. It was hosted by Glen Helen —even though they were running their own Saturday practice on the USGP track.

You just knew this was going to happen when you had racers manning the fire hoses. They couldn't resist hosing down their buddies. Here, Marc Crosby gets a shower. Photo: Dan Alamangos
It was nice of Glen Helen to help the gang that races at their track 40 times a year, by filling in the two weekends when the desperate racers would otherwise have been wandering the streets in a stupor. Glen Helen had two races on tap for Sunday, with a vintage race on the REM track and Yamaha Series on the USGP track—so, letting REM racers come ride on Saturday increased their workload, not just on Friday, but also on Saturday afternoon when they had to re-prep the track a second time. For "Un-Race 2.0" Frank Thomason, the official REM race promoter, even came out to spin a few laps with his friends.
Former AMA Pro Connor Stouff came back to REM to ride again. Photo: Dan Alamangos
There probably will not be any more "Un-Races" at Glen Helen for the foreseeable future. Why not? First, REM returns to its regular race schedule this coming Saturday, August 27, followed up by another race on September 3. Then, the USGP will come to Glen Helen on September 10-11 and Giuseppe Luongo would not take kindly to having a bunch of local racers hammering out laps on the hill above the GP track. Unfortunately, on September 17-18, the WORCS series uses the whole park (and both the USGP track and the REM track).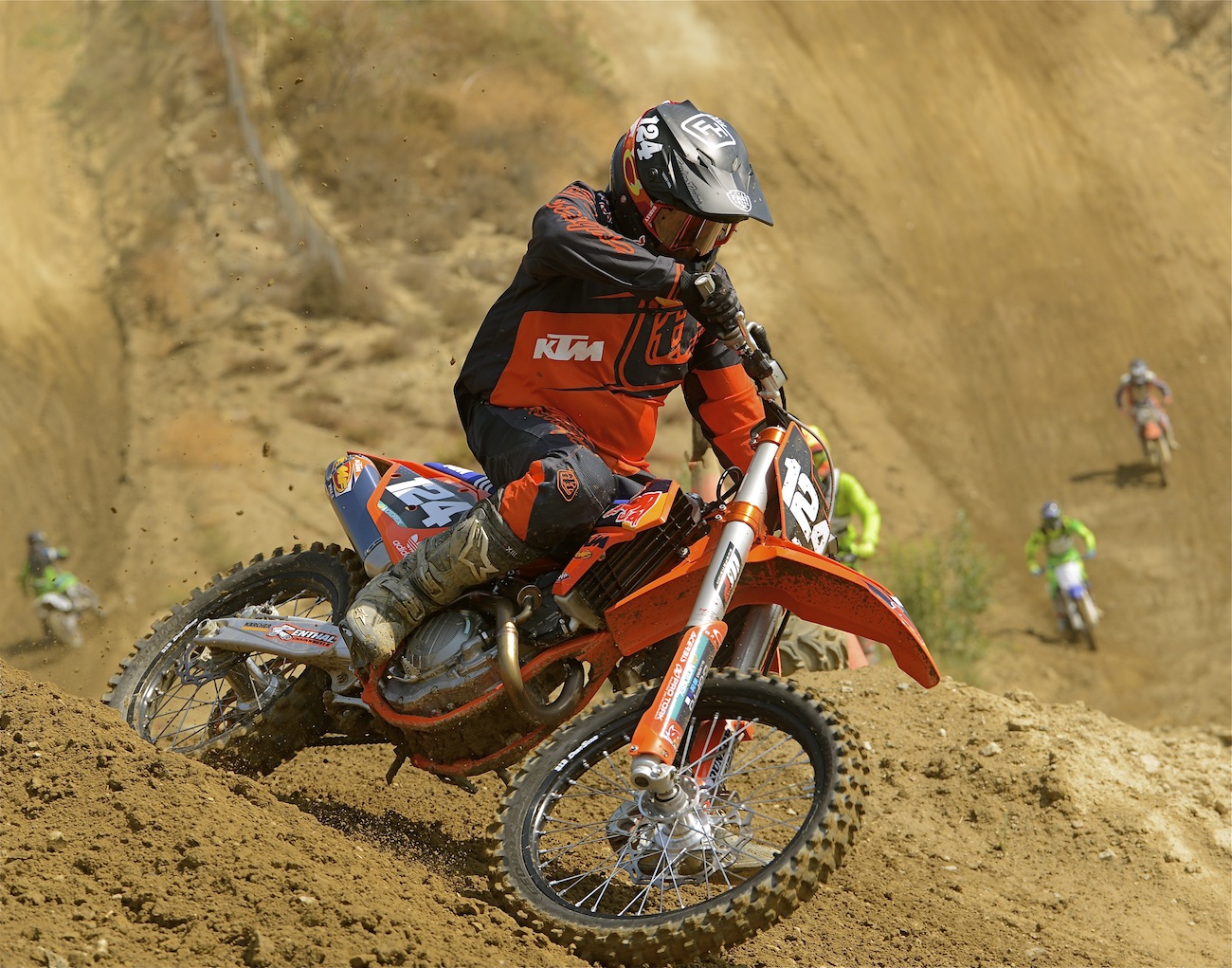 Lance Sloane (124) drops down a level, while riders behind him, on both sides head up and down. Photo: Dan Alamangos
However, after the WORCS race REM will return to its regularly scheduled races (with gaps for Day In The Dirt and the World Vet Championship). REM will race virtually every weekend until the Christmas/New Year's break. Thus, the "Un-Race" is officially dead for the rest of 2016.
Dave Eropkin speed blurs through the jungle section of the REM track — all 37 feet of it. Photo: Dan Alamangos
For more info about REM motocross go to www.remsatmx.com
JON ORTNER'S PARTY IN THE PITS PHOTOS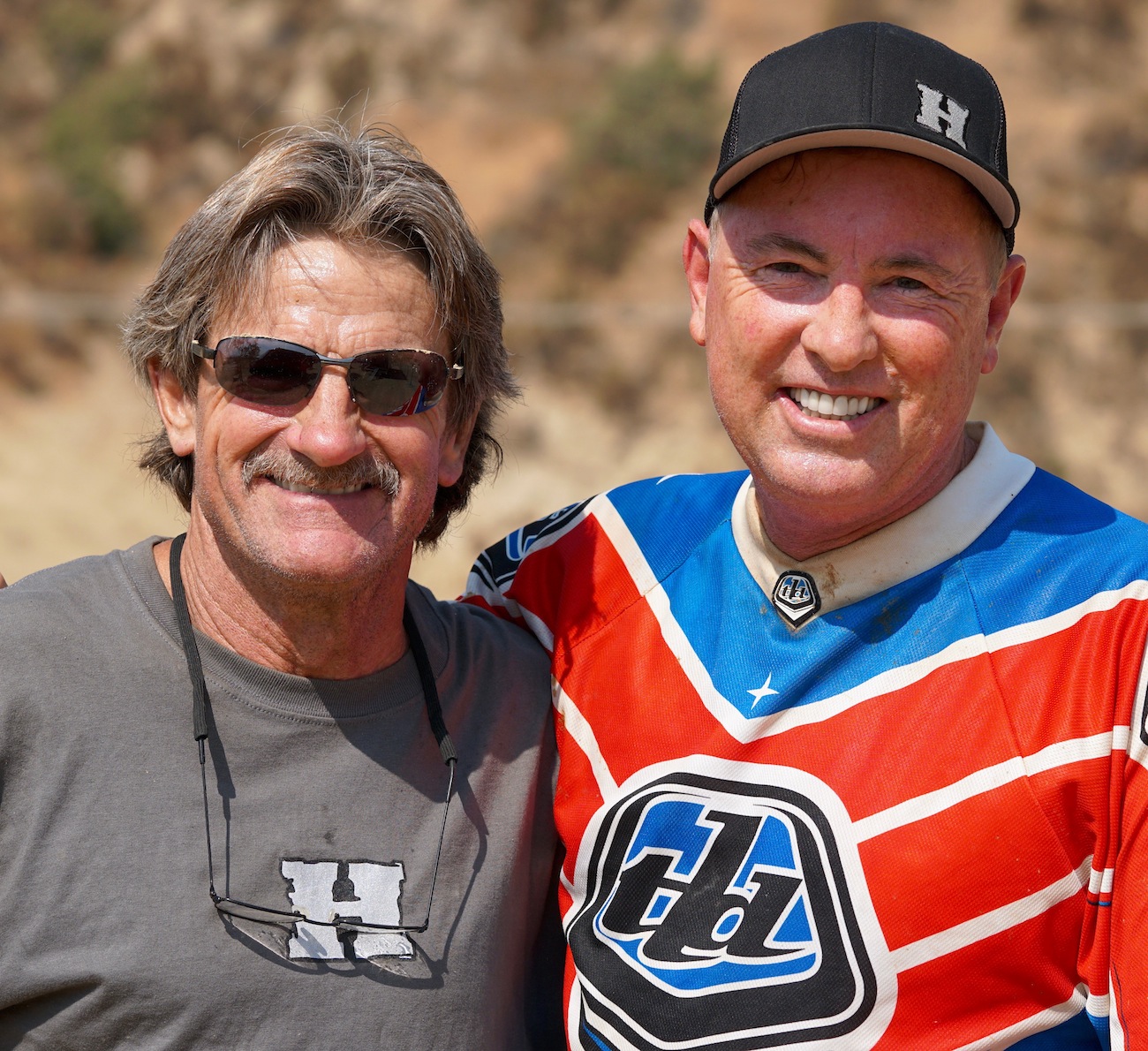 If you were a SoCal racer during the hey-day of motocross you would remember the guy on the left. That's David Taylor. He came out with Gary Denton (right) to ride at the "Un-Race 2.0." He's still fast.
The old guys don't rush to be the first guys out when the track opens. They let the youngsters soak up the mud. Randel Fout, Jody Weisel, Kent Reed and Frank Thomason kick back.
Being a former World Vet Champion has its spoils—even if Tom White won that title back in 1990.
The Jeffs never miss an REM race…or "Un-Race." This is Jeff Mason.
Jeff Scott is a loyal Suzuki racer…as long as it's an RM250 two-stroke.
Hollywood stuntmen and stunt coordinator Mic Rodgers has been racing and making movies forever.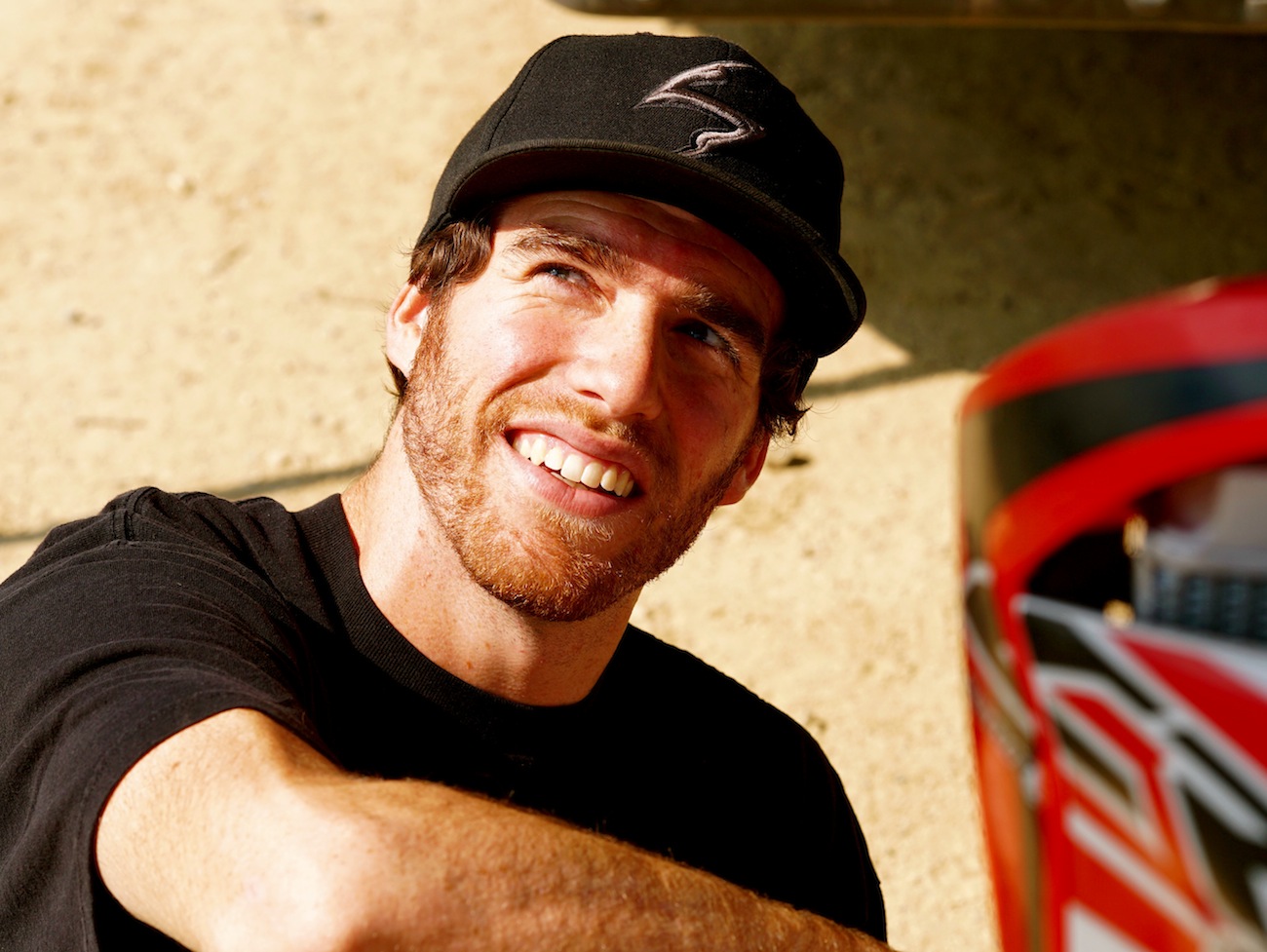 Justin Jones, son of four-time 250 National Champion Gary Jones, has been missing from REM for a long time—recovering from injuries early in the year and working at the Canadian Nationals for new Canadian 450 Champ Davi Millsaps.
The Skinner clan was at REM in full force. Not only was Randy there, although he hurried off after the "Un-Race" to go to a speedway race, wife Pam and son Blake (right) were welcome additions.
REM MOTOCROSS TO RETURN ON AUGUST 27