GODSPEED! CHUCK "FEETS" MINERT (1931-2016)
Click on images to enlarge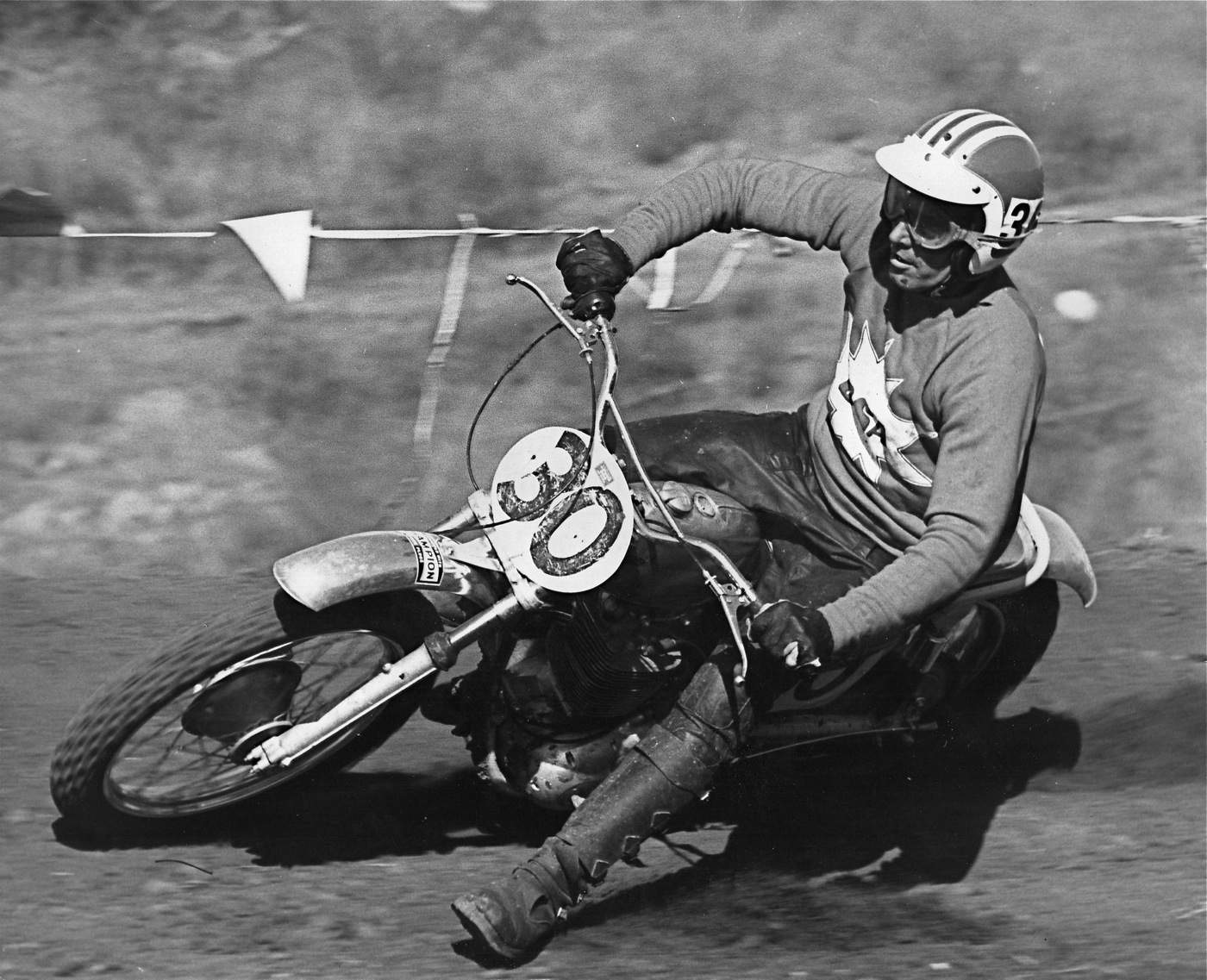 Classic Feets Minert. Classic motocross. Feets during the 1970 Trans-AMA series on his factory BSA.
By Jody Weisel
As a general rule I don't recommend meeting your heroes up close and personal. As much as we glorify them for their prowess on a motorcycle, they are often a disappointment in person. Being good on a motocross bike is not an automatic corollary to being a good person. Of course, there are exceptions—some of them exceptional.
Chuck "Feets" Minert was a motorcycle superstar—long before most of us were born. He was a factory BSA rider who would win the biggest races in America, including the famous Catalina Grand Prix in 1956. Feets also raced the Daytona road race when it was held on the beach itself. He is one of only a handful of riders to have earned Grand National dirt track points and AMA National motocross points in the same year. When motocross became popular, Feets went to Europe to learn the ropes, and came back to lead the BSA team during the 1970 Trans-AMA series. Feets' Trans-AMA glory was immortalized by a cameo in Bruce Brown's groundbreaking "On Any Sunday" movie. And, in the ultimate honor, BSA built a replica of his Catalina winning bike and sold it to the public.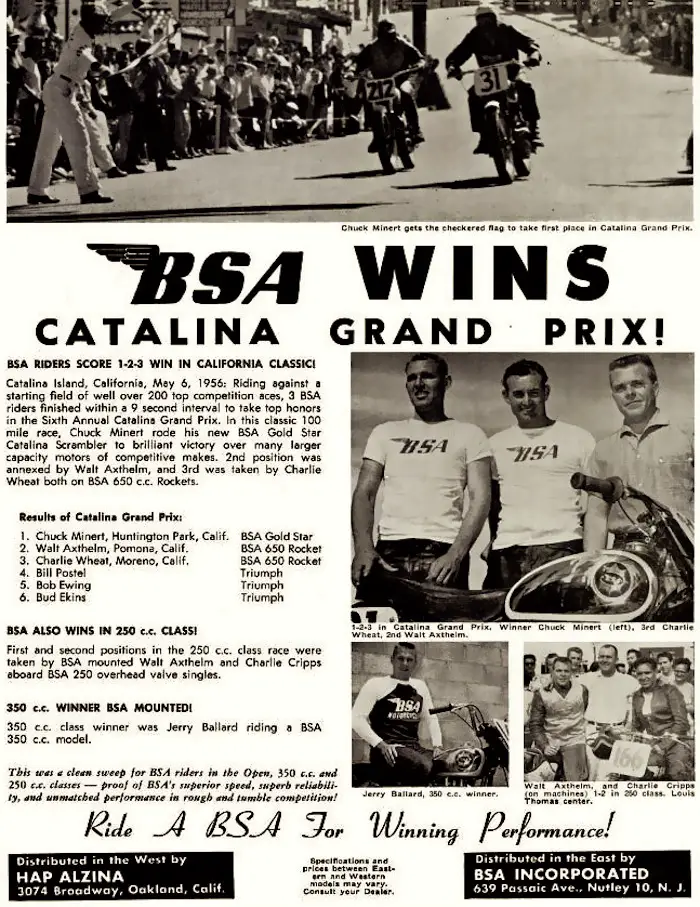 This BSA ad ran in all the magazines celebrating Feets' 1956 victory. That was when "Win on Sunday, Sell on Monday" meant something.
Chuck "Feets" Minert raced into his 80s, which made him the oldest big-name star to keep racing after his glory days. Feets is shown standing behind the BSA Catalina Scrambler model that the British company made to commemorate his 1956 Catalina Grand Prix victory.
I first met Feets at Saddleback Park in the late 1970s. He was 46 years old and just out of the 500 Pro class and new to the Vet Pro class (called "Vet Masters" during that era). I was a snot-nosed 30-year-old when I came upon Feets late in a moto as we headed down towards the road turn. I knew it was him because he was on a BSA B50, vintage even then, and I wanted to pass him—not just because I caught him, but because he was "Feets Minert." I saw him as big game, a feather in my cap and chance to say I passed one of the fastest men in America (and I planned to leave out the part about him being 16 years older than me).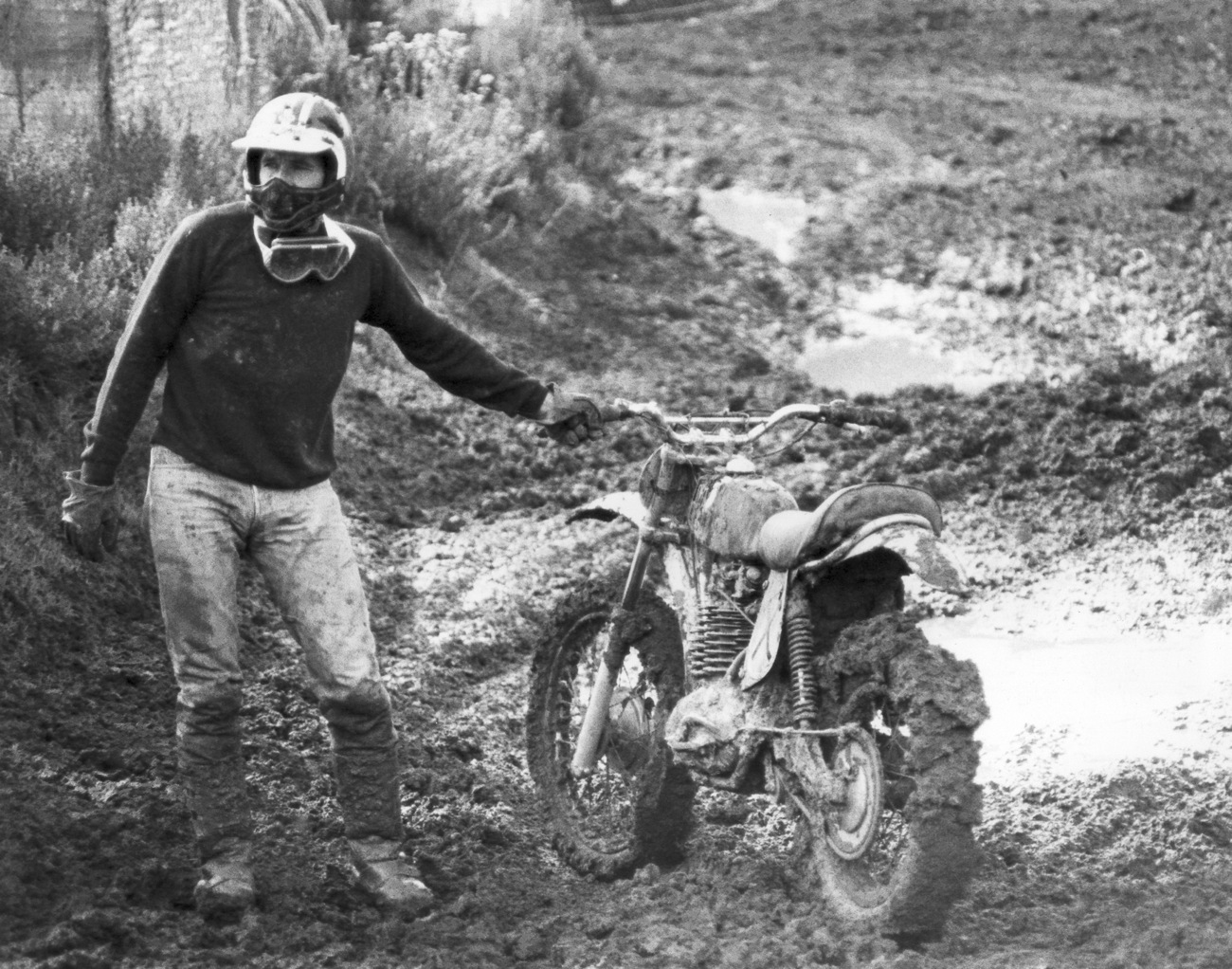 Carlsbad Raceway was famous for its rock hard dirt, but when it got muddy it could even bring a star and his BSA to a halt. Feets campaigned his BSA long past its prime before switching to a CR480 in 1983.
As we careened along the hillside heading towards the big sweeping turn down by Santiago Canyon Road I suddenly wasn't catching him as quickly anymore. I managed to pull up on his outside, but I couldn't seem to get my front wheel in front of his. The closer we got to the turn the less and less track I had to work with. He wasn't blocking me as much as gently moving me over. Finally, I careened off the track as it disappeared beneath my wheels and could hear the cackle of the big BSA going off into the distance.
This is the kind of total commitment it took to win the Catalina Grand Prix when it was the most important offroad race in America. Feets hangs it out over the harbor.
I was hot under the collar and went over to him in the pits to discuss his riding style when he grabbed my hand in his giant paw and shook it firmly, while saying, "Great fun! Great fun out there, wasn't it?" I learned two things that day; never try to pass Feets Minert on the outside and this guy was going to be my friend for the rest of my life—although sadly that meant for the rest of his life.
I'm proud to say that I came to think of Feets as a father figure, a brother in arms, a mentor and, beyond a shadow of a doubt, the nicest, most honest and humble man I ever met. And I was as protective as any son, friend and pupil could be. Over the next 38 years Feets and I spent every weekend at the races and all of our spare time flying aerobatic airplanes.
Chuck and wife Gloria were happily married for over 60 years.
He was a not just a better motorcycle racer than I was, but a better pilot too. I wanted to learn everything he knew, so when we weren't going in search of the fabled $100 hamburger, we were trekking to adventures at far away airports and dirt fields that looked long enough to land on (and that included the Glen Helen Raceway parking lot). We landed at every airport in Southern California at least once and even flew Chuck's Super Decathlon aerobatic plane into LAX in the middle of all the airline traffic. When we taxied out to leave, LAX tower cleared us to Runway 26 Right and told us to "never come back in that cloth airplane again."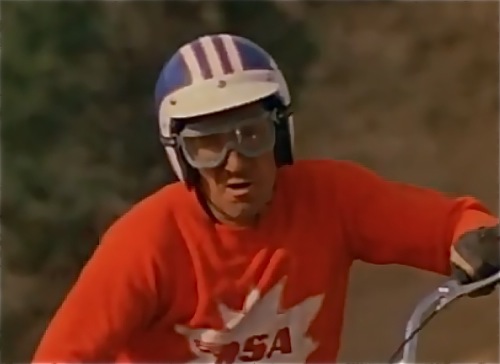 If you saw the movie "On Any Sunday," you saw Feets on his BSA take face full of roost during the 1970 Trans-AMA series and shrug it off.
Feets had lots of airplanes over the years and we rotated between his and mine—and he always let me do the flying, while he sat in the back seat and looked out the window—regardless of whether the window was spinning or upside down. I would describe some aerobatic trick that I dreamed up and he would say, "That's not possible, but go ahead and try it." He had the patience of a saint, especially since I had the habit of getting the plane into crazy unpredictable situations and then telling him, "You got it." And he always did.
On the day after his 80th birthday Feets raced at REM and was given a trophy for being first in the 80 Expert class — of course, he was the only 80-year-old racer there.

Feets never officially retired from racing. By conservative estimate he raced 2500 races over his career. I was lucky enough to supply him with bikes and support in trade for his sage advice and mechanical know-how. He started racing in 1947 and raced until he was 83 years old—when he took a break to have shoulder surgery. It went poorly and he never rode again and ended up giving up flying at the same time.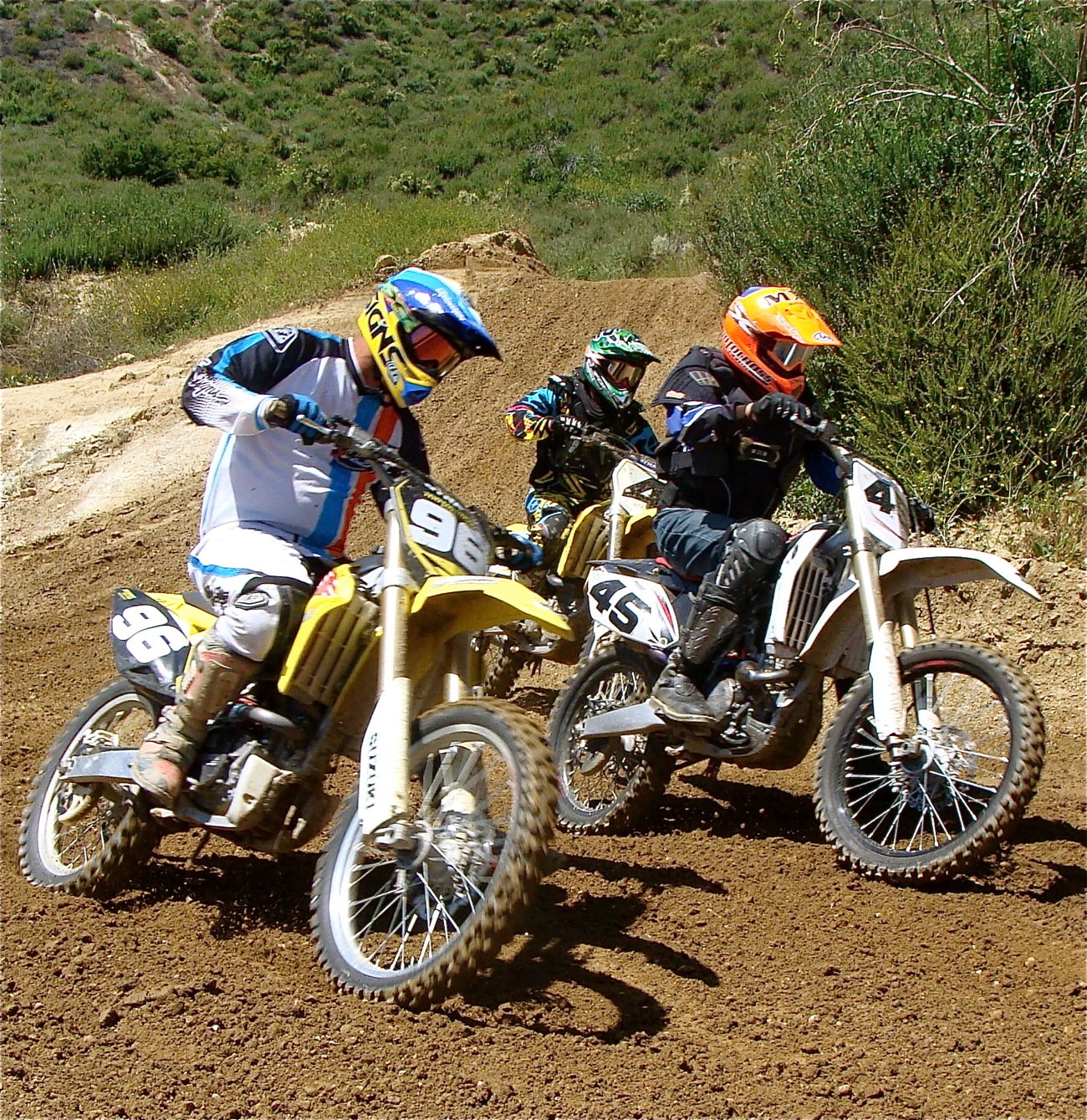 The young guys respected Feets (45), He may have been 40, 50 or 60 years older than them, but he asked for no quarter and he gave none.
I would call him every week and say, "Let's go flying, I'll fly down to your house and pick you up" (Feets lived on his own runway across the street from Cahuilla Creek Motocross Park). I would try to coax him to come out to Glen Helen and hang with the gang that he had raced with for decades. He always begged off.
The last time I saw him was near the end of his life, which came two years after he stopped racing and flying. He was in the hospital following surgery to remove a tumor from his leg. It was a very personal and painful encounter to see someone so dear to me in such pain. We spent some quality time talking and as I got up to leave he vowed me to silence about his condition. Knowing that his friends, who numbered in the hundreds and fans who numbered in the thousands, would shower him with support I pressed him about this, but he was a very private man and he didn't want sympathy. I reluctantly agreed. When I called his house a week later, we talked briefly, but he seemed overwrought and tired. The next time I called no one answered. The same thing the next time. And the next time.
A young Feets Minert at a dirt track race back in the 1950s.
Then, two weeks ago, his grandson John, who had worked for me at MXA for several years, called to say that they had moved Chuck to hospice care. John said, "My grandpa asked me to call you and tell you what's happening. He said that you are his best friend and he wants you to know that you made his life great over the last 40 years." I asked to speak to Feets, but John said that his grandpa was too emotional to talk to me and didn't want me to hear him in his current state.
When the phone rang last night and I heard John Minert's voice on the other end my heart sank. He didn't have to say anything, I knew that I had lost the hero I chased into that Saddleback turn 39 years ago. And, the sport has lost one of the founding fathers of American motocross, but also a motocross hero who was bigger than life on the track and off the track.
Jody Weisel and Feets Minert. Note the jeans that Feets always raced in. They could be the same ones he was wearing in the photo above.
Chuck "Feets" Minert passed away on September 24, 2016. Sadly, his wife, Gloria, passed away less than a week later. These two wonderful people are survived by daughters, Linda and Glen, grandson John, and son-in-law Wayne.
On his 83rd birthday, REM held an official parade lap by his MXA teammates to honor Feets. As you would expect, the AMA Hall of Famer, Catalina GP winner, Trans-AMA racer and motocross icon was loved by the young racers who shared the track with him.
FEETS MINERT VIDEO