GODSPEED! DICK MANN (1934-2021)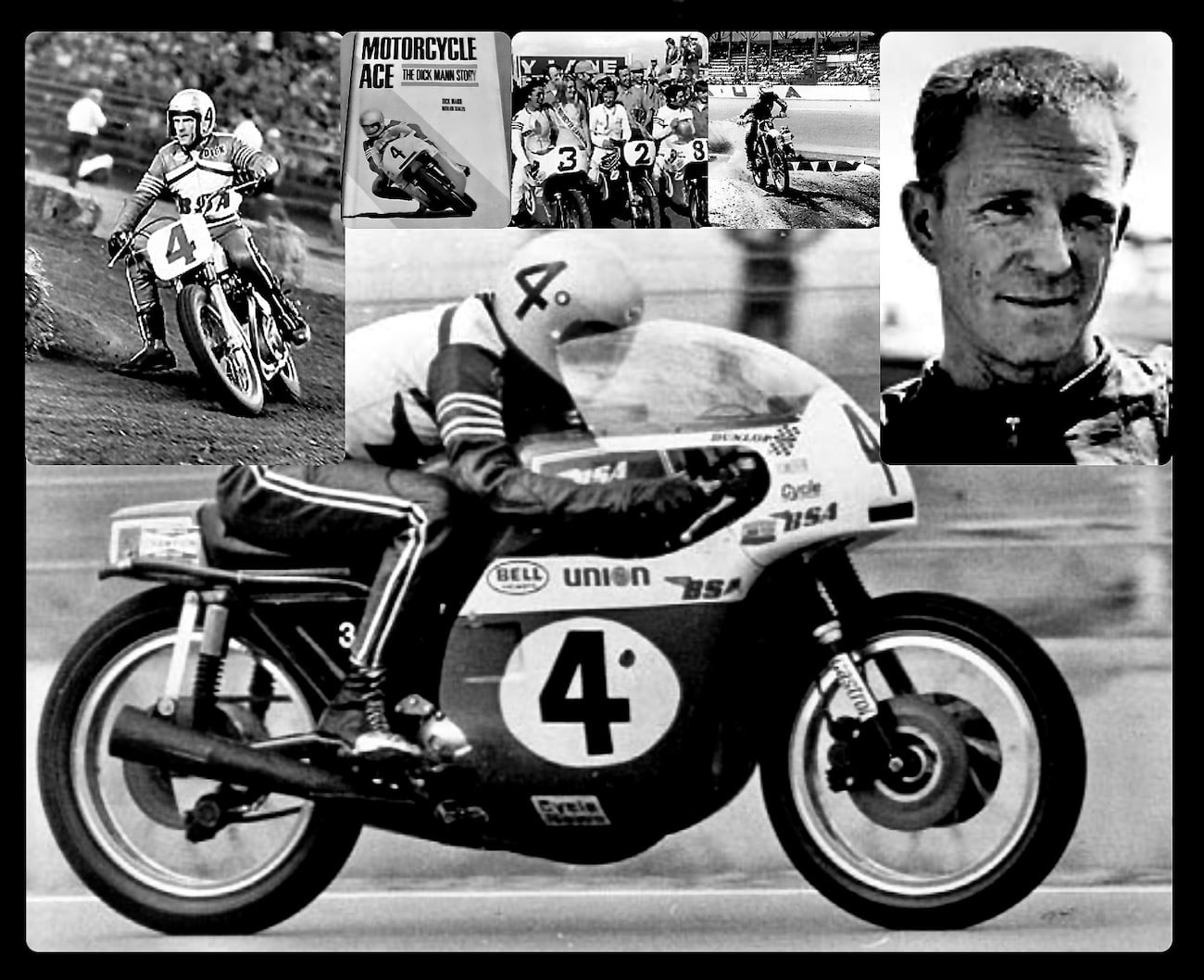 Dick "Bugsy" Mann was one of the most versatile motorcycles racers in AMA road race, dirt track, motocross, short track or ISDT competition. A two-time AMA Grand National Champion, Mann was one of the very few riders to compete on the national level in dirt track, road racing and motocross. When he retired from professional racing in 1974, Mann was second on the all-time AMA Grand National Series wins list with 24 national victories and had competing successfully from the early 1950s to the mid-70s.
In 1971, Mann became the first rider to complete motorcycle racing's Grand Slam, winning in all forms of AMA Grand National Championship racing: mile, half-mile, short track, TT and road racing. Dick was born in Salt Lake City, Utah, on June 13, 1934. His first exposure to motorcycling came in his teenage years when he rode a Cushman scooter on his paper route. After high school, Mann went to work as a mechanic at fellow Hall of Fame member Hap Alzina's BSA shop in Oakland. There, Mann learned motorcycles inside and out and became a top-notch mechanic. Mann turned AMA Expert in 1955 and finished a very respectable seventh in his first Grand National race, the Daytona 200. For the next three years, Mann gradually made a name for himself. In 1957, he finished ranked in the top ten for the first time. He earned a number of podium finishes, including being the runner-up at the Daytona 200 and Laconia national road races in 1958.
Of all of his national wins, his most significant was winning the 1970 Daytona 200 on the then-new Honda CB750. The win not only gave Mann his first victory at the Daytona classic, it was Honda's first win in an AMA national. Returning to BSA in 1971, Mann made a brilliant comeback at age 37 and won his second AMA Grand National Championship, becoming the oldest rider in the history of the series to win the title. Now the elder statesman of the series, Mann proved he wasn't too old to be competitive at the 1971 Houston TT. Dick followed that up with a second straight win at Daytona. Other wins that season included victories in road races at Pocono, Pennsylvania, and Kent, Washington. Mann was named the AMA's "Most Popular Rider" of the Year for 1971. Mann continued winning in 1972 and was still competitive in 1973, finishing in the series top ten at nearly 40 years of age.
Dick Mann retired from the professional circuit in 1974. He raced in over 230 AMA nationals and, when he retired, was second on the all-time Grand National wins list with 24 victories. From 1957 to 1973, Mann finished inside the Grand National top ten every year but one.
Even after all his accomplishments in professional racing, Mann wasn't quite finished. In 1975, Mann returned to his trail riding roots and qualified for the United States International Six Days Trial team (ISDT) and competed for his country on the Isle of Man earning a bronze medal. Mann was given the prestigious AMA Dud Perkins Award for his contributions to the sport in 1995.
THE FLAT TRACK SEGMENT OF "ON ANY SUNDAY"