GODSPEED GILLES VAILLANCOURT (1940-2015)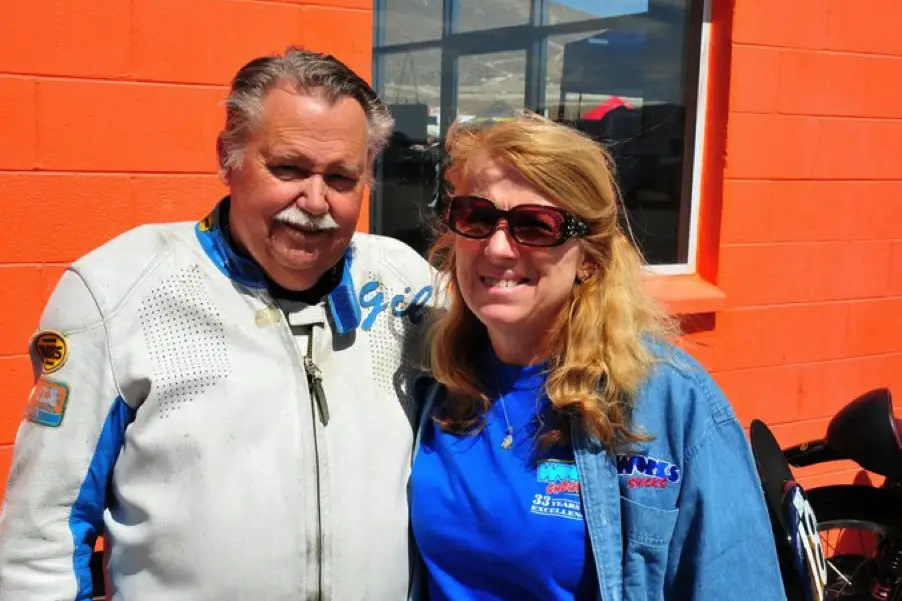 Gil Vaillancourt and wife Debbie.
Gil Vaillancourt was a pioneer in the development of modern-day motorcycle suspension systems. His work led to leaps in performance, quality, customization and style. Gil's company, Works Performance Products, is one of the oldest and largest custom suspension companies in motorcycling and has served AMA racers and riders for more than three decades.

Gil racing in the desert in 1976.
Born in Montreal, Quebec, Canada, in 1940, Gilles Vaillancourt moved to Santa Monica when he was 20. He moved there by riding a Royal Enfield twin the entire way. A concert violinist, Vaillancourt played in the Santa Monica City College Orchestra, but his love was motorcycles and in 1973 he started Works Performance to build suspension components.
Gil decades later, testing his works performance vintage shocks on a leading link DKW.
His company will continue to make motorcycle riders happy and Gil will be remember for his contributions to the sport. Vaillancourt is survived by two brothers: Serge and Francois and sister, Denyse Kotfica. Our deepest condolences to wife Debbie and his sons. Vaillancourt was inducted into the AMA Motorcycle Hall of Fame in 2009.