GODSPEED! MARTY SMITH (1956-2020)
THE SAD NEWS OF THE PASSING OF MARTY AND NANCY SMITH FROM CLOSE FRIEND LEE "DAMAGE" RAMAGE
One of two Marty Smith 'Rider of the Year' covers.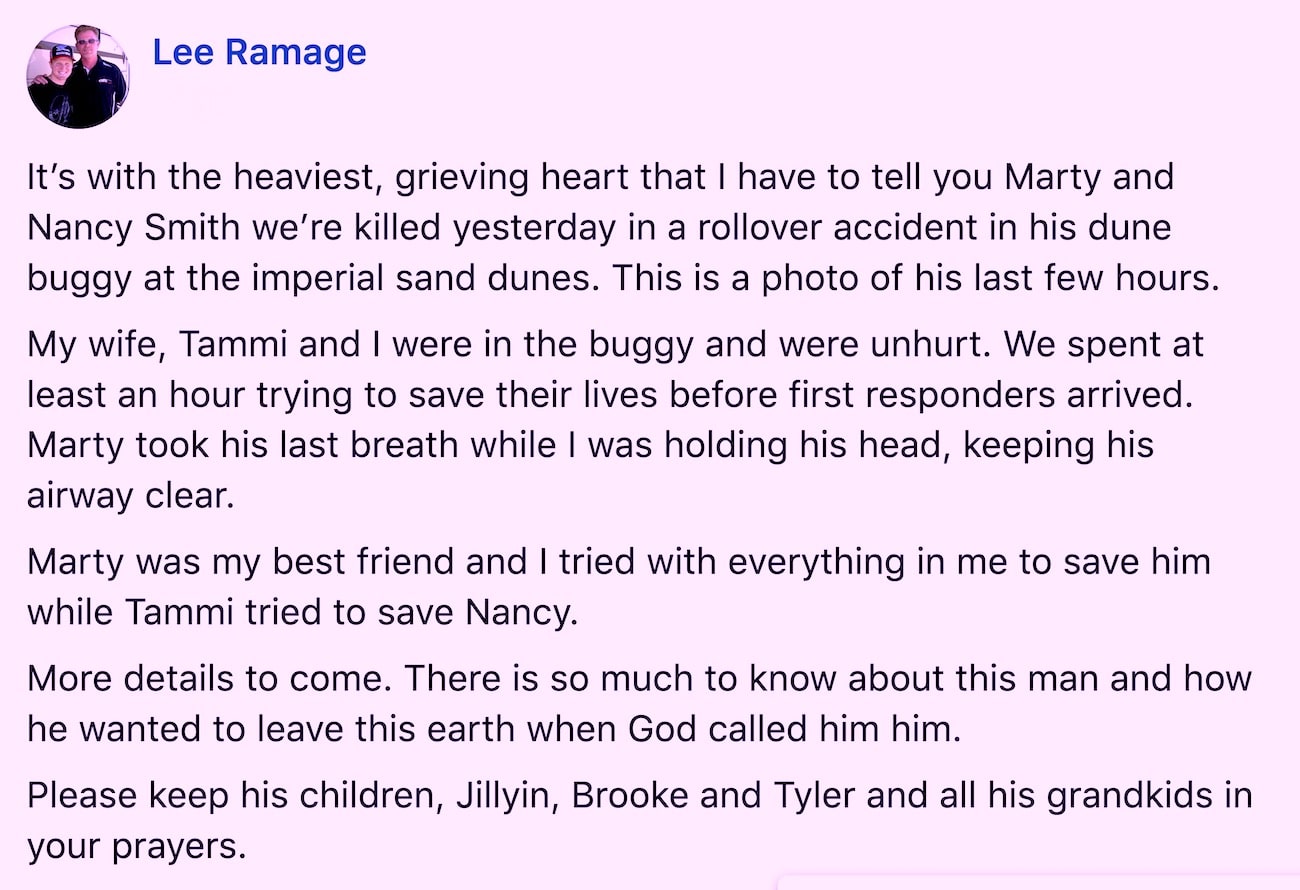 This a cell phone photo of Lee Ramage (left) with Marty Smith in the driver's seat and Tammi Ramage (left) and Nancy Smith (right) in the backseat a few hours before the accident.
TO GIVE YOU A SENSE OF HOW GREAT MARTY AND NANCY SMITH WERE, WE HAVE INCLUDED MXA'S LAST INTERVIEWS WITH
BOTH OF THEM BELOW. WE THINK YOU'LL LIKE THEM AS MUCH AS MXA DID DURING THEIR SHORT TIME ON EARTH.

MARTY SMITH'S LAST MXA INTERVIEW

"BACK THEN, THERE WEREN'T A LOT OF MOTOCROSS TRACKS THAT YOU COULD PRACTICE ON DURING THE WEEK. I LEARNED TO RIDE
IN THE LOCAL HILLS OR OUT IN THE DESERT."
WERE YOU ONE OF THE KIDS WHO GOT INTO MOTOCROSS BY TAKING THE LIGHTS OFF A STREET BIKE? Yes, that is pretty close to accurate. The only difference is that there was not much motocross in America at the time. It had started a year or two before I came in. People first started hearing the word motocross in the early 1970s. They'd say, "Is this hare scrambles?" and we'd say, "No, this is motocross; it is gnarlier than hare scrambles." As far as the motorcycles go, you hit it right on the money. My dad took the lights, blinkers, horn and mirrors off a street bike and put a high front fender on it and a fork brace. He cut a number plate out of a piece of aluminum sheet and put my number on it. My first number was 79F. That is what I started on.
WERE YOU AWARE OF WHAT WAS GOING ON IN EUROPE? No. I was brand new to this sport.
DID YOU RACE YOUR COBBED-UP STREET BIKE AGAINST EUROPEAN MOTOCROSS BIKES? That is exactly what it was when I first raced. I was the youngest guy on the starting line. I was 14 years old, and these guys had beards, beer bellies and real motocross bikes. I was intimidated, but once the gate dropped, my instincts took over and I just did what I loved to do.
WERE THERE MANY MOTOCROSS TRACKS NEAR YOUR HOUSE? Back then, there weren't a lot of motocross tracks that you could practice on during the week. I learned to ride in the local hills or out in the desert. My dad and mom took the family out to the desert on the weekends. I lived near the beach, but luckily we had this trail area that I could ride to from my house. I had a dirt alley in my backyard, and from there I rode through this little swamp and met up with all the guys after school. We would moto until we ran out of gas or the bikes broke. Then we would go home, clean them up, and do it again the next day.
"I STARTED RACING AT THE END OF 1971 AND GOT HELP FROM MONARK IN 1973. IN 1973, I RACED THE FIRST 125 NATIONAL AT ARROYO CYCLE PARK, WHICH IS NOW PART OF GLEN HELEN RACEWAY."
IS IT TRUE THAT YOU BECAME A MONARK FACTORY RIDER IN ONLY TWO YEARS TIME? I started racing at the end of 1971 and got help from Monark in 1973. I was often on the only Monark at the races. In 1973, I raced the first 125 National at Arroyo Cycle Park, which is now part of Glen Helen Raceway. That is when everything started snowballing. After racing, I drove all night getting home and was tired the next morning, so I did not go to school. The morning after the race, my phone rang about 9:30, and it was American Honda Motor Corporation, asking me if I would be interested in racing for their race team in 1974. I went up to Honda the next week, and my dad and I signed a contract.
HOW COULD YOU GO FROM BEGINNER TO FACTORY RIDER SO FAST? I thank God every day for my God-given talent. First and foremost, I attribute my success to that. But, I was on that doggone motorcycle six days a week. Even when I signed with Honda, I rode my bike every day. I felt then, and I still feel strongly now, that you need to be on that motorcycle every day. It is a given that you have to cross train, but that is secondary to being on the motorcycle.
WHAT WAS THE DIFFERENCE BETWEEN THE MONARK AND THE HONDA CR125? The Monark was incredible, but that Honda was light years ahead of every other motorcycle on the track. Light years! The weight was a big factor, but the biggest factor was that the Honda was almost bulletproof. The Hondas seldom broke. Before Hondas came out, everybody was riding Bultacos, Pentons and Monarks. The Monarks had a decent Sachs motor, but the transmission was a weak link. The first time I got on the CR125, it was like a match made in heaven. It was very easy for me to go fast on that bike. I was one of the very first 125 pioneers, but that Honda CR125 was the pioneer of the industry as well. I sold a lot of Honda motorcycles.
Marty Smith (522) on is way to the 1974 AMA 125 National Championships.
HOW DID YOUR LIFE CHANGE WHEN YOU WON THE 1974 AMA 125 NATIONAL CHAMPIONSHIP? In my senior year in high school, 1975, filmmaker Peter Starr made a documentary on me called "To Be a Champion." The film crew came to my school and followed me around with cameras all day. It was embarrassing, because only my close buddies at school knew I was a motocross racer. But when the movie came out, the cat was out of the bag. I had all kinds of girls wanting to hang out. It was like rock star status. I was very shy, but it was a really fun time in my life.

IN 1976, HONDA HAD YOU RACING THE 125 WORLD CHAMPIONSHIPS AND AMA 125 NATIONAL CHAMPIONSHIP AT THE SAME TIME. WHAT WAS THE REASONING BEHIND THAT? Well, I had won just about everything you could win on a 125 in 1974 and 1975, and Honda felt like they wanted to win the whole enchilada. They wanted me to do well in the GPs, to prepare myself to do the complete GP circuit in 1977; however, it was physically impossible to ride all the 125 GPs and all the 125 Nationals because some of them were on the same day. Honda wanted me to do all the Nationals and as many GPs as I could. Basically, I did half of the GPs.
"I WON ALL THE RACES THAT I ENTERED ON THAT "TYPE II" BIKE. I BEAT HANNAH FAIR AND SQUARE ON IT, BUT THEN HONDA TOOK IT BACK BECAUSE THEY WERE AFRAID IT WAS GOING TO GET CLAIMED."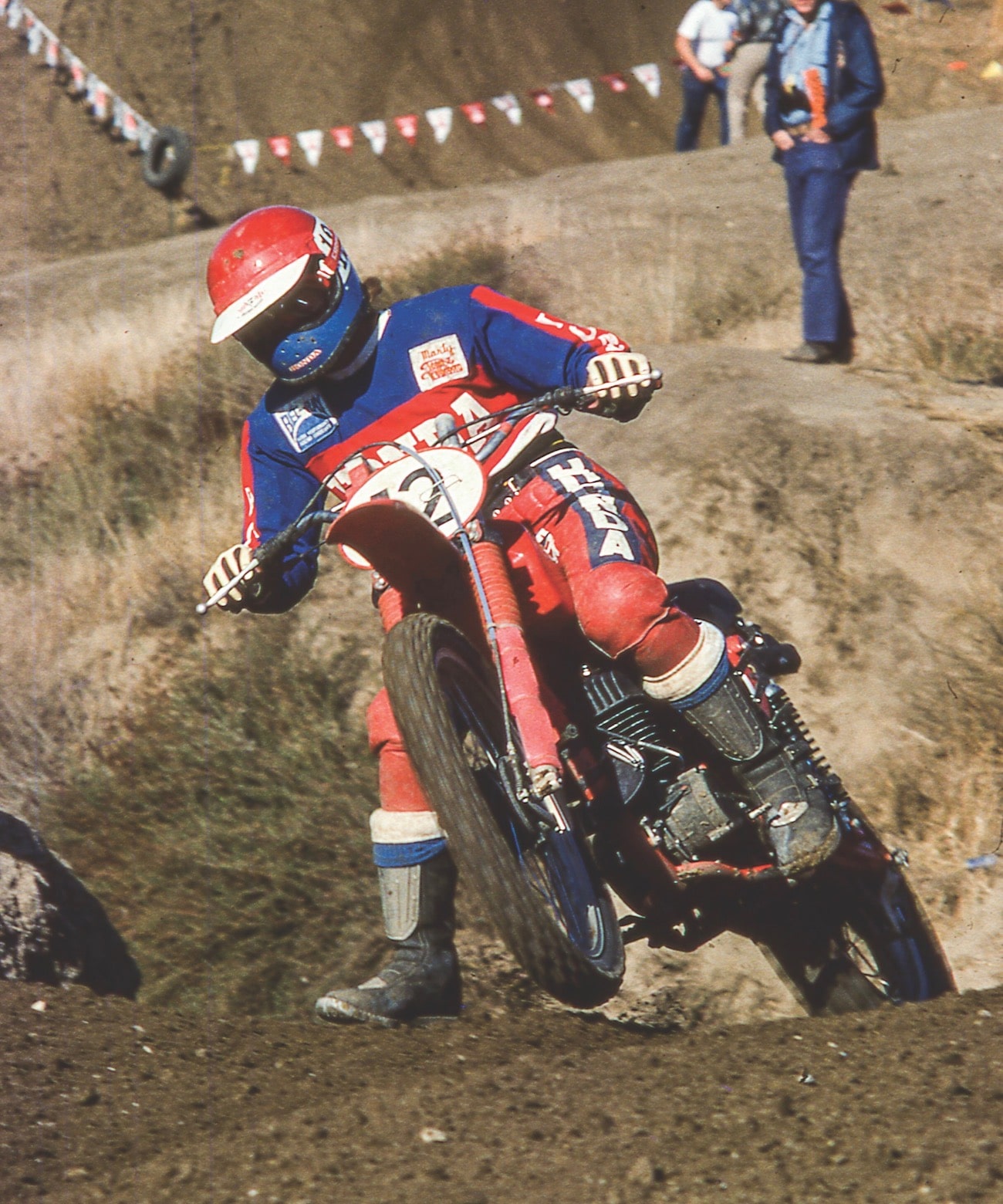 IN THE END, YOU DIDN'T WIN EITHER 125 CHAMPIONSHIP IN 1976. Honda did not update the CR125 for 1976. They felt that it was so far above all the other Japanese bikes that they did not have to make any changes for 1976. Well, that bit them in the butt, because Yamaha came out with the water pumper YZ125 for Bob Hannah. And Suzuki's new bike was good, too. It was tough to compete against those bikes because my CR125 was basically a two-year-old factory bike. So, 1976 was tough. Riding in Europe was no big deal, and flying back and forth was not that bad. The biggest downfall for me was that I had some mechanical failures at some of the GPs and some of the Nationals. At the French GP, I had a 40-second lead in both motos and my bike broke, both motos. Then in Belgium, at Gaston Rahier's home track, I had the lead over Gaston in the first moto, but while pulling away from him my frame broke in half. The FIM would not let us change the frame, so I was not able to ride the second moto. Honda came out with a new factory bike towards the middle of the season, and they let me ride it at a couple of races. I won all the races that I entered on that "Type II" bike. I beat Hannah fair and square on it, but then Honda took it back because they were afraid it was going to get claimed. In 1976, another rider could claim your bike after the race and essentially buy it from you. So, Honda repossessed that "Type II" and put me back on the two-year-old bike. We did not really stand a chance that year.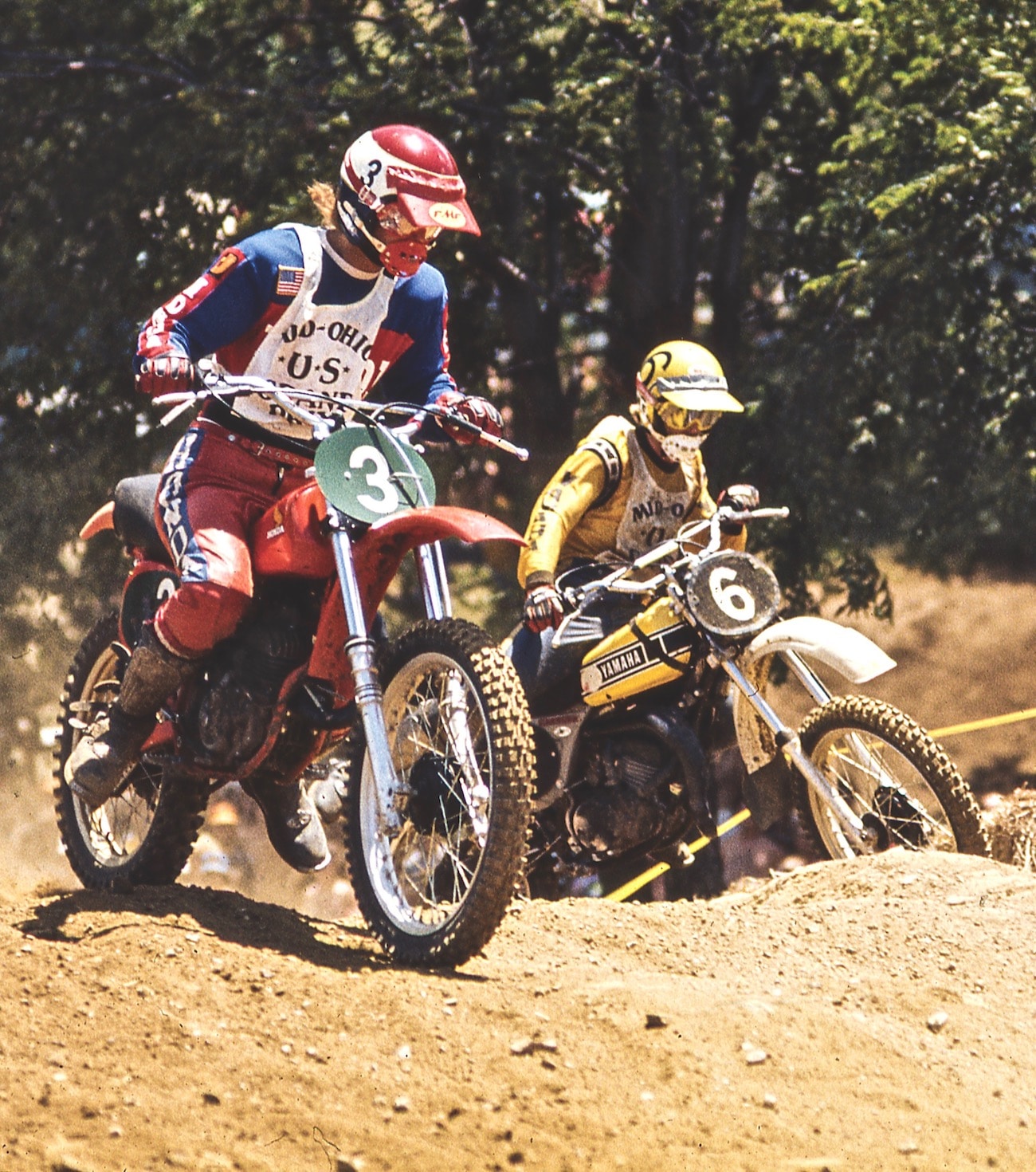 AS THE "TEEN IDOL" AND THE MOST POPULAR RIDER OF THE TIME, YOU MUST HAVE HAD OTHER OFFERS. I did. My dad was acting as my manager. He is old school and always told me, "Be loyal to these guys, and they will treat you right in the end." I found out later in my career that is not actually the case; but, early in my career, I did what I thought was the right thing and stayed loyal to Honda. I am really glad that I did. Honda was a great company to ride for. I met some really nice people, and I still have some very good friends there. But back to your question, I did have offers from other companies, but I chose to stay with Honda. But near the end, my loyalty to Honda did not really matter. They wanted somebody who was going to win races and decided that wasn't me.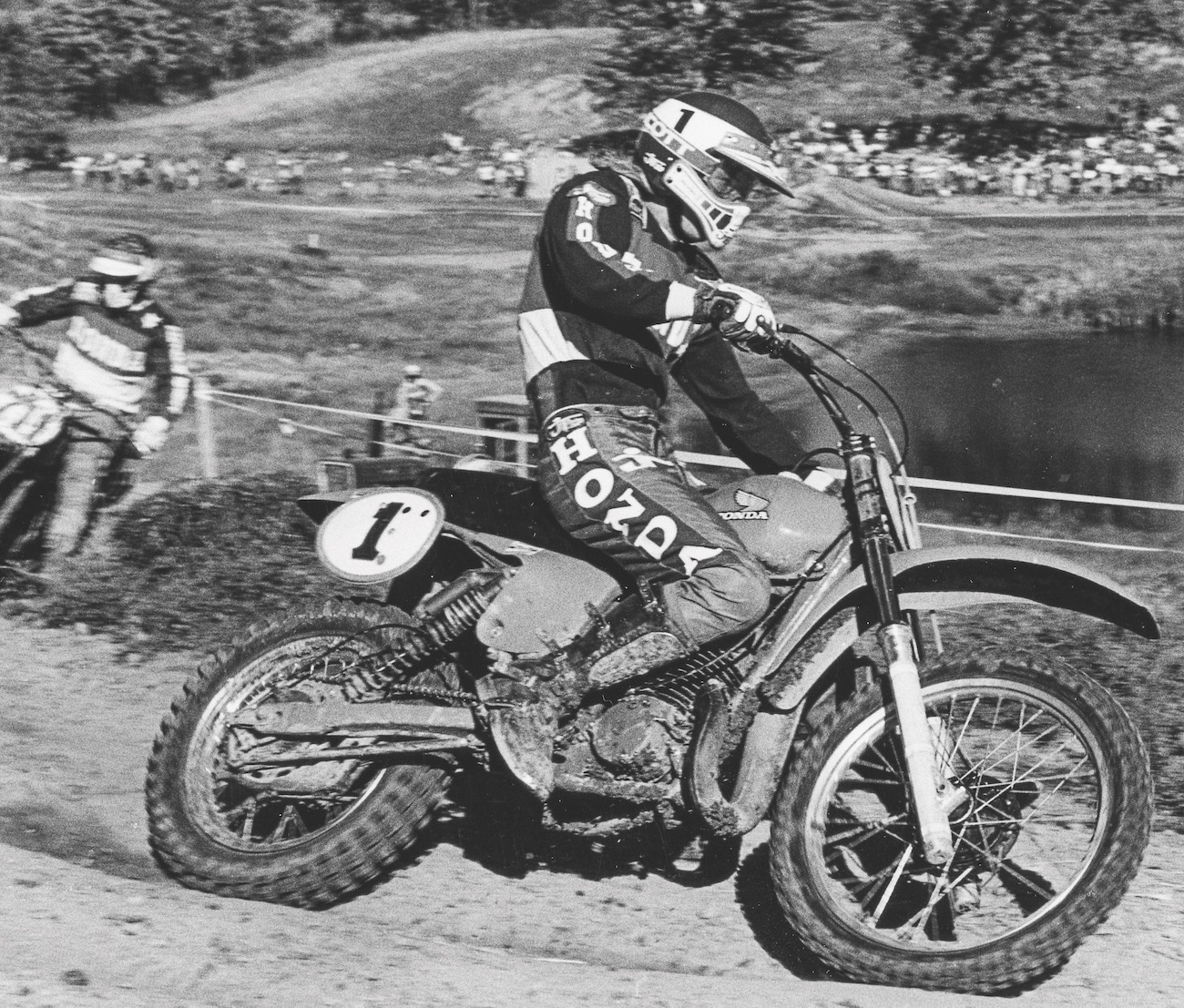 Marty, with his number one plate from the 1977 AMA 500 Nationals, on the RC500 leading Brad Lackey (711).
WAS BOB HANNAH YOUR TOUGHEST COMPETITOR? I raced against a lot of tough competitors. But Bob was the toughest guy that I ever came up against. It was good timing for Yamaha and good timing for Bob Hannah, because they hired Bob to beat Marty Smith and, at the time, they had a very good motorcycle. That bike was way better than my Honda Factory bike, so it made my job really tough and Bob's job easier. Let's put it that way.
BOB HANNAH HATED HIS COMPETITION AND PLAYED MIND GAMES. HOW DID YOU HANDLE ALL OF THAT? Bob was a head trip. He was very confident and very cocky, which was completely opposite of my personality. Bob would intimidate a lot of guys on the track, but I wasn't one of them. I felt really confident in my training and my skill, and even though my bike could have been better, I still felt confident on my motorcycle. Bob and I respected each other; but on the race track, I did not like Hannah, and he did not like me. That is the way it had to be, and that is the way it should be with any two guys who are close in skill level.
WHEN DID YOU MOVE TO THE BIG BIKES? From 1974 through 1976, I focused on the 125 class; but in 1975, I did three Supercrosses, four 250 Nationals and two 500 Nationals. In 1976, I did five Supercrosses, two 250 Nationals, plus the 125 GPs. My first full year racing 500s and 250s was in 1977. I won the AMA 500 National Championship in 1977. I should have won the 250 Championship, but we broke a transmission at Red Bud, and that put me out of it near the end of the series. I felt really good on the bigger bikes. It was easier to be smooth on them. They suited me very well—although Honda did not really think that, along with a lot of other people. They thought that I was a better 125 rider, but as soon as I won that 500 Championship, and some 250 Nationals and Supercrosses in 1977, it showed that I could ride the big bikes pretty well, too.
Marty being carried off the Houston Astrodome track in 1978. The AMA made him lay on the track until the race was over before putting him on the stretcher.
YOU RARELY CRASHED, BUT WHEN YOU WENT DOWN AT THE 1978 ASTRODOME RACE, IT CHANGED THE TRAJECTORY OF YOUR CAREER. Absolutely, the first and the worst injury I ever had was at the 1978 Houston Astrodome Supercross. I went down. A bunch of guys ran over me, and I dislocated my hip. I was probably still America's best rider in 1978, but when I went down, I had to lay on the track until they finished the Supercross main event. I waited for a half-hour on the ground with a dislocated hip. At the hospital, none of the doctors who could put my hip back into place were on duty. I had to wait until 6:00 a.m. the following day for them to put my hip back in place. That was probably the beginning of the end of my career. I had some good races after that, but that injury took the wind out of my sails. It took the fun away.
"ABSOLUTELY, THE FIRST AND THE WORST INJURY I EVER HAD WAS AT THE 1978 HOUSTON ASTRODOME SUPERCROSS. I WENT DOWN. A BUNCH
OF GUYS RAN OVER ME, AND I DISLOCATED MY HIP."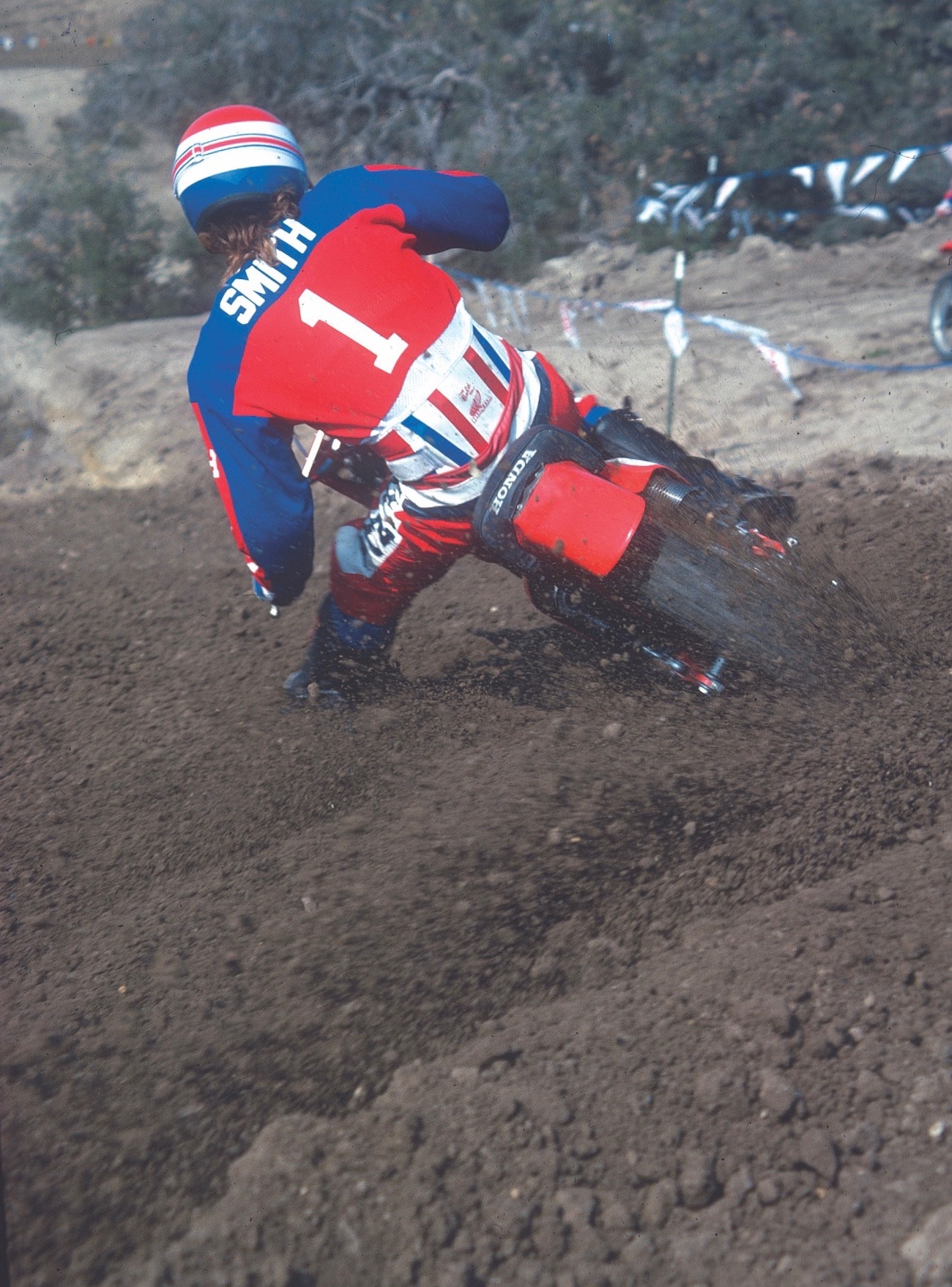 DID YOU EVER CONSIDER RETIREMENT? I considered retirement in 1979, not just because of the injury, but because I could not come to terms with 1979 Factory Honda. Honda was very corporate. They were huge—two or three times bigger than anybody else. When you are winning for a company like Honda, they are not so corporate; they are very warm and friendly. But if you have a tough year, that warm, cozy and cuddly company turns into a cold corporation that is not much fun to be around. At the end of 1979, I was going to retire when Suzuki called me up. I ended up signing a contract for 1980 and 1981. I had two good years with Suzuki, and they were a great, fun team to ride for.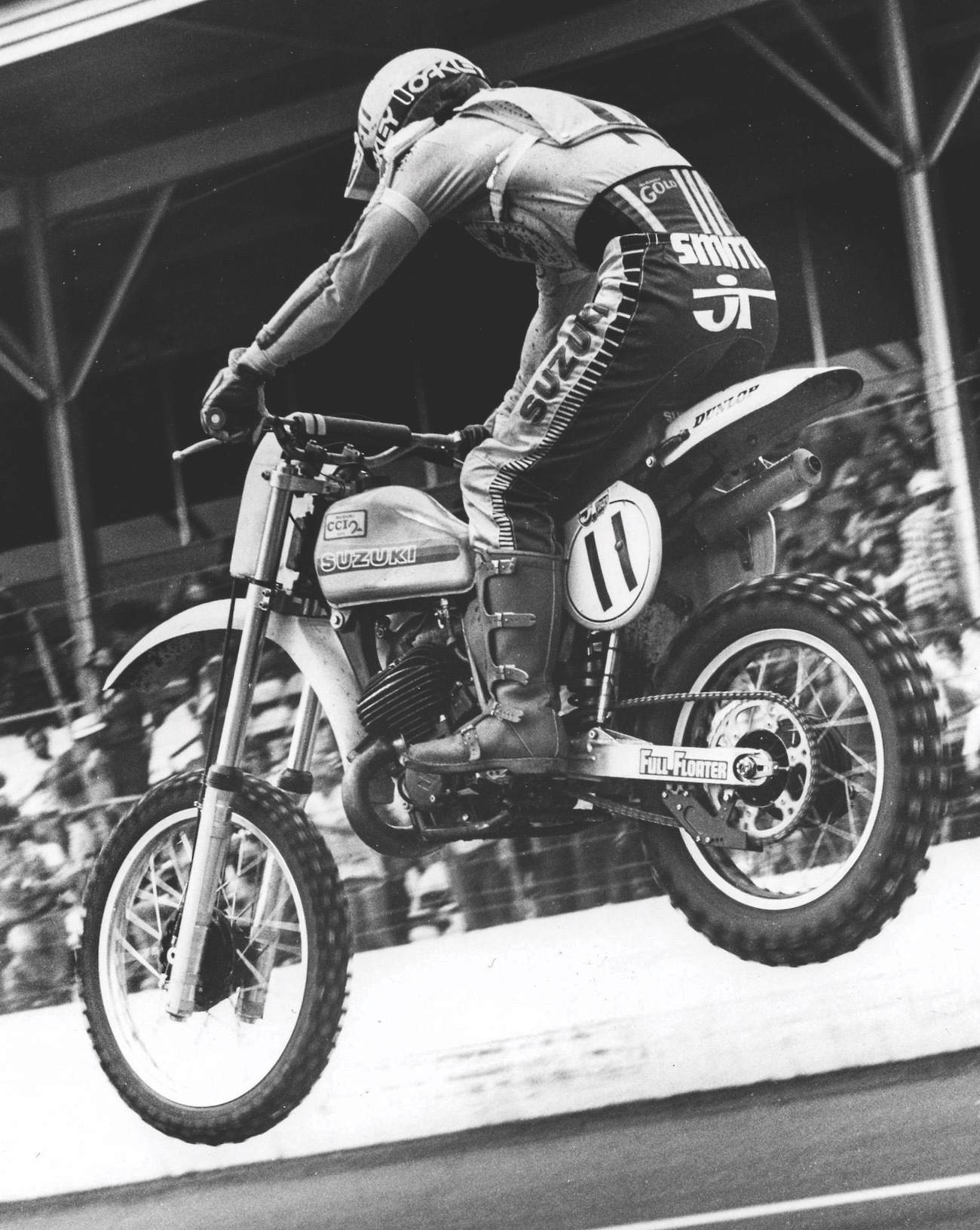 Marty raced for Team Suzuki in 1980 and 1981.
WAS YOUR HEART REALLY IN IT? No, not really. I hate to say it, but I did it for the money. Suzuki offered me decent money, and their bikes were pretty good. My very first race on the Suzuki was at the 1980 Daytona Supercross, and I finished second, so it was not like I could not ride anymore. I never lost my skills, but my heart was not in it. It turned into a business, and I did not like that feeling.
WHAT WAS THE POINT OF SIGNING WITH CAGIVA? THEY DIDN'T EVEN HAVE A 250. Towards the end of the 1981 season, my priorities were changing. I did not feel like I needed to race anymore. The fun part of racing was gone. But, a couple of months after I retired, I got a call from Cagiva. They offered me a six-month contract to just ride the bike and maybe do some local Nationals or Supercross races. They paid me more in six months than I made in my best year at Honda. I really could not turn it down. The only downfall was that they did not have a 250. I ended up competing on a 190 against 250 factory bikes. I really did not stand a chance, but I didn't care; they were paying me good money.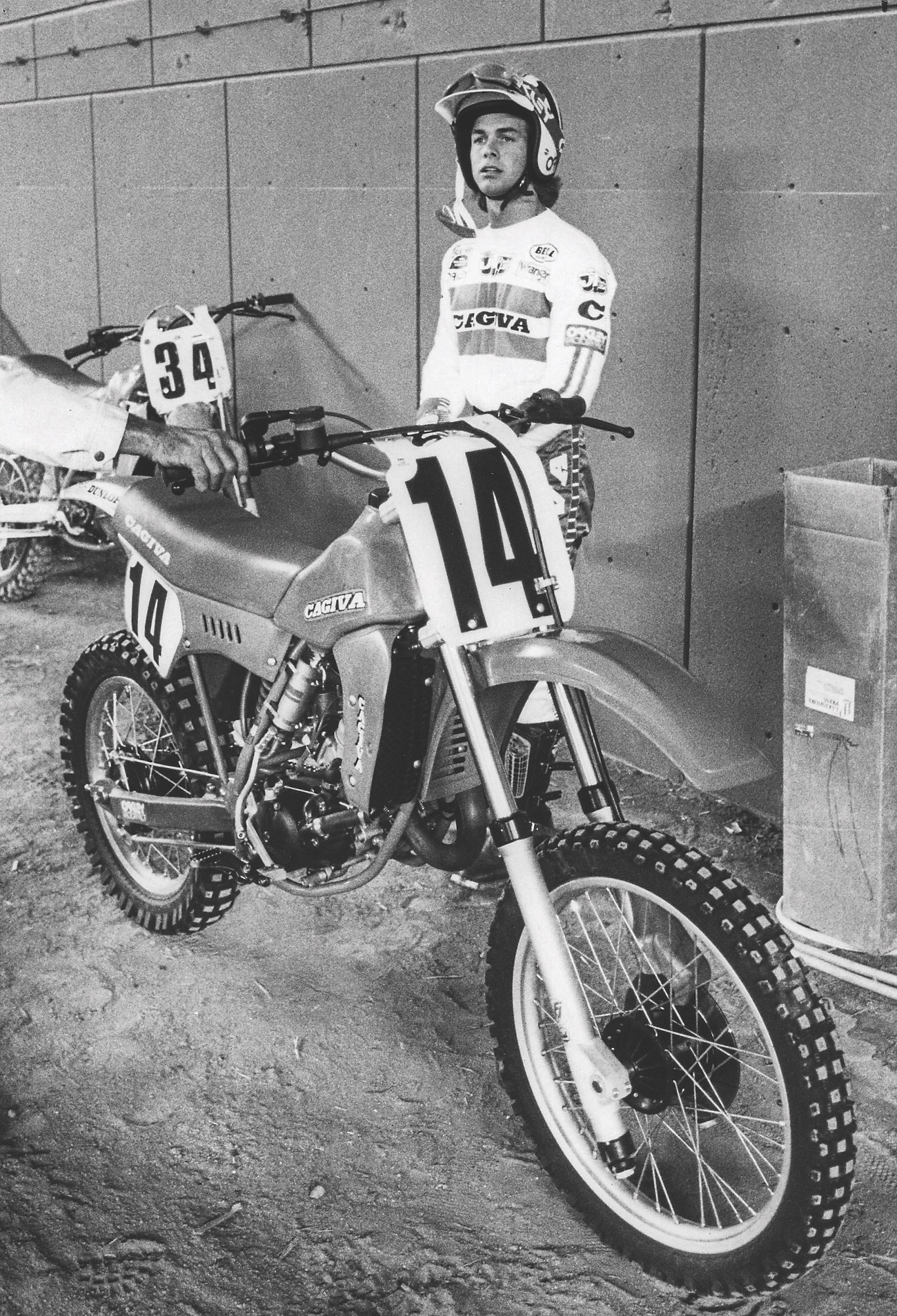 The 1982 Cagiva deal wasn't about winning races, given that his Cagiva only had 190cc, but it was a very good pay day.
AFTER YOUR FINAL RETIREMENT, HOW DID YOU AVOID THE DARK TIMES THAT PLAGUE OTHER PROS?  I got married in 1980 to my wife Nancy; she has been a hero. I never smoked pot, never did drugs, and to this day I have never taken a puff off a joint. I have a beer now and then, and occasionally I'll have a cocktail, but I have always been really proud of how I take care of my body. Nancy and I are both very health conscious. I always had hobbies to keep me busy when I quit racing. My family was involved in dune buggies, motorhomes and camping out in the desert. There is no idle time, so I never was swayed into drinking or partying.
TELL US ABOUT YOUR FAMILY. Nancy and I have three kids. We have two daughters and a son. We also now have grandchildren. When my son was younger, he would help me build race tracks. He did turn Pro, but I pulled the plug on that, as I was overprotective of him. I did not want to see him get hurt. Maybe I was selfish, but I have seen too many young kids in the hospital. I just could not bear to go there with my son. He went to school and got a class A license and joined the Operator's Union. Now he is operating heavy equipment and making a great living. He is loving life. He watches the sport and he rides once in a while, but he is glad that I helped stop his Pro career when I did.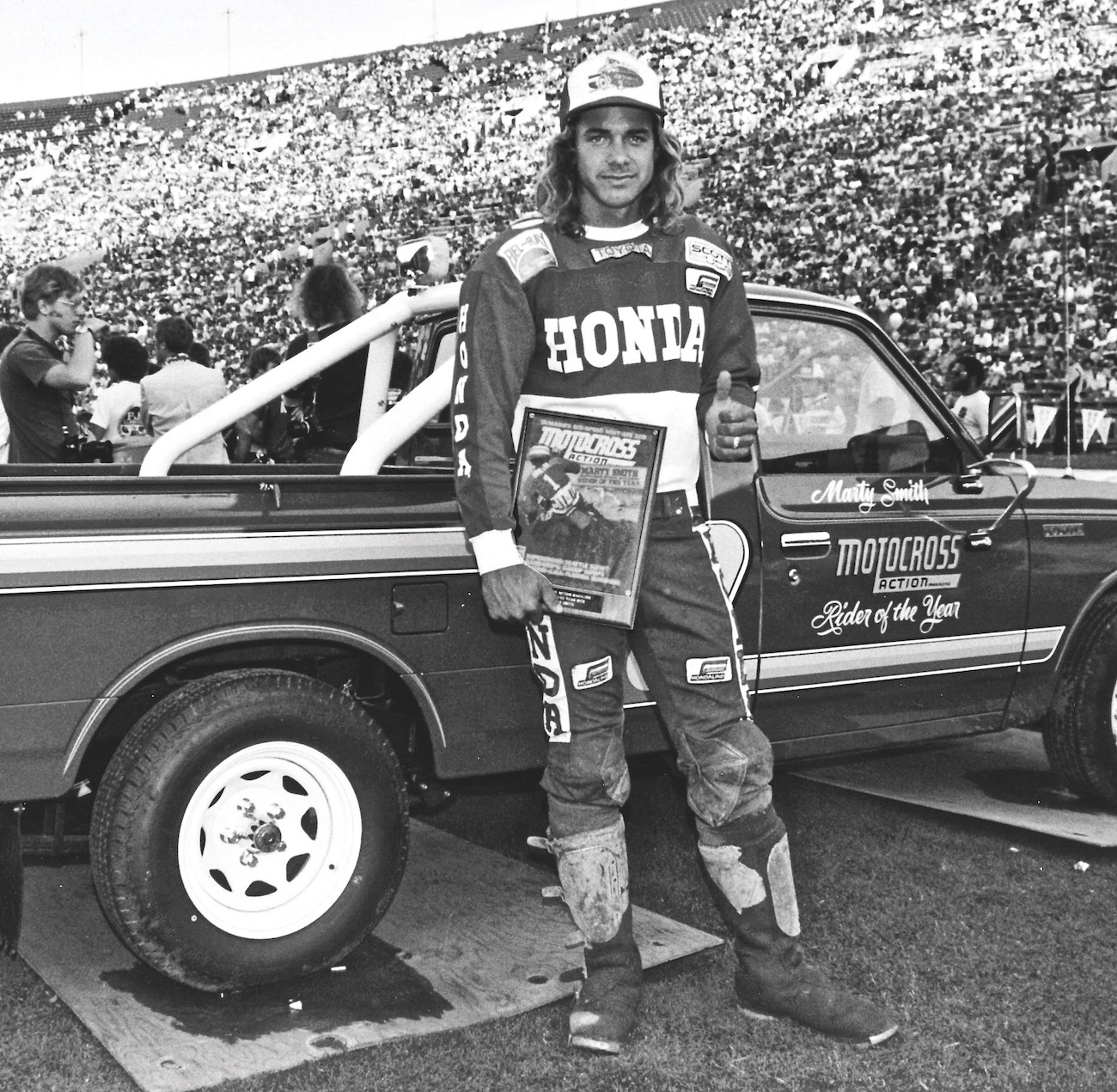 Marty Smith was voted the MXA Rider of year in 1976 and 1978. MXA gave him two customized Toyota pickup trucks as prizes and his own MXA cover both times. Here, he holds a plaque of the June 1978 cover—which you can see above
ARE YOU STILL DOING ANY TRAINING OR COACHING? I am still teaching motocross schools. I do it for the fun of it. I don't do it because I have to do it. Both my wife and I are pretty much retired, but teaching motocross comes so easy. I like to pass along information and help guys. It is like second nature for me and I still enjoy it.
YOU HAVE BEEN A TEAM MANAGER IN THE PAST. IS IT HARD TO PUT A TEAM ON THE CIRCUIT? I did manage Supercross teams. It was fun, but there is no money in the sport for a satellite team. I give all the small satellite teams a lot of credit for staying in it as long as they have. But you have to understand this, most of the racers who are not on factory teams are just happy to be able to make the race. If they make the night show, that is a bonus; and if they get into a Supercross main, it makes their year. They are really happy just to be there. Of course, they care how well they do, but that is not their big thing. Their big thing is just "being there." I don't understand that mentality. If I finished out of the top five, I felt like I failed.
THE SPORT ISN'T KIND TO PRIVATEERS, IS IT? I truly think the riders need a union, just like football, basketball and baseball. They need something to help these kids, because most of these guys start very young, and if they don't make it, they have nothing to fall back on. They have absolutely no training in any type of a trade. With a union, that would at least give these guys some sort of a points fund where every point they earn during their career would give them money towards when they retire. It wouldn't matter if they had a factory ride or not. They would have a check coming in every month like a retirement income. I am not saying give these guys tons of money, but provide them something to fall back on, because they have to start from scratch when it's over.
YOU WERE A FACTORY RIDER WHO FINISHED HIGH SCHOOL, BUT IT'S A LOT DIFFERENT NOW. I would say that 80 percent of the kids who are racing now were home-schooled by their parents—and half of the time, the parents are doing the work for the kid. So, the typical young racer is not very smart. He doesn't have any people skills. He freezes up when he is not at a race, because all he knows is how to ride a motorcycle. He is not socialized in the ways of the world outside of the racetrack. He does not know what to do when it is over, and that is traumatic for these guys—it really is.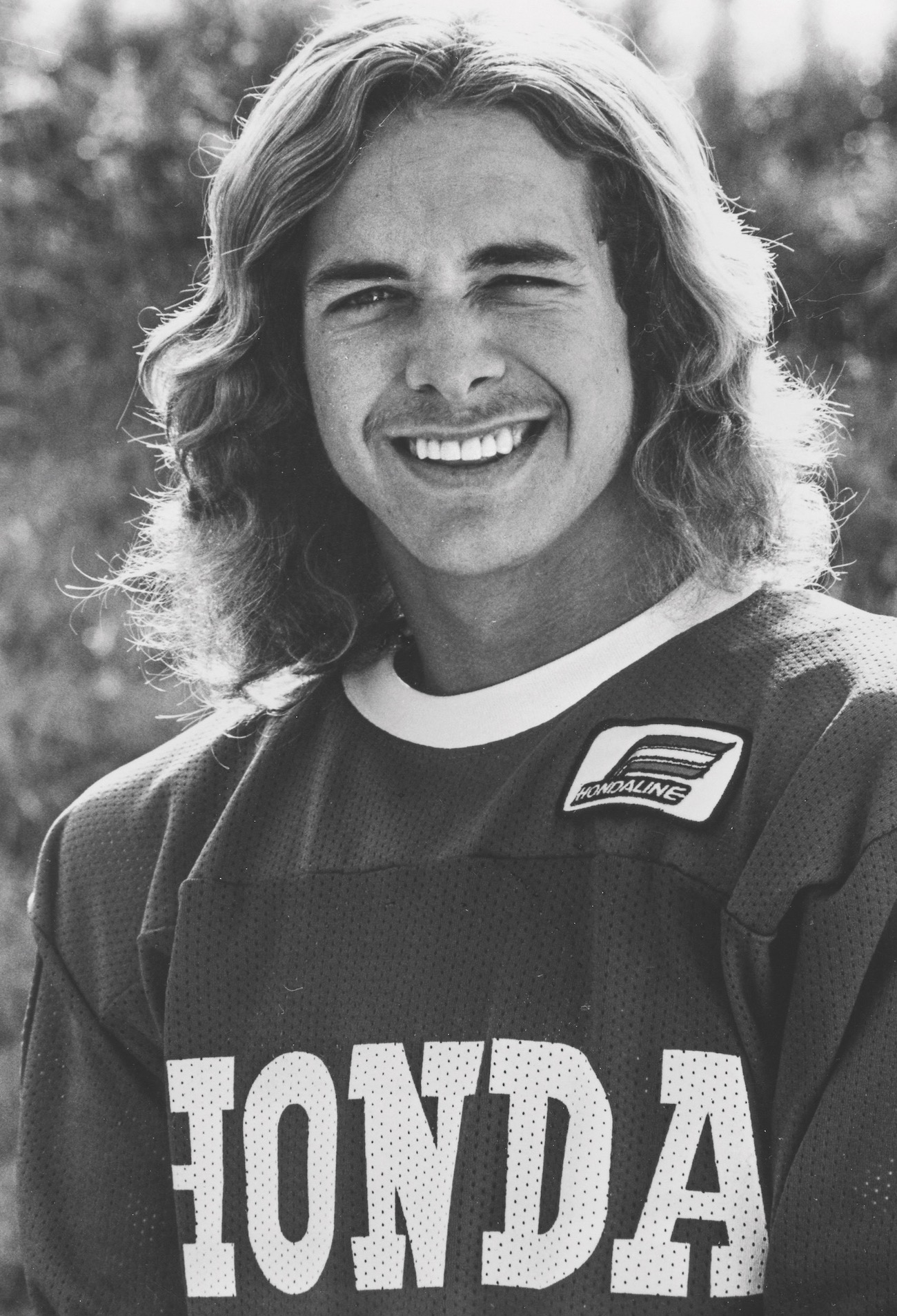 ARE YOU SATISFIED WITH YOUR CAREER? DO YOU HAVE ANY REGRETS? I am very satisfied with my career. I won a lot of races. I was a three-time National Champion. Many cannot say that they ever won anything, let alone an AMA 125 National, 125 Grand Prix, 250 National, 500 National and Supercross. I have done all of the above. There are things that I would have loved to have done in my career that I did not, but I am absolutely 100 percent satisfied with how my career went. I am very happy where my life is now. My wife and I are still very much in love and have been together for over 40 years. And with my kids, and all my grandkids, I would not trade any of that for the world. I could not be in a better place in my life right now.
NANCY ON LIFE WITH MARTY SMITH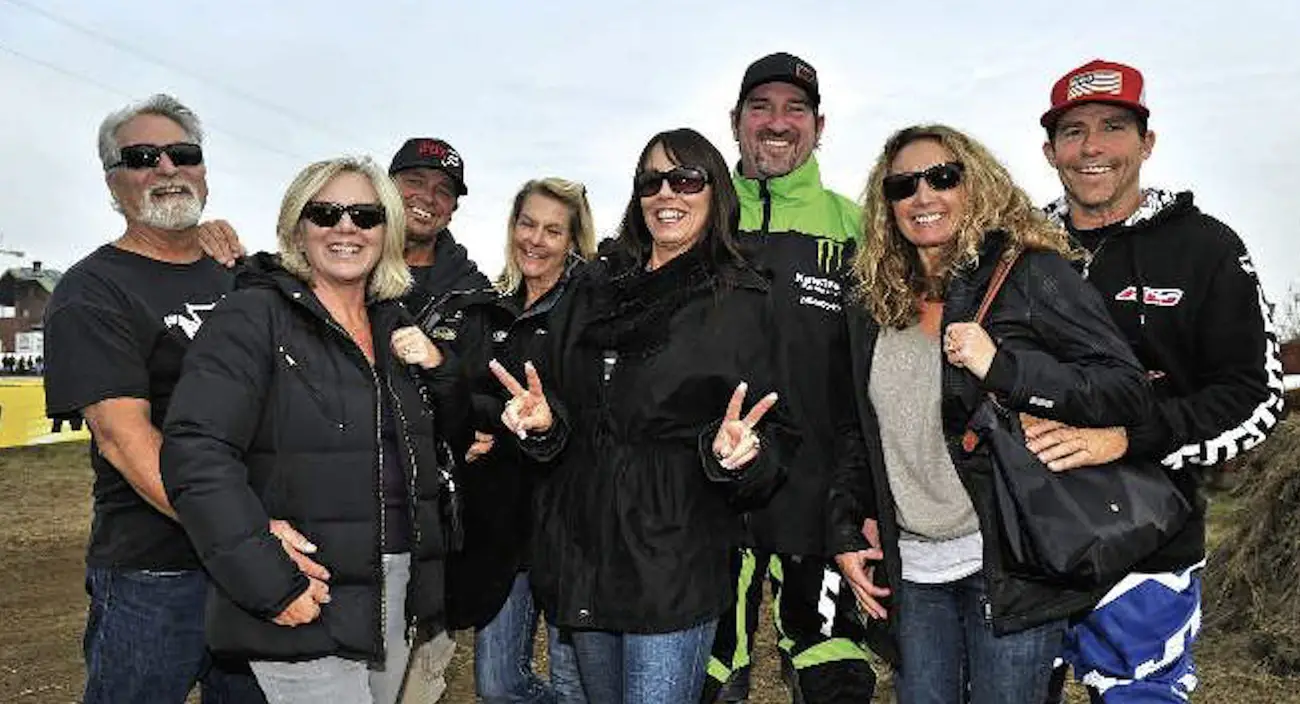 MXA got the stars of the '70-'80s together for this photo. From left to right they are the Lackey's (far left), Marty and Nancy (third and fourth from left) and the Lechiens and Laportes.
Marty Smith was the first really big American motocross star. The sun-kissed kid from Southern California was dominant in the 125 class during the mid-1970s and also won the 500 National Championship in 1977. His wife Nancy was with him from the very beginning.
HOW DID YOU MEET MARTY? I remember our first date well. Martin had fake teeth, and he had to take them out when he ate. His food came shooting out at me [laughter]. This was on our first date! So that was a memorable moment. I thought to myself, what am I doing? That also made me fall for him. He wasn't embarrassed, but instead very confident.
WHAT CHALLENGES DID YOU HAVE TO OVERCOME TO DATE A MOTOCROSS CHAMPION? In the beginning there were too many women [laughter]. There were way too many women! That was hard. I was very confident, strong and independent, but there were just too many women attracted to him.
HOW IMPORTANT WAS YOUR PRESENCE IN HIS CAREER? My presence wasn't so important for his career. Martin was just so good at riding. I didn't need to ever push or encourage him. He was very dedicated and tuned in to his racing. He had a job to do, and he loved to do it. I would support and encourage him, but he knew what he needed to do and how to do it. I actually learned a lot from him.
HAS MARTY CHANGED FROM WHAT HE WAS LIKE AS A RACER? Martin is much better today. He's more mature. He's also happier and has less pressure. When he was racing, I can remember how he was always so focused and serious. Now that pressure is no longer on him, so he can relax more. He's not so uptight.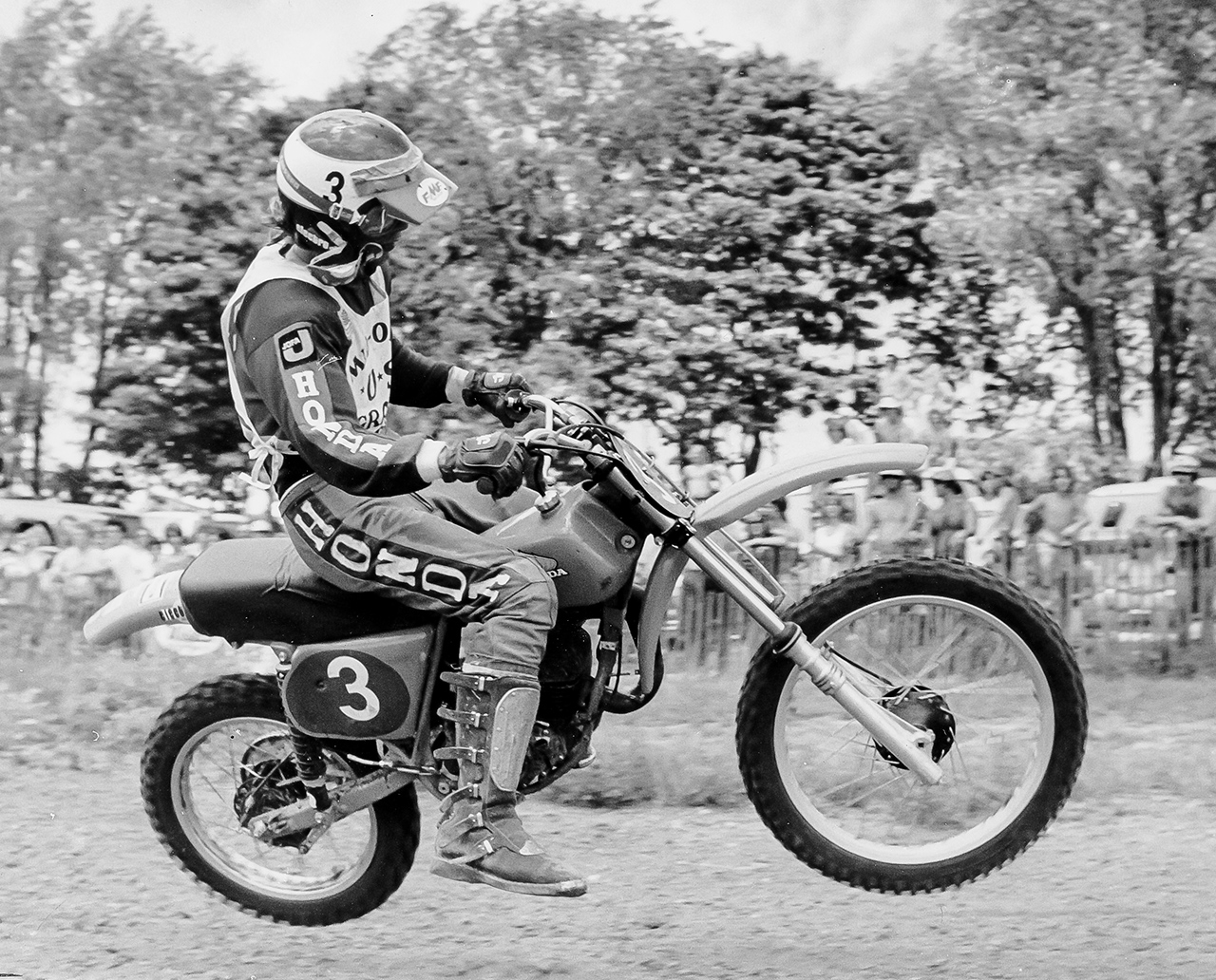 DO YOU HAVE ANY REGRETS? I sacrificed my sanity [laughter]. I was a mail carrier. I worked for 28 years delivering the mail. I had my own career. Marty would come and go, but I stayed at home. I maintained the home life and essentially held down the fort. I was really thankful when he stopped racing. Everybody was good at that point. However, I would do it all again. It was that fabulous. We spent five years together before we got married. In those years I was with him in Europe, Japan and all over the U.S.A. When I got my full-time job at the Postal Service, I couldn't travel anymore, but Martin still had to go. I did my thing with the kids, and it was okay.
IS THERE ANYTHING SPECIAL THAT YOU CAN SHARE ABOUT MARTY? To see Martin ride was beautiful. He blended in so well with the track. He was so smooth and strong. He could pick the bike up and throw it anywhere he wanted. I was never nervous or afraid when he raced. He would pick me up and ride me around on the back of the bike, and I was so happy and unafraid.

Marty Smith.
WHAT MISTAKES DID YOU HAVE TO ENDURE DURING MARTY'S CAREER? The saddest part was him crashing at the Houston Supercross. He dislocated his hip, and that was the only injury he ever had. However, it ended his career. It was the first pain he ever felt. He had never broken a bone or suffered any major pain before that incident. After that, he was frightened. It was a total surprise to me that he hadn't suffered through pain before. Martin realized that he wasn't invincible. He discovered that he could get hurt, so it put the brakes on his career. He crashed in the L.A. Coliseum one time and went into the seats. His adrenaline was going, and he just jumped back up and got on the bike. After Houston, that same thought process was no longer in his head.
IS LIFE AFTER RACING GOOD? Absolutely. We have two daughters, a son and two grandsons. Martin takes care of all of us. Our son still lives with us. A couple of years ago, our daughter was living in another state. We went, picked her up, and told her that she was coming back home to live. In the last two years she has moved out. We feel blessed that we are helping to raise our grandchildren. Our middle daughter is getting married soon, and then we'll have more grandkids. We're happy and thankful. Everyone is healthy and things are good.
If you'd like to read the interviews with all of the wives (Lackey, Laporte and Lechien) CLICK HERE.